Activate an eSIM on a T-Mobile Postpaid Account Step-by-step
Published On : September 20, 2022 by: Sakshi/Category(s) : eSIM
You must be aware, that an embedded SIM (eSIM) is a SIM card that connects to the T-Mobile network digitally. You can activate an eSIM into your device using an eSIM without having to insert a physical SIM first. The T-Mobile app for smartphones, which enables users to activate a postpaid plan with an eSIM, was unveiled by the company. This is a great option for those who want to ditch their physical SIM cards and go completely digital.
However, the current issue is that not all phones are compatible with eSIMs. So, if you're thinking of switching to a T-Mobile postpaid plan with an eSIM, you'll need to make sure that your phone is compatible first. The good news is that T-Mobile is constantly expanding its eSIM compatibility list, so it's worth checking back often to see if your phone has been added. In the meantime, you can still use a physical SIM card with T-Mobile.
"Expert" Advice About eSIMs
Up until recently, a physical chip known as a SIM card had to be inserted into your device to connect a phone or any other device to a cellular network. Physical SIM cards, also known as eSIMs, are swiftly displacing physical SIM cards. They are pre-installed blank SIM cards that quickly download plans; unlike SIM cards, they never need to be switched out of your phone or replaced because they are updated automatically. 2 billion eSIM-enabled devices are expected to exist worldwide by 2025.
Worldwide speaking, having an eSIM makes traveling hassle-free because you can add a local data plan from a different carrier to your eSIM and have it functional as soon as you land in a new country without having to physically change SIM cards.
Useful Topic: Activate Verizon ESIM
For customers that travel frequently and don't want to worry about losing a SIM card, we recently started using eSIMs, according to Pattrick Prickett, a Mobile Expert on James Island, South Carolina.
Because you don't need two different smartphones, having an eSIM saves you money, according to Kedrian Beltran of the American Dream Mall shop in Paramus, New Jersey. Additionally, you can keep as many profiles and plans on one device as you require.
Difference between DIGIT and eSIMS users on T-Mobile-
According to Annie Perez, a Mobile Expert in Brooklyn, "the beautiful thing about having an eSIM is that you can have many lines hooked up to the same device," adding that this allows users a lot of ease and control. "You don't need an additional program; you can switch between those lines right from your phone."
That is a significant distinction between eSIMS and DIGITS users on T-Mobile. DIGITS can be accessed either by a web browser or the DIGITS app.
Your T-Mobile plan can be upgraded to include the optional speak and text function DIGITS Talk & Text. You can utilize two T-Mobile phone numbers on the same device, such as a personal and a business number.
Data is not included in DIGITS; instead, you must use the data connection on your principal line. Up to five devices can use the same T-Mobile phone number while using data with linked DIGITS. It's crucial to keep in mind that the newest devices are constructed with the eSIMs new technology, but it's important to check if you have the capability before attempting if you have an older model.
Steps to Activate An eSIM On A T-Mobile Postpaid Account –
An important note before performing the steps, make sure to have your EID number handy, as you will need it for further eSIM activation steps. To get your EID number, go to the Settings option on your iPhone and then head towards General, and then click About. Scroll down to reach the bottom and view your EID number.
Note: EID number is an electronic SIM card number, which is similar to an ICCID number used for physical SIM cards.
Start by reaching out to the T-Mobile network through its various mediums – either to call 611, use iMessage Business chat, or contact T-Force on social media, and let them know that you are interested to do a simple SIM swap.
Now, provide your EID number, in case you don't have then provide your ICCID number (SIM card number).
Make sure your iPhone is connected to a secure Wi-Fi network. After this, you will receive a text message saying your SIM card change has been changed successfully.
After getting the text message on the subject of the SIM change, you are advised to navigate to the Settings option and then click on Cellular and then tap Add a Cellular Plan.
In the next step, tap the "add details manually" option and proceed further.
Now, under SM-DP+ Address, enter this link: https://cust-005-v4-prod-atl2.gdsb.net.
In the next step, vacation the remaining two fields blank and then click on the Next option. If you will perform the successful steps, then you will receive a prompt to let you know that your eSIM service has been added successfully through T-Mobile.
From there, if your device has two SIM slots then use your eSIM as your primary SIM and add another physical SIM on the second slot.
Setting up an Embedded SIM (eSIM) on a postpaid T-Mobile account is not a difficult and hefty task anymore. And rightfully with the help of the carrier's official policy, your device can easily support eSIM on postpaid plans. However, those who aren't able to perform the activation steps can go through the above-guided steps for a smoother and hassle-free process.
Must read- Steps to Activate eSIM Prepaid Plans on T-Mobile App
Guide to Activate Postpaid eSIM by scanning a QR code? (For Apple iPhone 11 – iOS 13)
With the recent changes announced by the T-Mobile network, you can easily activate Postpaid eSIM with the help of scanning a QR code. Other than this, downloading an eSIM profile to your phone also helps to complete a Postpaid eSIM activation.
At first, you will be required to talk to the official team of the T-Mobile network and ask for the postpaid plans that are suitable for you. For this, you will require to provide your device EID to update your account. With this, a QR code will be sent to your registered email account that you can use for further activation steps. To learn how to use your QR code, here are the steps that you need to pursue:
Start by unlocking your iPhone device to open its Home screen.
Now, from the device's Home screen, choose the Settings icon and scroll down the screen to pick and click on the Cellular option.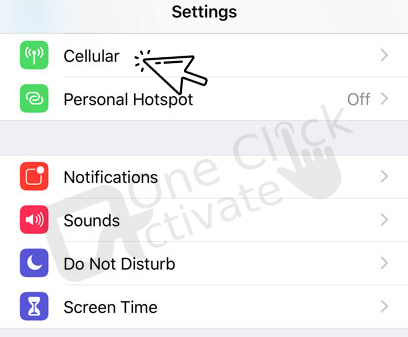 In the next step, choose Add Cellular Plan mentioned in the blue color.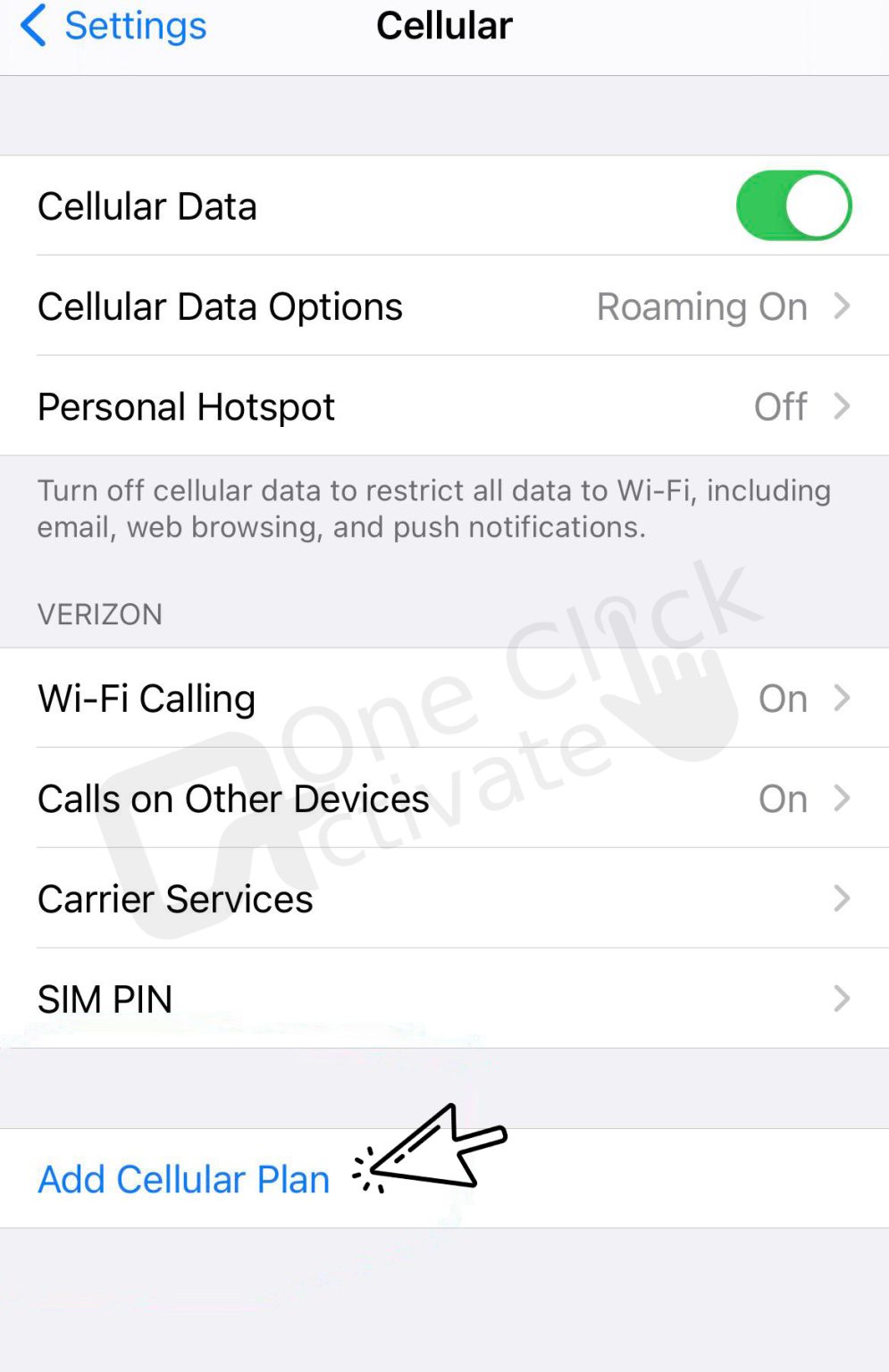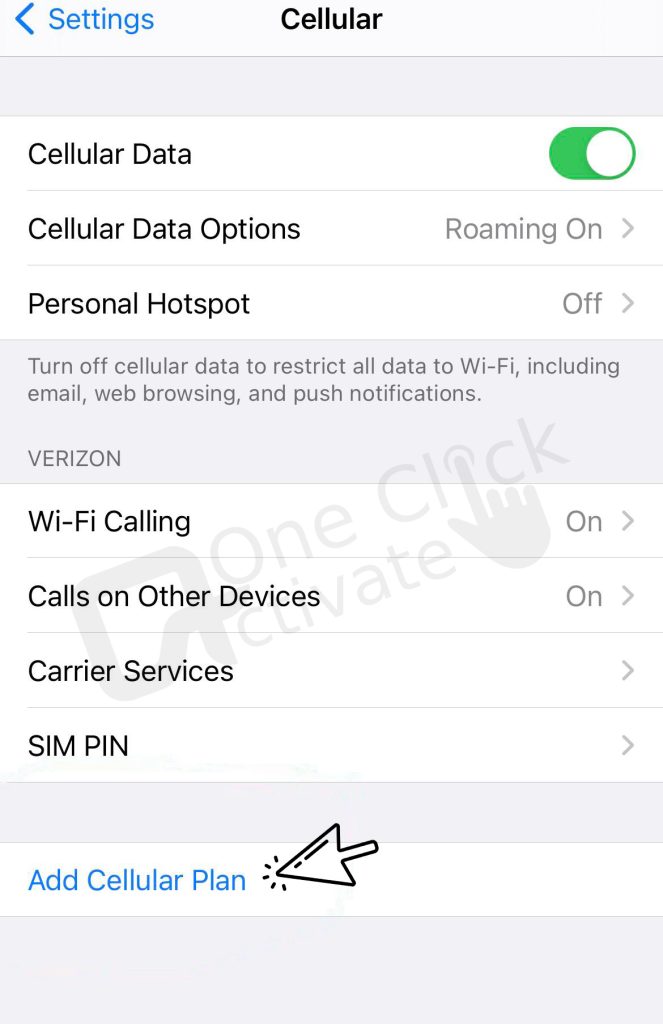 On the next screen, you will be able to see a QR code that has to be sent to you via email. Make sure to scan the QR code.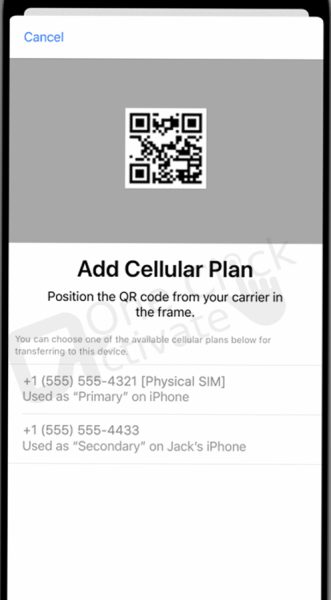 After this, select the option Add Cellular Plan and click Continue to proceed further.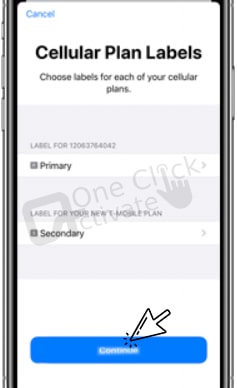 Next, select an option eSIM and then click on the Continue button.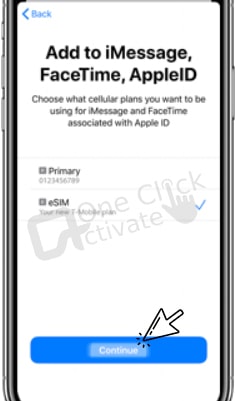 This is a completely optional step: Turn Allow Cellular Data Switching on and then choose Continue.
After this, tick on the option, which says Use "eSIM" as the preferred line, and then taps Done to proceed further with the activation steps.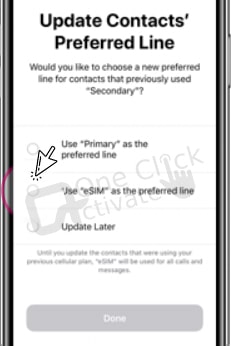 By following these above-guided steps, you can easily add a postpaid plan and then finally, return to your device's Home screen to access the use of a digital SIM.
Learn How To Use Dual SIM with an eSIM on the Apple Device Running OS 12.1.1 or later
If you own an Apple model – iPhone XS, iPhone XS Max, or iPhone XR device, then you are lucky to use two SIM cards on your device at the same time, just like major Android devices.
Setting up your T-Mobile cellular plan with eSIM
iPhone models that support dual SIM slots can be used to have one eSIM and one nano-SIM. The eSIM will be provided by T-Mobile, which will be eligible to store data on your iPhone digitally. To activate an additional cellular plan, all you need to do is scan the QR code sent by the carrier, and then download their carrier app on your iPhone for activation. Well, in that case, T-Mobile has launched its app.
How to Use a Carrier App
To activate prepaid service using T-Mobile's app, you will require to perform these steps:
Start by visiting the App Store on your iOS device and then download the carrier app from the store.
Once it is downloaded, install the application and then launch it to purchase a cellular plan.
How to Scan a QR code
Use these proven steps recommended by the officials to scan a QR code and then download your much-needed eSIM settings. But, before anything, make sure to contact your carrier for activation service.
To begin with, the steps, visit the Settings option and then choose Cellular.
Now, click on Add Cellular Plan and open your iPhone camera to scan the QR code.
In case, you are asked to provide a confirmation code to activate the eSIM, make sure to enter the number mentioned with the QR code.
Next, Enter the Information (Manually)
You can use these steps to enter the much-needed eSIM details manually. Be sure to contact your carrier first before beginning with the below-given steps.
Turn on your iPhone device and navigate to the Settings icon and once it is opened choose Cellular.
In the next step, tap on Add Cellular Plan and then hit the option "Enter Details Manually" located at the bottom of your device screen.
Finally, keep an eye on the on-screen instructions and manually enter all the required information.
How do I Label My Plans / Lines on my T-Mobile Postpaid Account?
After following the above-provided steps, your second plan will activate successfully. And once it is activated, you will be able to label your plans/lines for identification. For this, you can pursue these steps:
Start by tapping on the Settings icon and then explore the Cellular option and click on it.
In the next step, click on the number you would like to change the label for, then press the Cellular Plan Label.
Finally, select an option to create a custom label or choose from the following labels:
Primary
Secondary
Personal
Business
Travel
Cell Data
Guide to Switch Between or Erase eSIMs
For iPhone users having iOS update 12.1.1 or newer, you can easily use more than one eSIM in your iPhone, but you can potentially use only one eSIM at a time.
How Do I Switch Between eSIM?
To switch between eSIMs, follow these steps:
Start by exploring the Settings option and then head towards the Cellular option.
Now, choose Cellular Plans.
Click on the plan that you want to prefer and finally, tap the option "Turn On This Line".
How Do I Erase Added eSIM?
At a time, you are only eligible to store 10 eSIM profiles on your device. If you wish to delete an added eSIM profile, then these steps will be helpful for you:
Navigate to the Settings app and pick the Cellular option.
In the next step, select the plan that you want to remove or delete.
Finally, click on the option, which says Remove Cellular Plan.
Get To Know How Much Signal Each Line Has
When you have inserted both the SIM cards – a physical SIM and the eSIM active, you will witness the slightly different bars of signal. One line will show the normal signal bars, while the other one shows the dots of the signal just (as mentioned below). In that case, when you navigate to the Control Center, you will see lines with bars of a signal along with the carrier name that will help you to identify which one is for which carrier service.

Select Your Default Line For Several Activities Like Voice, Messages, And Data
You can easily set your default line, used to access iMessage and FaceTime. Your Apple iPhone device uses the default line, whenever you perform activities like calling or sending a message to someone. Other than this, you can select one line of cellular data and use it as your default line for calls and messages.
For this, open the Settings apps > click Cellular > and then Default Line.
In the next step, select one option from the following:
Use [Plan Label] for cellular data only: You will pick this option, only if you are traveling internationally and willing to keep the default line for SMS, voice, iMessage, and FaceTime activities.
Use [Plan Label] as your default line: You might want to choose this option, as this line is used as a default option for voice, SMS, iMessage, Data, and FaceTime activities.
Recommended: AT&T eSIM Activate
Select The Prominent Number to Make a Call
Before making a call, you can easily switch between added phone numbers. Use these steps to perform the steps:
In case, you are calling someone from your Favorites list:
Start by tapping the (i) icon and then click on the current phone number. Finally, click on your other number.
In case, you are using the keypad to dial the number, which is not available in your contact list:
Start by entering the phone number and then click on the phone number, located near the top of your Apple device screen. Finally, click on the number that you want to use.
Choose Between Numbers for Sending Messages
To choose phone numbers, before sending any SMS/MMS to your contacts, use these steps:
Click the Messages app and then click on the New button placed in the upper right corner of the screen.
In the next step, enter your contact's name and then click on the current phone number option.
Finally, click on the number which you want to use to send your message to the contacts.
Choose Between Numbers for Cellular Data
Start by going to the settings app and then click on the Cellular option. After this, click on Cellular Data. Now, you will require to click on the number that you want to use to facilitate your cellular data.
FAQs :-
Does eSIM function with postpaid?
T-Mobile has stated that it would now offer more integrated SIM support (eSIM). Customers can now activate an eSIM with a TMobile postpaid plan starting on August 28 after the Uncarrier released eSIM on prepaid plans last year.
How can I switch from my T-Mobile SIM to an eSIM?
Observe these procedures to change your physical T-Mobile SIM to an eSIM:

1. Access the Home screen. Swipe up on the screen to reveal the menu.
2. To the right, scroll. Select Settings.
3. Navigate down. Decide on Connections.
4. SIM card manager is your choice.
5. Select SIM 1.
6. Decide on Convert to eSIM.
7. Select OK.
How can I make my eSIM account active?
To configure an eSIM:

– Activate the Camera app, then scan the QR code.
– Tap the notification that says "Cellular Plan Detected" when it comes.
– At the bottom of the screen, click Continue.
– the Add Cellular Plan button
How does the T-Mobile postpaid work?
How do Postpaid Plans work? With postpaid plans, you must pay for your service at the end of each month, taking into account your data usage. Postpaid plans are provided by Verizon, AT&T, T-Mobile, Sprint, and a few MVNOs that use the Verizon network, like Reach Mobile and Credo Mobile.
What is the QR code for my T-Mobile eSIM?
Select the line you want to activate, click "Change SIM," and then enter the device's EID on T-account Mobile.com's page. Your QR code will appear on the following screen, and you're good to go. Hope this is useful!
How can I activate my iPhone's T Mobile eSIM?
Your iPhone will automatically ask you to activate your eSIM during setup as long as you are connected to Wi-Fi. So, all you have to do is:

– Select Continue after selecting your phone number during the initial setup. If you select "Not now," your network connection won't be active.
– Neither received a prompt nor decided to activate afterward.