AT&T Swift Start Guide for Activating eSIM
Published On : September 20, 2022 by: Sakshi Sharma/Category(s) : eSIM
There's no question that the size of mobile SIM cards has decreased over time. The smartphone SIM card increased in size from micro to macro and then to nano. And now, according to the most recent trend, the integrated SIM card, also known as the eSIM, is gradually taking the place of the physical SIM card. Several devices that allow eSIM activation have been available on the market for some time, however, there are still only a few of them. But that's changing, and soon enough there will be many more devices that support eSIM.
You may now activate your digital SIM cards on most key gadgets, such as smartphones, tablets, smartwatches, etc., thanks to the advancement of technology. With the help of this tutorial, we have assembled the tested procedures for quickly activating AT&T eSIM on compatible devices. Make sure you are connected to the Wi-Fi network in order to complete the steps before starting the activation procedure.
Activation steps for Apple Watch Users:
One of the most popular eSIM devices is the Apple Watch. And AT&T is one of the few wireless carriers that allow you to activate an eSIM on your watch. So if you have an AT&T wireless plan and an Apple Watch, here's how to activate your AT&T eSIM.
First, open the Watch app on your iPhone and tap on the My Watch tab.
Next, tap on the Cellular tab and then tap on Add Cellular Plan.
If you don't see the Add Cellular Plan option, it means that your carrier doesn't support eSIM on the Apple Watch.
Once you tap on Add Cellular Plan, you'll be prompted to scan the QR code on your AT&T activation card. If you don't have an activation card, you can also enter the activation code manually.
After you scan or enter the activation code, your AT&T eSIM will be activated and you'll be able to use your Apple Watch with cellular.
Useful Topic: Activate Verizon ESIM
What are the eSIM-supported phones/ devices?
Embedded SIM card (eSIM) support major Apple and Samsung devices including:
Apple iPhone Models –
iPhone XR
iPhone XS
iPhone XS Max
iPhone 11
iPhone 11 Pro
iPhone 11 Pro Max
iPhone SE (2020)
iPhone 12 mini
iPhone 12
iPhone 12 Pro
iPhone 12 Pro Max
Samsung Galaxy Watch –
Samsung Galaxy Watch (R805U/R815U)
AT&T eSIM activation Process – How Do I Activate AT&T eSIM?
In order to activate AT&T eSIM online on your device, users are advised to follow these steps :-
Start by visiting this page to activate your device.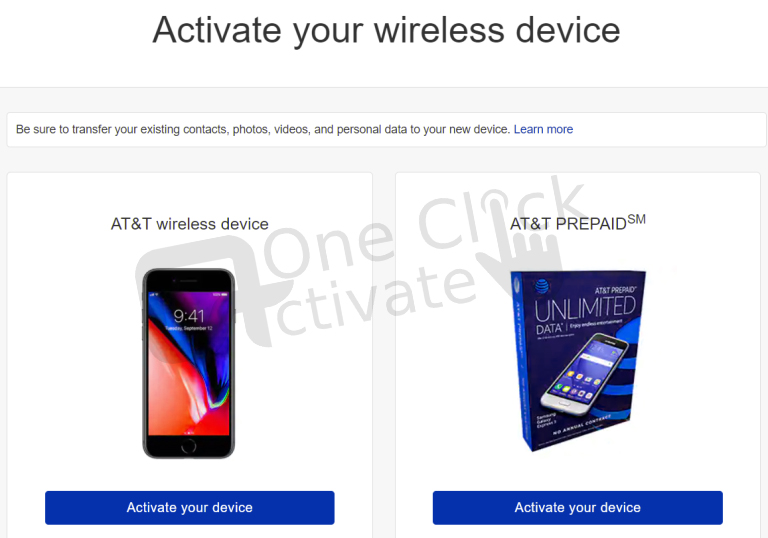 In the next step, select one of these "AT&T Wireless Device" or "AT&T PREPAIDSM". Once you select the device, make sure to click on the "Activate your device" option and enter the asked information and tap Continue to proceed further.
To complete the activation, follow the on-screen prompts with the step-by-step approach.
In case, you are using the AT&T PREPAID plan and don't want to activate your eSIM network online, you can call the experts at 800.901.9878.
Guide to Activate an eSIM on Dual-SIM Device (For iPhone XS and Newer Models)
In case, you are having a dual-SIM device and have an AT&T network, then follow these steps to activate eSIM.
For AT&T Wireless connection, be sure that you have an eSIM active on a wireless plan. Here are the steps to activate eSIM on a Dual-SIM Device.
Brownie Read: AT&T eSIM activate
Note: To use a Dual SIM device, all you need is an activated Nano-SIM card and an eSIM card, and make sure that you have a separate plan for both. This is because one of your cellular plans will use the eSIM, and the other use the Nano-SIM.
To set up eSIM, unlock your iPhone to visit the home screen, and then navigate to the Settings app.
Now, choose Cellular.
In the next step, click on the option Add cellular plan and proceed with the further activation steps.
Now, open your camera and scan the QR code available on your eSIM activation card till you see the option Installing cellular plan.
In the next step, select the option Enter Details Manually placed at the bottom of the screen.
Head back to the option Add Cellular Plan and label the Cellular Plans as per your preference and then tap Continue.
In order to label your cellular plans, choose the desired Phone number and then select the desired Label. After this, enter a Custom Label, and finally, select Done.
Finally, choose your Default Line and then click on Done.
By implementing the above-guided steps, your eSIM (embedded SIM card) is downloaded and installed successfully.
Pro Tip:

In order to manage your cellular plans to make Phone Calls and Messages, then navigate to the Device Support and then select Dual SIM.
All Other Network eSIMs
To implement the below-given steps, be sure that your dual SIM device has an active service plan, then after, you are eligible to perform the activation steps.
To activate it, pursue these steps:
Unlock your device and navigate to the Settings app.
Now, explore the phone settings option and click on it.
In the next step, click one of the following options (depending on what you see on the device)
AT&T Cellular Plan Is All Set To Be Installed, and then click on the Continue tab.
Or choose Cellular, and then tap Add a Plan option.
Setup eSIM on Your Samsung Galaxy Watch
Here's what you need to do:
Turn your Galaxy watch On.
Now, launch the Galaxy Wearable app on your smart device and pair it with your phone.
Finally, follow the app instructions to activate your Samsung Galaxy watch on the AT&T network and then complete the NumberSync sign-in process immediately.
Recommended: Transfer Old SIM to eSIM
Frequently Asked Questions :–
Check out some of the most googled questions, asked by the people, who are interested to perform AT&T eSIM activation.
How do I switch my AT&T SIM card to eSIM?
To switch your physical SIM card with an eSIM, all you require is to have a device that supports the 12.1.1 iOS version or newer. Here's how you can transfer your sim card to eSIM:

1. Open Settings< Cellular< Add Cellular Plan.
2. Use your camera and scan the QR code or you can choose the option Enter Details Manually.
3. Label the Cellular Plans and then tap on Continue.
How long does eSIM take to activate?
The eSIM activation process will take approx. 2 hours to complete. However, one must keep a note that during the activation process, the inserted physical SIM card will continue to work.
How do I activate AT&T eSIM on my iPhone?
1. For the process, go to the Settings app and choose the Cellular option.
2. Next, select Add cellular plan and then scan the QR code available on your eSIM activation card. 
Is eSIM better than physical SIM?
The biggest advantage of using an Esim is that, like a traditional SIM card, it offers you an option to operate your SIM functionality via digital mode. Hence, no need to insert a physical SIM card.
Does eSIM work with AT&T?
Yes, the AT&T network supports eSIM on Apple's latest iPhones and Samsung Galaxy watch.
Can I buy AT&T eSIM Online?
AT&T eSIM is now available online. If you select an option, which says "Add a Line" and then starts typing the IMEI number of an iPhone XS or XR you will be prompted to choose an eSIM.
Is AT&T eSIM compatible?
The iPhone XS and XR now have eSIM support added by AT&T, making it possible to operate a dual-SIM configuration on AT&T's network.
How long will it take to activate an eSIM?
About two hours. Please scan the QR Code as soon as you receive it; the eSIM will activate in around 2 hours. The hardware SIM will continue to function throughout this time.
Does ATT impose a surcharge for eSIM?
When asked about the price of the service, the rep responded, "AT&T does not charge for a SIM Card/eSIM Card for device upgrades or new lines of service (new line or add-a-line)."
Does AT&T support eSIM?
You'll need an AT&T eSIM activation card with a QR code and Wi-Fi on your phone. Open your camera app, point the camera at the QR code, and then follow the on-screen instructions to download your eSIM. If your camera isn't capable of reading the QR code, go to our instructions above.