Transfer An Old SIM to an eSIM On Your Device Today!
Published On : September 20, 2022 by: Sakshi Sharma/Category(s) : eSIM
If you're planning on purchasing a new iPhone that supports iOS 12.1.1 or later, then congratulations, you're qualified to use an eSIM. With recent developments, conventional SIM cards are being replaced by eSIMs (embedded SIMs). This new digital SIM technology is becoming increasingly popular, with telecom providers such as AT&T, T-Mobile USA, Truphone, Ubigi, and Verizon Wireless all supporting it.
If you're upgrading from an older iPhone model, you may be wondering how to transfer your old SIM card to your new eSIM. Luckily, it's a relatively simple process. First, you'll need to back up your old iPhone. Once you've done that, you can activate your new iPhone and sign in with your Apple ID. Then, go to Settings Cellular Data Plans and Add a New Plan. From there, you can select your old SIM card and transfer your data over to your new eSIM.
So if you're planning on upgrading to a new iPhone that supports eSIM technology, there's no need to worry about how to transfer your old SIM card. The process is relatively straightforward and should only take a few minutes.
What is an eSIM?
An eSIM commonly known as an embedded SIM card is used as a replacement for the physical SIM card. Unlike the traditional SIM card, the eSIM is small in size and is fixed onto the device's motherboard. You aren't required to insert an eSIM, and nor can you remove it. However, it doesn't mean that you can't change carriers or switch carriers. Transferring your regular physical SIM to an eSIM is not a lengthy process anymore.
Useful Topic: Boost Mobile SIM Card
Herein, you can learn and follow the proven guidebook instructions on how to transfer a SIM card to eSIM and use it on your iPhone.
Note: This process is applicable only for those who have the latest iPhone gadget or a device that runs on iOS 14 or later.
Things Needed To Perform The Steps –
To make a smooth SIM Card Transfer To eSIM, you need:
An iPhone device runs on iOS 14 or later.
Your Apple device must be iPhone XS, iPhone XS Max, iPhone XR, or a newer model.
A strong Wi-Fi connection to perform the steps.
Additionally, you ought to update iOS on your iPhone.
With Apple iOS 13.1 and later, some carriers or telecom operators support transferring your eSIM easily without even following some major steps. All you need to do is just contact your carrier and ask for help with the transfer process.
Also Read: eSIM Prepaid Plan Activation using T-Mobile App
Steps to Transfer a Physical SIM to an eSIM –
Before getting started, check these requirements:
In case, you have a Dual SIM iPhone, then you don't need to convert your traditional SIM to an eSIM one. You can simply buy a new eSIM, as a Dual SIM device works with an eSIM, only if you have one physical SIM card and one eSIM installed.
To transfer a physical SIM, you will be required to approve the transferring process on your previous carrier and ask them to change your current cellular plan.
Transferring a physical SIM card network to an eSIM requires an iOS 14 or later version.
If you already fulfill all these requirements, follow these quick and effective steps to transfer your physical SIM card:
Unlock your iPhone, go to the Settings option, choose Cellular, and then tap on the Add Cellular Plan. On the next screen, click on your phone number and then click continue to proceed further. In case, you won't be able to see a cellular plan listed on your model, in that case, visit and explore your Apple ID login and two-factor authentication option.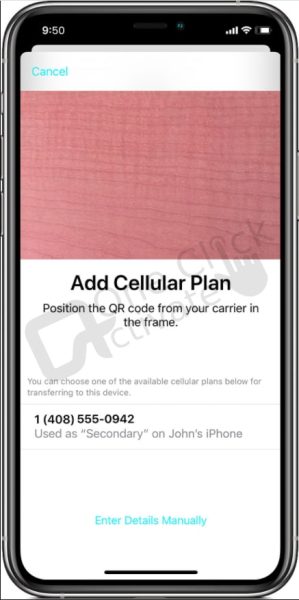 Next, your iPhone will ask you to confirm that you want to convert your physical SIM to the eSIM on your device. For this, click on the Convert Cellular Plan option.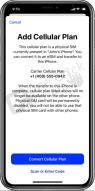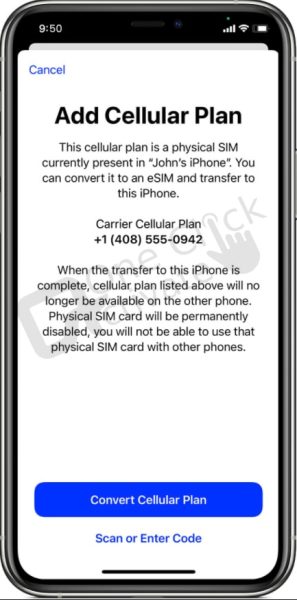 In case, you are using a Dual SIM device, you don't need to remove the physical SIM card and convert it, just buy a new carrier eSIM. Otherwise, click on the Convert to eSIM option.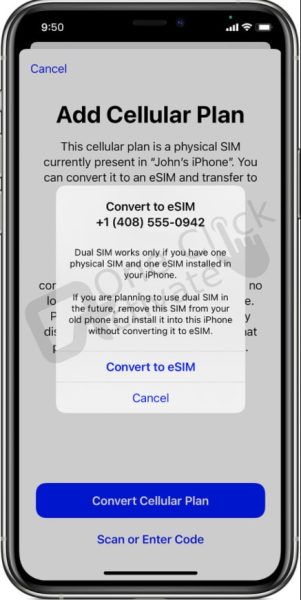 Once you click on the Convert to eSIM, you will need to press the OK button showing on the alert, which says you should approve the transfer on your iPhone. If you don't see the option, simply contact your carrier to transfer your plan online.
In the next step, click the option Transfer to confirm that you are willing to transfer the cellular plan from your physical SIM to the eSIM.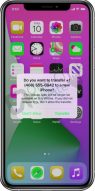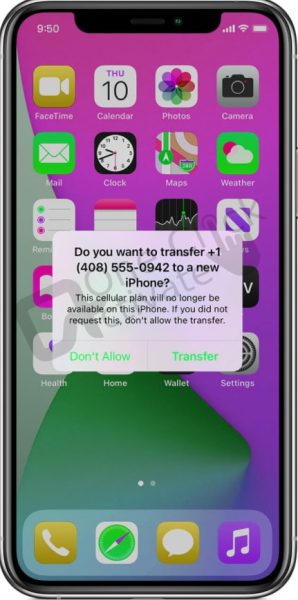 Wait for some time until you get the success message that your new cellular plan is activated now.
This is an easy and precise guide to making a smooth transfer of a Physical Sim to an eSIM.
During setup, Transfer your physical SIM or eSIM on your iPhone:
Follow these procedures to transfer your eSIM or convert the physical SIM* from your old iPhone to an eSIM on your new one if Quick Start setup prompts you to Transfer Cellular Plan:
At the bottom of the page, choose the numbers you want to transfer to your new iPhone, and then press Continue. After configuring your iPhone, you can still finish the planned transfer if you chose to wait.
To finish configuring your device, adhere to the directions displayed on the screen.
Before canceling your cellular plan from your old iPhone, call the new one to verify cellular compatibility. If you have any inquiries, get in touch with your carrier.
The plan on your old iPhone will deactivate once your new iPhone's cellular plan is enabled. You can throw away the real SIM card from your deactivated plan if it had one.
NOTE: When switching to an iPhone 13 model or an iPhone SE, you can change a physical SIM to an eSIM during Quick Start setup (3rd generation).
One physical SIM card and one eSIM card are required to use Dual SIM on an iPhone XR, iPhone XS, iPhone 11, or iPhone 12 model. You might need to either keep your physical SIM or convert your physical SIM to an eSIM if you upgrade to one of these handsets. Whether your second line is an eSIM or a real SIM depends on the situation. Dual SIM is compatible with two eSIMs or a physical SIM and an eSIM on iPhone 13 models.
Brownie Read: T-Mobile eSIM Activate
FAQs :-
Can I change from an eSIM to a real SIM?
Without the real SIM card attached, the eSIM is inoperable. Your device loses service if you remove your physical SIM card. Reactivate Fi with your eSIM or reinstall your SIM card to resume service.
Can I simultaneously use an eSIM and a physical SIM?
You can utilize two eSIMs for two or more cellular plans on the iPhone 13 Pro Max, iPhone 13 Pro, iPhone 13, and iPhone 13 small. Alternatively, you can use a physical nano-SIM for one cellular plan and an eSIM for one or more additional cellular plans.
Is eSIM quicker than traditional SIM?
Are eSIM and Physical SIM Faster? No, and yes. A 4G eSIM won't be quicker than a 4G SIM card because the underlying technology determines Internet rates. Even while it won't save you much time, switching between eSIMs is still quicker.
What is an eSIM's drawback?
However, there are a few potential drawbacks to eSIMs. It is not as simple to switch devices quickly. Currently, you may easily remove the SIM from your phone and place it in another one to use in case it stops operating while preserving your phone number and contact information (if your contacts are stored on the SIM).
Is eSIM more secure than traditional SIM?
Yes, there are considerable security advantages. While removable SIM cards can occasionally be stolen and used in port out scams, an eSIM card cannot be stolen without also stealing the phone.
Can I use my eSIM as my main SIM?
To use your eSIM subscription to access the internet, you can designate it as your primary data plan. To discover how to choose your primary data plan, follow these steps.
Can eSIM easily be hacked?
Do you still believe that even if eSIM is difficult to hack, you will be able to live peacefully? Regrettably, no. If you have an eSim, let's up your security level if you have previously secured yourself.
Can the same number be used on two distinct mobile devices with a physical SIM and an eSIM?
There is no need to manually insert the eSIM. On the same device, eSIM and SIM can both be used simultaneously. This means that both a physical card and one of the eSIM numbers will function simultaneously. By adding the new device to your mobile account, the prior number can be automatically set up on it.