8 Top Wifi Text Messaging Apps for iOS & Android
Published On : May 20, 2022 by: Manisha Sharma/Category(s) : Technology, Trending
Conveying messages to people has always been a curious process. From ancient times, humans have been using multiple ways to interact and talk to people. From the real-time face-to-face discussion to the virtual calls and chats, we have come way forward in time. Nowadays, text messaging has become one of the most widely preferred and used means of communication. Well, there are many reasons for it. Because of its huge popularity, now there is a variety of wifi text messaging apps for iOS and Android to choose from. In this article, we will know about the features of 8 very popular wifi text messaging apps for iOS & Android.
Before we go into the features of all the wifi text messaging apps for iOS & Android, let us know more. Well text messaging if you think is a very difficult thing, then you are completely wrong! Text messaging is the best way to interact with someone for the first time. It gives time to the other person to decide how to react before actually reacting. One can even avoid strangers and unfriendly people selectively on text messaging apps, which is not possible in real-time conversations. These apps also give huge autonomy to the users to decide to whom they want to talk and other privacy features. These apps can be very well used to make good friends in this paced life. Not only making friends, but nowadays, people are also even using these apps for work and business purposes because of the huge features available.
Top 8 wifi text messaging apps for iOS & Android
Whatsapp
Whatsapp needs no more introduction. It is one of the most widely used text messaging apps there! You can find the app for iOS, Android, and Windows, a web version is also available. Use this great app to send instant text messages. All you will require is a good internet connection. Also, WhatsApp uses a very less amount of data for sending messages. You can enjoy video calls and send voice chats too.
Features of Whatsapp
Send instant messages and images at minimum internet speed.
Make good quality video calls.
Send voice messages and play them at the desired speed.
The messages are end-to-end encrypted.
Make discussion groups, and do group voice and video calls.
You can even put daily status in the form of images, videos, or text.
Decide who can view your profile, status, and about on this app.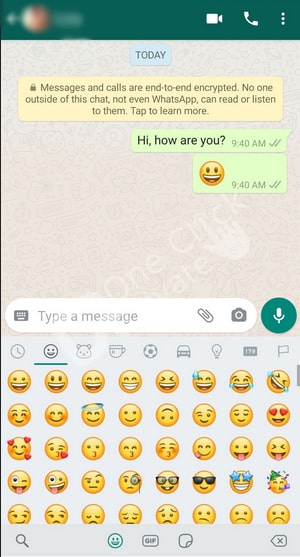 Also Read: Delete Apps on Apple watch
Facebook Messenger
We all are very much familiar with Facebook messenger. It is one of the oldest messengers out there. You can use it to send text messages, send money, share Facebook posts, voice messages, etc. This app also provides a huge list of stickers and GIFs. Use them to show your reaction to the app. You can even make video and voice calls using the app. As a matter of fact, it adds people from your contacts who have Facebook accounts. But you can also add a contact as per your need. It also allows some special features to protect your privacy also.
Features of Facebook Messenger
Send quick posts, messages, images, and videos using this app.
Chat using the vanish mode. In this mode, when you leave the chat, it gets deleted automatically.
Share files, send money, and share locations using this app.
You can even watch movies, TV shows, and videos with friends using the watch together feature. All of this is possible in real-time!
Create a messenger room and now you can host up to 50 people in it. Use it for a group chat and invite people using the link. People without a Facebook account can also use it!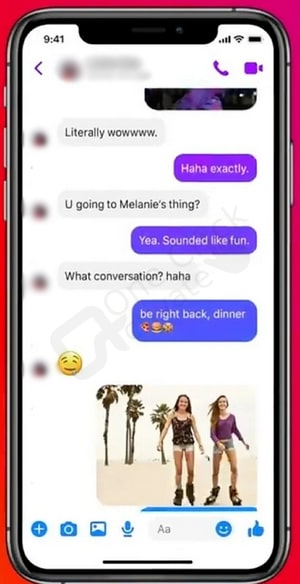 Instagram Messenger
Over time, Instagram has become widely popular. Now, this website is one of the widely used. People are using it to pass time and do business. Hence, Instagram messenger is also widely used as a wifi text messaging app for iOS & Android. It has a very beautiful and eye-catching appearance also.
Features of Instagram Messenger
Send and unsend quick text messages, images, and voice messages.
You can even share Instagram posts in the direct messages of your friend.
Use the vanish mode, if you want to vanish the chat after you finish talking.
You can react and reply to specific messages in this app. There are a lot of emoticons in the Instagram messengers. You can also send GIFs from the directory.
Get push notifications for every new message.
You can even chat themes as per your taste!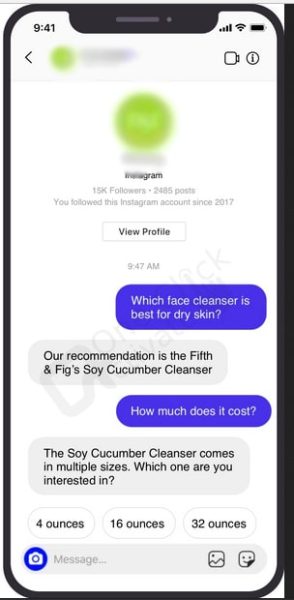 Trending: Download multiple TikTok videos at One Click
Telegram
If you have been studying or watching a lot of TV, you must have heard about this great app. It is a very popular wifi text messaging app for iOS & Android. It is very popular for its security and privacy features. As a matter of fact, you can even talk to strangers on this app. There are many popular channels on this app. You can join any of them and enjoy their services. Some channels are for studying and many are for fun and entertainment. (Our latest guide to Install Telegram on Apple TV)
Features of Telegram
Send text messages, images, large files, voice messages, etc.
You can even make your own telegram channel and invite people to join it.
One can send links through this app easily.
You can set up many privacy features like who can view your status, mobile number, last seen, etc.
One can do secret chats, and delete chats from the other person's phone using their own phone!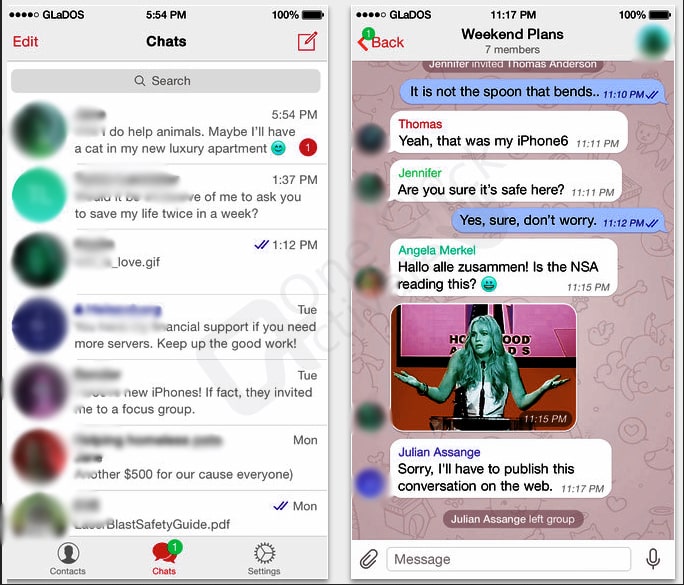 Skype
Skype is a more professional wifi text messaging app for iOS & Android than personal. One can do quality video calls, voice calls, send text messages, images, voice messages, etc using this app. (Install Zoom App on Android Smart TV which is known to be one of the top alternatives for Skype application)
Features of Skype
Make quick and instant video calls.
You can use this app for professional purposes like taking interviews.
Send reactions to text messages.
Find people either using their skype id or contact number on this app.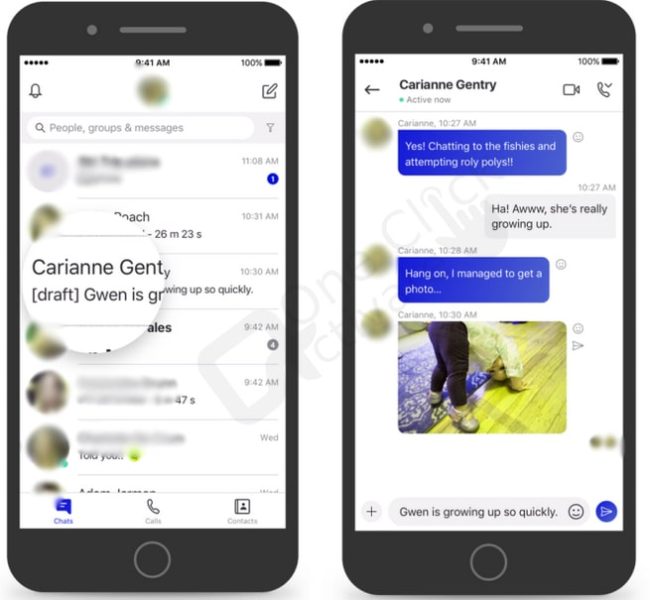 Recommended: 14 Best Random Video Chat Apps
Some other text messaging apps that are worth mentioning
HeyTell
This is a very cool push-to-talk app. Using this app, you can send instant voice messages. If the person to whom you sent a message is online, then the app plays the message for them. There is no need to make a user account. The app interface is very easy to understand and use. You can get a history of all your messages.
Line
This app is quite popular in Asian countries. This is very similar to Facebook messenger. You can follow brands and artists on this app. Send instant text messages, images, etc. In a chat group, you can add up to 500 people to this app. Watch videos with friends on this app.
Snapchat
The Snapchat app is very popular among the young generation. The best feature of this app is that whatever messages or image you send, gets deleted automatically in a very short span of time. This app has a huge library of filters. You can use all these filters on your picture and then send them to friends and family. This is a great wifi text messaging app for iOS & Android.
Wrapping up
In this article, you learned about wifi text messaging apps for iOS & Android. As a matter of fact, the list of such apps is very huge. We have tried to mention some of the widely used apps as of now. However, you can always find an even better app on your own. If you enjoyed reading, consider following up. Till then keep exploring!