Add Star Sports Channel on Tata Play to Watch IPL on Your TV – IPL Streaming
Published On : April 21, 2022 by: Sakshi/Category(s) : Streaming Services
Cricket fanatics, we have great news for you: the TATA IPL 2022 has already begun and you will finally be able to watch it! You can stream all your favorite cricket players (and team) battle it out on the field—right on your TV. All you need to do is add the Star Sports channel to Tata Play and you'll be good to go. We're going to walk you through how to subscribe to Star Sports HD channels on Tata Play. This way, if you've been wondering how to watch IPL 2022 matches on your TV, we can help! So let's get started!
The BCCI's official broadcaster in India is Star Sports. Every match played by the Board of Control for Cricket in India (BCCI), such as the TATA IPL 2022, will be broadcast and streamed live on the network. In the country, there are up to 16 Star Sports channels, comprising SD and HD, that broadcast a range of sports in several languages. TATA IPL 2022 will be broadcast on television and online in nine languages. The competition is scheduled to start on March 26th. We've got you covered if you're seeking how to subscribe to the Star Sports channel on Tata Play (Tata Sky). (Do you reside in the USA then check out our guide to Watch IPL in the USA)
How can you watch IPL 2022 on your TV?
Enjoy watching the TATA IPL 2022 live on your TV by subscribing to Star Sports. Star Sports holds the exclusive rights to broadcast and stream all matches organized by BCCI, including the India Premier League. The channel bundles come in different packages and are available in a variety of languages. If you are wondering how to subscribe to Star Sports, we are going to cover everything right here.
In this article, we will talk about how you can add Star Sports channels on Tata Play (Tata Sky) and watch IPL matches live on your TV. BCCI has given the right to telecast TATA IPL 2022 to Star Sports. This means that you will need to subscribe to Star Sports channels on Tata Play to watch IPL matches live on your TV.
Before you proceed, we should tell you that most of the Star Sports channels are available as part of the HD Pack, while a few are included in the SD Pack as well. You can click here to know more about Tata Sky HD Packs.
Watching the TATA IPL 2022 from the comfort of your home is now possible with Tata Play. Tata Sky has announced it is partnering with Star Sports to add its channels to its online streaming platform. This means that you can now subscribe to the Star Sports channel on Tata Play and watch the IPL cricket matches live via your TV as well as other devices.
Watch Live Cricket on Willow TV: Activate Willow TV
How to Add Star Sports on Tata Play? Easy steps for you!
To watch IPL on your television, you will have to add the Star Sports channel on Tata Play. You can do so by following the instructions below:
Open the Tata Play app or go to play.tatasky.com
Click on Activate Now!
Select Tata Sky as your service provider
Enter your registered email ID and password
Click Login
Once logged in, click on Add Channel and select Star Sports
With Star Sports channels, you can watch the TATA IPL 2022 on Tata Play (Tata Sky) in your preferred language. Whether it is English or Hindi commentary or any other regional language like Kannada or Marathi, Star Sports will be available in all nine languages on TV as well as online. You can subscribe to the regional sports channel by going to the Tata Play app on your smartphone, selecting the channel, and clicking on "Add Channel". You will also add the channel to your subscription along with all channels included in your current plan.
To add Star Sports channels to Tata Play, use one of the ways listed below.
Just send an SMS with the text ADD channel number> to 56633 from your registered mobile number to add a channel to Tata Play.
You can also contact Tata Play's customer service line by calling 1800-208-6633 from your registered mobile number and request that your favorite Star Sports channel be added to your monthly pack.
Also Read: Activate beIN SPORTS Channel
Without a Disney plus Hotstar subscription, how can you watch the IPL 2022 LIVE?
Users with a Tata Sky connection and a Star Sports channel subscription can however actually watch IPL 2022 matches. Tata Play, formerly TATA Sky, is one of the top apps for watching IPL 2022 in India. The app may be used to stream on-demand material from live TV channels, such as the newest movies, news, music, and more. TATA Play is an app that works on both Android and iOS devices.
To begin, download the Tata Sky app to your Android or iPhone.
Then, using your DTH connection information or your registered mobile phone, log in.
You're ready to go after you add a membership to the Star Sports Channel.
You may watch all of your subscription channels on your mobile phone using the direct-to-home service's app.
At the bottom of the screen, click the LIVE TV tab.
STAR SPORTS networks are a must-see.
It will launch the Disney Plus Hotstar app, which will allow you to watch live cricket matches without having to pay for a separate membership.
Instructions to add the Star Sports SD or HD channel to Tata Play:
To add the Star Sports SD or HD channel to your Tata Play account, follow the steps below.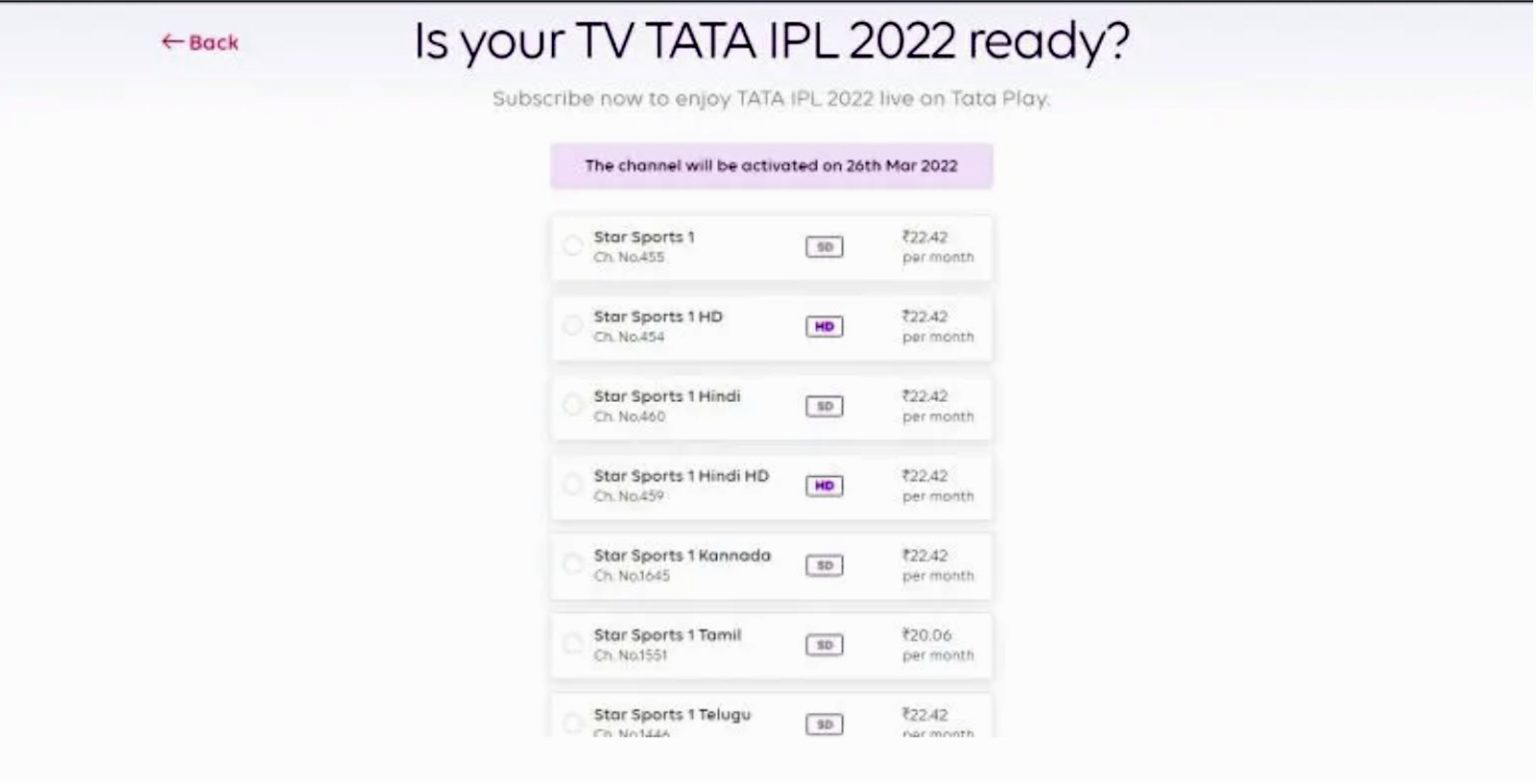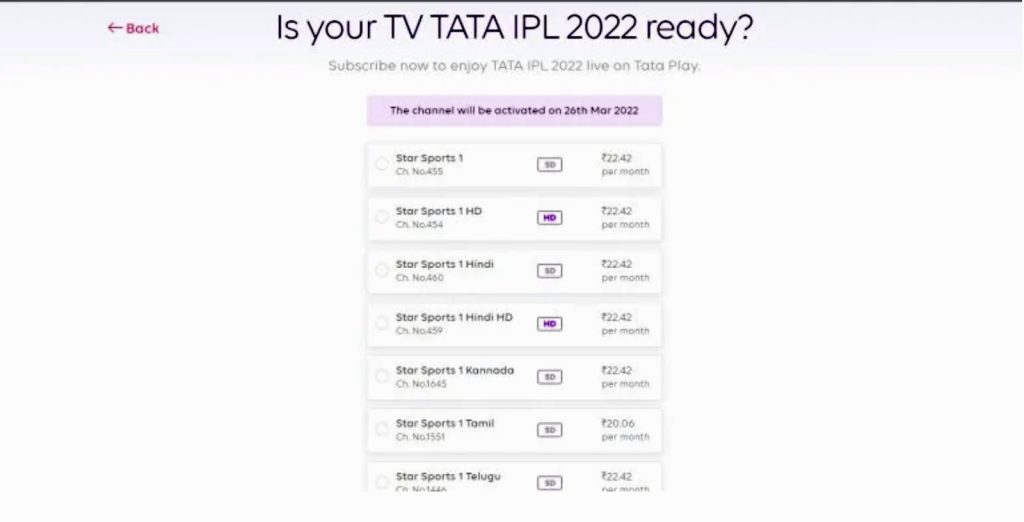 To begin, navigate to https://www.tataplay.com/my-account.
You must input your Tata Play subscriber ID or registered cellphone number. You will receive an OTP on your mobile number, which you must enter to sign in.
A new window will emerge, with two options for Balance and Charges, as well as a button to recharge your account.
On the right, you'll find "Manage Packs," and you'll need to click on the option with a link. You will come to a new page after clicking the link.
You can add and remove channels from your existing pack on this page.
Each category has a Plus icon beside it.
Now, select Sony Sports channels from the sports category and add them as desired.
Select and Proceed is located at the bottom of the page.
All you have to do now is pay for the channels and you're ready to start.
In a little while, the new pack will be available.
Wrapping up
If you are a cricket enthusiast, then watching the live cricket action on your TV is all you want right now. The Star Sports channel will telecast all the matches of TATA IPL 2022 in nine different languages and if you don't have an existing Tata Sky subscription, then you soon can get one. We hope the above steps help you out!