Getting Vudu Error Code 28? Here are some quick fixes
Published On : September 8, 2022 by: Anjali Latwal/Category(s) : Streaming Services
Have you been converting your DVDs to digital format with the help of Vudu? If you answered "yes," then you've probably seen popups that say things like "Failed to connect to the network," "Press play to set up," "Vudu error code 28," and "operation timeout." It must be really frustrating for you to find out that you won't be able to see your go-to movie because of this, especially given that you had every intention of doing so.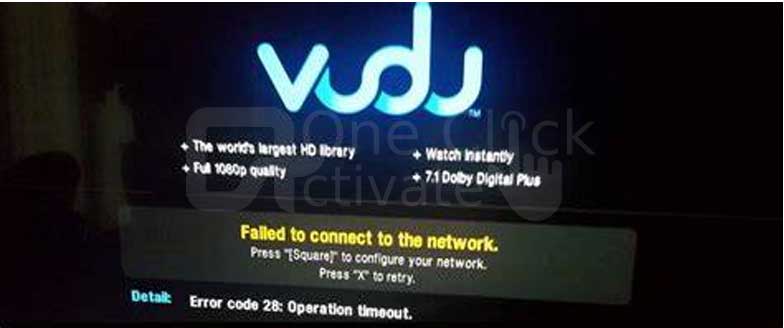 The Disc to Digital service offered by Vudu is the only one of its kind that lets users convert their DVD collections into digital copies of the highest possible quality with the click of a single button. Vudu makes it easy for you to convert your DVDs fast and legally using an Android app or your iOS mobile device. You can do this without having to go through a lot of fuss.
Beginning in January 2021, Vudu To Go as well as the in-home services of Disc to Digital became no longer available to the general masses. On the other hand, you can convert the Blu-ray and DVD discs you own to digital files by using the Disc to Digital Vudu app on your mobile device and scanning the UPC barcode of a movie that is eligible for the conversion. What to do if you encounter the Vudu Error Code 28? Worry not, we'll tell you all about it and how to fix it below. So, keep reading.
What does the Vudu error code 28 mean?
Vudu error code 28 is the name given to the screen that appears with the message "operation timeout" or "failed to connect to the internet" while you are attempting to use the Vudu Disc to Digital service. It seems that you are experiencing trouble connecting to your network on several devices, including your Roku player, smart TV, PlayStation 4, and others.
In this post, we will discuss the methods by which you can fix the "Vudu code 28" issue on Roku, PS4, smart TV, and other devices. This issue is one of the most prevalent types of "Vudu not functioning" problems.
Recommended: Fix Paramount Plus App not working
Possible Causes of the Vudu Error Code 28:
Vudu not working properly can be caused by a wide variety of factors, but the most frequent of these is a disruption in the system's network connection. There are several different things that might be causing the Vudu error code 28, including the following:
Incorrectly configured system files is a potential cause of this issue, which can potentially arise on its own.
Problems with the registry on your operating system. The registry problem takes place if new apps are launched without first carrying out the necessary steps to properly uninstall the outgoing ones. It is possible that your computer may experience unexpected shutdowns of the operating system, decreased performance, frozen programs, and other issues as a result of this.
Problems connecting to the network might also be caused by unwanted software, including spyware, adware, viruses, or malware.
How Can I Fix The Vudu Error Code 28?
A problem with the Vudu network is one of the most common types of troubles that users may experience. We have compiled a guide to assist you in resolving problems with the Vudu error code 28 in the event that your Vudu application is not functioning properly on a Roku TV, Fire Stick, mobile device, or any other device. You can give these solutions a shot to see if they help resolve the error code 28 Vudu you are experiencing.
Make the necessary adjustments to your DNS settings:
It may be possible to fix the Vudu error number 28 by modifying the DNS settings. With these methods as a guide, modifying your DNS settings won't be nearly as complicated as you would think.
From the "Settings" panel in the drop-down menu, choose the option labeled "Network & Internet."
After that, from the submenu that drops down, select "Advanced network settings," and afterward click the item labeled "Change adapter Settings."
From the drop-down menu, choose "Internet Protocol Version 4 (TCP/IPv4)," and then look at the Properties.
Select "Use the following DNS server addresses," then enter 8.8.8.8 as the preferred DNS server, accompanied by 8.8.8.4 as the alternative DNS server.
Simply applying and saving your settings will need you to press the "OK" button.
Also Read: Fix HBO Max App Not Working
Turn off the program that protects your computer from outside threats (Firewall):
Is Vudu down again? There is a possibility that this is occurring as a direct consequence of the protection provided by the firewall. In a manner similar to the problem with the Disney Plus connection timing out, all that is required of you is to disable the Windows Defender Firewall on the device in question. If you would want to disable the firewall protection that is currently active on your machine, you may do so by following these steps:
From the menu that appears when you press the "Start" button, choose "Settings."
Proceed to the "Update and Security" section by using the navigation buttons.
Make your choice from the "Windows Security" drop-down option in the menu that's available to you.
From the list of available choices, choose the one that reads "Firewall and network protection."
Choose the connection to your active network that you presently have active.
Scroll down to the bottom of the page to find the "Windows Firewall" setting, and then click the "Off" button.
In addition, you have to turn off the firewall for any other third-party antivirus software that you are using, even if you aren't using that particular software.
Perform a factory reset on the modem that is installed on your computer:
The error message "Vudu error code 28 operation timed out" suggests that there is an issue with the connection between VUDU as well as the internet service provider. One other thing you can do to get rid of any problems that could be causing connection problems because of the IP address is to reboot your modem and your Wi-Fi router.
Switch from your wired Internet connection to your wireless Internet connection:
You should check to see whether your internet service is fast enough to stream movies from Vudu. At a minimum of 2.5 megabits per second for standard definition and 10 megabits per second for high definition, the Vudu connection speed should ideally be. If you want to get rid of the problem, consider utilizing a cable connection instead of Wi-Fi on your mobile device, Xbox 360, or Roku. This is because the Vudu error code 28 operation timeout is typically noticed on these devices when they are connected to Wi-Fi.
Reinstall Vudu on your device after uninstalling it:
It may be the case that the program just has to be updated or reinstalled in order to resolve the issue. Check to see if the problem can be fixed by reinstalling Vudu on your television set and seeing if the problem persists. It seems that these solutions are equally effective for repairing the playback problem that is represented by the Vudu error number 6. There is a possibility that the problem with the playback will result in error 28. If you are interested in learning how to prevent your Roku from timing out, you may refer to the following instructions:
Navigate to Encrypted Connections Scanning by going to Internet Security > Settings > Additional > Network > Scanning Encrypted Connections.
The option to "Always scan encrypted connections" can be found in the configuration options for encrypted connections. This is the setting that is selected by default.
Make the necessary adjustments or changes to bring about the desired results by selecting "Scan encrypted connections upon request from protective components." It will probably fix the problem you've been having with Vudu being down.
Note:
Vudu sends certain encrypted data, which the antivirus software can't read for whatever reason. Because of this, the antivirus software prevents Vudu from gaining access to the system. The Vudu error code 5000 is another possible factor that might result in problems with an internet connection. This error message appears if a proxy of any kind is used.
Are your Disney Plus downloads not working? Checkout our Troubleshooting Guide
Conclusion: So, this is how you can fix Vudu Error Code 28 easily from the comfort of your own home. It is a pretty easy and straightforward process. But if you still have any doubts or feedback regarding the same, you can post them in the empty comment area below. We'd love to hear from you and assist you in whatever way possible. Also, keep visiting our site for more such articles and guides.