Guide to fix Ubisoft Connect App not working
Published On : August 28, 2022 by: Anjali Latwal/Category(s) : Gaming
According to a number of users, the PC version of the Ubisoft connect App is not working properly. This common problem, which hinders users from upgrading or playing the games regularly, is experienced by the majority of PC users while installing Ubisoft on a computer running Windows 10 or 11. Ubisoft Connect allows you to control any Ubisoft game you own. Customers claim that when this happens, they are powerless as a message on their screen stating "A Ubisoft service is not available at this moment" appears repeatedly and starts to create issues.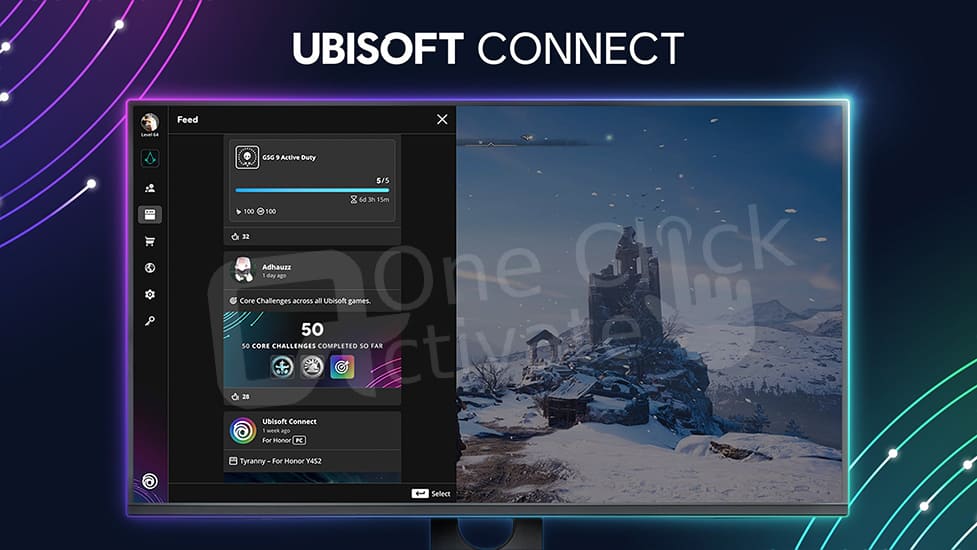 The popular service Ubisoft Connect is used by a large number of gamers worldwide. It sometimes has troubles and downtime, much like other internet businesses. For updates or maintenance, the services are sometimes interrupted. The situation often occurs for a number of reasons. Below are several possible fixes along with a summary of the most typical reasons for the error. So, let's begin right now.
Also Read: Fix Roblox Not Working Problem
What potential causes can there be for the Ubisoft Connect app not working properly?
Ubisoft Connect App is a very popular application and can show minor issues due to a variety of reasons. Some of the potential causes for the Ubisoft Connect app not working properly are:
Internet problems:
If your internet isn't working properly or your computer can't connect to the internet, you're more likely to have difficulties connecting to Ubisoft. Therefore, check for an internet issue, contact your ISP, or restart your router to see if the problem has been repaired.
Operating an outdated version of Ubisoft:
If the Ubisoft version you're using isn't compatible with the most current Windows version or is out of date, it can experience issues and start to disrupt the connection. Another cause that might be the fault for the Ubisoft Connect app's dysfunction is outdated or incompatible drivers. To prevent issues with the most current software caused by incompatible drivers, check for outdated drivers and update them all.
Software conflict:
Check to see if any external applications, such as an antivirus or a VPN, are stopping your PC from connecting. The services can be disconnected from and then reconnected one at a time.
Proxy setting problems:
If your Windows system is using a proxy, there may be a connection issue with Ubisoft and an error while starting the program as a consequence. Disabling the proxy server settings can help you circumvent the issue.
Trending: Free Apex Codes for New Updates in 2022
Fix Ubisoft Connect App not working: Quick fixes-
Let's examine the fixes you can use to resolve the Ubisoft Connect app not working problem. To start, in order to fix the Ubisoft Connect app not functioning problem, you must successfully complete a number of system and application software checkpoints. The most common reason for gaps between users, applications, and operating systems is internet access, so let's start there.
Check your internet connection and its connectivity:
Before pointing the finger at the OS or Ubisoft Connect, make sure your internet connection is operating correctly. Connectivity troubles can sometimes be caused by a sporadic internet connection and can result in a number of issues and errors. Many programs need a certain internet connection and speed to function properly. Check your internet bandwidth often to make sure it is running without any hitches or connection problems.
If your internet connection passes the test, it's time to learn more about Ubisoft Connect. Before trying an ethernet cable connection, if you are connected through Wi-Fi, double-check that you are connected. This will enable you to browse the internet without interruption or network capacity restrictions. Additionally, establish a connection with your ISP to look into and fix any internet problems.
Make sure the Ubisoft Connect app is up to date:
If you have upgraded your computer to Windows 11 or installed the most current Windows 10 update, you must install the most recent version of Ubisoft Connect for Windows 11. Windows 11, a new operating system, requires that your Ubisoft Connect is up to date. To get the most current version of Ubisoft Connect, go to www.ubisoftconnect.com.
After you've downloaded the most current Ubisoft app update, install it. Before installing the most current version, you must completely remove Ubisoft Connect from Windows 11 or Windows 10 OS. After successfully upgrading the most current version, try starting the Ubisoft Connect app using your login information to see if the issue persists.
Trending: Play Steam Games on Nvidia Shield
Update both your DNS and your IP address:
It's possible that the DNS server or domain name system you are utilizing is the root of the issue mentioned in the preceding query. Try flushing the DNS, which effectively resets the DNS server for your Windows OS, to see if it resolves the problem. Also, several others confirmed that they had success with this. By flushing DNS and upgrading IP addresses, a variety of Internet disconnectivity issues can be fixed, including issues with the Ubisoft Connect PC application.
Simply follow the instructions below if you're unclear about how to do it:
Type cmd into the Windows search box.
Following that, choose Command Prompt from the list of outcomes, right-click on it, and then select Run as administrator from the pop-up menu.
To proceed, choose the Yes option.
Enter the following commands:
ipconfig /flushdns,
ipconfig /release,
and ipconfig /renew
Press Enter.
After that, retest the problem. Whether Ubisoft Connect is available, check to see if it is; if not, go on to the next option.
Restrict IPv6:
IPv6 won't be absolutely essential in the foreseeable future, which is probably not very many years. As a result, IPv6 is unlikely to be the cause of your website problem. If you require IPV6 for any reason, you can't compel Windows to use it no matter what. If your ISP and all of your other hardware are IPv6 compatible, Windows *can* and will utilize this (the recommended) protocol.
Additionally, a number of users reported that the problem was resolved by turning off IPv6 and that Ubisoft Connect would disconnect while utilizing IPv6. How to accomplish it is as follows:
When you right-click the network symbol in the bottom-right corner of your desktop, choose Open Network & Internet settings from the context menu.
By clicking the Change adapter options button, modify the adapter's settings.
Choose Properties from the context menu when you right-click the active Internet connection.
Select Internet Protocol version 4 (IPv4) and uncheck Internet Protocol version 6 under the Networking tab (IPv6).
To keep the changes after that, click OK.
At this point, your Windows computer may need to restart. Also, check to see if the connection problems with Ubisoft Connect on PC are still an issue.
Update all of your device drivers:
If none of the aforementioned remedies work, your device drivers, particularly the network adapter driver, are likely corrupted or out-of-date. In order to maintain the best possible performance of your computer, make sure the latest current device drivers are installed. Follow these instructions to update the device driver:
By executing a right-click on the Windows icon, choose to access the Device Manager.
Then, by performing a right-click on Drivers in Device Manager, expand the Display Adapters area.
Next, right-click the driver you want to update and choose Update drivers.
The opening window that shows you 'When asked how you wish to search for the most recent driver software, choose "Search automatically for the updated driver software."
Then, select the Next option.
Now, you can observe whether your machine has been repaired for the problem or not.
Recommended: Fix Xbox not working on PC
Conclusion: So, that was all about what are the most potential causes for your Ubisoft Connect App not working and how you can fix it. We hope that with the help of our guide, your Ubisoft Connect App gets rid of its bugs and errors and becomes fit for your use. Please don't forget to leave your insightful comments in the empty comment area below if you find out guide beneficial.