Register Your Town Of Queen Creek Account To Use Its City Services
Published On : November 25, 2021 by: Miti Sharma/Category(s) : Internet, Trending
If you have landed on this article then you must know what the Town of Queen creek is for? The town of Queen creek provides multiple services for its customers like paying utility bills etc which you can utilize. You just need to register at the Town of Queen creek and you are ready to use the services it offers. The steps to create an account are mentioned below which you can follow serial-wise.
Registration Process Of Town of Queen Creek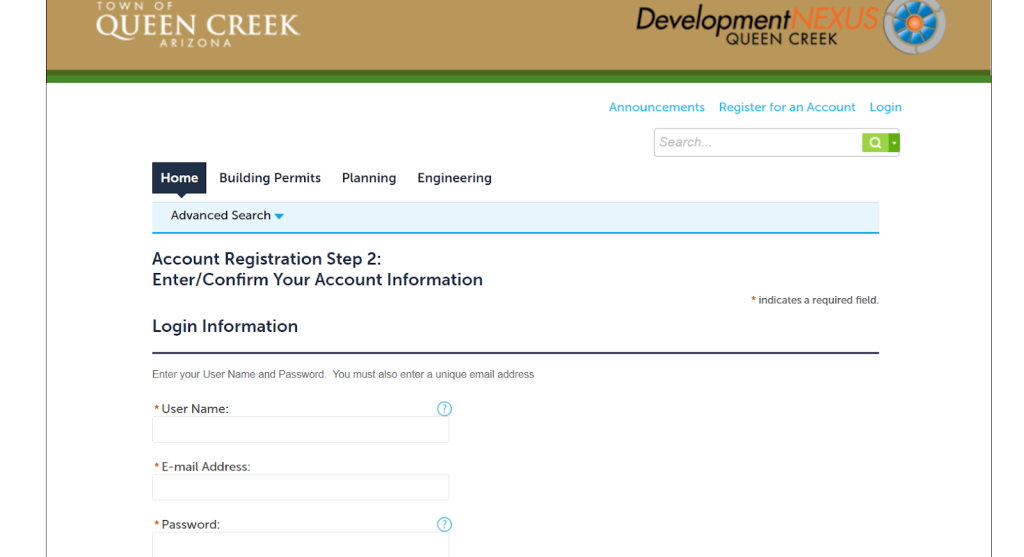 NOTE: Before you begin, make sure that Pop-Ups are enabled in your web browser. Some Development Nexus features appear as popup boxes or documents in their own window.
Go to queencreek.org/DevelopmentNexus or directly to the URL at https://aca.accela.com/qc in a web browser. Choose 'Register for an Account' at the top of the page or below the Login forms on the right side.
Read the General Disclaimer and accept the conditions by checking the box. Then click the 'Continue Registration' button.
Enter a User Name, Email Address, Password, and Security Question to create your login profile.
Then, using the 'Add New' option, enter your contact information. Determine if your account is for an individual or an organization. Fill in all relevant fields in the following box with your contact information. After you've completed the entry form, click 'Continue.'
Check to see if the presented contact information is valid. To make changes, choose Edit or 'Continue Registration.'
Congratulations! The account registration process is now complete.
SeeClickFix
SeeClickFix is the Town of Queen Creek's online and mobile service request system. Residents may use SeeClickFix to report complaints and service requests directly to Town employees.
NOTICE-
SeeClickFix isn't meant to be used to report emergencies.
Monday through Thursday, 7 a.m. to 6 p.m., this system is monitored. For emergencies, dial 9-1-1 or 480-358-3131 for after-hours Town emergencies.
Steps To Download The SeeClickFix App?
Here are the steps through which you can download the SeeClickFix app on your smartphone.
Visit either App store or Google Play store and install SeeClickFix App on your smartphone.
If you're a first-time visitor, be sure you click the 'Register' button.
Enter your selected display name, email address, password, and the junction closest to your house or workplace.
Choose 'Register' from the drop-down menu.
Select the 'Place' option after the program has been downloaded.
Select this option after typing in 'Queen Creek, Arizona.'
Utilities
The Queen Creek Utilities Department is in charge of delivering water and sewer to residents as well as billing, collection, and payment of utility accounts. Here are given the specific areas that come under this section.
Sewer/ wastewater
The Town of Queen Creek maintains a sewage system that serves the Town Center and many of the community's planned higher-density residential sections. The goal is to deliver dependable, high-quality sewage collection services that are both efficient and ecologically friendly.
Do you need to report a problem?
clogged sewers
sewer backups
pipeline breaks and sewer stinks
Please contact at this number- (480) 358-3450.
Water
The Water Division is committed to providing the finest quality water and service while being cost-effective, safe, dependable, and timely. They are dedicated to providing drinking water that complies with all state and federal regulations.
The Town of Queen Creek is always looking for new and better ways to provide the highest quality drinking water to its residents. While continuing to fulfill the requirements of all water users, they stay attentive in meeting and surpassing criteria for source water protection, water conservation, and community education.
The Town currently provides a number of online services. From the comfort of your own home or office, you can start a new service, pay your utility bill, view your account information, or sign up for paperless billing.
Trash/recycling
Right Away Disposal (RAD), the Town of Queen Creek's garbage and recycling provider for residential services, was bought by Waste Connections of Arizona in March 2018. Waste Connections of Arizona plans to gradually transition from RAD graphics to Waste Connections branding on its fleet of trucks, dumpsters, and website beginning in July 2021.
WHAT IS THE DIFFERENCE?
Vehicles providing garbage and recycling curbside services, bulk trash, and the QC Recycle Center now have new business colors and logos.
Sign Up For A New Service At The Town Of Queen Creek
Water consumers can create a new account online using the Town of Queen Creek's online utility service. To connect water service, the Water Division requires two business days' notice. Monday through Thursday, barring holidays, service connections will be handled.
Hours of Service
7:00 a.m. to 6 p.m. Monday through Thursday Closed on Fridays and Sundays.
Call (480) 358-3450 for after-hours emergencies.
**Note- Please be aware that if you want same-day service, you will be charged a $35 same-day service fee, which must be paid prior to service connection. Same-day service requests received between Friday and Sunday will be addressed on Monday.
To start a new service, a $150 payment is required before it can be turned on. This purchase includes a $125 deposit, which will be refunded automatically after 12 months of on-time payments. The balance of $25 is a non-refundable setup cost.
Here- www.tfaforms.com/435120 is the website to access the new service application. The following information must be provided:
Customer's name, address for service, and postal address
If you're renting, include the name and phone number of your landlord.
When do you want your service to begin?
Now you can easily create a new account on the Town of Queen creek and use all the different services it has. If you want to contact them then you are also given the contact details.