How to Get Telegram Premium in 2023 Upgrade Telegram]
Published On : January 3, 2023 by: Sakshi/Category(s) : Technology
How you use the Telegram app will depend on your preferences. The new upgrade can be quite helpful for you if you use Telegram to store massive data or files. Because you can upload files that are up to 4 GB in size. Additionally, it can be helpful for individuals who desired exclusivity and an ad-free Telegram experience. But if you don't need all of these capabilities, we advise against purchasing the premium version. And if you value the exclusivity and ad-free experience then you must get a Telegram Premium account with our ultimate guide helping you with the advanced features, prices, and steps!
Telegram can be installed on the Apple Watch so you may contact your pals right from the watch. The TextNow app is another option available to customers. Using a third-party program, the free US or Canadian phone number is generated. We may access the Telegram account without a Phone Number by doing this. Now, let us know the platform and its services better.
How to Get Telegram Premium in Seconds?
The procedure for becoming a Telegram Premium is really straightforward. The Telegram app has to be updated to the most recent version that is currently available in the App Store. Sadly, Telegram has not yet made the upgrade available to Android users. They must therefore wait for the official Telegram team to publish the upgrade. The cost of the Telegram premium subscription would be around $5 to $6, although the Telegram team has not made an official comment and it may differ depending on where you are.
Users can access the Telegram Premium Plan on any device for $4.99 per month.
Installing Telegram 8.8.1 on your device is a prerequisite for upgrading to Telegram Premium.
Go to the telegram settings after installing the most recent version of the telegram app.
To purchase the upgraded plans, locate the Telegram Premium option.
Does Telegram Premium Cost much and How do prices vary from device to device?
Depending on the nation or area you are visiting. For Americans, the premium telegram's $4.99 price is not prohibitively expensive. Regardless of whether they use an iPhone or an Android device, all consumers pay the same price. Depending on the area or nation you are in, the cost may range from $5 to $6 each month.
Additionally, macOS users have the option of using and upgrading Telegram Premium. Even the Premium edition of Telegram can be upgraded and installed on the Mac operating system.
Simply enter "Telegram" into your browser's search bar to access the install file.
Install it on your Mac after you've finished, then upgrade to the premium version.
By spending $5, you can now use all of Telegram Premium's features on your Mac.
What are the advantages of Telegram Premium's doubled limits?
Double limits signify that all restrictions, including those on conversations, groups, public links, saved GIFs, and favorite stickers, will be doubled.
All of these things can only take place if you upgrade or subscribe to Telegram Premium in your Telegram application.
Step-by-step Guide for Adding a Telegram Premium Account-
Check to see if the Telegram app is updated on the App Store.
Open the app, then enter your phone number to register for a Telegram account.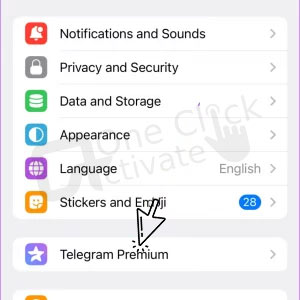 After registering for a free account, go to the Settings menu in the bottom right.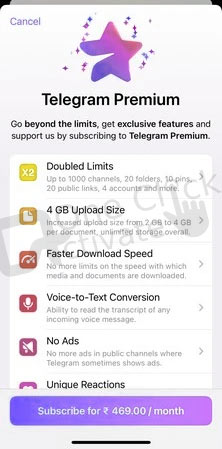 Select the Telegram Premium option from the list by scrolling down.
The main advantages of upgrading would be listed in a new window, along with a Subscribe option.
Select "Subscribe" from the menu. They can begin enjoying the advantages of Telegram premium after making the purchase.
Telegram premium is a straightforward in-app upgrade, like all other applications that require a premium subscription. Currently, only iOS users may use it; Android users must wait until the official Telegram team makes an announcement.
Check out our guide to Permanently Deactivate or Delete Snapchat account
How Can Telegram Premium Be Activated?
You must install the most recent version of the program in order to activate Telegram Premium.
If you use an android device, you can even install Telegram without using Google Play.
Go to the settings section in the Telegram app to purchase the Telegram Premium right away.
Pay the premium version's pricing, and your plan will be enabled as soon as your payment is complete.
NOTE: Purchase of the new Telegram premium version is not required. You can continue to use the free version and utilize all the features just as you always have. The only additional special features that come with Telegram Premium are increased restrictions, dynamic profile images, and unique stickers.
So, that was all in our post and we hope you liked it, to install Telegram today click here and stay tuned for many such updates!
Features: Telegram Premium Account
A popular platform for instant chatting is Telegram. It saw rapid development and now has more than 700 active monthly users. A Telegram premium account subscription is available on all social media platforms, providing access to a few special features. Similar to WhatsApp, Telegram just gave its members access to premium features.
Among the advantages of upgrading to a premium account include faster downloads, support for larger files, the ability to join more groups, and several other advantages. It improves the messaging experience by adding new features rather than charging for Telegram. So that you may enjoy the exceptional features, purchase Telegram Premium.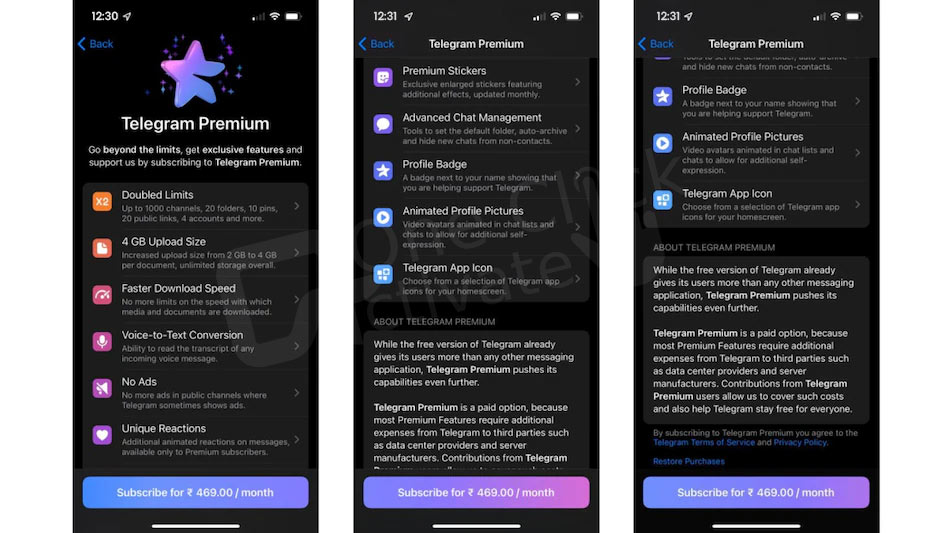 Telegram Premium is a superior choice due to a number of special features. The benefits of upgrading to a premium account are listed below.
It can handle files up to 4 GB in size. Before, the limit for regular users was 2 GB.
handling larger files with 1080p or 4K high-quality resolution without affecting the video. Regular users, however, can also access those bigger files without a premium subscription.
It offers features like an audio-to-text message converter, unique stickers, reactions, GIFs, a customized app icon, a badge to highlight the premium users, animated profile images, and many other things to make it seem more upscale.
When using the application, advertising won't appear to premium users.
The ability to upload and download files more quickly than regular account users would be the next crucial feature.
A premium account allows you to join up to 1000 groups. Only 500 groups are available to regular users.
NOTE: In addition to smartphones, you can use Telegram on Android TV by sideloading the Telegram apk file or using the web version.
Trending: Install Zoom App on Android Smart TV
Frequently Asked Questions
What does the Telegram premium subscription cost?
Depending on where you live, the monthly subscription cost for Telegram Premium ranges from $4 to $6. Unfortunately, Telegram doesn't provide a free trial; you can either use it or not. The premium edition promises a number of important features. The doubling of many platform restrictions is the most significant change. Telegram Premium is not available for free. To access its services, you must pay a monthly subscription charge
How do I purchase affordable Telegram premium?
Users can sign up using @PremiumBot, the App Store, Google Play, or Telegram Settings > Telegram Premium. Users receive a lower price when subscribing through the bot because Apple and Google do not charge transaction fees.
How many people are using Telegram Premium?
With a goal of monetizing some of its sizable user bases, Telegram has collected over 700 million monthly active users and is introducing a premium tier with more capabilities.
What benefits does Telegram Premium offer?
Best Telegram Premium Features to Look Forward To:

– No Ads.
– quicker download times.
– Unique Sticker Collection.
– Animations for profile photos.
– Limits doubled with Telegram Premium.
– Icons and badges.
– Improved chat management
– Requests to Join Public Groups
How can I sign up for Telegram Premium?
Steps to access Telegram Premium are as follows:
– Install the most recent version of Telegram.
– Press "Settings" once.
– Press "Telegram Premium" once.
– Join the Telegram Premium service.
How do I turn on Telegram's 18+ feature?
Tap Start at the bottom of the chat thread when it loads with the bot. Next, touch on the toggles labeled I'm 18+ and Show sensitive content to enable them. Both choices will have a checkmark next to them when they are enabled.