T-Mobile Activation Fees and SIM Card Costs [2023 Guide]
Published On : January 31, 2023 by: Anjali Latwal/Category(s) : Cell Phone Network
Are you someone who has recently switched to T-mobile or is planning to do so? Well, then this article is for you. In this article, you'll find out all that you need to know about T-mobile, including T-mobile activation fees & SIM Card costs. So, let's begin.
About T-Mobile Organization and T-Mobile Activation
T-Mobile USA was founded in July 1998, but it wasn't until the Uncarrier movement began in 2013 that the firm really became a force to be reckoned with. T-Mobile had 86 million members by the end of 2019, making it the third-largest operator in the United States. The firm combined with Sprint in Spring 2020, consolidating its dominance and bringing the total number of subscribers to over 104 million. T-Mobile boasts some of the fastest cellular speeds among the major networks, as well as simple and affordable service.
T-Mobile Activation
T-Mobile does not impose any activation fees on its users. There are, however, one-time aided support line costs of $20 per line. Your T-Mobile SIM card can be activated in one of two ways. Both of these options will need you to enter into or create a T-Mobile account, so be sure you have your login credentials ready.
On your mobile device:
The most popular method of T-Mobile activation process is via your phone. It's simple to accomplish, and you'll need to do the following steps:
While your phone is turned off, insert your SIM card.
Turn on your phone.
Follow the setup instructions on the screen.
To finish the procedure, dial 1-800-T-MOBILE.
To finish the procedure, you may need to supply the customer support agent with your phone's IMEI number as well as the number displayed on the SIM card.
If you bought an iPhone from T-Mobile, the SIM card was most likely already inserted. To activate your phone, turn it on and follow the setup wizard instructions. You'll most likely need to check in to your Apple id, but the SIM card should be activated already.
Online:
You will not be required to speak with a customer support agent. Simply follow the instructions below:
Go to the T-Mobile account page in your web browser.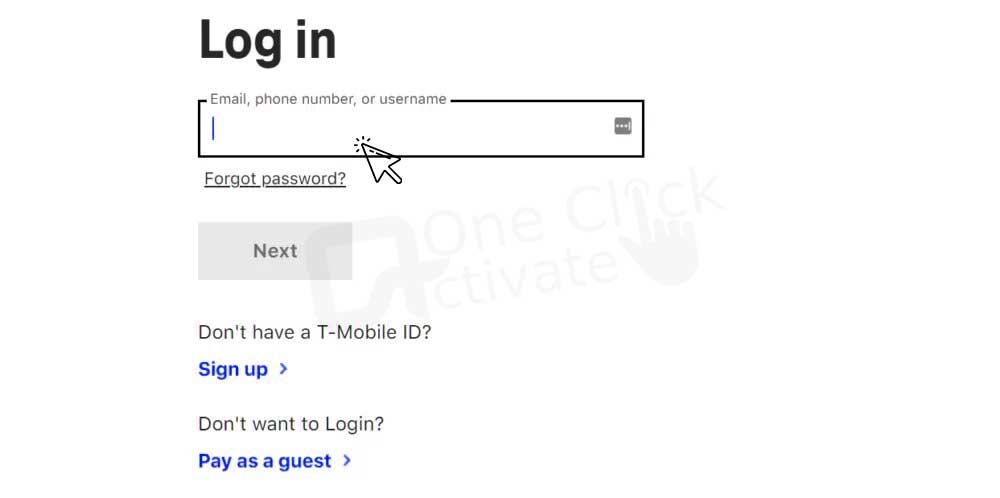 Sign in to your T-Mobile account or establish a T-Mobile ID by following the instructions below to initiate your T-Mobile activation process.
If you have numerous lines, choose the line for which you want to swap the SIM card.
To validate your account, follow the steps below.
Then, to validate the modification, enter your ICCID number.
If you're setting up a T-Mobile account, you'll need to enter your phone number and create a PIN. T-Mobile will activate your SIM card after you've completed the appropriate information and clicked submit.
Now that you know all about T-Mobile and T-Mobile activation process, let's learn how to find out the perfect plan for you.
How do you choose the best plan for yourself?
We have a few helpful hints before we go through T-service Mobile's service and plans with a fine-tooth comb. Here are some things to look for in the ideal phone plan.
Data: Enough 4G LTE/5G data is required to enable your streaming, gaming, and working activities. Read the small print on your plan's data restrictions and throttling.
Price: Make sure you're getting the greatest deal by comparing prices and reading user reviews. Remember that inexpensive isn't always better.
Coverage: If you don't have service, you won't be able to do anything with your phone. Check the carrier's coverage maps to find who in your region has the finest 4G/5G network.
Features: Special capabilities, like HD streaming and hotspot data, aren't included by default. You may choose to pay a little extra for these benefits.
T-Mobile's Plans and Costs:
T-Mobile's plans are basic and uncomplicated, with three bundle choices available to customers. Each plan comes with unlimited data, text, and voice, but the extras are what set them apart. The Essentials package is the most basic, while the Magenta and Magenta Max plans are the most sophisticated.
Essentials:
The Essentials bundle includes one line of service for $60, two lines for $45, three lines for $30, and four lines for $27. As a consequence, it's the most straightforward and cost-effective way to sample T-post-paid Mobile's service. As previously indicated, the subscription includes unlimited talk, text, and 50GB of premium data. It also includes unlimited SMS in almost all international locations, as well as unlimited 2G internet in Mexico and Canada. International calls are paid per minute, and international data is charged separately.
Users get an unlimited hotspot at 3G speeds with this option, but taxes and fees are not included in the monthly price. With the Essentials plan, video streaming is likewise restricted to the standard quality (480p). It's ideal for folks who want unlimited talk, text, and data without the frills, as well as worldwide access without the requirement for super-fast speeds.
T- Mobile's Magenta plan is a bit more expensive than the Essentials Plan, costing $70 for one line and $120 for two, but you get a third line for free. You will only have to pay $140 per month if you need a fourth line. This package includes unlimited calling, texting, and now 100GB of premium data, all of which are available in Canada and Mexico.
When traveling outside of the United States, customers are restricted to 5GB of international 4G LTE data; beyond that, network coverage drops to 2G speeds. Every month, the Magenta plan offers 3GB of 4G LTE hotspot access, but after that, you'll only be able to use 3G speeds. If you're traveling and have Gogo internet, this is a fantastic deal. A free hour of in-flight Wi-Fi, as well as unlimited texting, is available. Taxes and fees are also already in your monthly purchase for the Magenta Plan, and customers with two or more lines receive one free year of Netflix Basic. However, this package only allows for standard quality video streaming (480p). It's ideal for people who want to know precisely how much their data plan will cost each month, as well as those who want to learn more about Netflix's basic plan.
If you want the most comprehensive plan T-Mobile has to offer, Magenta Max is the best choice. On this plan, a single line costs $85 per month, two lines cost $70 apiece, and a third line is free. Each line of service will cost $43 per month if you need four lines. All of the limitless features of the regular Magenta Plan apply here, plus your international data is now accessible at double the speed.
Magenta Max also includes unlimited Wi-Fi and texting for the duration of your flight, as opposed to the Magenta Plan's one hour of in-flight Wi-Fi. Scam Shield Premium is already in the Magenta Max plan, and it helps you avoid or filter unsolicited calls. Before reverting to 3G speeds, you may utilize the 4G LTE hotspot for up to 20GB of data.
This plan includes two free screens of Netflix Standard for a year, and plans with two or more lines have two free screens of Netflix Standard. Taxes and fees are already in your monthly pricing. The Magenta Max Plan from T- Mobile is great for customers who want the finest streaming quality on T-network, Mobile's as well as anybody who often travels by plane and requires Wi-Fi and messaging.
T-Mobile also has additional special programs for people who meet certain conditions. One option is the Unlimited 55 plan, which is only available to two-line families over 55. The Unlimited 55 option is available on the Essentials, Magenta, and Magenta Max subscriptions.
All 3 have unlimited talk, text, and data on the T-Mobile network. You'll also benefit from five levels of anti-spam defense. The standard service includes international messaging, while Magenta adds data and Magenta Max doubles data speed. Standard Definition streaming is available on Essentials and Magenta, while High-Definition streaming is available on Magenta Max, as part of T-Unlimited Mobile's 55 packages.
Discounts are available on T- Mobile's cellular network for military members, veterans, and their families, but only on the Magenta and Magenta Max plans. These options were available for accounts with four lines. You'll pay $100 per month for Magenta & $140 per month for Magenta Max if you use autopay. SD streaming is available on the Magenta plan, while HD streaming is available on the Magenta Max plan. When traveling, both options include data and SMS.
Plans for First Responders:
The last special offer from T-Mobile is for first responders and their families. The features are similar to T- Mobile's Military Plans, from the four-line configurations to the data limitations and incentives. That means the Essentials plan is still unavailable, but the Magenta and Magenta Max plans are also available for $100 and $140, respectively. The streaming quality and hotspot matches are the same in SD with Magenta and HD with Magenta Max.
Family plans from T-Mobile:
Cell phone plans that suit your demands and those of your family. Your T-Mobile family plan comes with six choices, ranging from 10GB of data to unlimited internet with HD-quality streaming. You can get unlimited plans from Essentials on up, it simply depends on what sort of limits you want.
Do you have a large family that needs a lot of hotspot bandwidth and high-definition streaming? Do your college students need on-the-go laptop access? Or do you like to watch The Walking Dead on the train in the morning? The Magenta Family plan or Magenta Plus Family plan may be of interest to you. If you mainly use the internet for email, Twitter, Instagram, and YouTube, however, a basic unlimited subscription, such as the Essentials plan, would suffice. You can also obtain a plan without any data if you're a genuine minimalist living off the grid.
T-Mobile Features and Benefits:
T-Mobile also provides some incredible incentives to its customers as part of its mobile subscription package.
A Smartphone Mobile Hotspot allows users to securely share their internet connection from their smartphone or tablet with other devices such as desktops, tablets, and laptops.
Smart Shield is a powerful five-layer scam call prevention system. Caller ID, Scam Block, and Scam ID are all free tools that safeguard T-Mobile customers.
Each user gets a specialized team of professionals who offer excellent customer support.
Military people, first responders, and their families are also eligible for special pricing on the T-Mobile network. Those over the age of 55 may also benefit from a variety of discounts and bonuses.
Conclusion: T- Mobile's straightforward and economical plans appeal to those looking for a low-cost phone plan that doesn't skimp on quality or service. When it comes to foreign coverage, T-Mobile stands out since it offers numerous outstanding services without spending more.
When many lines are available together, T-Mobile service bundles may become much cheaper. This makes it ideal for families or groups of friends who wish to join up together. So, we hope that through our article on T-Mobile Activation Fees & SIM Card Costs, you were able to gain your required information successfully.