How to Cast SYFY on Chromecast (Two Ways)?
Published On : May 27, 2022 by: Sakshi/Category(s) : Streaming Services
SYFY on Chromecast is a fantastic streaming app in which you can catch up on all of your favorite TV shows, films, episodes, and prior seasons. You can log in to the app using your cable, satellite, or digital TV subscription. TV companies such as DirecTV, Dish, Xfinity, AT&T TV, and Spectrum carry the SYFY channel. You may watch new release shows on the SYFY app the next day after they air on TV.
You need to have a Chromecast device to cast SYFY on your TV screen. If you have an Android phone or tablet that supports Chromecast then you are good to go. However, if you have an iOS device then you cannot use it for casting but there is another way where you can cast SYFY on your TV screen using the Airplay Mirroring option available on iPhone/iPad devices which will be covered later in this article.
Casting SYFY on Chromecast using your Android phone or tablet or iPhone/iPad device. You need to install the Google Home app from Play Store on your Android device and iOS device before casting SYFY to your TV screen using Chromecast device with the Google Home app installed on your mobile phone/tablet or iPhone/iPad device. You may also create a personalized profile by adding your favorite shows and resume watching from where you left off. Because the SYFY channel app is compatible with all platforms, you may use Chromecast to view newly released series on your TV screen.
About-
Sci-Fi is another name for SyFy. As you might have guessed from the name, it primarily airs science fiction shows. It also has horror, fantasy, supernatural, and another programming in addition to science fiction. The NBC Universal Cable Entertainment Group owns Syfy, an American television network.
The best thing about this channel is that it is available on every major platform such as Roku, Amazon Fire TV Stick, Apple TV, and many more. You can also watch Syfy on your smartphone or tablet device by installing its app on your device. However, there are some limitations when it comes to streaming this channel via mobile devices. So if you have a Chromecast device at home then you can easily stream Syfy on Chromecast without any problem.
In order to stream Syfy on Chromecast follow these simple steps:
Go to Google Play Store or Apple App Store and download the official app of Google Home (or simply search for "Google Home" in any search engine). Open the app after downloading it on your phone or tablet device and sign in using your Gmail account credentials (if you don't have one then create one first). After signing
First thing first; let's see how we can cast SYFY on Chromecast from our Android phones/tablets running android version 6.0 or above.
Chromecast Options for SYFY:
The SYFY app is accessible for both Android and iOS, making it simple to cast. On Chromecast, there are two methods to watch SYFY.
Smartphone Application (Android or iOS)
Using PC (Windows or Mac)
How to Cast SYFY to a Chromecast?
Note that the Chromecast gadget must be connected to your smart TV. Make sure your smartphone and Chromecast are both connected to the same Wi-Fi network.
Download the SYFY app to your smartphone. Users of the Play Store for Android and the App Store for iOS.
Launch the SYFY app and log in to your SYFY account once it's been installed.
Choose any of the videos from the app now.
Then press the Cast button.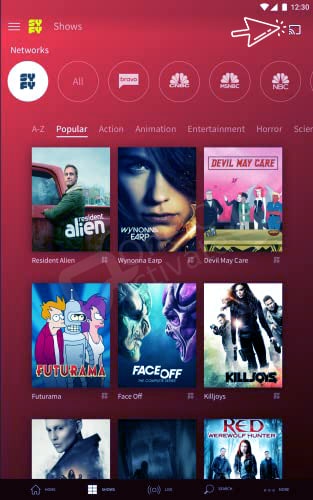 Select a Chromecast device.
After a successful connection, the video you've chosen will begin to play on your TV screen.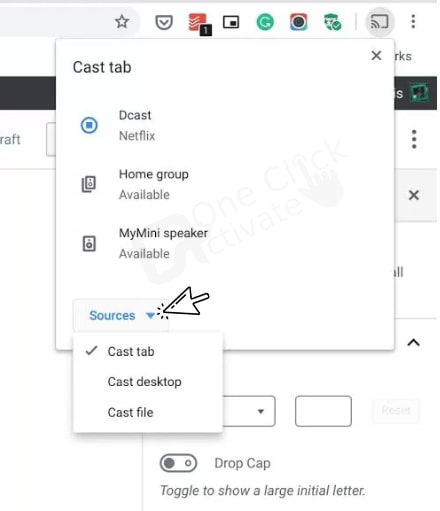 Must Read: Stream QVC on Roku
How to Chromecast SYFY from a Computer?
NOTE: Your PC and Chromecast must be connected to the same Wi-Fi network.
Use the Chrome browser to visit the SYFY website.
After that, log in to your account.
The pop-up will appear when you right-click your mouse on the screen.
Choose the Cast option from the pop-up menu.
When you select the cast option, the screen will begin to look for a compatible device.
Pick the Cast tab from the Source choice drop-down menu, then select your Chromecast device.
You can now begin watching the film on the website, which will be cast on your television.
How to Chromecast watch SyFy on Samsung Smart TV?
The SyFy app is currently unavailable for Samsung TVs. Because of this, you won't be able to install it straight through Smart Hub, but that doesn't mean you won't be able to watch SyFy on your Samsung TV. There are a variety of ways to stream SyFy to your Samsung Smart TV, and we'll go through some of them today.
How can I watch SyFy on my Samsung Smart TV?
Another option is to use media streaming services to watch the SyFy channel. Many of these services include the SyFy channel as part of their membership package.
One of them is the casting method, which is supported by practically every Samsung Smart TV, and SyFy also supports Google Chromecast devices. As a result, you can use Chromecast to stream SyFy on your Samsung Smart TV.
Smartphone-
Connect your Chromecast to the HDMI connector on your Samsung Smart TV using your smartphone.
Ensure that Chromecast and smartphone are connected to the same Wi-Fi network.
Install the SyFy app from the Play Store (Android users) or the App Store (iOS users) on your smartphone (iOS users).

Scroll to the bottom of your mobile screen and select the cast option.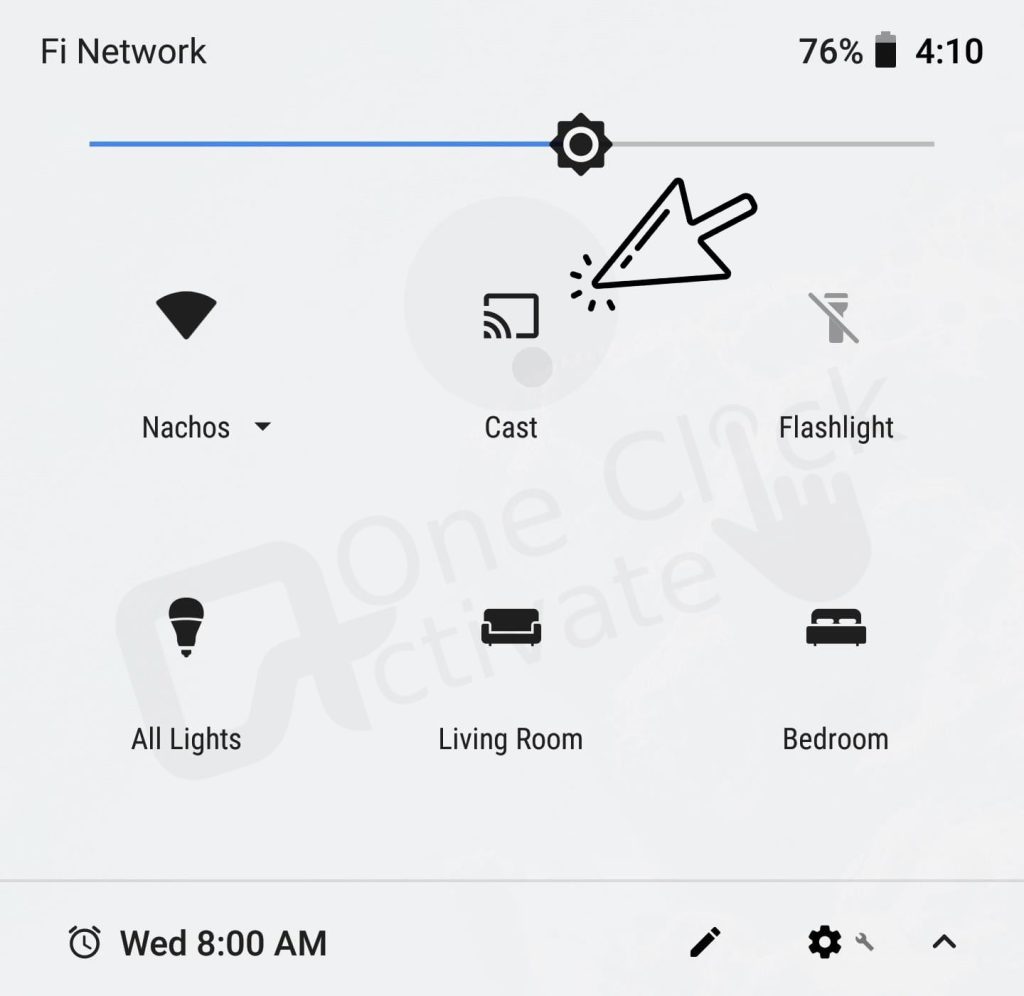 Otherwise, go to the settings menu and select connection and sharing, then enable the cast button.
From the search results, select the name of your device.
Your mobile screen will display on your Samsung Smart TV after the casting process is complete.
Next, open the SyFy app on your smartphone.
Log in with your SyFy account information.
On the SyFy app, you can now watch your favorite shows and unlimited content.
Also Read: Watch Channel PEAR on FireStick
Computer-
On your computer, open Google Chrome.
Go to SyFy's main website.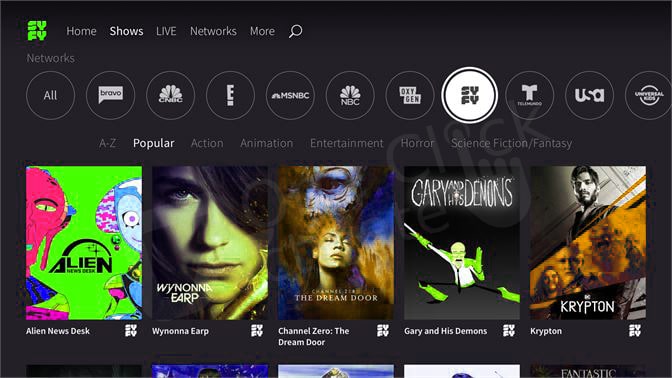 Go to three vertical dots on the top bar or press the right mouse button.
Scroll down to find the casting choice.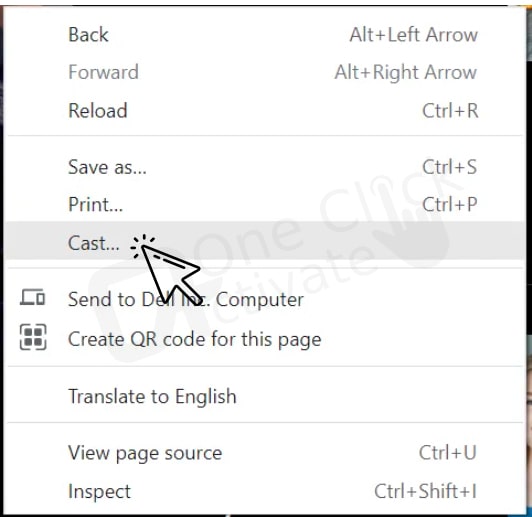 Choose your Samsung TV model from the list of results.

From the sources menu, select the cast tab.

After you've finished casting, the computer screen will appear on your Samsung Smart TV.
On SyFy, you may watch your favorite shows.
Watch SyFy with Alternatives ways:
Another option is to use media streaming services to watch the SyFy channel. Many of these services include the SyFy channel as part of their membership package.
Hulu-
Another option to stream SyFy on Samsung Smart TV is using Hulu Live TV. The monthly fee for this service is $64.99. It also has 70 other popular channels, like TLC, TNT, Discovery, Lifetime, USA Network, FX, Freeform, and others, in addition to SyFy. Hulu can be streamed by two people at the same time. You'll also have complete access to Hulu's entire library.
Price: $64.99/month
Free trial: 7 days
Cloud DVR storage: 50 hours (upgradable)
Total channels: 70 channels
YouTube TV-
The Syfy channel is also included in YouTube TV's channel lineup. This plan costs $64.99 per month and contains 60 more channels in addition to Syfy, including Comedy Central, TLC, TNT, USA Network, Travel Channel, VH1, Food Network, BET, and others. Three customers will be available to watch at the same time, and you can record as much as you want because it provides customers with unlimited cloud DVR storage.
Price: $64.99/month
Free Trial: 7 days free trial
Cloud DVR storage: Unlimited
Total Channels: 60 channels
Fubo-
It has been one of the most well-known streaming services in the United States. The SyFy channel is now a part of FuboTV's subscription, which costs roughly $64.99 per month. There are 90 channels available, including SyFy, Disney, ESPN, USA Network, TLC, VH1, WE tv, and more.
Price: $64.99/month
Free trial: 7 days
Cloud DVR Storage: 250 hours (upgradable)
Total Channels: 90 channels
So, that was all in our article and we hope you liked our post!