How to Stream Nintendo Switch on Twitch
Published On : January 30, 2023 by: Anjali Latwal/Category(s) : Gaming
How to stream Nintendo Switch on Twitch: Do you want to show off your gameplay skills to the rest of the world? This guide will walk you through the process of how to stream Nintendo Switch to Twitch. It would seem that all modern gaming consoles allow you to broadcast your games in real-time by streaming them to websites like Twitch. If you want to live stream with a Nintendo Switch, you'll have to do things the old-fashioned way and purchase a capture card in order to do so. The PlayStation 4 and Xbox One consoles come pre-loaded with all of the necessary tools for live streaming, but the Nintendo Switch does not have this capability.
In this tutorial, we will demonstrate how to link up an external capture card and get set up on Twitch so that you can begin live streaming games as quickly as possible.
How to stream Nintendo Switch on Twitch
In order to know how to stream Nintendo Switch on Twitch follow the steps mentioned below:
Locate the HDMI cord that was included with the Elgato Game Capture HD60 S and then attach it to the device's HDMI Out port.
You need to connect the other end of this cable to the HDMI In port that is located on your television.
Now, when you play Nintendo Switch games on your TV, a copy of the video and audio is sent to your computer through the associated USB cord. This functionality was previously only available on Nintendo Switch handheld consoles.
Choose your Profile from the drop-down menu, then choose Account Settings.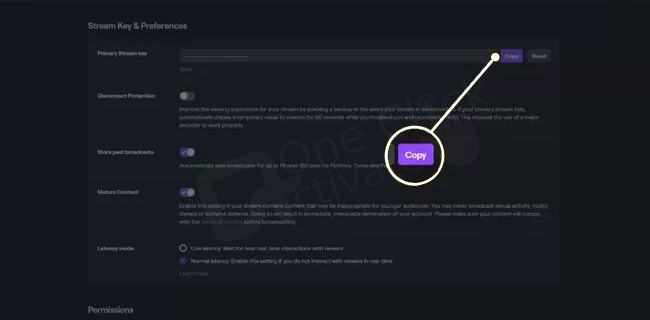 Click on the tab labeled Channel and Videos.
You will come across a part that is referred to as the Primary Stream Key. Simply by pressing the Copy button, your key will be copied into the clipboard.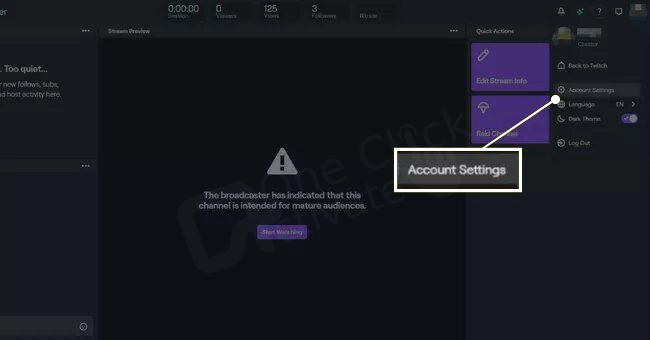 Make sure that Twitch is chosen in OBS Studio's Stream settings by navigating to the File menu. Then, click on Settings.
After that, cut and paste the key into the blank space provided, and then click the OK button. Whenever you stream using OBS Studio, the stream will now also be sent to Twitch.
Author's Recommendation: Fix Rocket League Activation Issues and Errors on Nintendo
How to use Nintendo Switch as your primary source of media?
Next, you will need to add your Nintendo Switch as a media source on your computer.
Choose Add > Video Capture Device from the context menu that appears when you right-click anywhere in OBS Studio.
Give this new layer a name that reflects its purpose. Every media source that you add to OBS Studio will necessitate the creation of a separate individual layer.
Locate your capture device in the menu that drops down, and then choose it.
Press Okay.
In OBS Studio, there should be a window that displays the live video coming from your Nintendo Switch.
It is now possible for you to use your mouse to resize it. And move it around in order to customize it to your preferences.
Repeat the steps from the previous section. But this time when you get to the "Video Capture Device" menu, choose the option that corresponds to your webcam. Do this so that you can record gameplay footage of yourself using the webcam.
If you want to record gameplay footage using a webcam, make sure that it is connected to your computer. And that it is turned on.
The camera window, in the same way as the Nintendo Switch footage, may be enlarged and dragged using your mouse.
In addition, OBS Studio supports the use of microphones and headsets. After they have been plugged in, the application should be able to identify them automatically. And the volume sliders may be used to control the levels at which they play. They are located at the bottom of the screen.
When you are ready to start streaming, you may do so by pressing the Start Streaming button. It is located in the lower-right corner of OBS Studio.
Relevant Read: How to Create Nintendo Account Step-by-Step!
What are the Nintendo Capture Card options that I can buy?
Now you know how to stream Nintendo Switch on Twitch. When it comes to streaming games from a Nintendo Switch, one of the greatest capture cards you can utilize is the Elgato HD60 S. But an Elgato isn't something that everyone needs or desires. Here are some more options that you may want to think about.
AverMedia Live Gamer Mini Capture: This capture card is capable of recording at a maximum resolution of 1080p60, which is also the highest resolution that the Switch can achieve. In addition to compatibility with OBS and Xsplit, it has a zero-latency pass-through that enables smooth recordings. Because of its portable chassis, it can be taken almost anywhere.
Mirabox USB 3.0 4K HDMI: This capture card features a zero-latency recording capability and can record live video at resolutions up to 1080p60. The fact that it can be easily set up even by inexperienced users makes it a desirable option for broadcasting on Twitch. Additionally, it functions faultlessly when used with the Nintendo Switch.
Razer Ripsaw HD: With the release of the Ripsaw HD, Razer entered the market for capture cards, promising to provide seamless 1080p60 recordings. You just need to connect the Switch to the card and OBS since it is a device that simply plugs in and starts working. After you have accomplished that, you will be prepared to demonstrate your gaming prowess to the rest of the globe.
Follow our guide to resolve NFL Game Pass Issues on Nintendo, Playstation & Xbox
Requirements to stream Nintendo Switch to Twitch?
You will need to stream using free streaming software and a video capture card in order to use Twitch because there is no app for the Switch that supports Twitch. In the steps that are provided below, we make use of OBS Studio and an Elgato HD60 S.
The following is a rundown of everything you need in order to stream Nintendo Switch to Twitch:
A computer
Elgato Game Capture HD60 S
OBS Studio
Microphone
Webcam
Check out what are the procedure for Linking to a Nintendo Account with a User Account
Conclusion: How to Stream Nintendo Switch on Twitch
So, that is all about how to stream Nintendo Switch to Twitch. All these steps are pretty easy and simple for even beginners to follow. But if you still encounter a problem or doubt regarding how to stream nintendo switch on twitch. Please leave them in the empty comment area below. We'd be more than happy to guide and assist you.
Frequently Asked Question
What tools do I require to stream Nintendo Switch to Twitch?
You will need the following in order to broadcast Nintendo Switch games on Twitch:
An Xbox One or a capture card, a Nintendo Switch, streaming software such as Open Broadcaster Software (OBS) or Streamlabs, the dock for your Nintendo Switch as well as an HDMI cable and an excellent internet connection that is able to stream content.
To your great fortune, the vast majority of the items you need are available at no cost. As soon as you've finished setting up everything, you'll be able to start streaming as much as you want.

Can I broadcast video games from my Nintendo Switch to YouTube?
Yes! OBS is a flexible piece of software that can be used with both Twitch and YouTube.

What is Xbox Console Companion app? What do I need it for?
The Xbox Console Companion is a free program that can be downloaded on Windows. It enables streaming to take place between your Xbox and your PC. The symbol for the Xbox Console Companion app is designed to seem like an actual Xbox One.