How to fix the Sims 4 Gallery not working issue
Published On : September 1, 2022 by: Anjali Latwal/Category(s) : Gaming
Have you had connectivity issues with Origin's Sims 4 Gallery? Are you facing any difficulty with it? Is your Sims 4 Gallery not working properly? Yes? Well, then how can the problem be fixed? The four fixes for the Sims 4 gallery not working properly are listed below. But first, let's find out a bit about the issue and what could be its potential cause.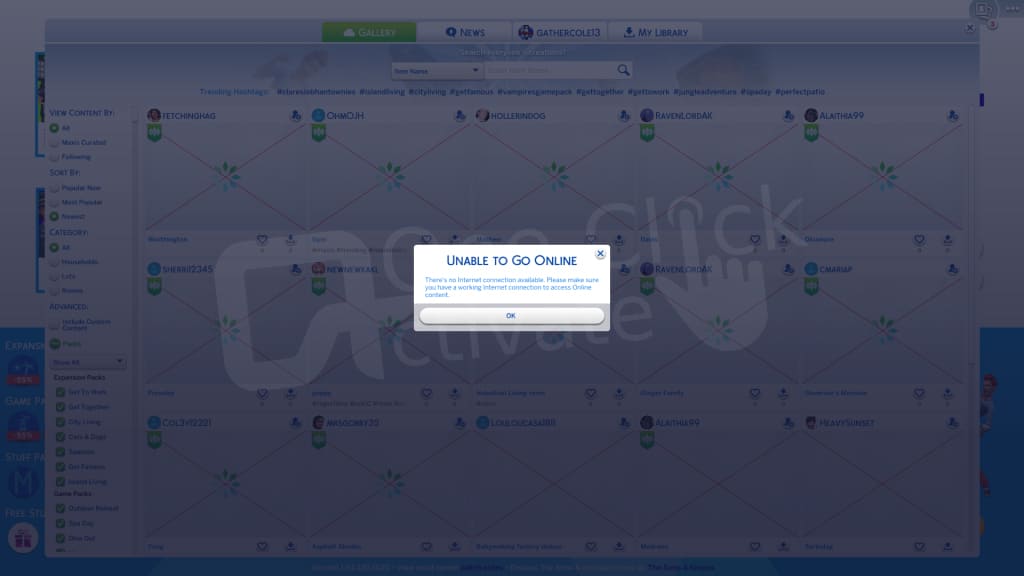 What is the Sims 4 Gallery not working issue?
The Sims 4 is the fourth significant installment in the storied Sims brand, developed by Maxis and released by Electronic Arts. Like its predecessors, the 2014 edition of the social simulation game lacks any overarching goals. Instead, decisions must be made by players in a dynamically interactive setting. They can either create a new family from scratch or choose one that already exists. However, the game has recently gotten a number of content upgrades that include new features.
However, frequent updates can occasionally result in issues. For instance, with the v1.88 Pronouns update, the game starts freezing or operating slowly and players become unable to save their progress. The Gallery has reportedly been down or not functioning for the last number of hours, according to The Sims 4 gamers.
However, a PlayStation user reported that they had to wait at the loading screen for some time before seeing the gallery. This could imply that the Xbox and PC versions of the game are the only ones affected. This is still conjectured, however, since The Sims 4 makers have not yet made an official statement on the subject.
We hope they will examine the problem right away and repair it as soon as possible. Be assured that we are monitoring the issue and will update this page as soon as we get new details, so be sure to check back.
Some Sims 4 players are apparently unable to access the community gallery, and when you do manage to connect as instructed, it takes some time to load. Fortunately, if your Sims 4 Gallery isn't working on Origin, you can try any of the remedies mentioned below. Verify that Origin is online before beginning debugging.
Recommended: Cancel Roblox Premium subscription
Methods you can use to resolve the problem of the Sims 4 Gallery not working:
Try restart or reset as a first step:
The Sims 4 Gallery might be disconnected due to issues with your router's network. As a starting point for troubleshooting, you can try shutting off your router. After a short period, you can try restarting the router to check whether you can access the Sims 4 gallery. If the problem continues, you may need to try resetting the router. In the event that this tactic is unsuccessful as well, kindly attempt the next one.
Block firewall and antivirus software as a second strategy:
On occasion, the firewall or antivirus might be too vigilant and interfere with games, blocking their access to the network. Additionally, it can prevent the Sims 4 Gallery from working. To fix the issue, try adding Sims 4 and Origin exclusions to your antivirus or firewall. You might also try briefly disabling your antivirus and firewall programs. And then check to see whether the Sims 4 Gallery works or not.
Here's how you can block the Firewall on Windows 10:
Type "Command Prompt" into the search bar, then click it and choose "Run as Administrator" from the context menu.
Enter the following command at the Command Prompt to disable (turn off) the Windows Defender Firewall for various profiles (Admin).
For all profile/network types: Netsh advfirewall set allprofile state off
Private Network Only: Netsh advfirewall set privateprofile state off
For public network only: Netsh advfirewall set publicprofile status off
Domain network only: Netsh advfirewall set domainprofile status off
This is how you can disable the Firewall on Windows 10 using Command Prompt to try to fix your problem. If this does not work, you can jump off to the next quick fix.
Also Read: Use Kodi on Nintendo Switch
The third strategy is to start The Sims 4 in Administrator mode:
Another reason for Sims 4 Gallery not working properly is that you might not have the right permissions to access the Sims 4 Gallery. Because of this, you could try starting The Sims 4 as an administrator to resolve the problem. When you right-click the desktop shortcut for the game, all you have to do is choose Run as Administrator from the context menu. If it is successful, just follow the steps listed below to start the game as an administrator every time you want to play.
Select Properties from the context menu by right-clicking the Sims 4 shortcut.
Choose the Compatible tab.
Verify Utilize administrator mode while using this program.
Click Apply after selecting OK to preserve the changes.
The game will then launch as administrator the next time you double-click it to start it.
The fourth Strategy is to disable DNS Cache:
Some people were able to fix the Sims 4 Gallery not connecting problem by clearing their DNS cache. The old IP records for your server will be erased if you do this. Here are the particular steps.
When Windows Search opens, press Win + S, then enter "cmd" into the search field.
Once again selecting Command Prompt, choose Run as administrator.
One at a time, type the following commands, pressing Enter after each one.
ipconfig/flushdns
sipconfig/registerdns
sipconfig/release
sipconfig/renew
snetsh reset winsock
After that, you can restart your computer and reopen Sims.
Trending: Play Steam Games on Nvidia Shield
Conclusion: So, that was all about how you can fix the Sims 4 Gallery not working issue using simple steps. If you follow these instructions carefully, you will be able to diagnose the problem and fix it in no time. With this, we conclude our article and hope that you will benefit from its content. Please remember to leave your valuable feedback or doubts in the empty comment area below if you have any. Also, keep visiting our website for more such articles.