How to Watch SEC Network on Firestick?
Published On : June 18, 2022 by: Sakshi/Category(s) : Streaming Services
The SEC Network on FireStick is dedicated to broadcasting exclusive events and original programming of the Southeastern Conference. The network is a joint venture between ESPN, Inc. and the Southeastern Conference. It was created in partnership with Comcast, DirecTV, DISH Network, and AT&T U-Verse. Watch all of your favorite SEC sports with SEC Network. This live sports network broadcasts Georgia football and basketball games, Auburn football, and basketball games, plus other football and baseball matchups.
This joint venture between ESPN and the Southeastern Conference is one of ESPN's sister channels. Unlike the Longhorn Network and the ACC Network, the SEC Network is solely committed to broadcasting live and pre-recorded Southeastern Conference college sports leagues and regional championships. The SEC is one of the highest-profile college football conferences in America, so if you want to watch live events, highlights, and more from these schools, you can do it with your Fire TV Stick by downloading the SEC Network app from Amazon.
About SEC Network on Amazon FireStick-
The SEC Network broadcasts over twenty various sporting activities, including football, basketball, baseball, softball, volleyball, soccer, gymnastics, and more. Every week, the network airs three Saturday college football games with its own pregame show and postgame commentary. Since many of you are looking for a way to watch the SEC Network on your Firestick, we'll go over all you need to know in our comprehensive guide right now.
You can access not only highlights and replays of your favorite sports events on ESPN, but also live TV feeds from ESPN, ESPN 2, and other sister networks, such as the SEC Network, if you sign up with a conventional television provider.
In the app, you'll also find an additional SEC Network channel (named SEC Network+) with hundreds of additional out-of-market, digital-only events. It only goes live on the app on rare occasions when many sporting events take place at the same time. The second SEC Network channel's availability varies from one TV provider to the next.
On-demand streaming of SEC Network college sports events is available through the ESPN for Fire TV app. Depending on your TV package, you can watch the channel in SD or HD (720p) quality.
The SEC Network, on the other hand, is dependent on your location.
Install ESPN on your FireStick for streaming SEC Network-
Firestick customers must first install the ESPN for Fire TV app on their devices before they can view the SEC Network. Please carefully follow the below steps if you are unfamiliar with the Firestick app installation procedure.
Select the magnifying glass (Search) logo on the left corner of the Fire TV home screen by going up to the tabs above it.
Then, in the next menu, type "ESPN" into the search field. You can either type the term using the on-screen keyboard or use the voice search option, depending on your preference.
Choose the ESPN or ESPN for Fire TV keyword in the search results in the same menu.
Then, scroll down to the Apps & Games section and choose the ESPN for Fire TV app tile.
When you've arrived at the Appstore screen, select Get and wait for ESPN for Fire TV to download and install on your Firestick.
Click Open on the Appstore page to launch the ESPN for Fire TV app when it has been successfully installed.
Otherwise, the next time you want to use the app, navigate to the "Your Apps & Channels" list on the Fire TV home screen.
Put the ESPN for Fire TV app to the top by clicking See All beneath the same list, scrolling down to the bottom of the following page. The app can now be launched directly from the home screen.
Also Read: Activate Bally Sports
To Access SEC Network, here's how to Activate ESPN on FireStick-
The SEC Network is dedicated to broadcasting live and pre-recorded college sports leagues and regional championships sanctioned by the Southeastern Conference. If you love college football, then this is the add-on for your Amazon FireStick. It's time to activate your ESPN for Fire TV app with your cable or satellite TV provider now that you've loaded it on your Firestick. The SEC Network and SEC Network+ live channel feeds can only be accessed if the app is activated.
On your Firestick, open the ESPN app.
Navigate up to the settings (gear icon) next to the search (magnifying glass) option on the app's main screen.
In the following settings menu, choose Account Information, then Provider Account Log In. For your login session, you will get a temporary activation code.
Visit espn.com/activate on your computer or mobile device, enter the activation code, and then click Continue.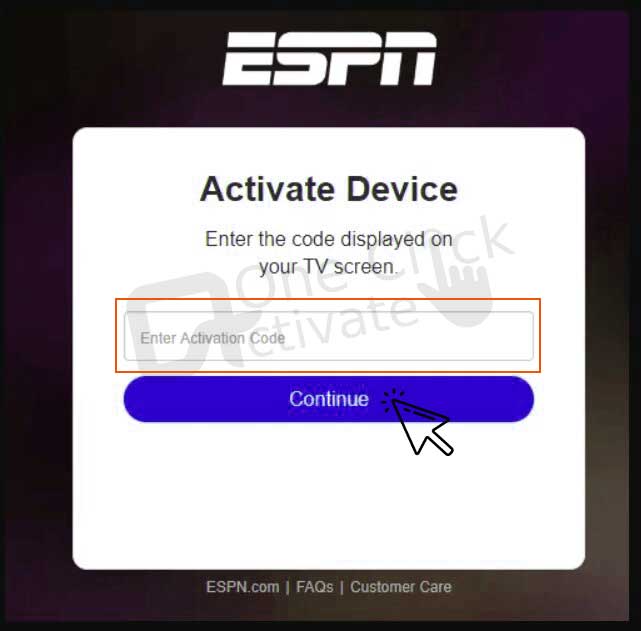 On the following page, select your TV provider from the drop-down menu. After you've made your choice, you'll be sent to the login page for your television provider.
Sign in to your TV provider account and authorize the ESPN app to access your account information by entering your account credentials on the login webpage.
Lastly, in the ESPN app, select Continue to complete the activation procedure.
Just go to the LIVE area of the Featured page and click the SEC Network channel to begin streaming it once you've activated the ESPN for Fire TV app with your cable/satellite provider data. You may also use the app's search feature to look for it.
You can stream the live SEC Network channel and its content on-demand using the ESPN app on Firestick as long as you pay for the suitable TV plan that includes SEC Network.
Useful Topic: Activate beIN SPORTS Channel
How to Watch SEC Network on FireStick Without Cable in 2022?
SEC Network is available on Firestick via the ESPN for Fire TV app. Yet, at the end of the day, it is a TV Everywhere service. It's not a practical solution, as many of you have already cut the cord. Luckily, you can watch the SEC Network channel on Firestick by signing up for an OTT live TV subscription. There can't find many economical options available, but you can check out the only ones listed below.
Sling TV-
Without cable, Sling TV is the cheapest option to watch SEC Network. The monthly cost of the Sling Orange channel package is $35. That includes ESPN, ESPN2, ESPN3, CNN, and HGTV, for a total of approximately 34 channels. Subscribers to Sling Orange can only stream on one screen at a time.
You'll have to join the Sports Extra bundle for an extra $11 per month to access SEC Network and SEC Network Plus. Other college football staples, such as ESPNU and PAC-12 Network, are included in the Sports Extra bundle when combined with Sling Orange.
The Sling Blue plan, which costs $35 per month, includes regional NBC sports channels and NFL Network. Subscribers to Sling Blue can watch live TV on up to three screens at the same time.
fuboTV-
SEC Network, as well as ESPN Networks, are available on fuboTV.
The Pro plan comes with 122 channels and 250 hours of Cloud DVR. You can watch live television on two displays at the same time.
There's ACC Network, ESPN, ESPN2, Big Ten Network, NFL Network, and FS1 for college football enthusiasts. Among the dozens of entertainment, networks are A&E, Discovery, HGTV, Food Network, and Hallmark Channel.
In just about all cities, fuboTV also includes local ABC, CBS, NBC, and FOX coverage. On-demand movies and television shows are plentiful. On streaming devices, subscribers can activate 40 apps. If you miss a game, there's a "look back" function on fuboTV that shows sporting events from the previous 72 hours.
YouTube TV-
For $64.99 per month, you can watch SEC Network and over 85 other stations live on YouTube TV. Customers have access to limitless Cloud DVR, which is a great feature.
You'll also receive ESPN, FS1, FS2, and ESPNU, as well as other sports channels. Most streaming devices, including Google Chromecast with Google TV, Fire TV Stick, and Apple TV, support YouTube TV.
For new consumers, YouTube TV offers a free seven-day trial.
DIRECTV STREAM-
SEC Network and regional Bally Sports Networks are available on DIRECTV STREAM.
The Choice plan costs $89.99 per month and includes 90+ channels. When you sign up, you'll get a 5-day free trial. Then you can subscribe on a month-to-month basis and cancel at any time.
First before the monthly charge kicks in, subscribers can get three months of HBO Max, Cinemax, Showtime, and EPIX for free. Also available are Big Ten Network, ESPN, ESPN2, and regional NBC Sports networks, as well as a wide range of sports channels.
Vidgo-
SEC Network and over 100 more live TV channels are available on Vidgo.
Some of Vidgo's most popular networks are ESPN, ESPN2, Big Ten Network, and History channel. Subscribers have the ability to stream on up to three devices at the same time. Roku, Amazon Fire TV, Apple TV, and Android TV devices such as Google Chromecast all have Vidgo apps.
A monthly subscription to Vidgo costs $59.95. Before selecting whether or not to sign up, have a peek at the channel lineup.
Also Read: Stream Sky Sports
Wrapping up
Watch your favorite college football and other sporting events on ESPN with the help of a Firestick. The SEC Network is a joint venture between the network and Southeastern Conference that broadcasts live games, events, and highlights. The SEC Network offers live college football and basketball games, plus news and analysis shows. Fans can watch it on mobile devices and streaming devices such as Fire TV.