Guide to activate and watch SEC Network on Apple TV
Published On : November 14, 2022 by: Sakshi/Category(s) : Streaming Services
If you're a college sports fan, the SEC Network is a must-have. The channel is devoted to LIVE college sports coverage, including football, basketball, baseball, and more. You can also find archived footage and analysis on the network. In this blog post, we will cover steps to watch SEC Network on Apple TV, ways to stream the channel without cable, and FAQs that could solve all your possible queries.
To watch the SEC Network on your Apple TV, simply download the ESPN app and log in with your TV provider. Once you're logged in, you'll have access to all the live and on-demand content the network has to offer. So whether you're looking to catch up on the latest game or dive into some classic college sports action, the SEC Network has you covered.
Guide to using Apple TV to watch SEC Network-
You should install the ESPN app on your TV in order to view SEC Network. It broadcasts every channel, including SEC Network and ESPN.
Turn on your Apple TV and press the App Store icon on the Apple TV's home screen.
Look for the ESPN app using the on-screen keyboard and the search bar.
Select the ESPN application from the search suggestion list to access the search result.
Now, click Get to download ESPN to your Apple TV and open the ESPN app as your screen will display the ESPN activation code.
Go to the ESPN Activation website using a web browser on your computer or mobile device (https://www.espn.com/watch/activate).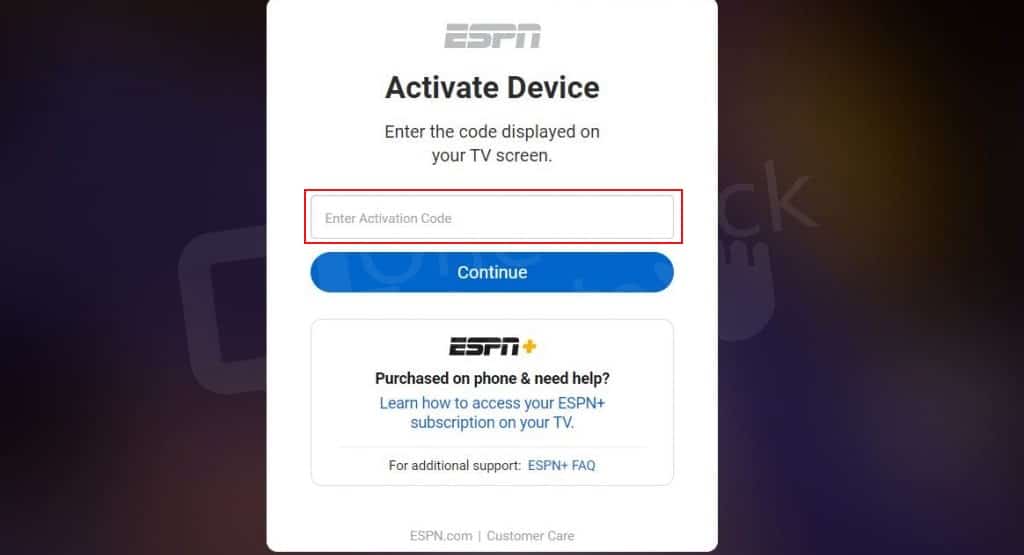 Enter the activation code, and then select the option to continue.
The next step is to log in using your ESPN Plus subscriber login information or your TV provider's login credentials.
After the ESPN app is installed, look for SEC Network programming and begin streaming it.
How to get SEC Network Access on Apple TV Without Cable?
With a subscription, you can watch live on an SEC Network on Roku for free. You also get options for streaming on Smart TV, Apple TV, Amazon Fire TV Stick, Google Chromecast, and Google TV. Therefore, don't worry about paying Spectrum or Comcast a few hundred dollars each month for a cable subscription. You can stream SEC Network live and enjoy all of your Southeastern Conference games without cable in a variety of ways. Sling TV, DIRECTV STREAM, Vidgo, fuboTV, Hulu + Live TV, and YouTube TV all provide SEC Network.
Cheapest streaming service with SEC Network via Sling TV:
If you're a fan of SEC football, you'll want to find a way to watch the SEC Network. Unfortunately, if you don't have a cable TV package, it can be difficult to do. However, there is a way to watch the SEC Network without a cable subscription.
Sling TV is a streaming service that offers a variety of different channel bundles for a monthly fee. One of those bundles is the Sling Blue package, which includes 34 channels for $35 per month. Among those channels are ESPN, ESPN2, and the SEC Network.
For Sling TV SEC Network, you'll need to join the Sports Extra bundle for an additional $11 per month to access both SEC Network and SEC Network Plus. Along with ESPNU and PAC-12 Network, the Sports Extra bundle when combined with Sling Orange will also provide you access to some additional college football necessities. So, if you want to watch the SEC Network without a cable TV subscription, you can do so by signing up for Sling TV and subscribing to the Sling Orange package.
Editor's pick: Watch BT Sports Apple TV
Get DIRECTV STREAM for regional Bally Sports Networks and SEC Network-
A college football lover like you must out the SEC Network on DIRECTV STREAM. For a limited time, you can get the Choice package for just $69.99 a month. That's a $20 savings off the regular price of $89.99. The SEC Network offers more than 105 live TV channels, so you can catch all the action of your favorite teams. And with up to 20 screens able to be used at once, you can invite all your friends over to watch the game.
A 5-day trial is available for DIRECTV STREAM. You can sign up on a month-to-month basis and discontinue at any time. Before the monthly fee takes effect, subscribers receive three months of HBO Max, Cinemax, Showtime, and EPIX for free. Don't miss out on this great offer. Sign up for DIRECTV STREAM today and get access to the SEC Network.
How to watch SEC Plus on YouTube TV?
For $64.9 a month with YouTube TV, you can live stream SEC Network and over 85 more live TV channels. Customers receive limitless Cloud DVR, which is wonderful. Additionally, you'll have ESPN, FS1, FS2, and ESPNU, three crucial sports networks. The majority of streaming devices, including Apple TV, Fire TV Stick, and Google Chromecast with Google TV, support YouTube TV. For new users, YouTube TV also offers a free 7-day trial.
Choose the Pro plan of fuboTV for SEC Network on Apple TV-
The SEC Network and ESPN Networks are also available on fuboTV, which means you can keep up with all the action no matter where you are. Whether you're watching live TV on two screens or catching up on your favorite shows on-demand, fuboTV has you covered. And with the Pro package, you'll get 1,000 hours of Cloud DVR and 135 channels to choose from. So if you're a college football fan, you can catch all the games you want on the ACC Network, ESPN, ESPN2, Big Ten Network, NFL Network, and FS1.
The best part is that you can also keep up with your local ABC, CBS, NBC, and FOX broadcasts. And if you're looking for something to watch on demand, there's a big selection of movies and TV shows available. So check out fuboTV today and start watching all your favorite SEC Network and ESPN Networks programming.
Enjoy SEC Network on Apple TV via Vidgo-
Did you know? SEC Network and more than 100 other live TV channels are available on Vidgo. A subscriber may stream simultaneously on up to three devices. Roku, Amazon Fire TV, Apple TV, and Android TV devices like Google Chromecast all have Vidgo apps available. The Big Ten Network, History Channel, and Enjoy ESPN are among Vidgo's most well-liked networks.
The monthly cost of a Vidgo subscription is $59.95. Subscribers pay on a monthly basis. There isn't a free trial available for new customers right now. Before choosing whether to sign up, you can review the channel lineup.
How can I mirror the SEC Network on my Apple TV?
Start by joining the same Wi-Fi network with your Apple TV and iPhone/iPad.
Install the ESPN app from the App Store on your device (iPhone or iPad).
Open the Control Center on your iPhone or iPad, then select Screen Mirroring.
Next, choose your Apple TV from the list of devices on your screen and start the ESPN app as soon as your iPhone or the iPad screen appears on your TV.
Shows from the SEC Network can be found and played inside the ESPN app then your Apple TV will screen mirror those titles.
Frequently Asked Questions (FAQs):-
How to get SEC Network Plus?
Can you watch the SEC Network on the ESPN app? Yes, you can watch the SEC Network on the ESPN app. Offering exclusive digital events, SEC Network+ is a supplement to SEC Network. With your TV provider login information, you can access it via the ESPN APP on mobile devices, tablets, linked streaming devices, or espn.com/watch.
Can I stream SEC Network on Amazon Prime?
Amazon Prime doesn't offer SEC Network content but Amazon Fire TV users have a lot of options to access SEC Network. Sling, DirecTV Stream, Hulu, Fubo TV, or YouTube TV are some of the streaming services that you may use to watch SEC Network on Amazon Fire TV. Once you download the app, you can log in with your credentials.
Who can watch SEC Network online?
You can watch it on ESPN.com and your preferred connected streaming device by using the ESPN App. Fans may sign up for ESPN+ at ESPN.com, ESPNplus.com, or on the ESPN App for even just $6.99 per month (or $69.99 annually) (mobile and connected devices).
Does Paramount Plus offer SEC Network?
Yes, if you have a Premium subscription, you can access Live TV on the Paramount+ app or on paramountplus.com to watch SEC events that air on CBS.
Can I only subscribe to SEC Network?
Although you can't buy an SEC Network membership directly, you can choose to use the ESPN app if you have a subscription to one of the live TV streaming providers mentioned above. The SEC Network and other ESPN-branded channels are available through your TV streaming subscription, and the ESPN app offers live and on-demand programming as well as SEC Network sports.