All About the Robinhood Debit Card
Published On : July 23, 2022 by: Anjali Latwal/Category(s) : Banking & Finance
Do you currently invest using the Robinhood app? Then, you must be aware of the Robinhood debit card. It has the Cash Management account functionality from Robinhood and is offered in collaboration with Sutton Bank. We'll go over all the important details, fees, and other information concerning the Robinhood debit card in this article. So, if you are looking for some answers, here we go.
All about the Robinhood Debit Card: Pros & Cons
Let's start by going over the basics. Robinhood is one of the most well-known investment platforms available today, which enables users to trade a wide variety of stocks, shares, ETFs, and equity securities both online and via an app.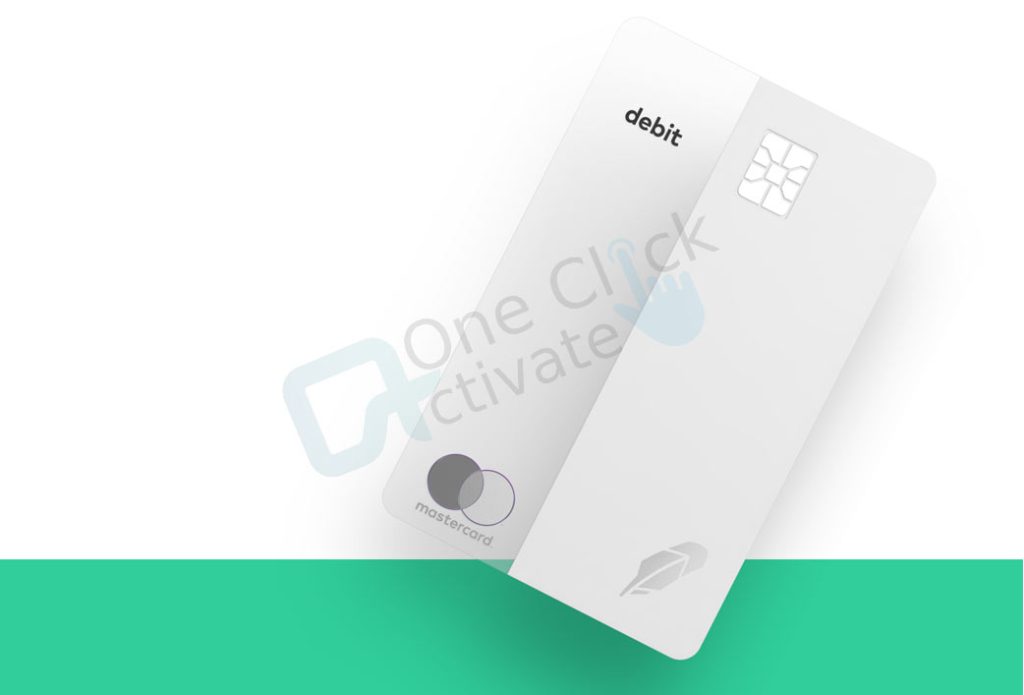 After opening a Robinhood brokerage account, you can opt to upgrade to Robinhood Cash Management to have access to extra tools and receive a connected debit card. It's now simpler than ever to access your accessible Robinhood money by using your card to make purchases and ATM withdrawals almost everywhere Mastercard is accepted.
Check out our guide to Activate Commerce Bank Debit Card Online
Features of Robinhood Debit Card:
Zero Liability Protection for Mastercard:
With your Robinhood debit card, you get the protection of Mastercard Zero Liability. Your purchases will have protection whether you make them in-person, online, or on a mobile device. If you come across any unlawful transactions, you may report them to support. They'll look into your claim and strive to get your money back.
Every purchase you make goes through a number of fraud checks. They will notify you and deny the transaction if they believe the purchase to be fraudulent. You may acknowledge the transaction and try again if the transaction was mistakenly detected. If the transaction was fraudulent, you may freeze your card and/or report it stolen directly from the app.
By preventing card fraud remotely from your real location, Location Protection may help you stay safe. Based on where your cell phone is located, they can pinpoint your position. They will refuse that transaction, for instance, if your phone's location indicates that you are in Arizona but your card is in use in Wyoming. Location Protection is discretionary, and it only works if you've given Robinhood permission to access your location. You may always turn off Location Protection in your app if you plan to spend money away from your phone.
By locking your card, you may stop all upcoming card transactions. They will send you an email and a push notice if your card is denied when someone attempts to use it, including you. By pressing the debit card icon on the Cash tab and switching Lock Card on or off, you may lock or unlock your card at any moment. No outstanding transactions will be stopped from settling or altering if you lock your card.
All upcoming non-originated withdrawals from your brokerage account are stopped when withdrawals are locked. The transfer will fail if someone attempts to withdraw money, including you, and they'll notify you through email, push notification, and inbox message. By switching Lock Withdrawals at the bottom of the Cash tab, you may lock or unlock withdrawals at any moment. Do not mistakenly believe that locking withdrawals lock your debit card.
Every time your card is in use, you will receive a push notification. To help you keep track of your spending, they'll let you know the retailer and the total amount spent. You may even completely turn off these alerts if you like. Or you may freeze your card or report it stolen immediately in your app if you don't recognize the transaction. You may get in touch with the officials and let them know which purchases are in issue. And they'll look into your complaint and try to get your money back.
Recommended: Activate Fidelity Debit Card
Where can I use my debit card from Robinhood?
Virtually anyplace that Mastercard is acceptable throughout the globe, you can use your Robinhood debit card. You can receive cash, book a hotel or restaurant, make purchases in shops or online, establish a tab at a restaurant, and more. You may use it online and with Apple Pay, Google Pay, and Samsung Pay if you choose the virtual debit card as your single payment method. As long as you have sufficient funds in your brokerage account to cover purchases, you can use your Robinhood debit card whenever you want, day or night, seven days a week.
What is available cash?
Any money that is in your brokerage account and is available for withdrawal or consumption is available in cash. Available cash will include a margin for Robinhood Gold users who have enabled margin. The top of the Cash tab is where you can discover your current cash balance.
How can I use my Robinhood debit card to obtain cash?
Using your Robinhood debit card, you can withdraw cash from an in-network ATM. Or request cash back at participating businesses after entering your PIN. To locate the nearest in-network ATM, use the search function on your app. Additionally, you may use your card at an out-of-network ATM; however, there may be a cost along with this.
Cash Management Fees:
| | |
| --- | --- |
| Gold fees | Interest fees will be applied to transactions financed with margin. |
| Merchant fee | Some businesses could impose fees for card payments. |
| ATM fee(Out of network) | ATM service providers could impose fees, which Robinhood will not cover. |
| Foreign transaction fee | There might be a currency conversion cost for Mastercard. |
Is my Robinhood card usable overseas?
Almost anywhere that Mastercard is acceptable throughout the globe, you may use your Robinhood debit card. Robinhood won't impose any international transaction fees for debit card transactions, and Mastercard will automatically change currencies for you at a rate chosen by Mastercard. Please be aware that the merchant or ATM operator may charge you a currency conversion fee if you decide to pay a foreign debit card transaction in US dollars or opt to withdraw money from a foreign ATM in US dollars. For details on a currency conversion, please refer to Robinhood's Debit Card Agreement.
In addition to the more than 75,000 free ATMs in the US, you may use your Robinhood debit card at over 15,000 free ATMs abroad. Utilize the "Identify ATMs" feature of your app to find the nearby withdrawal locations and use it to find the closest in-network ATM. Remember that certain restricted countries and some businesses that are not online will not accept your card.
How does using my Robinhood debit card work?
The platform will deduct the appropriate amount from your account when you use your Robinhood debit card to make a transaction. In the Recent History area of the Cash tab, there will be a Pending item shown. Until the purchase amount is complete and the money transfer actually takes place out of your account, your transaction will appear as Pending.
Most of the time, the transaction's starting balance won't change. Nevertheless, the initial charge may have been more than the final sum. To account for incidentals or gratuities, some businesses markup transactions (for example, holds for gas, hotels, or restaurant tips). This implies that an initial fee can be more than the total sum you must pay. We will not process the transaction if the first markup fee exceeds the amount that is available for you to spend.
On the other hand, if you tip on paper receipts at restaurants, the initial amount approved could sometimes be lower than the total transaction amount. Once the merchant processes the actual amount that is, your transaction amount will change.
Zero Overdrafts:
If you don't have enough cash or margin available to support the transaction, the platform will refuse it. The final amount of a transaction may exceed the amount that they initially allowed, however, there are several exceptions to this rule. For instance, if you use your debit card to pay for a hefty tip at a restaurant and the whole transaction value is more than the funds in your account, you can have an account deficit. It's also possible to encounter a margin call or account deficit if you have Robinhood Gold and exceed your borrowing limit. However, if the total amount of your transaction exceeds the value of the cash plus any available margin in your account, the platform has the right to refuse the transaction.
Also Read: Chase Debit Card Activation
Conclusion: So, that includes everything that you need to know about the Robinhood Debit Card. With this, we hope that you will find the content of our article beneficial. If you do, then please remember to leave your valuable comments in the empty space below.
Frequently Asked Questions (FAQs):
According to my card, Sutton Bank issued it. What's the deal with that?
The Robinhood debit card is issued in cooperation with Sutton Bank. As a result, if you attach your card to services like Venmo or Square, you could see Sutton Bank.
Although I used my debit card, I have yet to notice a charge. What is going on?
Some businesses take their time when billing your debit card. This happens often with retailers like Amazon.
Can I get overdrawn?
Any trades that would require you to have more accessible cash than you have, including any available margin credit, would be rejected by Robinhood. There are, however, certain situations in which the total of a debit card transaction will be more than what they initially allowed. For instance, if you left a large tip at a restaurant, the total transaction amount can be more than what they authorized, which would result in a negative balance on your account. There is a chance that you might get a margin call or have negative purchasing power if you have a Robinhood Gold account and go over your permitted borrowing amount.
Can I spend my Instant Deposits?
No. Your Instant Deposits may only be used for trading; they cannot be used for transfers, cash withdrawals, or debit card purchases.
How do I proceed if a charge in my app vanishes?
Robinhood will let the hold on the money expire and return it to you if a charge doesn't settle. The charge will then vanish from your app's "Recent" section when this occurs.
Why did the first amount I was charged change?
Between the time you made your purchase and the moment the transaction is settled, the amount you have been charged may sometimes vary. Transactions at hotels, vehicle rentals, petrol stations, and restaurants often follow this pattern.
Why did my single purchase result in many transaction entries?
In certain cases, if the price of the item changes, retailers could charge you more than once. This is typical of online transactions where prices often fluctuate, such as Uber or Lyft. In the event that you sense a problem, contact assistance.
What if a transaction on my statement doesn't seem familiar?
Please get in touch with Robinhood right away so they can check into a transaction if you don't recognize the charge's amount, time, or merchant description.
Remember that information about businesses may not always be what you anticipate it to be. You may not see the merchant's name you were expecting, for instance, if the retailer operates under a different name.
Why are the dates on my statement and on my app different?
In your app, they'll display the date on which your card was charged, but your statement will display the date on which those charges were paid. As a result, it's conceivable that charges that settle after the statement closing date won't appear on the statement until the following month.
What happens if Location Protection is turned on yet I want to use my card when I'm distant from my phone?
Location Protection may always be disabled in the app's options section.
If I don't want the actual debit card, what should I do?
You may choose to obtain the virtual debit card just when you initially upgrade to Cash Management if your wallet doesn't have room for another debit card. The virtual card is usable online and with Apple Pay, Google Pay, and Samsung Pay. They'll send you a debit card at any moment if you decide to change your mind.
Can I alter the design of my card?
You won't be able to modify the design once you've verified your debit card design and mailing address. Choose carefully! Your last opportunity to modify your card design if you choose the virtual card alone is if/when you ask for a debit card in the mail.