How to Remove Yourself from Fast People Search? Opt Out Guide
Published On : June 21, 2022 by: Anjali Latwal/Category(s) : Trending
Fast People Search, a service that enables users to look up people they may know, has the ability to reveal a lot of personal data. Some critics believe the website goes too far. Someone with a nefarious intent who knows your name can find out where you reside, where your family lives, and even all of your phone numbers for free. And it's for this reason that we've chosen to assist you in safeguarding yourself and your family. In this guide, we will tell you all that you need to know about Fast People Search, including its features, important details, and how to remove yourself from Fast People Search. Let's begin.
About Fast People Search:
Fast People Search is a service that can compile all of your personal data and make it available to anybody doing a background check on you. Fast People Search stands out amid the plethora of websites that make your private information available to the public.
On this website, what can you expect to find? Its primary function is to serve as a person's finder. It enables users to search for public records for free, according to reports. Its creators are on a mission to create the largest and most powerful people search engine. They found that the majority of individuals' search sites were insufficient after looking at a variety of them. Either that or the use of powerful search sites was too expensive.
Relevant Read: How to remove yourself from True People Search?
Its only objective is to transmit personal data around the world. This is accomplished via the use of public records as well as other people-finding websites. Fast People Search takes pride in being one of the most effective people search tools on the market. It is very powerful, and almost everyone in the United States has a record of it. Fast People Search can be used on nearly any device, such as your phone, laptop, or tablet. It also contains a reverse phone lookup and an address lookup tool. Above all, it is, completely unrestricted. It does not have a monopoly in the sector since there are so many other people's search sites.
On the other hand, this website stands out from the pack. Fast People Search is one of the most reputable websites for meeting genuine people, but it's also one of the riskiest.
What is the Most Effective Method of Using Fast People Search?
Using Fast People Search is a simple procedure. You go to their website first, which then takes you to a search bar that looks like Google's. All you'll need after that is a name and, preferably, a zip code. You put their names into a search area, and a list of persons with the same name appears. That is all you will need to begin your search.
It can identify a person based on only two little but significant pieces of data. Not only that, but after the search is complete, it displays all of the available information about the person you're looking for. This covers details like age, location, and family members. It can also reveal your current and prior phone numbers, which is very valuable information. On rare occasions, it can even show distant relations. You could even be able to learn about someone's whole family tree. If the data is available, it can also provide their past residence.
Fast People Search sets itself apart from other people's search engines by locating even the friends of the person you're searching for. It also lists any possible businesses owned by the person in question.
What are some of the benefits of Fast People Search?
The following are some of the advantages of using Fast People Search:
A simple and easy-to-use user interface:
The Fast People Search provides a number of benefits. It is presently the most reliable people search engine on the internet, and its users enjoy a fantastic user experience. When you visit their website for the first time, you are greeted with a search bar. It's simple and straight to the point. Its appeal arises from its capacity to do a rapid search for persons.
What's Hot: A secret way to recover deleted Facebook account in 30 days.
Access to a big amount of data and information:
Fast People Search employs responsive sites, so you won't have to wait while searching for someone. The response of the site is immediate. Aside from that, the information you get is always straightforward to read and understand. There are no commercials or paywalls to obstruct it. Although there are adverts on the site, they are not intrusive. You also don't need an account to look someone up.
Reliability and accuracy of the data:
Fast People Search is substantially more accurate than other search engines, which is one of the primary reasons people use it. It even beats some of the higher-priced premium person search engines. Some say that the site has revealed significant aspects about their past that no one else knows about.
Makes the hiring process more efficient:
Employers can use Fast People Search as well. A person's criminal history, educational level, email address, and professional connections can all be found via the search engine. Employers make use of this to assess potential employees to see whether they are a suitable match for their organization.
Even after having multiple benefits, Fast People Search is a risky and dangerous website. This is why you should remove yourself from Fast People Search.
Why should you remove yourself from Fast People Search?
Because of the internet's evolution, people are now networking online more than ever before. As if your privacy wasn't already at risk from your social media use, there are now a slew of people search services, such as the Fast People Search platform, that may pry into your personal life. Though these websites may be useful to those who are really attempting to reconnect with long-lost friends and relatives, there are some who want to exploit our flaws for evil goals.
Fast People Search is not without problems, despite its advantages. Because it is a totally free real people search engine, it genuinely gives out your information to everyone looking for your name. This is especially dangerous since it might lead to a data breach. It's possible that having all of your personal information on the internet is a major problem.
Do not Miss: It's now easier to get verified on Twitter. Check how.
Online criminals may mimic you and steal your identity, resulting in identity theft.
This might be in the form of a shady social media account set up in your name.
Furthermore, cyberbullies have a history of revealing sensitive information about their victims in order to hurt them.
It would not only be an invasion of privacy, but it would also put you in danger of being scammed or hacked if your information was freely accessible.
For example, Fast People Search reveals your e-mail address. Swindlers may just send you an e-mail to get you to participate in their scam.
Hackers might potentially get access to your e-mail and several accounts on other websites you own.
Another reason it's unsafe is that if someone is attempting to harm you, they can simply use Fast People Search to look up your address. As a consequence, Fast People Search might be rather dangerous.
Is Using Fast People Search Legal?
One of the most often asked concerns about Fast People Search is if it is legal. Some argue that what they do is illegal and should thus be forbidden. Regrettably, for all of us, the existence of the website is totally legal. It is not unlawful to provide a legitimate internet search engine. According to the legislation, Fast People Search is a corporation that simply makes publicly accessible information available to everybody and publishes it online. The law considers it to be a collection of all publicly available records. It's also meant to be old news since you can go to a records office and check this stuff up for yourself.
Fast People Search has said that its search engine is accessible to use for everyone. This is a major issue. It's far more convenient than going to your local public records office. With a simple click of a button, you can have fast access to the personal data of the persons you're searching for. People may be able to find you online rather than going to an office and requesting permission to search someone's records. Scammers and hackers now have the ability to target millions of individuals at once. Even if what this platform does is legal, it is not without problems and presents a danger to public safety.
Is Being Concerned Necessary?
It's possible that if Fast People Search has your information, it's also available on other search engines. This is because Fast People Search gets its information from other people's search websites. There are hundreds of other sites similar to it, and each one adds to the knowledge of the others. Many consumers aren't aware that their personal data is maintained on so many different websites. As a consequence, they let their guard down. They assume that just leaving the website is sufficient. If you want to keep your personal information private, this isn't enough since it will be shared with other sites.
Also Read: Experience using Instagram on Firestick
It's a major worry for everyone who loves their privacy, and there are various reasons to refuse searches. It's a bit unsettling to think that your personal information is there ready for anyone to access. Some individuals even believe that having their personal information widely available online is a bad thing. If you're one of these persons, you might consider how to remove yourself from Fast People Search. These methods for removing yourself from Fast People Search provide an extra degree of security to protect your personal information from telemarketers that circumvent this security for the sake of maintaining our privacy. Here's how to do it in no time.
Best Way to Remove Yourself from Fast People Search
You have an edge over search engine websites when it comes to real people. This is because they won't be allowed to refuse your request to be deleted from their database if you request it. This implies they have no choice but to accept your request to remove yourself from this website's database list. Manually removing oneself from Fast People Search is possible, but it takes time. Simply follow the instructions below to begin:
Make a request to remove yourself from their database.
You may file an opt-out request if you want to manage the Fast People Search removal on your own. After the completion of your request, your data will become unavailable on the website within 72 hours.
Go to the opt-out website for Fast People Search which is https://www.fastpeoplesearch.com/removal.
Fill up your email address, agree to the Terms of Subject, and complete the reCAPTCHA before clicking Start Removal Process.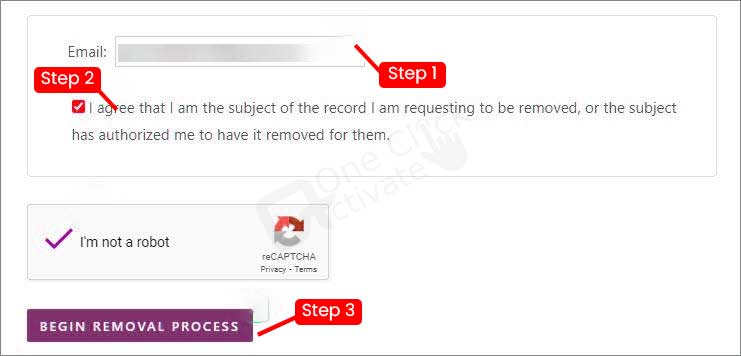 Click Free Search after entering your name and location.

When you've discovered a match, click it to get the rest of the report. Then, beneath the name, click Remove My Record.

Fast People Search will then send you an email with an opt-out link that will lead to the complete deletion of your profile data.
Conclusion: Your security should always come first while using the internet. You never know who is impersonating you and using your personal data. It's difficult to know when your privacy will be invaded or your account will be taken over. It is your responsibility to maintain track of your personal data. You have complete control over your privacy. With this, we hope you've gained a better understanding of why it's vital to protect yourself and how to remove yourself from Fast People Search.