How to Remove Phone Number from Snapchat
Published On : December 20, 2022 by: Anjali Latwal/Category(s) : Internet
Are questions like how to remove your phone number from Snapchat, how to unlink your phone number from Snapchat, and how to take my number off Snapchat troubling you? Worry not, we are here to help. Go through this guide to find out how to remove phone number from Snapchat by following a few simple and easy steps. Let's begin.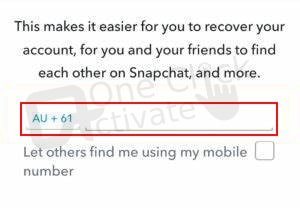 How to Remove Phone Number from Snapchat?
Because we live in a digital era, almost every user is aware of the significance of the many social media sites. On social media platforms such as Instagram, Facebook, and Snapchat, you can find members of the Millennial and Gen Z generations. These are some examples of social applications that not only make it possible for you to communicate with your existing social circle as well as build new social connections but also provide an excellent medium for you to share the goings-on of your daily life with others in your social network.
Snapchat has rapidly advanced to become one of the most popular social media platforms in the modern digital era.
More than 500 million people use it on a monthly basis, and they are located all over the globe.
Snapchat is an excellent choice for anyone who is interested in social media platforms because of its excellent blend of entertaining filters and engaging features.
You can take images that stand out from the crowd by making use of the wealth of editing tools and effects that are available to you with just the touch of a finger on the screen.
However, in order to create an account on Snapchat, you have to give your personal information, including your phone number so that they can verify your account. But what happens if you have previously logged in to another account with the same phone number? Is there a way to delete one's phone number from one Snapchat account? You will learn how to remove numbers from Snapchat by following the instructions below. Let's begin.
Is It Possible to Delete Your Phone Number from Snapchat?
Because there is no direct removal option inside the app, it will not be possible for you to remove your phone number from Snapchat in a way that is permanent. On the other hand, the Snapchat settings page allows you to alter or replace it with a new number at any time. You'll discover a variety of strategies here for deleting, updating, and concealing your Snapchat phone number.
Check how you can view Subscriber Count on Snapchat
How to Remove Phone Number from Snapchat?
1. Delete and disconnect your phone number from your Snapchat account
Launch Snapchat and ensure that you are signed in to your account.
To access your profile, choose the symbol located at the very top of the page.
Next, access your settings by going to the gear icon located on your profile page.
Tap on the Mobile Number option inside the My Account portion of this screen.
First, delete the previous phone number from the box, then replace it with the new number using the space provided. After that, you should click the verify button.
Snapchat will either call or text your new number in order to deliver a verification code so that you can finish verifying your phone number. Choose the path that appeals to you the most.
After entering the verification code that was issued to your new number, click the submit button to finish the process.
Your phone number will no longer be accessible via Snapchat after this.
This tactic is quite useful for those who have the intention of changing their existing cellphone number to one that isn't of a high level of significance to them. Therefore, if you have an extra number that you don't use very often, it makes sense to change your primary number with the phone number that you use less frequently if you have both of these numbers.
2. Hide your phone number on the Snapchat
If you are an iOS user, the only method to modify or remove a phone number from your Snapchat account is to deactivate the account entirely. There is no other way to modify or remove a phone number on your Snapchat account.
The most prudent thing for you to do is to keep the phone number a secret from the general public. In order to do this, you will first need to log in to your Snapchat account, choose your profile, go to settings, click the "Cell number" option, and after that, flip the "Let others locate me using my mobile number" setting to the off position.
Even if you have created your Snapchat account using your cell phone number, you can take comfort in the fact that other users will not be able to locate you using the information you provide in your profile.
3. Make a New Account on Snapchat Using the Same Number
The only option to unlink your phone number from your Snapchat account is to create a new account with the same number and use that account instead. It will automatically eras from the previous account as soon as you successfully validate the phone number for the new account.
This is how you can do it:
Launch the Snapchat app on your smartphone, and then choose the Signup option located at the very bottom of the screen.
Please include your first name in addition to your last name. Click the "Sign up & Accept" button.
Following that, choose your birthdate, and then press the Continue button.
Next, pick the Sign up using the phone number option from the available options.
After entering your phone number, you will be prompted to verify it using an OTP.
That's all there is to it, you will be successful in removing your phone number from your previous account.
4. Delete your Snapchat account
If the mobile number that is linked to your Snapchat account is causing any issues, then your best bet is to have it unlinked. This will allow you to use a new mobile number. It is the quickest and most straightforward method for removing your number from Snapchat. After you have completed the deletion of your account, you will be able to create a new one using the same username. You will be able to use your new account as soon as you have added all of your contacts to the new one.
Handpicked Relevant Content: Fix Instagram DM stopped working
Conclusion:
Taking your phone number off of your Snapchat account is a simple process that won't take more than a few minutes of your time. In spite of the fact that it's annoying that Snapchat needs your phone number in the first place, we've included in this post many distinct approaches that are proven to effectively delink your phone number from your account. If you run into any problems, please don't hesitate to let us know by using the comment box below. We will do our best to look into the matter.