How can I redeem my YouTube Premium Trial access?
Published On : January 11, 2021 by: Staff Writer/Category(s) : Streaming Services, Youtube
Looking forward to redeem YouTube premium trial subscription, you can follow this step by step guide to receive loads of benefits such as access to YouTube music, originals, ad-free content, and many more. YouTube premium offers free trials for one month so that you can take this trial for individual use as well as for the family.

YouTube premium for Family- You can share your YouTube subscription and other Google services with up to 5 family members, each with their account. If you're looking to buy a family subscription, you, along with your family have to meet the following requirements:

• Should be at least 18 years' old
• Should be responsible enough to take membership decisions
• Should have a registered Google account, not the G-Suit one
Requirements for a family member
• should live in the same house as the person who has bought the membership
• should not be a part of other families
• should be registered with Google account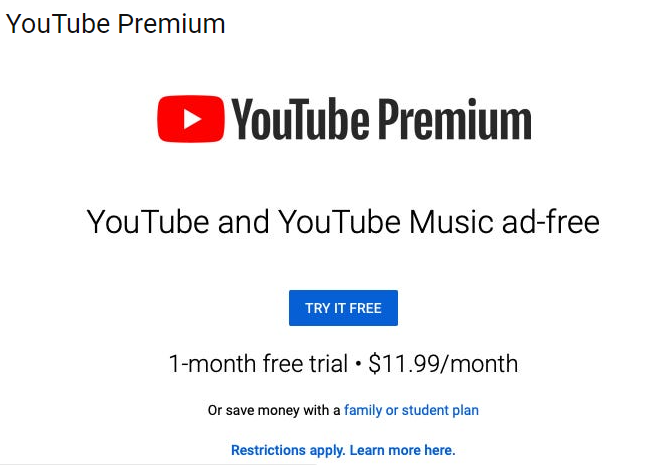 YouTube premium for Individual- Apart from sharing membership with family members you can enjoy similar benefits such as background and ad-free play along with access to YouTube premium membership, content download, and many more.

How to register for a YouTube Premium individual Free Trial?

You can register for a YouTube premium individual free trial via a web browser or via your Android or iOS device.

Via Web browser

• Visit YouTube premium
• Register yourself by logging into your Google account
• Click on the option 'Try it free' followed by prompts to complete the sign-up process

Via Android or iOS device

• Open YouTube app
• Sign in with the Google account you want to register with
• Click on the option 'Try it Free'
• Provide payment method along with several prompts to complete registration.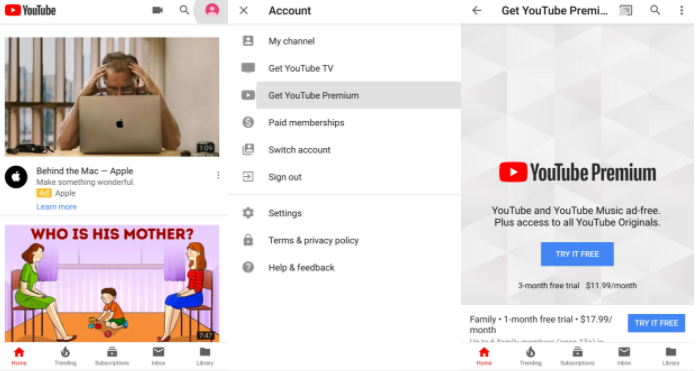 How to register for a YouTube Premium Family Free Trial?

You can register for a YouTube premium family free trial via a web browser or via your Android or iOS device.

Via Web browser

• Visit YouTube Premium Family and create a family group
• If already the owner of another Family group, you will be cross confirmed to confirm your group, press continue
• If you are a new person to register your family group then you have to follow the steps to buy a subscription first
• Now you can proceed further to create a family group by following prompts

Via Android or iOS device

• Open YouTube app
• Click on your profile picture followed by clicking on Paid Subscription
• Click on the learn more option for YouTube Premium and select the desired subscription
• Click on save money with a Family plan
• Click on Family plan then 'Try it Free'
• Follow the Prompts
What Benefits does YouTube Premium provide?

If you switch from YouTube Red to YouTube Premium you will be provided with the following benefits.

• Background Play- This is the exotic feature the YouTube Premium provides, which allows you to run YouTube music, videos, YouTube Kids app in the background while using other apps on your device.
• Ad-Free Videos- You can enjoy countless music without any interruptions with this YouTube Premium access.
• YouTube Originals- As a member, you will not be charged with any additional cost to watch YouTube Originals. You will automatically get access to all the episodes as soon as they premiere and can easily download the content and use it offline. You will also be blessed with bonus content.
• YouTube Music- Choosing to redeem YouTube Premium trial benefit you with the access to download and play unlimited music offline without getting interrupted with ads even if you are watching online.

How to prevent YouTube Premium paid subscriptions to start automatically?

During the time of registration for the free trial, subscription services allow users to provide their payment details. At a certain time, if a user forgets to unsubscribe before the expiry of free trials they often become full-fledged service members and the amount gets automatically deducted from their account. To prevent such conditions, you can use 'DoNotPay Free Trial Card'. This virtual credit card will help you to generate a credit card number along with other personal details that can be used to register earlier for a free trial.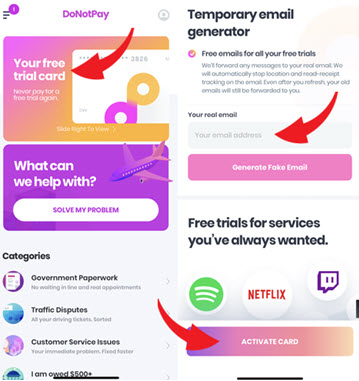 With the help of this virtual credit card, you will not be converted to full- fledged until you opt for one. The card only works if the services do not ask for authorization of payment check, well in that case the card will work, else not.
The best option to prevent yourself from becoming YouTube Premium paid subscription automatically is to keep in mind when your subscription is going to be expired, the services do send reminder mail to make sure you if you want to discontinue the services.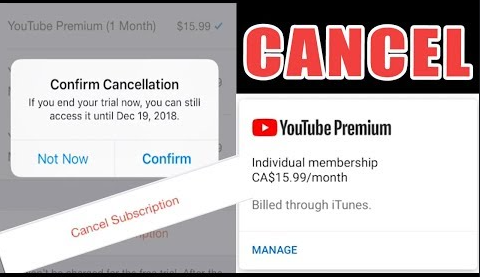 FAQs
Can a YouTube subscription be paused instead of Cancelling?

Yes, it can be paused but only once your current billing period ends, you can pause for a maximum of 6 months and unpause it before your scheduled resume date. Once you pause your premium subscription you neither are able to continue access to YouTube premium trial nor will you be able to take its benefits. You won't be able to access any downloaded videos and kinds of music. During the tenure of pause, you can even cancel your membership.

You can pause your membership by going under the paid membership tab and then click on pause membership.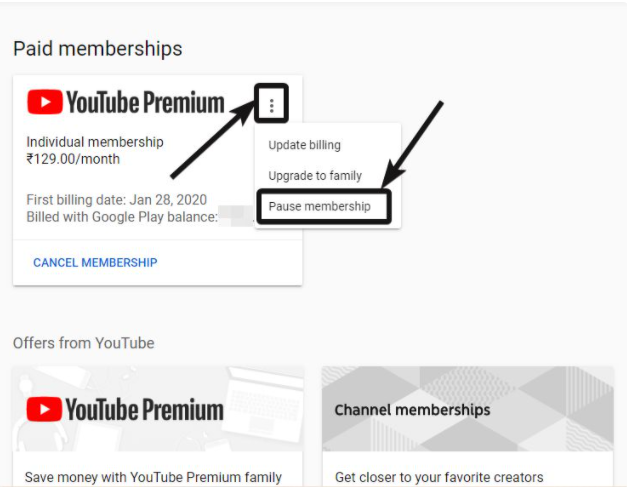 2. What are the charges of the YouTube premium after the free trial?
If you are interested to continue or redeem YouTube premium trial after the free trial, you will have to pay $11.99 for an individual premium plan and $17.99 for the family premium plan.