How to Watch PBS Without Cable [Updated Steps]
Published On : September 4, 2022 by: Sakshi/Category(s) : Streaming Services
Enjoy the newest content by watching PBS Without Cable from your smartphone or tablet on iOS and Android. By just installing the free PBS App, you may now instantly stream PBS programming. But where can you find free PBS programming? You can view your free local PBS broadcast live in one of two ways. You can use the PBS App to watch, stream Live PBS, access the PBS channel available on DIRECTV STREAM, go to YouTube TV to watch PBS, or on your preferred device, you may also access content from PBS and local stations including MASTERPIECE, Ken Burns documentaries, Poldark, NOVA, Nature, PBS NewsHour, FRONTLINE, and more!
For more than 50 years, PBS has been a staple of American culture, just like apple pie and Ken Burns' documentary "Baseball." PBS offers high-quality children's programming, concerts, and other cultural events, as well as award-winning dramas, in-depth news reports, and extended antique assessments. Undoubtedly, PBS is a one-stop shop for all your entertainment needs!
PBS provides regionally focused programming that is specially tailored to your interests. Many people consider PBS the best television there is, and it's pretty much the only place you can watch British sitcom reruns indefinitely.
Things you need to Stream PBS Without Cable-
Cord-cutters are eager to marvel over "Masterpiece" and enjoy "Nature" without wasting money on cable because of the extensive programs PBS offers. PBS has always been accessible for free via the airwaves using a TV antenna, and plenty of people do so even now. While waiting for something good to happen to Laura Carmichael's character on "Downton Abbey" can be frustrating, it might be worth it in the long run if you choose to stream, just like Lady Edith did.
If you have a Netflix subscription, you already have access to hundreds of hours of PBS programming, such as Vikings Unearthed, Ken Burns' Prohibition, and The Great British Baking Show. This link will take you to a list of all the current PBS programming. Other streaming services like Sling, AT&T Now, or Hulu with Live TV still don't offer PBS.
For an alluring sustainer rate of $5 per month or $60 annually, PBS Passport offers a valuable benefit to sustainers as well as a lower point of entry. PBS Passport appeals to contributors who are accustomed to monthly services because it deducts money automatically from their accounts each month.
Also Read: Activate SalemNOW App
How to Watch PBS Without Cable Online and on the Air?
Three options exist for watching PBS programming without cable: You can watch PBS for free over the air with an antenna, through the PBS Video app, which is available across various platforms, or by subscribing to YouTube TV, the only skinny bundle that includes it.
Free Over-the-Air TV:
An over-the-air antenna might be your best bet if you want to watch PBS for free. There are several TV antenna solutions available if you wish to receive PBS and other broadcast channels over the air. Simply take into account how far your residence is from the PBS transmitter in your area, its direction, and any potential barriers that might stand in the way.
You might receive the main PBS channel, PBS Kids, Create, World, and MHz Worldview, based on your location. As the streaming services that transmit this channel only offer the most recent and archived episodes, the antenna is also the only means to see live PBS programming.
The price of the antenna is the only factor that you could not like. However, it normally equals a one-month subscription to a streaming service. After making this first expenditure, you won't have to pay a hefty charge to view any TV channel that is aired over the air. Once you've selected the appropriate antenna, it's time to prepare some popcorn and relax in front of the TV.
YouTube TV:
PBS has been a part of YouTube TV since February of this year. You can view on-demand episodes of programs like American Experience, Great Performances, Nature, Masterpiece, etc. on this site. Your kids will be delighted to have constant access to the PBS Kids channel and their favorite programs, including the venerable Sesame Street.
If you want to watch PBS without cable, there are no other skinny-bundle options but YouTube TV. There are YouTube TV apps for many different platforms, and the service offers a free trial if you want to give it a try before spending any money.
Just enter your zip code on the official YouTube TV website to see if your neighborhood PBS station is supported. If you're unsuccessful, don't despair; additional stations will be offered to this streaming site over the course of this year. Using their official website or the YouTube TV app on your device, you may watch PBS on YouTube TV.
Also Read: Activate Zeus Network App on your Streaming Devices
PBS Video:
PBS offers video on demand on your TV, phone, or tablet through its PBS Video digital streaming application. It will allow you to view some on-demand content for free, while you can obtain more content by upgrading to the PBS Passport premium tier.
You don't even need to activate the software in order to use it on your iOS or Android tablet or smartphone. Simply log in or register with your Facebook, Google, or PBS accounts. To activate the app on other devices, such as Amazon Fire TV or Roku, go to www.pbs.org/pbs-video-app/.
Additionally, you gain extra with PBS Passport. This extra advantage gives station members access to even more online programming to watch. There are approximately 1,500 episodes of Austin City Limits, Downtown Abbey, and other well-known PBS programs.
PBS Website:
Visiting their website is another option to access free PBS material. Although not all of the shows are always accessible, you can see several episodes of various shows for a while after they air. Although you can't watch content live, you must agree that on-demand episodes are sufficient. The available videos page will list some programs, but some of them require a PBS membership. A white and blue emblem identifies the television programs that need a membership.
If you want constant access to all the performances, there are two methods to sign up for membership. You can choose to pay $5 each month or at least $60 once, so consider which option is best for you. The second choice is less expensive if you only intend to view the channel for a short while. But, because PBS is a nonprofit organization, these payments should be considered donations. In reality, you're supporting them in their endeavors rather than paying for a service.
Also, check out our TBS Channel Activation guide
Do Roku, Fire TV, Apple TV, or Chromecast support PBS?
Because YouTube TV is the only streaming provider with PBS in its roster, navigating the accompanying chart is rather simple. You can watch PBS if your platform of choice accepts YouTube TV. PBS may be viewed online via YouTube TV on devices like FireStick, Apple TV, Android TV, Chromecast, iOS, and Android.
You may view certain PBS programming on the PBS Video app as well. The app works with iOS, Android, Chromecast, Apple TV, Android TV, Roku, and Fire TV. Though most streaming services don't yet offer PBS, don't give up hope. Your requests have been received, and PBS is making efforts to meet the demand. Numerous additional channels are streamable in the interim.
How to Watch PBS Without Cable on your Apple TV?
It is necessary to activate Apple TV in order to watch PBS. However, it only requires a few simple steps:
Download the app, then turn on your Apple TV. Keep watching the screen because you will be given an activation code that you will require.
Open a web browser on your computer or mobile device, then navigate to pbs.org/activate.
You'll notice a box where you need to type the TV code.
To complete the procedure, click Continue.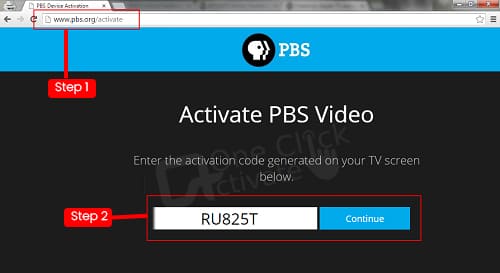 NOTE: Depending on the model of Apple TV you have, you may need to first log out of your account or deactivate your Passport membership if you have one. Use the same account to log back in after performing the procedures previously outlined and entering the code that will appear on the screen. An updated list of videos that you can watch will appear.
Access PBS on Roku with the following steps:
You must first add the PBS channel in order to watch it on Roku. Use the search field to look for PBS when you choose Streaming Channels or Channel Store. Once it has been downloaded, choose Add channel after selecting it.
Just begin to get on your home screen, choose PBS.
Select "Activate Now."
Open the pbs.org/activate URL on a computer or mobile device, then enter the activation code that appears on the screen.
Select your preferred method of signing in on the following screen after clicking Continue.
Process of Streaming PBS on Android and iOS Devices:
If you have an Android tablet or an iPhone, you can stream PBS programs using web browsers.
Nevertheless, downloading the app and watching all your favorite episodes this way is definitely far more comfortable.
Install the app by going to the Google Play Store or the App Store, then log in.
You are already activated and ready to watch!
Get PBS Without Cable on your Amazon Fire TV:
PBS programming is also accessible on the Amazon Fire TV streaming devices. You can install the PBS app by going to the app store. You must turn on the gadget before you can begin watching. This is how:
When you choose the PBS app, the Activate Now button will appear on your screen.
You'll see an activation code after choosing that button.
Use your computer or smartphone, stay on the screen, and go to pbs.org/activate to enter the activation code.
Sign in with your Facebook, Google, or PBS account before clicking Continue. Make sure to log in with the same account you used to sign up for Passport if you are a member.
NOTE: Be careful that although this procedure applies to some smart TV brands, including Samsung, it only functions on models from 2017 to 2019.
There are so many methods you can watch PBS programs by yourself or with your family, and their costs range from extremely low to none at all. We hope you found our post informative and working, If you liked the content, do not forget to explore our similar blogs on the page.