Here's how to pair a New Fire Stick Remote without the old one
Published On : November 24, 2022 by: Anjali Latwal/Category(s) : Amazon
You must be familiar with the process of pairing a new remote with the assistance of an old one. But, if you have misplaced or broken the remote that came with your current Fire TV Stick, then the process of how to pair a new Fire Stick remote without the old one can be extremely difficult.
How then do you pair the new fire stick remote if you no longer have the old one? Follow these instructions in order to connect the replacement firestick remote without using the original remote. After you have paired the new remote, delete the previous remote from the device list. You can do this by making use of the remote control that came with your TV or by downloading the amazon Fire TV app. However, there is no need for concern since these are just a few more steps, and if you follow the directions provided in this article, the task at hand will be completed in a reasonable amount of time.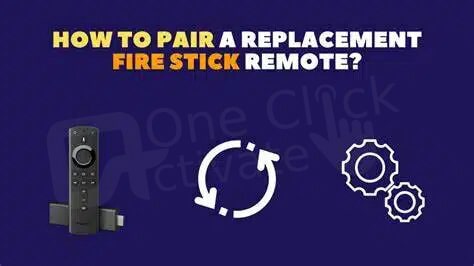 Here's how to pair a New Fire Stick Remote without the old one:
You can pair a firestick remote to a TV without the old one by utilizing the Fire TV app, a third-party remote control, or the remote that came with your television set. These are the approaches that will be listed here. Alternatively, you can also do a factory reset on your Fire Stick and connect the new replacement firestick remote. However, if you don't want to risk having your existing settings messed up by performing a factory reset, continue reading on:
How can I connect a new remote for my Fire TV Stick if I no longer have the previous one?
You don't need to utilize the older remote or the one you already have in order to pair a firestick remote. Just follow these simple and straightforward approaches to do so.
1: Using the Fire TV app
If you have a smartphone, you can transform it into a remote control by installing the Fire TV app on it. After that, you will be able to utilize this mobile remote to link a new remote with your Amazon Fire TV. The steps in this process are quite simple to carry out. The setting up process goes very well if one adheres to the instructions exactly as they are written.
Installing the app on your Fire TV
After you have downloaded the Fire TV app from your app store (for apple) or play store (for android), you will need to turn on Bluetooth on your smartphone in order to connect it to your Fire TV.
You will need to be in close proximity to the television on which your Firestick is mounted in order to complete these steps.
When you initially run the Fire Stick app on your smartphone, you should be prompted with a popup inviting you to connect your Fire TV and use your phone as a remote control.
If you have more than one Fire TV, choose the one you wish to pair from the list on your current Fire TV, and it will show a pop-up asking for a four-digit code to be entered.
When you have successfully input the code, the screen of your phone will resemble the top portion of a Firestick controller.
Editor's recommendation: Enable Developer Options on Fire TV
Configuring the remote controls for the Amazon Fire TV
Your Fire TV's application library can be accessed by choosing the three little squares depicting a plus sign located in the upper left corner of the home screen.
You can make use of the keyboard on your phone to enter information such as movie titles, passwords, or user names while you are browsing around the Fire TV apps that are shown on the screen of your television.
When using your smartphone remote in place of a traditional Fire Stick remote, you have access to a number of the capabilities that are normally reserved for the Fire Stick remote, but not all of them.
You won't be able to use your mobile device to adjust the volume on the Fire TV or activate the mute button on the device.
Both the button that turns the TV on and off as well as the microphone that you use to speak with Alexa will not work. The good news is that in comparison to a Firestick control, your smartphone offers functionalities that are unavailable.
The primary benefit of connecting a new replacement remote with your smartphone using the Fire TV app is that you have now set your phone to always offer the remote capability for any Fire TV. This allows you to control all of your Fire TVs with just one remote.
Linking your new FireStick remote
Now that your smartphone is connected to your Fire TV and functioning as a remote control, go to the settings menu of your Fire TV.
Next, pick the "Controllers & Bluetooth Devices" option from the drop-down menu.
You can add a new remote by selecting the remote that comes with the Amazon Fire TV stick.
After reaching this point, all you have to do to connect your new remote is follow the directions that appear on the screen.
It is possible for the mobile app on your phone to connect to any Fire TV by following the steps outlined above, and doing so will not disrupt the connection that exists between your Fire TV stick and a conventional remote. If you unintentionally left your Firestick remote across the room and don't want to get up to grab it, or if your remote has been missing temporarily or permanently, this flexibility can come in handy for you.
2: Make use of an external remote control
You are required to be aware that in addition to its own remote, Your Fire TV may be operated by standard TV remotes or remotes made by third-party manufacturers. Your existing TV remote may do marvelously well as a stopgap measure until you are able to properly configure the replacement Firestick remote.
Nevertheless, due to the fact that the Fire TV remote already incorporates Alexa and a number of other specialized capabilities, this is not a wonderful long-term repair. Instead, purchasing a new fire TV stick remote is a preferable solution in any event. In order to successfully connect a new Fire TV remote, you must first ensure that your existing TV remote is operational in relation to your Fire TV.
You will need to switch on HDMI-CEC in order for your TV remote to be able to control your Firestick while connected through HDMI.
Because it is set on by default on certain TVs, you may find that you can get by only using the remote.
When using certain configurations, you may be required to follow the on-screen instructions in order to link a third-party remote control with Fire TV.
After HDMI-CEC is enabled, the TV remote will only have a restricted degree of control over your Firestick.
After you've programmed your TV remote, you'll be able to use it to explore the Fire TV screen and associate the new Fire Stick remote with it.
Recommended: Fix Yellow Light Blinking on Fire TV Remote
What are the steps to unpair a remote from a Fire TV Stick?
Even though you won't need it very frequently since unpairing a remote generally isn't required very often. The Fire TV operating system works in such a way that remote controls can be connected with just a single Fire TV device at a time, and it does a good job of managing this.
To connect Fire Stick to the new remote, all you need to do is switch from the old remote to the new one. If you lose your original remote for your new Firestick, you can buy a replacement and it will almost always instantly connect with your device. As a consequence of the fact that many individuals are unaware that it is feasible to manually unpair a Fire TV Stick remote, the capacity to do so is one that is somewhat obscured from view.
The procedure is not too complicated. You only need to browse using the supplied instructions, or you can check out our comprehensive tutorial that explains how to unpair a firestick remote.
Visit the Settings menu.
Select "Controllers & Bluetooth Devices" from the drop-down menu.
Choose "Amazon Fire TV Remotes" from the menu.
Now, pick the attachment if the Fire TV does not provide a menu choice to choose it.
Then, simultaneously press and hold the menu, back, and home buttons for 15 seconds.
After the process of unpairing is complete, the Fire TV will return you to the main menu where you may choose more options.
Conclusion:
So, this is how to pair a new firestick remote without an old one. We've tried to keep the steps as easy as possible. But if you still face any issues, leave them in the comment area below.
Frequently Asked Questions (FAQs)
Why is my firestick remote not pairing with firestick?
There are a few explanations for this. It is possible that there is anything blocking the connection between the remote and the Fire TV. Thus, you should ensure that your remote and Firestick can connect to each other by leaving a clear channel between them. There is also the possibility that you are making use of worn-out batteries; in this instance, the batteries that are present in your Firestick remote need to be replaced.
I'm having difficulties connecting my remote with my Fire TV. What are any troubleshooting techniques I can try?
It is common practice to first remove the batteries from many contemporary electronic devices, then wait ten to twenty seconds before reinstalling the batteries after removing them. It is possible that the information now shown on the screen may vanish, in which case you will need to repeat the whole process that you are currently going through in order to connect the devices.
In addition to that, you want to check to see whether or not the batteries have retained their charge. Even if it doesn't work, the metal battery connections may also need to be examined, even though it is doubtful that a new or replacement remote would have this issue in the first place.
What are some easy ways that I can pair and unpair my Fire Stick remote?
You can unpair and then re-pair the Fire TV with the remote by first removing the batteries from the remote and then disconnecting the power connection from your Fire Stick. This is a fairly fast and easy hack. Once the home screen has shown, press and holds the Home button for around forty seconds while simultaneously re-plugging in the Fire Stick. After one minute, replace the batteries in the remote's battery compartment. Within a minute, the setting up of everything ought to be done.