How to Pair Bluetooth Headphones with your Firestick?
Published On : October 7, 2022 by: Sakshi/Category(s) : Amazon
Privacy, we all need that in our lives. And we are sure that you cannot agree more on this. We must have connected our headphones with our mobile devices, tablets, and also with our PCs for streaming content alone. But did you ever know that you can also pair Bluetooth Headphones with Firestick to get a personalized experience on your TV? Well, if you haven't heard of this yet then stay with us till the end. If you already knew about this then explore our steps to pair your headphones and also access some brilliant features that you can enjoy here. We are sure you must be excited by now, so don't let your enthusiasm fade away, and let us quickly begin our post!
It's time to stop being concerned that your Fire TV Stick's loudly streaming content will annoy neighbors. Sending the audio to your Bluetooth headphones can solve this problem. You can connect to and use your device with your Fire Stick as long as it has Bluetooth functionality. We'll demonstrate how to pair a Fire TV Stick with Bluetooth headphones.
Unbelievable Features of Firestick that Only Pros knew-
It's challenging to turn back once you've cut the cord and left all that streaming media. One of the simplest and most practical methods to stream your favorite movies and TV shows is through a smart TV. The Amazon Fire TV Stick is a terrific way to add streaming capabilities and more to any TV. Alexa, a tonne of applications and games, and access to hundreds of movies and TV series are all included with the gadget. You might be shocked to hear there are a few secret features that only experts are aware of. We will inform you.
Free movie streaming option on FireStick-
IMDb TV, which is owned by Amazon, has changed its name to Freevee. Thousands of movies, TV series, and original works are available on this free, advertisement-supported streaming service.
Follow these steps to download Freevee to your Fire TV device:
Open your Amazon Fire TV device's home screen.
Search for "Freevee" in the app store after opening it.
To download the app, choose Download.
Launch the Freevee app to get the gratis materials.
Chance to stop using ad tracking-
On some channels, there is no free way to disable advertising, but you can at least opt-out of adverts monitoring you.
To lessen tracks, alter the Fire TV settings as follows:
Navigate to Settings > Preferences > Privacy Settings from the Fire TV main screen.
Turn off Device Usage Data.
Turn off the collect app using the data settings.
Turn off Internet-based advertising.
Is your Firestick Remote Blinking Orange or FireStick remote blinking yellow? Know quick fixes here for both!
Upgrade your Fire TV Stick's browser:
Similar to how you would on a computer or smartphone, you can access websites and other online material using web browser apps on your Amazon Fire TV Stick.
Since Amazon Silk is a first-party app and works well on Fire devices, we suggest it. You may check to see if the browser is already installed by heading to Settings > Apps.
If you don't already have Silk, you can get it from your Fire TV Stick's app store by following the same steps you would for any other app:
Open your Amazon Fire TV Stick's home screen.
Search for "Silk browser" on the app store.
To install an app, choose it and then click Download.
Have the same controls to navigate the browser as you would your Fire TV Stick menus by opening the app.
Defend your children from inappropriate content-
If you want to prevent your children from coming across improper material, you can limit the playback of videos with specific age classifications.
On a Fire TV device, how do you activate parental controls?
Navigate to Settings > Preferences > Parental Controls from the Fire TV home screen.
Enter your PIN to enable parental controls.
To limit the playback of that content, choose the level of viewing restrictions for each category.
Trending: How & Where to Enter Amazon FireStick Activation Code?
Feature to Mirror content on FireStick-
Use the display mirroring option to mirror material if you're streaming anything on your phone and want to see it on a TV. Ascertain that your FireOS is the most recent version by navigating to Settings > My Fire TV > About > Check for System Update.
Depending on your phone, there are many screen mirroring techniques.
Mirroring your Android phone's screen:
happy news Android phone support is built-in to Amazon Fire TV devices-
Your Fire TV remote's Home button should be held down while you choose Mirroring and enter.
Navigate to Settings > Connected devices on your Android phone. You might see a different setting, such as Bluetooth & device connection, based on the phone you're using.
Choose Connection settings or Smart View, then click Cast. Other options include Display mirroring, SmartShare, and Quick Connect.
Select the checkbox next to Wireless display enabled.
When you see the name of your Fire TV device on your phone's screen, choose it.
Using your iPhone to mirror your screen:
It's a little trickier to transfer content from your iPhone screen to your Fire TV device, but we'll show you how. You must obtain a third-party app. For this example, we'll utilize AirScreen, which is free to use but contains advertisements.
Open your Amazon Fire TV device's home screen.
Search for "AirScreen" in the app store.
To install an app, select it and then click Download.
Install the app and then launch it.
A "Welcome" screen will appear, asking you to confirm that both your iPhone and your Fire TV are linked to the same Wi-Fi network.
Click Confirm.
On your iPhone, open Control Center and select Screen Mirroring.
Decide on AS-AFTMM [AirPlay].
The information from your phone should appear on your screen.
Check out our guide to Rename Firestick in minutes
How to Pair Bluetooth Headphones with Firestick?
Till now we explored the amazing features of our Amazon Firestick, now let us get to the steps to pair Bluetooth Headphones with Firestick. The Fire Stick provides a simple solution to connect your audio equipment:
Put the pairing mode on your headphones. The gadget you use will determine how you do this. If you have AirPods, for instance, press and hold the device's single button.
Then, on your Amazon Fire Stick, you have to click "Settings" (the gear icon).
Open the option for "Remotes & Bluetooth Devices".
Choose Other Bluetooth Devices on the next page.
To connect a device to your Fire Stick, choose Add Bluetooth Devices.
When your headphones appear, select them by clicking the Select button on your Fire Stick control.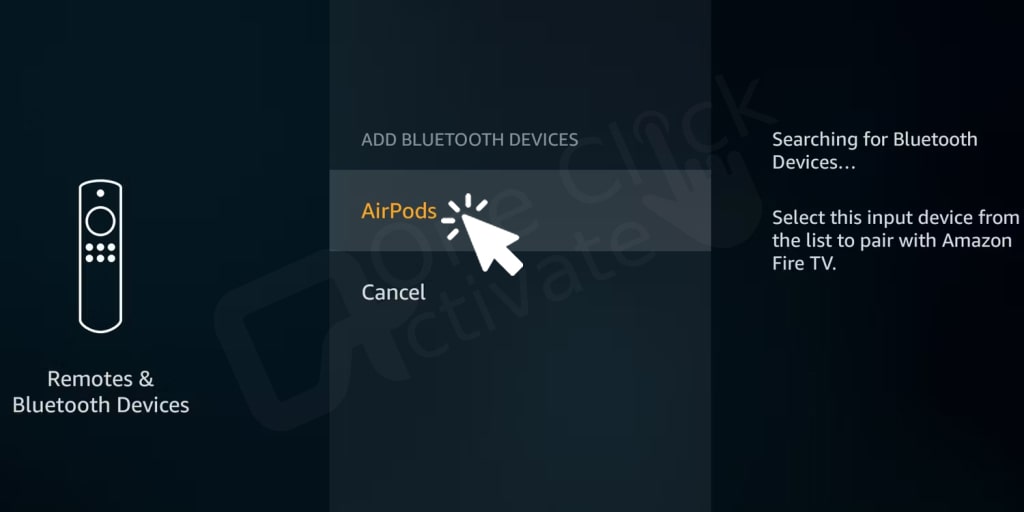 You should now be able to pair your Bluetooth headphones.
How to Adjust Your Bluetooth Headphones' Volume once you Pair Bluetooth Headphones with Firestick?
Your Bluetooth devices cannot have their volume settings changed on the Fire Stick.
You can skip this section if your headphones have their own volume controls. To change the volume settings, you must install and use an app on your Fire Stick if you have headphones like AirPods that lack dedicated volume control buttons.
You can achieve it by taking the following actions:
On your Fire Stick, sideload the free Precise Volume app to install it.
On your remote control, hold down the Home button while choosing Apps.
To start the Precise Volume app, choose it.
You can now modify the headphones' volume settings using the Media Volume slider.

Steps to Use a Cursor to Make Volume Control Easier on FireStick-
After you pair your Bluetooth Headphones with Firestick, your Bluetooth device's volume can be controlled with Precise Volume quite effectively. The slider isn't particularly simple to use, though. The installation of a cursor app on your Fire Stick is one solution to this:
Your Fire Stick should have the Mouse Toggle app sideloaded.
When the app has been installed, run it.
Enable the option to Activate the mouse service and set it to launch automatically when the device starts up.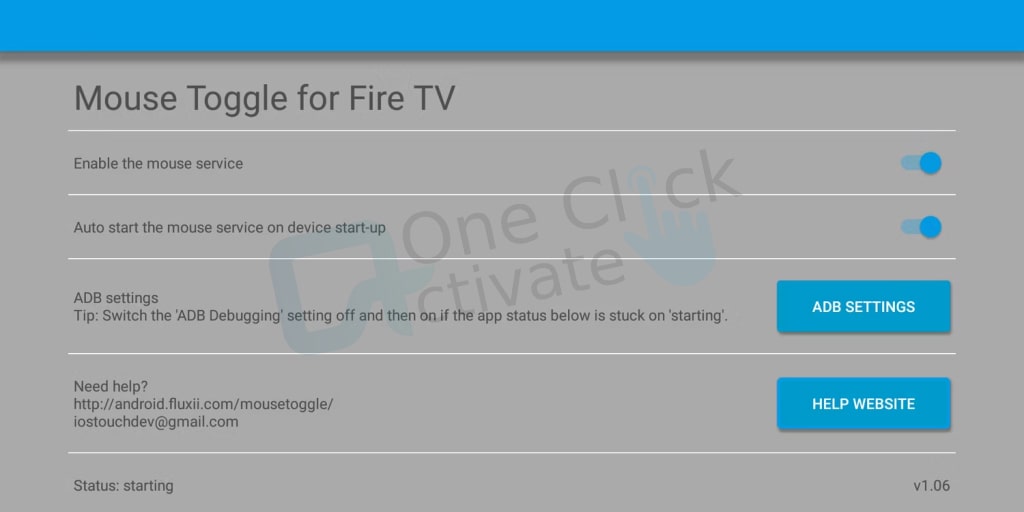 Double-press the Play button on your remote to bring up the cursor after starting the Precise Volume app.
Unpair Bluetooth Headphones or Disconnected them from the FireStick-
You can unplug your Bluetooth headphones from your Fire Stick to restore the audio to your standard audio setup. If you decide to stop using the headphones with your Fire Stick, you can easily unpair them from the same menu:
From the main Fire Stick interface, go to Settings.
Choose Bluetooth devices and remotes from the menu.
Select Additional Bluetooth Devices.
Your screen will display a list of your headphones. To unplug your headphones, use your remote to select them, then hit the Select button.
Press the Menu button on your remote and then confirm your decision if you want to unpair the devices.
Download ES File Explorer on Firestick Now!
Wrapping up-
By directly connecting your Bluetooth Headphones with Firestick, you can now catch up on your favorite show without disturbing those who are napping or a significant other who is working. It's very helpful that the Fire Stick supports Bluetooth for audio because it allows you to enjoy your material quietly. If your headphones are better than the speakers on your TV, that is also useful. Similar to how you may use a different Fire Stick remote to watch and manage your content if you don't like the built-in one.
So, that was all in our post to pair Bluetooth Headphones with Firestick and we hope you liked it!
Frequently Asked Questions:-
Can you connect 2 Bluetooth headphones to Firestick?
Dual audio stream support is optional and not necessary; it was first introduced in Bluetooth 5.0 (so don't bother looking for it on any devices utilizing an earlier Bluetooth standard). Despite having Bluetooth 5.0 LE, the Fire Stick 4K does not support a dual audio stream.

Utilizing an external Bluetooth 5.0 transmitter that does support dual audio streams is one solution. In addition to working with audio from the Fire Stick, this would also work with other TV output (such as OTA channels).
How does the Fire TV stick Bluetooth headphone's volume control work?
Voice commands can also be used to control the volume on Fire Stick devices if their owners have 2nd generation Alexa remotes. To change the level, tell Alexa to by pressing the microphone button on your remote.

Try power cycling the TV, removing any objects that are in the way of the TV and remote, and checking the remote batteries if the volume on your Firestick remote isn't working. This is what? Use the HDMI-CEC port to connect, adjust the TV's IR profile appropriately, and consider performing a factory reset on the Firestick.
What to do if Fire sticks Bluetooth headphones not working?
Go to the 'Other Bluetooth Devices' option from the list of options in the Controllers & Bluetooth Devices menu. Select your Bluetooth headset that has to be connected from the Other Bluetooth Devices option (or any other Bluetooth device).

Follow these steps after opening the Settings Menu on your Fire TV device: Other Bluetooth devices can be found under Settings Controllers & Bluetooth Devices Add Bluetooth accessories. After letting your Fire TV Stick 4K discover your headphones, pick the button to confirm the association.
How to connect Bluetooth headphones to an Amazon fire tablet?
To connect Bluetooth headphones to an Amazon fire tablet, follow the steps below:

1: Select "connected devices" from the settings menu.
2: To activate this feature, flip the button next to "Bluetooth."
3: Ensure that the Bluetooth on your headphones is set to "pair new device" and then click it.
4: Tap the name that appears once your headphones appear in the list to connect.
5: You're ready to go!
Can I use my Firestick to pair my Bluetooth headphones?
You already have a built-in wireless option if you have an Amazon Fire TV video streamer (such as the Fire TV Cube or Fire TV Stick 4K) or a TV that uses Amazon's Fire TV platform: Bluetooth. Direct Bluetooth connections to game controllers, keyboards, and headphones are supported by the Fire TV platform.
Can AirPods and Firestick be paired?
You must open the settings on your home screen in order to pair AirPods with your Fire TV Stick. Open your Bluetooth settings from there and go to "Add Bluetooth Device." When you press the AirPods' pairing button, your Fire TV Stick and your AirPods will instantly connect.