Activate OWN on Firestick: Guide to Install and Activate OWN Channel
Published On : December 16, 2022 by: Sakshi/Category(s) : Streaming Services
Are you looking for ways to stream OWN Network on Firestick TV? Look no more. Go through this guide to learn how to Install and activate OWN on Firestick TV, along with all the necessary information about this amazing channel by Oprah Winfrey. Let's begin.
What are the Steps for activate OWN on Firestick?
After connecting your Amazon Firestick to your TV, turn it on.
Connect the Firestick to a WiFi network first.
From the home screen, select the Find option, then the Search tile on the next screen.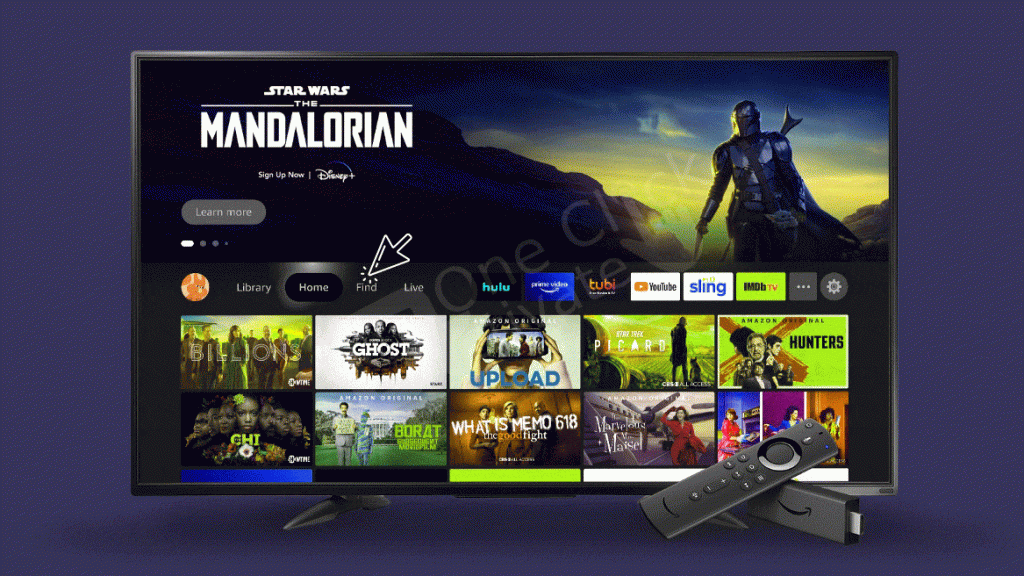 Use the on-screen keyboard to type the keyword Watch OWN into the search field.
From the search results, choose the OWN app tile.

Select the Download option from the drop-down menu.
On your streaming device, wait for the OWN app to download and install.
Also Read: Watch Pure Flix on Firestick
Troubleshooting steps if your Activation code doesn't work
In case the activation code provided to you doesn't work, try the following to fix the problem:
The app should be uninstalled and reinstalled. When you're done, open it up and look for the new activation code.
Double-check that you've entered the proper code combination.
Activate the device as soon as possible after receiving the code. If you wait any longer, it will expire, and you will have to start over.
The activation code will not work if you wish to watch OWN in the United Kingdom. In the United States, the network is available. Outside of the United States, you'll need a VPN to access it.
In the rare case where you followed all of the steps but still have problems, the issue could be with the OWN TV servers. For further information, contact customer service Here.
How to cast Watch OWN on Firestick using Android?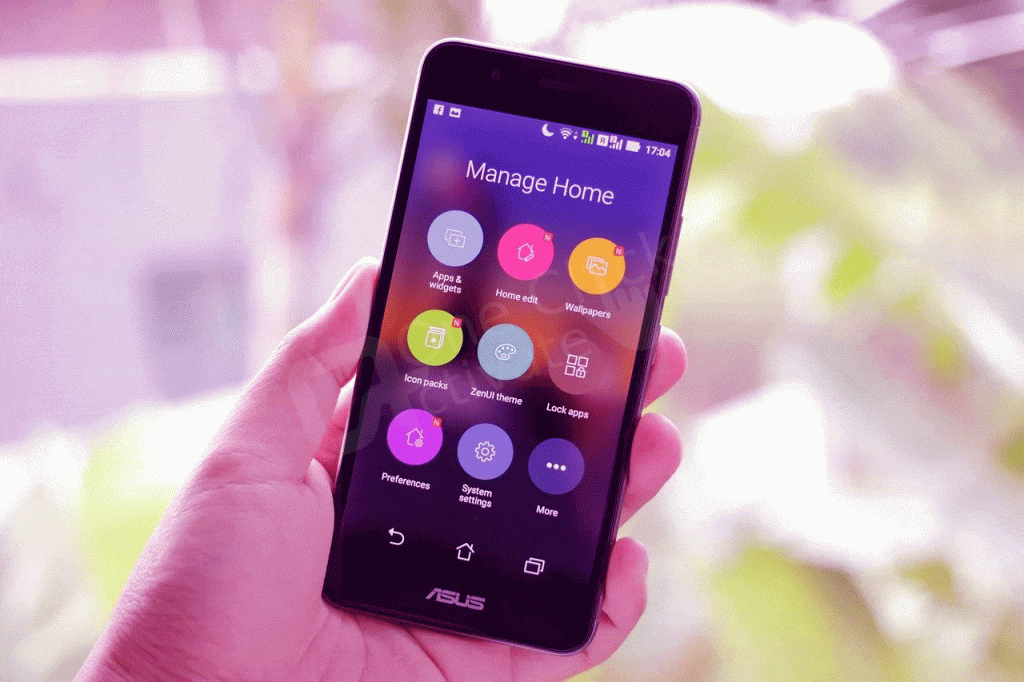 Depending on the device and Android version, the method for casting from an Android smartphone or tablet to an Amazon FireStick varies. Generally, the steps aren't that distinct and should resemble this, with little cosmetic changes here and there.
First and foremost, you must enable Screen Mirroring on your Firestick.
To do so, go to the Firestick's Settings and select Display & Sounds. Then choose Enable Display Mirroring from the drop-down menu. Now recall the name that appears on it.
Now you may get this app for your Android phone.
Connect your Firestick and Android phone to the same Wi-Fi network. Now download and launch the app, then select Connect. Toggle Enable Wireless Display by tapping the three dots in the upper right corner.
Your Firestick gadget is now shown there. When you tap it, your phone's screen will begin to cast. (Your phone must support Screen Mirroring for this to work.)
When you download and use the Watch OWN app on your Android phone, it will now appear on the Firestick-connected TV.
An alternate way to activate OWN on Firestick
In case you're having trouble getting Watch OWN from the Amazon App Store, you can use the Downloader or ES File Explorer to sideload the Watch OWN apk. Either of these apps is safe to use and can be found on the Amazon App Store. Nevertheless, before proceeding, you must first install the Downloader on your Firestick.
Configuring Firestick Settings
The first step is to update a few settings on your Firestick, which are currently disabled for sideloading apps.
To access the settings, head to the Firestick's home screen and click the Gear-shaped symbol.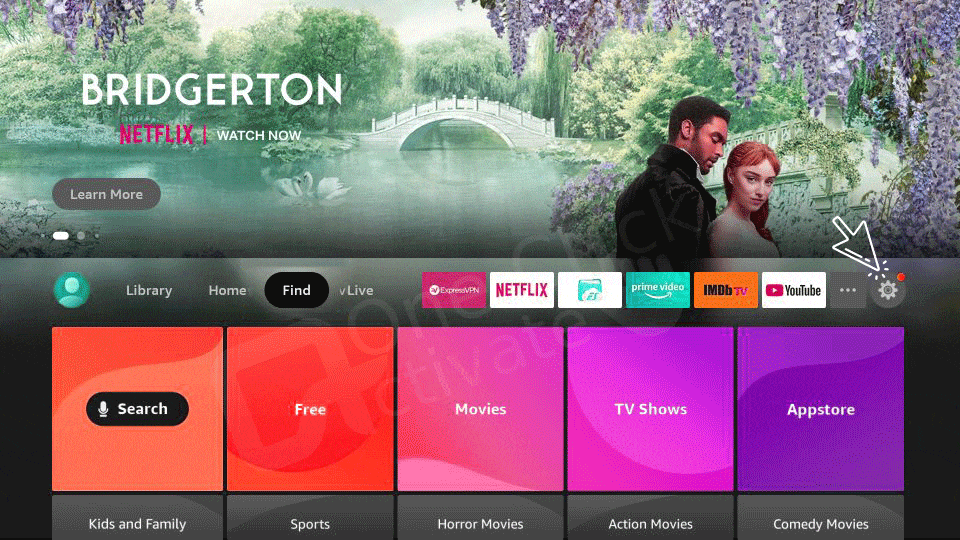 Select the My Fire TV tile from the options listed.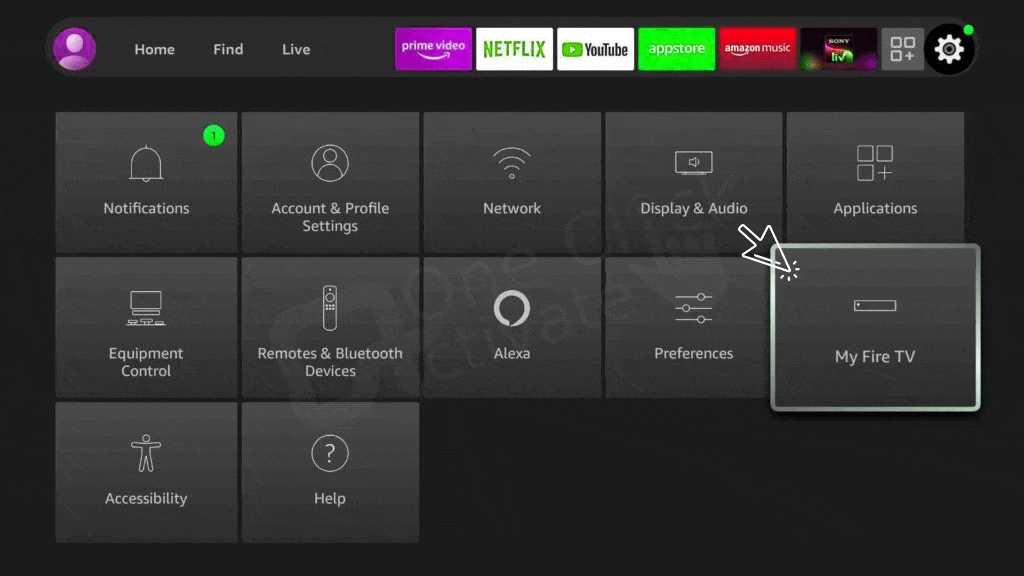 Then select Developer Options.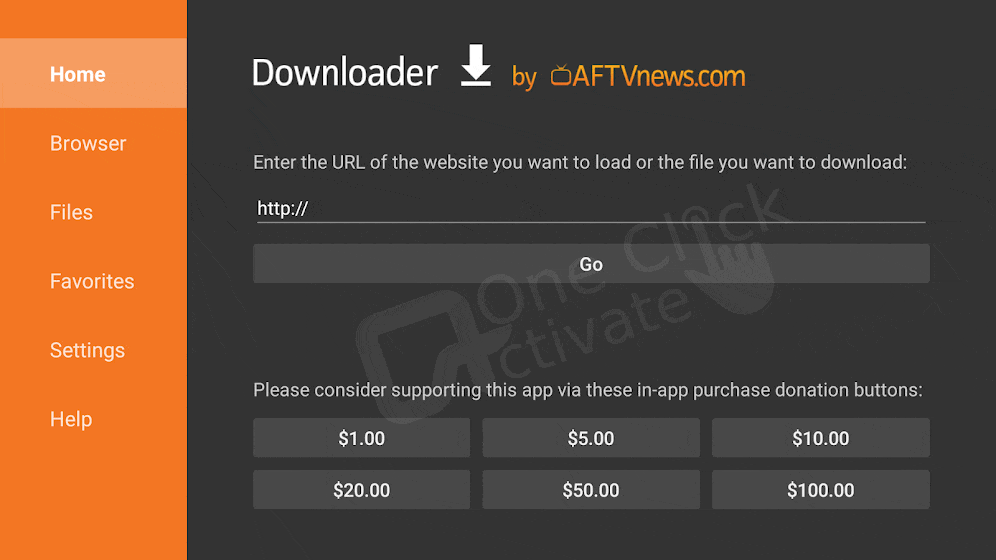 Select Install unknown apps after that.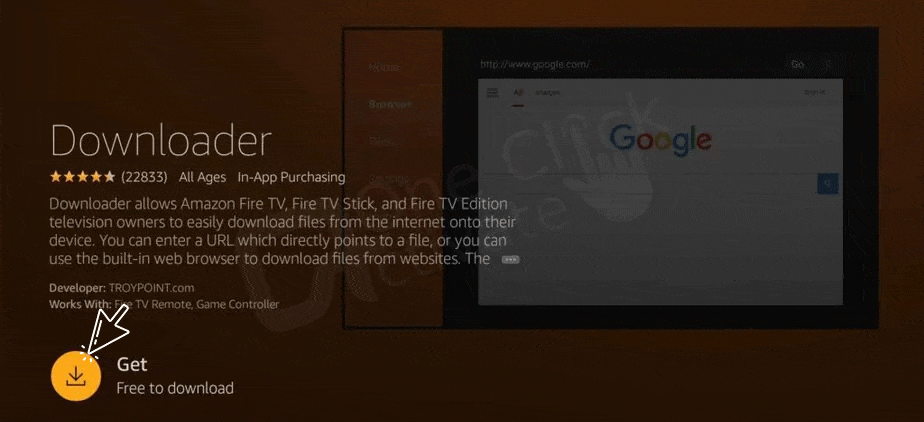 Finally, select the Downloader option and toggle it on.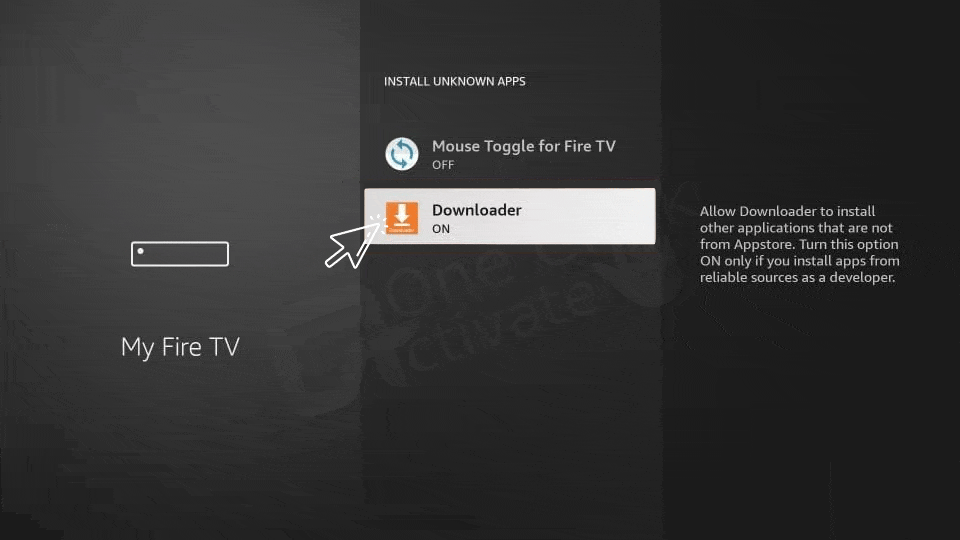 Activate OWN on Firestick using Downloader
Return to the Fire TV's Home screen and select the Apps tile to activate OWN on Firestick.
The Apps & Channels window will appear. To start it, click the Downloader icon.
If prompted, select Allow to grant the required permission.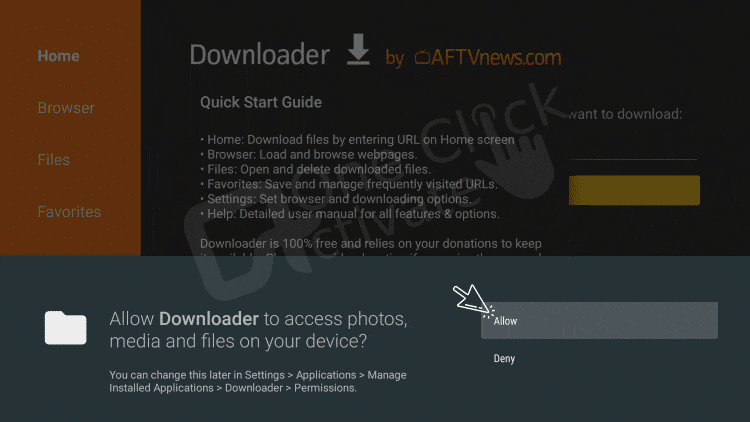 On the left pane, select the Home tab and then the URL search query section.
On the box, place the Watch OWN apk download link. Once you've input, click Go.
Link to download: Click Here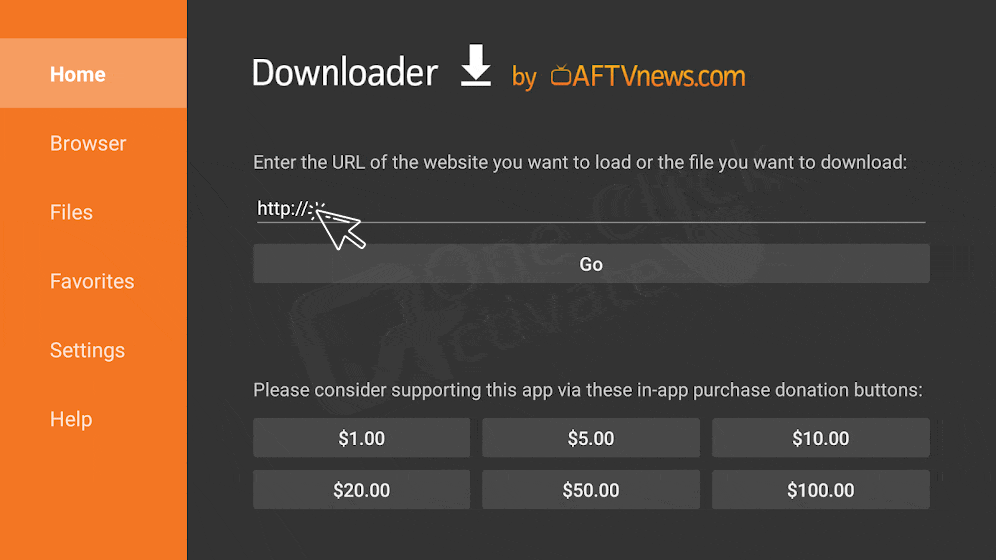 When the download is complete, open the file and select Install.
Depending on your internet speed, this will take a few minutes to install.
Tap Done once it's been installed.
Finally, pick the Delete button to permanently delete the apk file.
To confirm, touch Delete once more.
Trending: Activate VH1 on Amazon Firestick
Easy process to Activate OWN on your Amazon Firestick
To use the app, click Open after it has been installed. You can also use the home screen to launch it.
Select the option to sign in with your TV service provider.
The screen will display an activation code.
From your phone or computer, go to https://start.watchown.tv/activate.
In the given text field, type the activation code.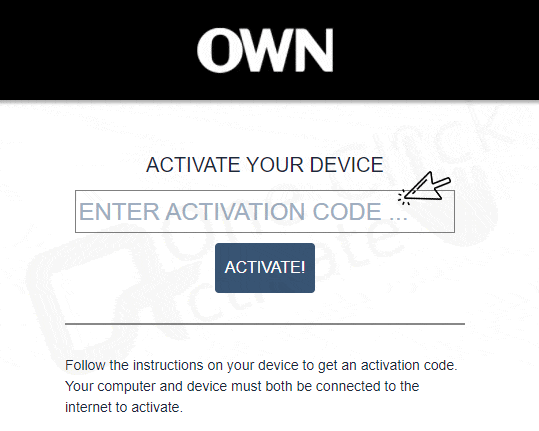 Sign in with your pay-TV service provider by clicking the Activate button.
The app on your linked TV will now begin to load content.
About OWN Channel
The OWN (Oprah Winfrey Network) is the only network named after a well-known figure. Now, you can Activate OWN on FireStick with the steps in this guide, but before that let's know about it.
The channel focuses mostly on entertainment and leisure programming. 
Harpo Studios Talk Shows, signed dramas, films, and more scripted programs are all available on OWN.
You can watch the most recent seasons of your favorite show, live TV, and the OWN vintage collection.
OWN is a Chromecast-compatible app that allows you to live stream or schedule titles 24 hours a day, seven days a week.
As previously stated, you can watch OWN shows on your Amazon Firestick by installing the Watch OWN channel app.
One of the most popular myths about cord-cutting is that you won't be able to watch live network TV. Cord-cutters used to forsake live television in favor of on-demand alternatives like Netflix and Hulu. That is no longer the case, thanks to a variety of programs that allow you to watch live television over the internet.
OWN Subscription Plans & Pricing
The OWN network is not accessible by cable or satellite. As a result, the live streaming services listed below can be used to watch OWN (Oprah Winfrey Network).
Philo is a $25-per-month service.
Vidgo costs $55 per month.
$64.99/month fuboTV
$64.99/month for YouTube TV
Author Recommended: Stream UPtv on Firestick
Reason to have VPN on Firestick
A virtual private network (VPN) establishes a secure connection between your device and the internet. Encrypting your IP address and important information helps to prevent unwanted parties from snooping on your online activity. You will be given access to global servers to which you can connect and surf anonymously, as well as access streaming services that are not governed by any laws.
List of Compatible devices that support streaming Watch OWN:
Chromecast
iOS
Android
Apple TV
Wrapping Up
Once you activate Own on Firestick, you may watch OWN TV programming on your Smart TV, mobile device, or Roku. Even though the service is free, you must have a cable or television subscription to use it. Moreover, just one way to watch the content is to turn on your device first. If you don't have a television subscription, you can view a few shows for free on the OWN TV website.
Frequently Asked Questions (FAQs)
How do I use my Firestick to view the OWN network?
With one of these streaming services, you may watch Oprah Winfrey Network on an Amazon Fire TV: Philo, DirecTV Stream, Fubo TV, Hulu, or YouTube TV. Once you download the app, you can log in with your credentials.
How can I turn on my OWN?
Steps for Android-based devices:
– Open the Watch OWN app and, if necessary, sign in with your TV provider.
– Soon, a code for activation will emerge.
– Open the browser on your smartphone, go to start.watchown.tv/link, and enter the app's activation code there.
– Toggle Activate.
– You may now watch OWN TV on an Android device.
The OWN app for Firestick costs how much?
YouTube TV features OWN, HGTV, TLC, and many more channels are available on YouTube TV for a monthly fee of $64.99. Android, iOS, Apple TV, Fire TV, Chromecast, and more platforms are supported by YouTube TV.
How can I get my OWN app?
The Watch OWN mobile app is available for download on Google Play and the App Store. Watch OWN is also available on Apple TV, Roku, and Amazon Fire TV, as well as the internet at www.WatchOWN.tv.
Is there a streaming app for OWN?
With the brand-new Watch OWN app, you can catch up on your favourite OWN series whenever you want, anywhere you are. You can also now watch up to 14 additional networks, including TLC, HGTV, ID, and more, all in one app.