NOW TV on Chromecast: Know how to stream
Published On : November 29, 2022 by: Anjali Latwal/Category(s) : Streaming Services
NOW TV is an entertainment app that allows users to view live and on-demand TV programs with the purchase of a subscription. It does not need a contract of any kind and allows users to access the newest movies, must-see television series, live sports, and more. You can view as much of your preferred material as you like with NOW TV by purchasing one of their five different passes, the Sky Cinema Pass, Entertainment Pass, Kids Pass, hayu Pass, or Sky Sports Pass. NOW TV is your one-stop shop for more than 300 Box sets, TV channels, pay-TV channels, and other types of television programming. There are presently more than 60 different devices that can stream it because of their built-in compatibility with Chromecast. This article, to be more specific, discusses how to watch NOW TV on Chromecast. Let's begin.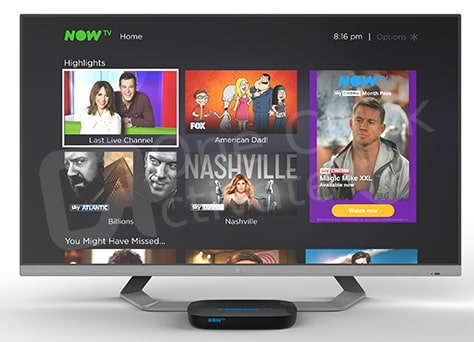 NOW TV on Chromecast: How to stream
You'll have no trouble streaming all of your favorite shows and movies when you use NOW TV on Chromecast. If you want to watch NOW TV on Chromecast, all you need to do is follow the procedures that are mentioned below.
Pre-Requisite:
NOW TV app
HDTV that has a connector for HDMI
A NOW TV account together with any of the available NOW TV passes, with the exception of the Sky Sports Mobile Month Pass
Steps:
Establish a connection between your Android smartphone and Chromecast using the same WiFi network.
You may use the HDMI connector on your smart TV to connect your Chromecast, and the power wire should be plugged into the wall outlet.
Navigate to the Play Store or App Store on your mobile device running Android or iOS, and then download the NOW TV app. You may skip this step if it has previously been installed on your system.
Next, open the Google Play Store or the App Store on your respective mobile device and look for the "Google Home" app. Once you find it, download and install it.
The Chromecast device will be immediately detected by the smartphone that is equipped with the Google Home app. To connect the device, you may do so by clicking on it.
Note: If this is your first time using NOW TV, you will need to sign up and establish an account. Log in using the email address associated with your account and the password if you already have one.
When you access NOW TV on your smartphone, the home page of NOW TV will automatically be presented on the Smart TV to which Chromecast has been connected.
How to Chromecast NOW TV from iPhone?
It's time to start Chromecasting NOW TV from your iPhone now that your Chromecast device is up and running. This is how you should proceed:
Open Apple Appstore on your iPhone.
Find the NOW TV app on the Appstore of your iPhone that is compatible with Google Cast.
Next, click on the Get button to download it.
Verify your Apple account credentials to complete the download.
Now, open the NOW TV app on your iPhone and find the material that you wish to cast, and then start the casting process.
Locate the symbol for Chromecast and then touch on it.
You have the option of choosing which device the cast will go to. Choose your Chromecast device.
Enjoy!
Author's recommendations: Chromecast Cisco Webex Meetings to TV
NOW TV Chromecast not working: Here's how to fix
If your NOW TV Chromecast is not working properly, it can be a very stressful experience that rapidly puts a damper on the fun. We have compiled a list of possible solutions to repair your NOW TV Chromecast not working properly issue. If you follow it, you won't have to wait long until you can start streaming again!
1: Start your Chromecast device again
If your Chromecast isn't functioning properly, the first thing you should attempt is to restart the device. The tried-and-true approach of disconnecting it, waiting about a minute, and then putting it back in again is the simplest and most effective way to get this done.
Wait for it to finish booting up, then give casting to your Chromecast another go after some time has passed. If your Chromecast is still malfunctioning after doing this, go to the next step in the troubleshooting process. This step will fix the issue the vast majority of the time.
2: Verify that you are connected to the internet
It's possible that the problem lies with your internet connection. Verify that other devices are also connected to the internet by checking their status. But even if everything else appears to be functioning OK, it's possible that the problem lies in the router itself. We won't claim to be technicians, but our experience has shown that sometimes something as basic as cycling the power can work wonders. After unplugging your router for a short while, you should then reconnect it. After your router has finished booting up, give your connection another go. You may also try the reset button, which is included on certain router models.
3: Change the position of your device
Chromecast placed behind the television is another factor that can be affecting the quality of the connection. Because the gadget is discretely tucked away, there is a chance that it will not acquire sufficient Wi-Fi power to stream your preferred programs. You can make the Chromecast stick out further by making use of the HDMI extender that was provided for you. You might also try relocating the Chromecast device closer to the router it's connected to. If you have a Chromecast Ultra, you have the additional option of connecting an ethernet cable to the power brick. This option is not available to users of other Chromecast models.
4: Make sure the Chromecast and the other devices are on the same network
This is a problem that affects a lot of people! There are instances when we fail to remember that Chromecast is not linked to the same network as our mobile devices. The cast works more effectively when all of the devices involved are connected to the same network. When you want to check if this solves the issue, you should join the same Wi-Fi network as Chromecast. You can use a Chromecast even if you are not connected to the same network by using Guest Mode. However, you will need to activate this function before you can use it. You should probably give it a go as well!
5: Try restarting your computer or mobile device
As is often the case, just restarting the device will fix many issues. Try casting again after restarting the device you're attempting to cast from, whether it is a phone, tablet, or computer. If restarting your device does not get your Chromecast operating, go on to the next possible solution on the list. You may also try casting again after pausing the casting process on your Chromecast and waiting a minute or two.
6: Carry out a factory data reset settings on your Chromecast
It's time to conduct a factory data reset on your Chromecast if, after trying everything else, it still isn't functioning properly. The good news is that none of your data will be lost. But the bad news is that you will have to re-configure your Chromecast from the very beginning.
Keep your Chromecast plugged in while you press and hold the button located on the back of the device for at least a quarter of a minute. The display on your TV will ultimately go dark, and then the process of resetting it will start. After you have completed everything, you may begin the setup procedure once again. It is recommended that you use a different phone than the one you used the first time. This will ensure that there are no problems with the gadget.
Trending: Cast Distro TV to Chromecast TV
Conclusion:
If you have the Google Home app installed on your Android or iOS device, then it is incredibly easy to watch NOW TV on Chromecast. You can stream the very best movies, television shows, sports, and a variety of other reality shows by selecting any of the NOW TV passes or trying out the 7-day free trial. You are welcome to leave us your feedback in the event that you encounter any issues while using Now TV on Chromecast.