Netflix Error Code M7353-5101: Here's how to fix it
Published On : September 9, 2022 by: Anjali Latwal/Category(s) : Netflix
Netflix, which offers a subscription-based movie rental business, has already established its dominance over a significant number of mobile devices and computers all over the globe. There is no denying that Netflix provides internet streaming of exceptional quality. As a result, we have a great deal of optimism and anticipation for this platform. However, when we come across errors in such a kind of media, it takes us a little bit by surprise. So, if you have lately run into an issue when using Netflix, continue reading so that we can educate you about the solutions to the Netflix error code: m7353-5101 and how to fix it.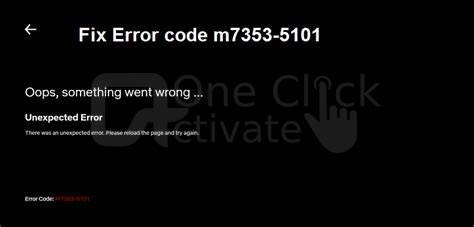 Due to the fact that you are not technically savvy, it is clear that you are not familiar with this error code. Therefore, let's begin by explaining what exactly the Netflix error code M7353-5101 is.
What exactly is the error M7353-5101?
The Netflix error code 7353-5101 happens most often when an addon on your browser is causing a conflict and stopping Netflix from streaming. It's possible that the web browser on your own computer is out of date, but more likely, the issue is caused by an extension or add-on from a third-party website.
There is a possibility that the problem that you are seeing on Netflix is related to the VPN or proxy settings that you are using. There are a number of circumstances in which Firefox or other forms of security software prevent Netflix from functioning correctly.
Canadian users know how you can Stream American Netflix in Canada
How Can I Fix the Netflix Error Code M7353-5101?
We will discuss all three of the solutions to the Netflix error code m7353-5101 that are currently available. Examining all three options and deciding which one works best for you can help you choose the right one.
Restart your computer:
When you receive an error message from Netflix, you should think about shutting off your computer or laptop. Simply restarting your computer will fix the fundamental problem, and after that, streaming videos from Netflix will work perfectly.
Is the code m7353-5101 still being displayed? You might perhaps use the next way.
Close down the extensions from each browser:
If you are experiencing an issue when streaming Netflix on Google Chrome, you can repair it by removing any unwanted extensions or add-ons from the browser. Do you notice a bar at the top of your browser where you can type in URLs?
In the address bar of www.chrome.com, type in chrome:/extensions.
You will now be presented with a range of extensions and add-ons to choose from. You will need to prevent them from working.
After you have finished doing this, you will be able to access Netflix and check to see whether the issue number has been resolved.
Your issue will be fixed after you get rid of the extensions. You can switch on each of your extensions in turn until you determine which one was responsible for the issue.
Keep your browser up to date:
You will need to delete the browser and then reinstall it if you are still getting the Netflix error code: m7353-5101. You also have the option of checking for any updates. In order to get your version of Google Chrome up to date, please follow these steps:
Move on to using the browser. To access the menu, choose the menu icon located in the upper right corner.
Choose the option that says Help.
Conduct a search for About Google Chrome, then click on the result.
Now, when you open Chrome, it will automatically display the versions that are presently installed on your computer and begin upgrading itself to the most recent version.
In order to finish the process of upgrading, you will need to choose the restart option from the menu.
You are now able to log in to your Netflix account and start streaming shows and movies.
Also Read: Take Screenshots on Netflix on any device
Conclusion:
We have provided a rundown of the three most effective approaches to resolving the Netflix error code: m7353-5101. On PCs, it is typical for this error to occur. It makes it quite apparent that you cannot do a certain thing with your internet streaming. We really hope that one of the solutions we provided above helps you out. Don't forget to tell your loved ones and friends about these helpful tips and tricks. Share in the comment area below how you've found utilizing Netflix to work for you.
If you are looking for some other options to stream content rather than on Netflix, click on our guide of the 12 best free alternatives to Netflix with their reviews.