Microsoft Update Is Going To Help In Your Work/Study!
Published On : September 20, 2022 by: Sakshi Sharma/Category(s) : Trending
Microsoft, an American multinational technology giant, has finally made an update to correct the issue that users had been experiencing for several hours. You may now personalize your PC, improve security, and use Windows in more inventive ways with the new features included in recent Windows releases. Additionally, these improvements will make it simpler for you to complete tasks on your PC and all of your other devices, including syncing to Android phones (7.0 or later).
On Monday evening, there were issues with the Microsoft 365 online service package, which includes the premium versions of Teams, Outlook.com, and Exchange Online. Following Microsoft's official announcement, the problem was brought about by a recent modification to an authentication mechanism. The problem was finally resolved by the company's experts because it had temporarily affected several Microsoft 365 services throughout the world and caused a customer data outage.
Finally! Microsoft Rolls Back An Update To Fix The Technical Glitch
Earlier on Monday, Microsoft users were left suffering, as they can be able to access several services for several hours because of a temporary outage. As per the Microsoft 365 Service health status page, any service that influences Azure Active Directory (AAD) might have been affected by the outage. With this issue, more than 27,000 reported major problems with the Microsoft Teams platform, mostly focusing on the Teams login issue and Microsoft's website server connection problem. Other than this, many users also reported problems with platforms like Outlook.com, Office 365, and Azure. The issue might have stemmed from the recent changes in Microsoft's authentication system. With this, Microsoft decided to roll back its recent Windows 10 update.
Useful Topic: Watch BAFTAs Online
Clearly, What Twitter Handle Says About The Microsoft Issue
As per the status update from Microsoft said: "Any service that leverages Azure Active Directory (AAD) may be affected by the overall products." Further, they added, "This includes but is not limited to Microsoft Forms, Teams, Intune, Exchange Online, and Yammer."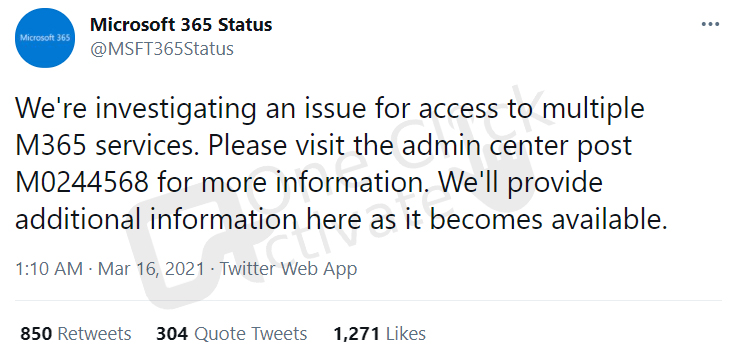 With the service outage, several users report the issue to the company, as it is evident that it creates problems worldwide. After suffering from this long-hour issue, the company attempted to roll back the update, which caused the problem. An official tweet made by the Microsoft 365 Status read: "The update has finished deployment to all impacted regions. Microsoft 365 services are showing decreasing error rates in telemetry".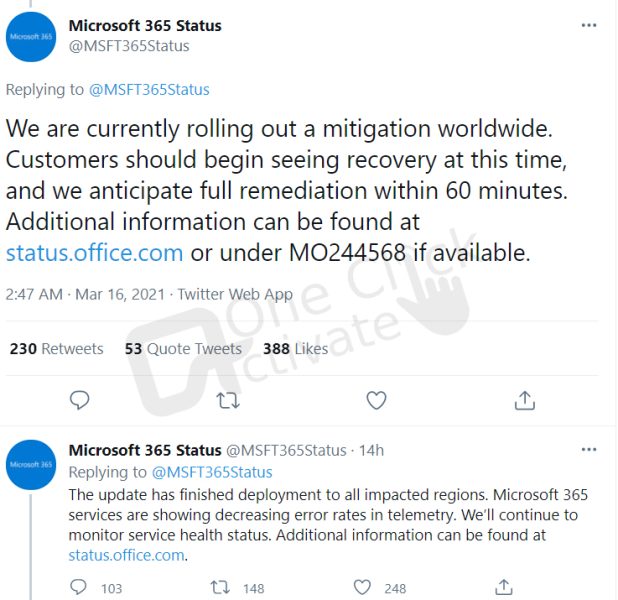 More than 2,300 people also reported major trouble-causing issues with Microsoft's Azure cloud computing services. When they visited the site the page showed Downdetector.
Updates that you will find in the New Microsoft Update:
Every app you require is:
The Microsoft Store app helps you quickly find the games, apps, and shows you're looking for, including your preferred mobile apps that are now compatible with your PC. You can also simultaneously search several streaming services for movies and TV episodes.
Access anyone from the taskbar and connect:
Start a call or chat by clicking Chat on the taskbar. It's simple to send a link so they can join in if they're using iOS, Android, or Mac (choose to Meet > Copy meeting link).
Brownie Read: Cancel Match.com Subscription
One swipe gets you everything you care about:
To keep up with your favorite news, swipe from left to right or choose Widgets from the taskbar.
Organize open apps quickly:
To maximize your screen space and productivity, hover over a window's maximize button or hit the Windows logo key + Z, then select a snap arrangement.
You can begin in the middle:
To access your favorite programs, recently used files, and a robust search box for locating anything, choose to Start on the taskbar.
Personalize for creativity and productivity:
Windows 11 offers a variety of desktop settings, backgrounds, and themes to keep you motivated. It also offers ways to modify your workflow to increase productivity.
A stunning, simple-to-use Settings app:
With a new navigation layout and common controls at the top of important pages, the Settings app is simpler to use and makes changing settings quicker and easier.
You can also use the snap groups to complete tasks with ease:
Snap two or more open programs or windows together to form a snap group when working on a particular task. To find the snap group later, hover your cursor over one of your open apps in the taskbar.
Follow OneClickActivate to get all the trending news and major updates about software with "How To" guides. 
Recommended: Cancel Billie Subscription
FAQs :-
What has Microsoft updated most recently?
The October 2020 Update for Windows 10 (version 20H2) The most recent upgrade to Windows 10 is version 20H2, often known as the October 2020 Update.
What is Windows 10's most recent update?
Version 21H2, often known as the Windows 10 November 2021 Update, is the most recent version of Windows 10 as of August 2022.
What is Windows 2022's most recent version?
The most recent major update of Microsoft's Windows NT operating system, Windows 11, was made available in October 2021.
Is Windows 10 21H2 the final version?
That is not to suggest that Microsoft won't continue to focus on Windows 10, as the 21H2 upgrade has already been released. Even while Windows 10 will continue to receive official support until 2025, it might turn out to be the last feature upgrade for the operating system.
To update to 21H2, how do I?
Choose Start > Settings > Update & Security > Windows Update, then click Check for updates if you want to immediately apply the update.
You can manually download version 21H2 through the Windows Update Assistant if it isn't made available automatically through Check for updates.
Upgrade Windows 11 2022: Should I?
Yes, you should install Windows 11 version 22H2 when it becomes formally available, which is the general advice we give. It has several new features and extends the availability of security updates into the future.