Login Emerald Card by H&R Block – Updated Guide
Published On : June 30, 2022 by: Anjali Latwal/Category(s) : Trending
Did you recently receive your Emerald Card by H&R? Are you confused about its login process? Worry not, we are here to help. In this guide, we will tell you all about the Emerald Card by H&R Block, its various features, along with its login and activation process. So, what are you waiting for? Hop on with us for the ride.
About Emerald Card by H&R Block:
For customers who desire the ease of using a card for purchases but don't want (or don't qualify for) a standard credit card, H&R Block has created the Prepaid Emerald Mastercard. The only money that is already in your account can be spent using prepaid cards, in order to save money on interest payments, returned checks, and overdraft fees.
The H&R Block Prepaid Emerald Mastercard does not conduct a credit check, ensuring acceptance. However, it won't benefit your credit-building efforts, and some internet retailers do not accept prepaid cards. For existing H&R Block clients who prefer not to have their tax refund deposited into their bank account, the H&R Block Emerald Prepaid Card is the ideal option. It provides bill payment through a mobile app, no overdraft fees, and more. Furthermore, even after utilizing your refund, you can still use the card.
However, keep an eye out for costs that might deplete your funds. A standard bank account can be a better choice if you already have one and don't mind waiting to get your return.
How can I register for an Emerald Prepaid Mastercard by H&R Block?
The H&R Block Emerald Prepaid Mastercard is only available online or in H&R Block locations while you are filing your taxes using H&R's software. Where to locate the closest H&R Block:
Visit the provider's website and adhere to the instructions to apply.
Choose to find an office from the H&R Block Emerald Prepaid Mastercard website.
Select Go after entering your ZIP code.
What are the eligibility criteria for an Emerald Card by H&R Block?
Eligibility:
Your H&R Block Emerald Prepaid Mastercard will get approved if you are:
18 years of age or older
have a state ID or a driver's license
Required details:
Before registering your card online, be prepared with the following:
Complete name
Household address
Your birthdate
Pros of Emerald Card by H&R Block:
The Prepaid Mastercard by H&R Block can be used even after-tax season is over.
As with other prepaid cards, it includes benefits like no overdraft fees, no overdraft charges, and a handy mobile app that helps you e-deposit checks, locate a reload location and manage your account.
It enables paying bills to handle all of your payments in one place, sign up for H&R Block's bill-paying service. There might be fees.
The card makes receiving money simple. You can get your government benefits sent to your card or sign up for direct deposit via your job.
Money transfers become easier. You can transfer money to and from your card without any charges by H&R Block if you have a checking account that you'd want to connect.
Withdrawals of cash when shopping made simpler. In most cases, when you ask for cash back when making a purchase in a business, you may withdraw money without incurring a charge.
Cons of Emerald Card by H&R Block:
There are a few disadvantages to the H&R Block Emerald Prepaid Mastercard that you should be aware of:
Few alternatives for signing up: Only at an H&R Block facility or while submitting your tax return as an option can you sign up for the card.
Load caps: There is a daily $1,000 loading limit. You may need to divide your deposits if you're paid in cash for a job.
Closing of accounts: They might close your card if it has been idle for a while and the inactivity charge has caused the amount to drop to $0.
Ordinary costs: Regular acts like cash and check reload and ATM withdrawals may incur a variety of costs. For an exact breakdown of fees, you can visit their website.
What to do after receiving my H&R Block Emerald Card?
To get the most out of your new card, use all of its capabilities.
Create an account on Emerald Online: Once you've registered, you can use the mobile app to log in and manage your card, balance, and other accounts.
Make use of direct deposit: When you get your salary or government benefits on your card, you may cash them without having to pay a check-cashing charge.
Call the customer care line: 24/7 customer assistance is available all year round. If you have any inquiries, dial 866-353-1266.
How to activate my Emerald Card by H&R Block?
Follow the steps below to activate your Emerald Card by H&R Block:
Call the Emerald Card service line at 1-866-353-1266 to activate your Emerald Card.
You have to enter the last four digits of your card number.
To activate, adhere to the directions.
You should create an account so that you may maintain your card in addition to activating it. On the Emerald Card login screen, you can accomplish this. Once you're set-up, you can check your balance, make payments, and move money across other Emerald accounts in addition to seeing your transaction history.
However, if you want to manage your card often, you can prefer using the app to frequently visit the HRBlock.com Emerald Card website. The MyBlock mobile app is available on Google Play and the iTunes App Store. You won't need to remember a password if you use the app to log in via touch and face recognition.
How to log in to my Emerald MasterCard by H&R Block account?
Follow the instruction below to log into your H&R Block Emerald Mastercard account: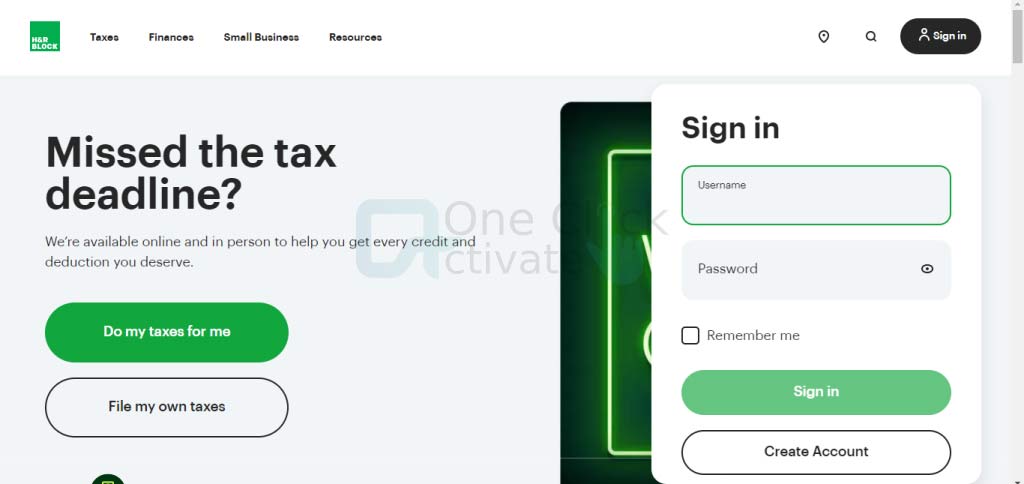 However, if you are not an existing user, you can create a new account by clicking on the 'Create One' option.
It will ask for your details and you must provide all the information that it asks for.
How can I refill the Emerald H&R Block card?
You may use your HRBlock.com Emerald Card for more purposes other than only getting your tax return when you sign up for one. You can keep adding money from sources like paychecks, government benefits, cash, and checks. By having the option of direct deposit, you may avoid having to use a fee-based service to cash your check and save money. Your choices for financing include:
Cash: For a cost of up to $4.95, load your card with cash at a retail partner location.
Direct payment: Get government benefits or income from your job straight to your card.
Check: Use the mobile app to deposit checks.
The use of a bank: Create a link to your bank account to make one-time or regular deposits.
How can I get copies of my H&R Block Emerald card's transactions and statements?
There are three free methods to get access to the last 12 months' worth of transactions:
To rapidly download the previous 12 months' worth of transactions, go onto your Emerald Online account.
In order to get a physical copy of the transactions from the last 24 months, contact customer care at 866-353-1266.
To get a physical copy of the transactions over the last 24 months, contact customer care.
You can send a letter if you'd like to at:
Customer Service for Cardholders PO Box 10170
Emerald H&R Block Advance:
Despite how useful the Emerald Card can be, you cannot receive a refund right away. H&R Block provides the Emerald Advance Line of Credit in exchange for it. With this option, you get a line of credit in the range of $350 to $1,000, depending on the size of your expected return. Although there could be better choices, this service has a $45 yearly cost and a 36 percent annual interest rate.
Only a small window of time each year is available for applications for the Emerald Advance Line of Credit. The exact dates vary each year and take place between November and January. To apply for the program, you must go to an H&R Block office that is a participant.
Once authorized, you can utilize your credit line and make payments equal to the higher of $25 per month or 4% of the outstanding debt. You'll be eligible to utilize your credit line all year long provided you pay off your amount by February 15th.
Conclusion: So, that was all about Emerald Card by H&R Block, and its activation and login procedure. And if you follow all the instructions carefully, you will be able to log in and activate your card in no time. With this, we come to the end of our article and hope that your will like our content. Furthermore, please don't forget to leave your valuable feedback in the empty space below.
Frequently Asked Questions (FAQs):
How soon will I get my card?
After your account has been approved, your card should be sent in the mail in seven to ten business days.
Can I get my stimulus check with my H&R Block Emerald Card?
Yes. Due to a recently broadened definition of government benefits, the (CFPB) Consumer Financial Protection Bureau said on April 13 that taxpayers can now get their stimulus checks using prepaid cards. Your stimulus payment should be delivered to the H&R Block Emerald card if you used it to get your most recent tax return. On the IRS website, you may see the status of your payments.
Is it possible for me to co-own an H&R Block Block Emerald card?
Yes. A secondary user can apply for a customized card via your account online or in person at an H&R Block store. Equal ownership of the account will be shared by the joint owners.
What happens if I lose my Emerald H&R Block card?
As soon as you notice that your card is missing, contact customer care. If someone uses your card without your permission and you report the loss to customer support within two business days, you are only responsible for the first $50 charged.