LG IMS Stopped Working: What Does It Mean and How to Fix It?
Published On : October 6, 2022 by: Sakshi Sharma/Category(s) : Technology
LG customers have been expressing their dissatisfaction on social media sites, claiming that the persistent "LG IMS stopped operating" issue has rendered their phones useless. What is this issue, and what does it mean for LG phone owners? The "LG IMS stopped operating" issue is a problem with the phone's software that causes it to crash and reboot repeatedly. This can render the phone unusable and cause data loss. LG is aware of the issue and is working on a fix, but in the meantime, there are some steps that users can take to try and fix the issue themselves.
You can try restarting your phone in safe mode. This will disable all third-party apps and may help to stabilize the phone. If that doesn't work, try factory resetting your phone. This will erase all your data, so be sure to back up anything important first. These are just a few possible solutions to the "LG IMS stopped operating" issue. LG is still working on a fix, so hopefully, there will be a permanent solution soon. In the meantime, the steps in our guide below may help to stabilize your phone and prevent data loss.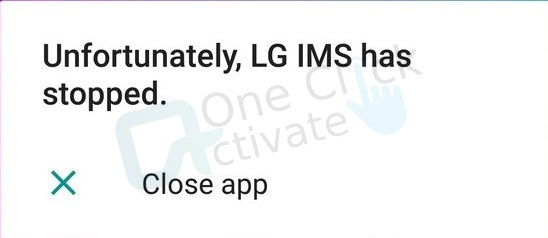 LG IMS: What exactly is it?
A framework called LG IMS (IP Multimedia Subsystem) is in charge of providing services like Wi-Fi calling, and Voice over Long-Term Evolution (VoLTE). This framework is not just prevalent in LG devices; it is also present in products made by other manufacturers. There is nothing wrong if you see this framework in the running Android system applications on LG smartphones; its package name is com.lge.ims.
Some common users reported LG IMS issues:
Three of the most frequent LG IMS errors are available here. Two of these are user-reported but aren't true problems; they're simply the way the framework works. "Unfortunately, LG IMS Stopped Working" is the only problem that LG IMS is known to have caused. So, let's find them out along with their most appropriate solutions.
Some people believe there is a problem with excessive battery use and blame LG IMS. It is a framework, as previously noted, that is in charge of providing services like Wi-Fi calling. People assume that IMS (com.lge.ims), which is among the top power-consuming applications, is to blame for the battery drain, but it may really be the result of using the phone mostly for VoLTE or Wi-Fi calling.
Recommended: Best Random Video Chat Apps to Talk To Strangers in 2022
Location automatically turning on:
The IMS service may automatically activate location services to find you and utilize that information for uninterrupted Wi-Fi calling, regardless of the carrier you are on or the device you use. Consider the case when your smartphone's Android Emergency Location Service (ELS) is deactivated or unavailable in your nation. When calling emergency services in such a situation, your device won't be able to reveal your location, but your carrier may.
On smartphones such as the LG G series, Stylo, LG wing, and others, the LG IMS messaging issue may start to appear. IMS (IP Multimedia Subsystem) stops working for a number of reasons. Although malware or a large amount of cached data might cause it to halt periodically, it doesn't seem to be the cause of the present issue. You cannot ignore the warning as it will reappear after a short while. You are unable to use your smartphone when it intermittently appears or when it just won't go away. Although we don't know why the LG IMS started acting up in this way, we do know how to solve it. To learn how to fix the problem, please read the section after this one.
Is Zoom Fatigue A Concern For You? Find How To Combat Zoom Fatigue
How can I resolve the "Unfortunately, LG IMS Stopped Working" issue?
There are several solutions to this problem, and we have attempted to cover them all so you may try them. At least one of them ought to be successful.
Method 1: Remove recently updated or installed programs
Sometimes after upgrading or downloading applications, the LG IMS dialogue may start to appear. In the settings, you can see a list of all the new applications and see whether any of them have recent updates or new installs. Once finished, the message problem could disappear.
Method 2: Using the Hidden Menu to Change the IP Version
Follow the steps below to complete this process:
Dial 277634#*# in order to access the secret menu.
Look for and choose "IP Version."
Change "IPV6V4" to "IPV4V6" in the configuration.
If the message "Unfortunately LG IMS has stopped" continues up, you may activate flight mode and then turn it off after you've finished configuring the secret menu.
Method 3: Factory reset your smartphone
Most people want to avoid factory resets since they require setting up the device again, but if method 1 and method 2 don't work to resolve the message problem, you may factory reset your device in the hopes that the message will not reappear.
(Note: Factory reset may permanently erase your data; we advise creating a backup of any crucial information before you put your device to sleep.)
Android devices can be factory reset in one of two ways: via device settings or using the side button. You may reset your smartphone using the instructions shown below but bear in mind that they may vary somewhat based on your Android OS version.
To back up and reset, go to Settings > General tab.
Then, to begin the procedure, tap Factory reset.
Accept the warning if your device suggests erasing your data, then wait until the operation is complete and your phone restarts automatically.
Methos 4: Turn off the LG IMS
As previously indicated, LG IMS is a crucial foundation; once the user turns it off, VoLTE and Wi-Fi calling are no longer available. Therefore, try deactivating it using the instructions below if none of the other options are successful for you. You can use technique 5 if it's something you don't want to perform.
In order to access the secret menu, dial 277634#*#.
Toggle VoLTE on or off by tapping Field test > Modem settings.
After that, turn off IMS and restart your phone.
Method 5: Install a Stock or Custom ROM
Installing a custom or stock ROM might be a little challenging for non-technical individuals. You may choose whatever one you wish to flash, however, stock Rom is what we advise. If you decide to go with a custom ROM installation, you can Google it. Then, follow the instructions to finish the procedure. Or you can follow the instructions in some of the YouTube videos. You can easily find them on YouTube to install stock ROM or search Google for instructions. Visit www.lgstockrom.com to get the LG stock ROM.
Also Read: Install Zoom on Android Smart TV
Conclusion: So, that was all about LG IMS Stopped Working issue and how to resolve it using five different techniques. You might find the third one a little too much, so you can avoid it for obvious reasons. But the rest of the methods are pretty useful. And you can employ them to get rid of this unnecessary and irritating error.
Frequently Asked Questions (FAQs):-
My LG IMS keeps stopping in 2022, how to fix it?
To stop the error notice from appearing repeatedly, switch your LG phone to airplane mode. Access App details by going to Settings -> Apps & Notifications. Enable the show system by tapping the 3-dot menu in the top right corner. The LG IMS problem may potentially be caused by the current IP version that is active on your device. Change the IP version utilizing the hidden menu by performing the following steps; Dial 277634#*# Find and press "IP version" to get rid of this as the pop up's.
LG IMS keeps stopping MetroPCS, what should I do?
Follow the steps below to fix the "LG IMS Keeps Stopping" error popup issue if you're experiencing it. If turning on and off the phone didn't help, move on to manually resetting the LGIMS app.

1. Open Settings, then launch Apps. Even if an error pops up, the buyer can still move on to the next stage (just close the pop-up when needed).
2. Launch App Info.
3. Click the three horizontal dots in the upper right corner and select Show system to display more system apps on the list.
4. Click open after finding com.lge.ims.rcsprovider by scrolling down.
5. Open Storage.
6. Clear data—"deleted app data" OK—Clear cache (if applicable) When finished, buttons will turn grey.
7. Return to Storage and click Force Stop; the button will turn grey when finished.
8. To "restart" (power on/off) a phone, press and hold the power button.
9. Try the steps again if the error message still appears.
What is the LG IMS hack?
Android phones come with a pre-installed app that permits continuous communication between the phone and the service provider. Text messages and phone calls can be handled correctly across an IP network system thanks to IMS. Every LG smartphone has the "LG IMS" app, a system framework that enables users to make calls and send/receive text messages via 4G LTE and 5G networks. It is therefore essential for daily use.
Why do you have LG IMS settings on an Android phone?
The Voice over Long-Term Evolution (VoLTE) and Wi-Fi calling services offered by LG devices are known as LG IMS or LG IMS in short. The package has the name lge. ims. There is nothing improper with having it on your Android device because it is not a hazardous package.