Step by step guide to install a VPN on Roku
Published On : November 30, 2021 by: Miti Sharma/Category(s) : Roku
How can you install a VPN on a Roku device? Well, it has a significant advantage, including better security, privacy, and the ability to access material that is banned by the area. However, Roku's software does not allow VPNs, so if you want to alter your IP while using Roku, you'll need to install the VPN on your router. Let's see how you can do this-
Check to see whether your router is DD-WRT compatible. This is a unique firmware that will allow you to install the new software.
DD-WRT needs to be installed on the router.
Your router should be flashed with the latest firmware.
Now set up the VPN on the DD-WRT.
In order to connect the new server, VPN's interface is to be used.
While the VPN is connected, create a Roku account.
You can always transform your Mac or PC into a virtual router if your router doesn't support DD-WRT. Do you want to utilize a VPN with your Roku? For the simplest installation, we recommend ExpressVPN.
Why do you need to install a VPN on your Roku?
Roku is a great way to increase your streaming options, and you can get one for as little as $30. Link it to the internet so you can stream content from any network to which you have a subscription. However, if you want to fully utilize its capabilities, you'll need to use a VPN (Virtual Private Network). Roku does not provide access to all of the movies and TV series available on streaming services. Some of them will be restricted by regional boundaries. With a VPN, you can alter your IP address and make streaming platforms believe you're surfing from another location, allowing you to access stuff you couldn't previously.
However, you won't be able to install a VPN directly on Roku, so you'll have to do the following:
Replace the firmware on your router with the latest version.
Further set up a VPN on the new firmware. On that new firmware, set up a VPN.
Roku should be connected to the router.
We'll guide you on how to accomplish it step by step in this article. You have to first set up the VPN before creating a Roku account, the IP address will be recognized.
DD-WRT should be installed on your router
DD-WRT is a Linux-based open-source router firmware that provides you with additional choices. DD-WRT provides extensive help for setting up a VPN. Here's how to get started:
Ensure your hardware router is DD-WRT supported. Once check out the list of DD-WRT-compatible routers. If yours isn't listed, scroll down to the section where you describe how to transform your PC or Mac into a virtual router and skip to that step. If your router is on the list, you may download the.bin files that match your hardware.
Read the instructions for flashing fresh firmware on your router that is particular to your hardware.
Install a VPN on your DD-WRT router
You'll need to go into your router and allow the VPN you signed up for to install a VPN on your new firmware. This is how it works:
Copy the IP address of your router and paste it into the search box of your browser.
Select "Basic Setup," then "Network Address Server Settings" from the "Setup" menu.
Put in the DNS server address of the VPN you would like to use. This information may be found on your VPN's website.
Disable IPv6.
Select "VPN" from the "Services" menu. Take a look at the image below. Keep in mind that depending on your router, your interface may change significantly from ours.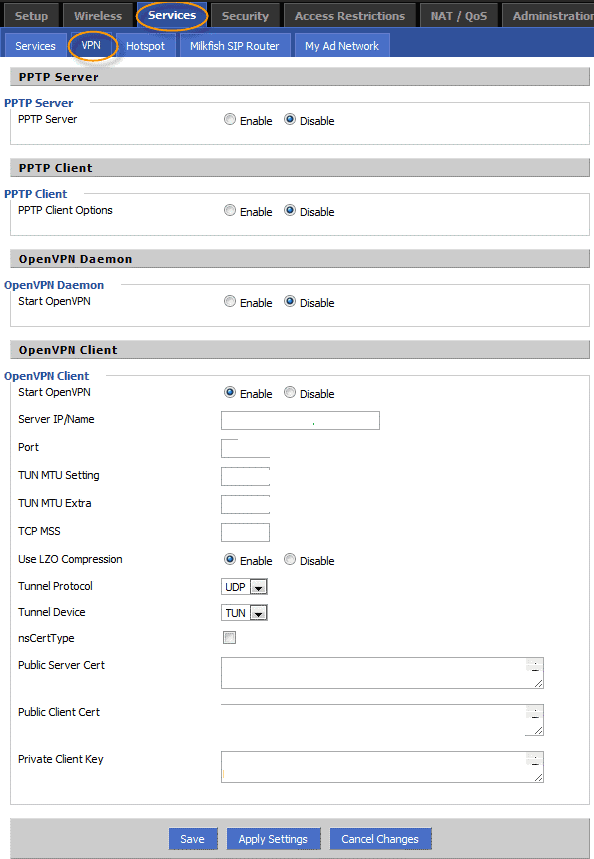 Tap on "Start OpenVPN client" to turn on the OpenVPN client.
Fill in the following information from your VPN provider:
your email address, your VPN account password, the server address you want to use, and the VPN protocol type you want to use
In the designated field, paste the information of your certificate key.
Put the settings into action.
Use your VPN's interface to connect to a server
Once you've configured your router to function with your VPN, you may connect to any server using the VPN's interface. Because most streaming services have licensing rights to deliver all of the material they can in certain locations, we recommend Roku servers in the United States or the United Kingdom.
Nevertheless, before you set up your VPN, make sure you don't sign up for Roku. Roku will assume you're in Germany if you made your account with a German IP address, regardless of what your IP says. That's why you should only sign up for a Roku account after you've set up your router with a VPN. You may still utilize your VPN to change countries; simply create a new Roku account for each country you wish to sign up for.
Also Read: Top 10 Free Movie Channels on Roku
Which Roku VPN Should You Use?
ExpressVPN is the best VPN to use with Roku. Because of its consistent connection speed, server variety, and specialized streaming capabilities, ExpressVPN is ideal for streaming. Moreover, ExpressVPN is incredibly user-friendly and relatively easy to install on routers, since it uses OpenVPN. On the ExpressVPN website, there's even a section dedicated to setting up ExpressVPN on routers. By all accounts, it's the finest VPN for Roku. it one of the best premium all-around VPN services.
Software that works on all of your devices and OS systems.
Allows you to safely and anonymously surf, stream, and download.
Excellent customer service and fast, steady connections
Money-back guarantee for 30 days
With a yearly subscription, you'll get three months free.
| | |
| --- | --- |
| Price | $6.67 per month |
| Operating systems | Mac, IOS, Mac, Windows, Linux |
| Simultaneous connections | 5 |
| Torrents | Torrenting is allowed |
| Netflix | Works ith Netflix |
| Logs policy | Zero logs |
| Protocols | IKEv2, OpenVPN, Lightway, L2TP/IPsec |
| Methods of payment | Credit card, Paypal, Cryptocurrency, other |
| Money-back guarantee | Yes |
What operating systems and devices are ExpressVPN compatible with?
An ExpressVPN membership may be used on up to five devices at once. It has programs for Android, Windows, iPhone, Mac, and Linux that are transparent and well-functioning. In addition, if English isn't your first language, ExpressVPN's app is available in over ten other languages.
Is ExpressVPN good for torrent downloading and streaming?
ExpressVPN makes it possible to download torrents anonymously. They have tested this with a variety of P2P clients, including uTorrent and BitTorrent. This has always worked nicely.
You may also access a variety of streaming services from across the world. This means you'll always be able to watch American Netflix, as well as other streaming services like Disney Plus and Hulu, even if you're not in the United States.
Confidentiality and security
Their provider's security is at the top of the list. OpenVPN and ExpressVPN's proprietary Lightway are among the protocols offered by ExpressVPN. Your data flow is encrypted using 256-bit encryption with this service. Because ExpressVPN does not maintain any activity records, your online activities cannot be tracked. The provider may maintain some information about how you use the app, but this has no severe privacy concerns.
ExpressVPN uses diskless servers, which means that no one, including the provider, can view your browser history. This provider has an excellent reputation as a result of these factors.