Here's how to install Local Channels on Amazon Firestick
Published On : December 4, 2022 by: Anjali Latwal/Category(s) : Streaming Services
Want to learn how to install Local Channels on your Amazon Firestick? Go through this guide to find it all, along with other important information that can come in handy. Let's begin.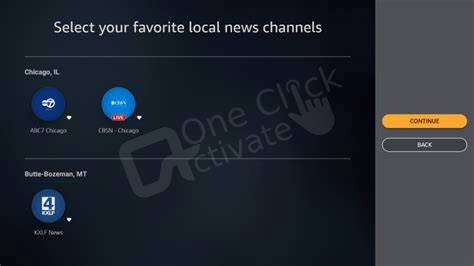 How to install Local Channels on Fire Stick with Network-Based Apps?
This approach requires you to have a membership plan with your local television service provider. In addition, you are going to need the login credentials for the plan at least once. Following that, Amazon's Fire TV Stick will make use of that information in order to match network applications with your TV subscription.
Downloading:
To begin, let's look for and download the app of a big network like NBC, ABC, etc.
Keep pressing up on the navigation ring of the remote control until the Home category is highlighted.
To bring up the Applications menu, you need to press the right button on the remote's navigation ring.
Make sure the Select button is pressed. Apps are followed by a sub-menu in this example.
You can highlight Features on the sub-menu by pressing down on the navigation ring, and then you can highlight Categories on the main menu by pressing right on the ring. Make sure the Select button is pressed.
Make your way to the Movies & TV category by utilizing the navigation ring on the remote. Make sure the Select button is pressed.
On the page that follows, you will discover the following specialized applications for the main networks:
NBC
Paramount+
PBS
FOX Now
ABC
The CW
Select an application by using the remote's navigation ring to go to it, and then press the Select button.
Pressing the Select button on the remote will bring the next screen up, where you should select the Get button.
Installing:
After installing the app, you will have access to a restricted library where you may view entire episodes, news pieces, and other network material.
Take note that in order to watch live TV, networks almost always need that viewers have a subscription with one of the following: cable operators, internet service providers, network-specific subscriptions, or third-party services.
Launch the network app, and once it's open, go to the Live section of the app's main menu.
While the guide is open, choose a broadcast to watch.
A screen that lists several TV providers, like Cox, DirecTV, Spectrum, Verizon, and others, is shown when you open the app. Choose a service for your television.
Before the app can connect to your TV provider, you may or might not be required to check in with your credentials.
Unlinking:
If you ever find yourself in a situation where you need to disconnect your TV provider from the app, just go to the More section of the menu and then select the Select option.
On the page that follows, click the My Profile option.
Press the Select button on the remote control after selecting the Unlink button that is located under the TV Provider.
Is It Possible to Install Local Channels on the Fire Stick to watch?
The term "local channels" refers to any kind of content that is normally broadcast over the air and can be received by an antenna or a TV provider. The majority of this content is distributed by major networks such as ABC, CBS, NBC, FOX, and PBS. There is also the possibility of branch broadcasts emanating from regional stations, such as vintage television shows and so on.
Owners of Fire TV Sticks essentially have four alternatives to choose from in order to watch local channels:
Individualized computer networks
Independent streaming services made available by television service providers
Services provided by a third party
Over-the-air hardware
Using applications that access a TV provider's streaming service, such as Charter's Spectrum TV, is the one that will cost you the least amount of money. Using this service, you won't need to worry about renting a set-top box or installing coaxial cables since it will let you watch local channels and a variety of cable-based networks directly over the internet. Although they need additional payment, services such as Spectrum TV are distinct from the more conventional cable and satellite television subscriptions.
Utilizing applications that are tailored to a particular network is the strategy in second place. The disadvantage of this situation is that viewers need to acquire a TV subscription in order to access a network's complete content portfolio. This subscription may be obtained via a provider's conventional bundle (basic cable, for example) or its standalone streaming service.
From TV providers:
Unfortunately, there are not a lot of choices available to view streaming services through cable TV providers at the moment. Neither the Chater app for Spectrum TV nor the Xfinity service offered by Comcast is accessible. However, you are able to download DISH Anywhere in addition to the WatchTV, TV, and U-verse applications that are offered by AT&T.
By a Third-Party Service:
You have the option to sign up for services offered by third parties that provide you access to local channels. For example, Hulu offers a subscription package called Hulu Plus Live TV. It not only provides access to Hulu's regular programming but also provides access to other cable and broadcast channels.
Sling TV also provides access to local programs, and the service costs around $15 per month. You can download the Sling TV app onto your Fire Stick or Fire TV if you have one of those devices. Fubo TV and YouTube TV are two other providers besides Sling TV that enable live television.
Live TV via Antenna:
Purchasing a digital antenna and then connecting it to a personal computer is one way to get regional programming. To send those over-the-air broadcasts over your local network, your personal computer requires software. This software is the Plex Media Server, which is available for Windows, macOS, and Linux. The Plex app for Android can be used as a receiver for your media.
The disadvantage, on the other hand, is not only the increased expense of purchasing extra gear but also the variable quality of digital broadcasts that are received over the air.
Investing in a DVR like Tablo or a product with a comparable feature set is still another alternative. Again, you will need to acquire a digital antenna. But a computer that can function as a server is not required. Instead, a Tablo DVR connects to your local network using Wi-Fi or Ethernet, depending on whatever connectivity option you choose. It captures television signals from over-the-air broadcasts and streams them to your devices, including Amazon's Fire TV.
Author's recommendation: Activate Plex TV on your streaming device
Cable-based network Apps:
In conclusion, there are more than 30 applications that are made available by networks that are based on cable. A&E, AMC, Cartoon Network, Comedy Central, FreeForm, Lifetime, MTV, SyFy, TBS, TNT, and many more are among these networks.
In most cases, you will only get access to a small library of programming from each cable network, similar to what you get from ABC and NBC. A membership from one of the major cable companies is required in order to access anything. To add insult to injury, certain cable television networks can offer memberships that provide access to previously unavailable material.
For instance, the monthly cost of AMC Premier, which excludes advertisements, is around $5. In addition, subscribers will get access to episodes 48 hours before they air on BBC America, IFC, and Sundance, as well as exclusives, extended episodes, and curated material from those networks. However, AMC must be included in the TV package that you subscribe to in order to access it.
Conclusion:
If you have a membership with your local television service, you can install local channels and watch live TV by downloading the app for the network that you want to watch and selecting the option to view it live.
Subscribe to a third-party service such as Hulu or Sling TV that provides live TV streaming alternatives, and then download the corresponding app on your Fire Stick streaming device.
There are other applications available for cable-based networks that can be used with a Fire Stick, but in order to view live TV, you will need a membership with a cable company.