How to Install Distro TV on Firestick (Updated 2023)
Published On : February 2, 2023 by: Anjali Latwal/Category(s) : Streaming Services
This guide will discuss about DistroTV and demonstrate how to Install Distro TV on Firestick to help you being able to watch free live TV using it. A growing number of users have abandoned their cable or satellite subscriptions and are turning to the DistroTV streaming software as a means of watching live television for free on any device. There are hundreds of live channels available in a variety of genres from which to choose, including movies and Television series. These channel genres include Featured, News, Opinion, Business, Movies, Comedy, Live Sports, Lifestyle, Spanish, and a lot more!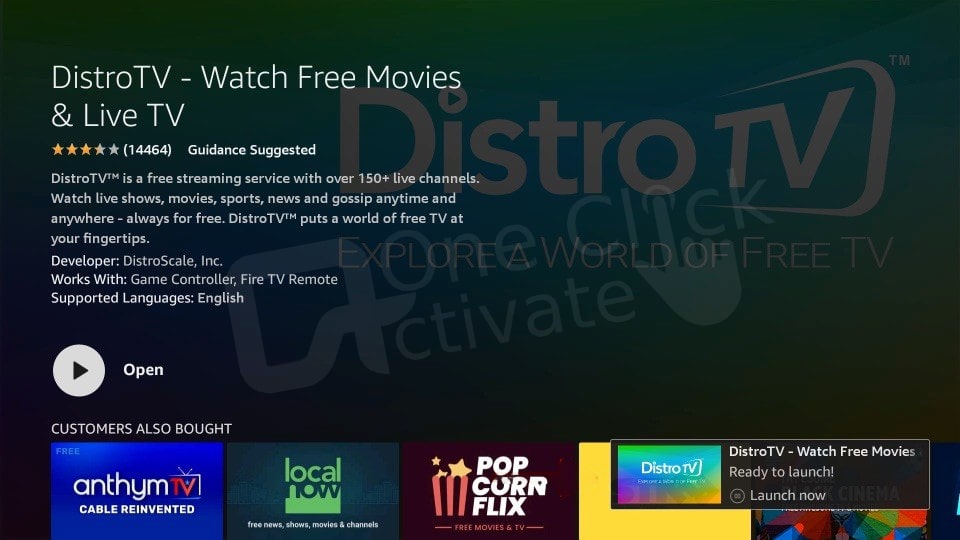 This free IPTV program may be loaded on a wide variety of popular streaming devices, such as the Amazon Firestick, Fire TV, NVIDIA Shield, Roku, Android TV Boxes, iPhones, iPads, and many more. But for the time being, let's learn how to install Distro TV on Firestick.
About Distro TV IPTV Service:
DistroTV is included on the list of the Best Free IPTV Apps not only for these reasons but also for many more. For those who aren't acquainted, "Internet protocol television" (IPTV) refers to the services offered by IPTV providers. To put it another way, you can watch live television on the internet.
There are literally dozens of different IPTV applications and services, but DistroTV is often considered to be among the very finest. This is an alternative that is comparable to applications such as Airy TV or Pluto TV APK. Because this streaming program is offered at no cost to users, it is possible that you could encounter buffering and that your channel choices will be restricted. You can discover information about this free IPTV software below, including how to install it, the channels and categories it offers, the options it offers, and more.
Features of DistroTV:
Hundreds of live channels across a variety of subject areas (and growing)
Free access to hundreds of movies and series on television
TV stations that broadcast news
Televised sports networks
App for live TV that is completely and totally free to download and use
An application that is simple to set up and can be found in the most prominent app stores
Channels broadcast on a global scale
Entertainment channels
Built-in electronic program guide (EPG)
It is compatible with the Firestick and Fire TV, as well as Android, Roku, iOS, and other platforms.
Simple and easy Settings setup.
Also Read: Install CCleaner for Firestick
DistroTV Channels:
As was mentioned before, DistroTV provides users with access to hundreds of live channels and video-on-demand (VOD) alternatives that can be watched for free on any device. These channels can be found categorized in a wide range of ways, including Featured, News, Opinion, Business, Movies, Comedy, Live Sports, Lifestyle, Spanish, and many more.
This software gives users access to hundreds of free channels and live streaming across a wide variety of topics. Within this IPTV software, there are also various video-on-demand (VOD) alternatives that provide free movies and series.
Channel Listing
DistroTV is a streaming service that provides more than 100 channels, including Live TV, Movies, and TV Shows. Additionally, the program is continuously updated to provide an expanded selection of available channel alternatives.
(Note: There is a possibility that this list might have been updated)
As of the time this article is written, the following are some of the live channels that are the most watched on the DistroTV app:
Hollywire
PeopleTV
Reelz
CineLife
Newsmax TV
MagellanTV Now
EuroNews
Hard Knocks
Buzzr
World Poker Tour
ACC Network
Real Vision
Entrepreneur
SportsGrid
CONtv
Esports Revolution
Whistle TV
Stadium
Also Read: Amazon FireStick Activation Code
How Do I Install DistroTV on Firestick or Fire TV Device?
The DistroTV application can be downloaded and installed on many of today's most popular streaming devices. This includes the Amazon Firestick, the Fire TV, the NVIDIA Shield, Android TV Boxes, Chromecast, Roku, as well as Android phones, tablets, and any other device that can connect to the internet. Unfortunately, in contrast to other IPTV providers, this program does not supply an M3U URL for its content. Therefore, we are unable to utilize this application with IPTV Players such as IPTV Smarters, TiviMate, or Perfect Player, amongst others.
DistroTV, in contrast to other IPTV applications, does not need Downloader or Filelinked shops in order to be side-loaded. Instead, it can be downloaded directly from the Amazon App Store. This software is available on the Google Play Store for users of Android TV devices such as the NVIDIA Shield, Tivo Stream 4K, and other generic Android TV Boxes.
Follow these steps to Install Distro TV on Firestick:
Go to the home screen of your Amazon Firestick to search for content on your Firestick or Fire TV.
Then, tap on the Search button.
Next, simply type "distrotv" into the search bar, then choose the very first option that comes up.
To access DistroTV, choose it from the list of apps and games by clicking its option.
Simply choose the Download option.
When the download of this application is complete, either choose Open from the menu or continue to hold down the Home button on your remote control.
After the DistroTV app has been launched, you will need to wait a few moments.
When you get this notification, click the button that says "I Agree and Continue" to proceed.
That wraps it up! Congratulations, the DistroTV app on your Firestick or Fire TV has been successfully installed.
You only need to make sure that the Live option is selected from the main menu, and you'll be ready to go!
Also Read: Use Your Phone as a Remote Control for FIRE TV Stick
Wrapping Up:
This free IPTV software/App offers you with access to more than 100 TV Channels and a range of video-on-demand alternatives. You can install Distro TV on Firestick simply by following the above guide. However, it is indeed important that you connect to a Virtual Private Network (VPN) in order to utilize this Free IPTV software if you are based outside the United States.
Frequently Asked Questions (FAQs):
What exactly is DistroTV?
DistroTV is a streaming application that gives users access to a multitude of free video-on-demand and television channels.
How many different Channels does DistroTV offer?
Over one hundred channels are available on DistroTV, covering a wide variety of topics such as sports, children's programming, movies, television series, foreign news, and more. The Total count may surpass 100 Channels.
Does this App for IPTV cost anything?
Yes. This IPTV software can be used on any streaming device completely free of charge.
On What kind of devices can this IPTV app be Installed?
This IPTV application can be downloaded and installed on any device that has access to the internet. It covers the Amazon Firestick, Fire TV, Android, phones, tablets, and a great deal of other electronic devices.