Hide your Snapchat score from friends and everyone in a minute!
Published On : November 14, 2022 by: Sakshi/Category(s) : Trending
If you're not familiar with the Snapchat score, it's a numerical value assigned to each Snapchat user based on their overall activity on the app. This includes things like adding new friends, sending and receiving snaps, creating stories, and more. Your Snapchat score is a way for you and your friends to see who is more active on the app and, as a result, who is more deserving of a trophy. However, there may be times when you wish to hide the Snap score from people.
If you don't want your Snapchat score to be visible to others, perhaps you're concerned about privacy or you're not happy with your recent score. Either way, hiding your Snapchat score is a relatively simple process which you can find in our guide below. Overall, the Snapchat score is a fun way to see who is more active on the app. But there may be times when you don't want your score to be visible to others. In those cases, you can simply hide your score with a few taps. Let's begin!
How to hide the Snap score 2022 from Everyone?
We'll show you how to hide your Snapchat score. Let's get started as it's really quick and easy.
You can check your Snapchat score by opening the Snapchat app.
There are two ways you could do that if I wanted to hide it. That's easy enough to hide from the general public. You only need to click the settings button in the top right corner.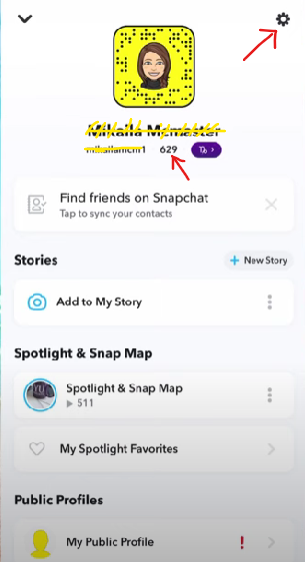 Then scroll down to where you can see "WHO CAN..," and then underneath who can, it says contact me, view my story, and see my location under who can contact me.
If you just click on that, you get two options to choose among friends and everyone. If it was on everyone, then everyone can see your Snapchat score. But if it's just on my friends, no one except for your friends can see your Snapchat score.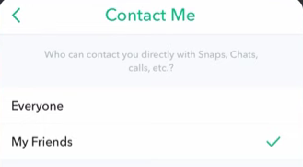 So that is going to be how you hide it from the general public, but you're not hiding it from your friends.
Author's recommendation: Show Subscriber Count on Snapchat
How to hide your Snapchat score from friends?
The only method to keep your Snapchat score secret from your friends or a particular buddy right now is to unfriend them on Snapchat.
Either remove them, block them, or delete them. Yes, there is no simple way to keep your score a secret from everyone; therefore, it will be made public. There is no avoiding that. However, you will need to either remove them or block them if you don't want a certain person to take your score.
To do that, you can just go to your friends.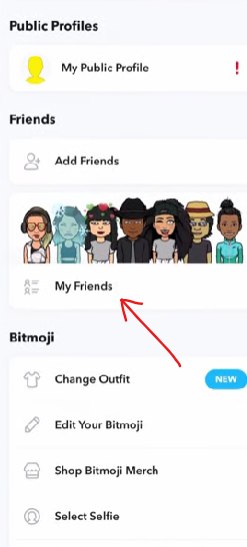 If you scroll down and click my friends, and if I wanted to hide it from a friend named Eve, you have to hold down on their name, and then you can either block them or remove them as your friend.

They can still access your profile and Snapchat, but they won't be able to view your score if you remove them as a friend. The other person couldn't view your stuff even if they searched for your name because blocking is a permanent choice. As a result, it is extremely clear whom you have blocked rather than removed. But there is only one way to do it. They won't be able to see your score if you block or remove them.
An Alternative method to hide your Snapchat score-
Go to Chats in the Snapchat app to see the profile you want to block or remove by tapping the desired person.
Click the vertical meatballs icon on the left to continue.
To hide the Snapchat score from the individual, select Remove Friend or Block.
You cannot access your friend's Snapchat score if the user has blocked you on Snapchat.
Avoid Snapchat score stalking: Know who viewed your Snap-
Because Snapchat stories are so widely utilized, other social media platforms have incorporated the feature. Some of the grounds the networking app is so well-liked are that Snapchat was the first to market with this functionality. It's easy to make them, and reading them can be fascinating.
You can see who has viewed your Snapchat Story, which is another cool feature.
Choose My Story from your profile when Snapchat is open.
The number next to the eye icon, which represents how many people have watched your Story, should be visible.
You may see a list of the names of those who have viewed it by swiping it up from the bottom.
If your story has a lot of views, you might not recognize the viewers. For the majority of users, a list of contacts will appear; if one or two contact names consistently appear at the top, they are likely to be frequent readers of this story.
For the majority of Snapchat posts, you can do this. You can see who has viewed it and how many people have. If the names are replaced by a + instead of the number of views, your content has received too many views.
How to Check the Snapchat Score of a User?
Log into your account on Snapchat by opening the app.
Select the Chat window next to view a person's score, and tap on their profile.
the Profile icon is located at the top of the screen and beside their username, you can see their Snap rating.
Read our trending guide to becoming a Telegram Premium account member
How to know if Someone captures a Screenshot of Your Snapchat Story?
The fragility of Snapchat Stories is one of their main selling points. They only exist for a day before vanishing. This gives the social network a sense of urgency and "encourages" frequent use.
If someone wants a permanent copy of one of your postings, they can screenshot it, but Snapchat will notify you if they do.
Open your Snapchat app and from your profile, choose My Story.
Swipe up to access the list from the bottom then look for a section that has a crossed arrow icon there.
A snapshot of your message was taken by the individual who posted that entry with the bizarre crossed arrow icon. However, you can simply go around that and take a screenshot without the app seeing, so this isn't completely foolproof.
Frequently Asked Questions (FAQs):-
Does ghost mode hide your Snap score?
To hide your Snapchat score, you must either unfriend the individual or block them on Snapchat. This is due to the fact that a user can only see another user's snap score if both parties have added each other as friends. Sadly, there is no Snapchat privacy feature that allows you to hide your snap score from others.
How to decrease your Snapchat score?
Whenever you send or receive snaps, your Snap score rises. But since Snapchat doesn't have that feature, you won't be able to lower it straight from the settings. You must remove that person from your friend list or explicitly block them in order to keep them from seeing your Snapchat score if you want to lower it. They will no longer be able to see your snap score if you unfriend or remove them.
Is there a way to decrease your Snapchat score?
Your Snapchat score cannot be decreased in any way. Your Snapchat score won't drop if you stop sending and receiving snaps or become inactive. It will be dormant. Resetting the Snapchat score is one option, though, to potentially lower your score. By deleting your Snapchat account and making a new one, you can reset your score.
I have no snap score but still friends. Why does this happen?
There is a reason why you cannot view someone's Snapchat score. You and your friend must both be added in order to see each other's Snapchat score. Therefore, if you are unable to see the score, it indicates that they have never followed you; if you are certain that they have, it indicates that they have unfollowed you.