Google Sued for $5 billion for tracking users in Incognito mode
Published On : September 12, 2022 by: Sakshi Sharma/Category(s) : Chrome, Trending
It looks like Google is in hot water again, this time facing a $5 billion class-action lawsuit over allegedly tracking users in Incognito Mode. The lawsuit claims that Google violates privacy and wiretapping laws by monitoring, tracking, and gathering conversations while users are in Incognito Mode. Google has been attempting to get the lawsuit dismissed, but a federal judge has ruled that the case must proceed. If the lawsuit is successful, it could mean big changes to the way Chrome's Incognito Mode works. So far, Google has not commented on the pending litigation.
This turns our to be a bad news for Google, as the company is under the thunderstorm of the accusation of tracking users in private browsing mode. Clearly, the most popular internet specialized company, Google has been pursuing a war against the abusive practice of following a user's data even as the user is using the safe browsing or private browsing mode. The company has introduced a new feature in the Google Chrome web browser that makes sure to disable harmful cookies. However, not everyone is pretty convinced of the organization's good intentions. In fact, one group has filed a lawsuit alleging that Google's Incognito Mode isn't safe to browse now.
Why Is Google Being Accused Of Tracking Incognito Data?
On 12th March 2021, a U.S. district judge Lucy Koh in California has stated that Google can be sued for collecting data of users even when they are using "private browsing mode" on their selected device. As a result, Alphabet Inc.'s Google will be forced to face the $5 billion lawsuit accusation of tracking potential Google users while they surf their query in Chrome's incognito mode. With this, the District Judge has denied Google's motion for dismissal.
The lawsuit in question has been brought into the picture by the three Google users – Maria Nguyen, Chasom Brown, and William Byatt, who used safe browsing mode in Chrome, in recent years. These three filed a complaint in a San Jose, California federal court, alleging that the internet search company illegally invaded and gathers data about what people search online with the help of Google Analytics, Google Ad Manager, and other website plug-ins and applications. With this, we can say, Google is accused of tracking incognito data. The lawsuits specifically point out that the company collects consumer web activity and browsing data no matter what safety measure users implement.
Useful Topic: Change weak passwords Google Chrome
In this case, "Brown v. Google", the specific private browsing mode, which is offered by Google's Chrome named as "Incognito mode" has gotten into trouble. As we are well aware, Google Analytics and Ad Manager are the most important and common traffic and ad tools used by several websites. These platforms provide information about the visitors of the website, such as their frequency, demographic data, and other sources of information. This data is useful to manage ad campaigns. Previously, Reuters reported that the grievance claimed that collected data allowed the California-based company to learn the user's behavior along with their private information. These sensitive collected data include users' hobbies, friends, and shopping habits, along with the "most intimate things" they search via incognito mode.
Fact-checking the Complaints Against Google:
Users of the Chrome browser who were utilising Incognito mode to collect data launched a class-action lawsuit against Google. On the grounds that Google fails to tell users that their data may still be gathered while they surf in Incognito mode, the court hearing the case decided to move on with the lawsuit.
The assertions are refuted by Google, which maintains that it does alert users every time they open an Incognito window to the possibility of data collection by websites. Users using the Chrome browser who enable Incognito mode see the following: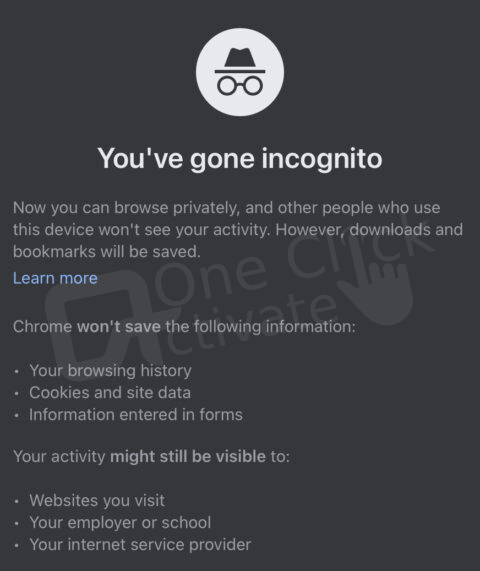 The notification begins with the words, "Now you can browse privately…" and then goes on to describe a user's browsing activity is private from other individuals who use the same gadget.
The message expressly states at the bottom:
"Websites you visit may still be able to see your behaviour."
Additionally, the warning informs users that when using Incognito mode at work or school, others may be able to see their behaviour. The internet service provider of a user might also be able to see what they are doing.
Brownie Read: Combat Zoom Fatigue
NOTE: The Incognito mode in Google Chrome is frequently misinterpreted. Some individuals think that using Incognito mode shields them from tailored search results. The subject of a study carried out by DuckDuckGo in 2018 was this. Others, like the lawsuit's plaintiffs, think Incognito mode provides complete privacy.
What's Google take on this and How does the Case affect the General Public?
In between this controversy, Google has denied the accusation which is thrown against them and asked for discharge after in conflict that the accusers consented to its privacy policy where the data collection practices have been clearly disclosed, Business Insider reported.
Lawyers representing the case on behalf of the company clarified that "Incognito" of Chrome's private browsing mode" is not meant to be taken as "invisible". In simple words, the user's activity in the safe browsing mode remains visible to the websites they visit and any of the third-party analytics. Google argued that the case was based on a "willful misreading" of other Google users on private browsing.
We all are well-aware of the term Incognito mode, as this is a safe browsing or private browsing mode, which has been used by millions of users. Meanwhile, people consider the Incognito mode as the protection against tracking the activities on the web. Because, this is a most basic yet major feature that means the browser itself doesn't save or review your browsing data, history, or cookies. However, with this case, it is quite evident that Google will be able to collect information through its various products. So, "no matter what" users do, your information will be silently collecting in every part of the web. Now, it's up to the judicial system to determine whether this is indeed lawful or not.
What does Google's Incognito mode do in reality?
Data cannot be saved locally while in incognito mode. It keeps a user's browsing history private from other users of the same device. For instance, you can use Incognito mode to keep your roommates from seeing the websites you browse if you share a computer.
That is the only purpose for which Incognito mode is intended. Following this case will be interesting because the plaintiffs will need to persuade a jury that their claims are legitimate. Even still, this situation might raise more people's understanding of what Incognito mode does and doesn't do.
So, that was all in our post and we hope you liked it!
Recommended: Kindle app facing issues
FAQs :-
Was Google sued for tracking while in Incognito mode?
The case, which was filed in June 2020, claims that Google tracks users even while they are browsing in private mode. Google denies the allegations, claiming that its privacy disclosures make it clear that the private browsing mode does not render user actions "invisible" online.
How much was Google sued for?
After picture app privacy concerns, Google settles a lawsuit with Illinois residents for $100 million. ROCKFORD, Ill. — Residents of Illinois are eligible to earn a portion of a $100 million class-action settlement after Google was accused of breaking state privacy rules.
Did Google track people who were using Incognito mode?
Google Chrome tracks you even while you are in Incognito mode, according to Google. Invisibility does not imply invisibility. Google emphasizes that simply browsing in Incognito mode does not mean you are not being tracked.
Is Chrome Incognito safe to use?
It will not protect you against viruses or malware. It will not prevent your internet service provider (ISP) from tracking your online activity. It will not prevent websites from detecting your physical location. And any bookmarks you store while in private browsing or incognito mode will not be lost when you exit
Can I sue Google for accessing my information?
Yes, you can sue Google, but only under exceptional circumstances. Google cannot be held legally liable for the content submitted by third parties under federal law.
Who has access to my Incognito searches?
Your online privacy is not jeopardized. Incognito mode simply means that the browser does not keep cookies, temporary internet files, or your browsing history when you are in it. The main use is to conceal your surfing history from other people who share the same computer.
Why is Google being sued right now?
In separate lawsuits filed Monday, a bipartisan group of attorneys general from the District of Columbia, Indiana, Texas, and Washington claim that Google deceived users from at least 2014 to 2019 by leading them to believe that turning off "location history" settings would cause the service to stop tracking current locations.
Is Google violating your privacy?
Privacy, security, current trends, and all the information you need to live your best digital life. Although useful, it is also a significant breach of privacy. It means Google is watching what you type as you type it — and no one wants someone looking over their shoulder while they're writing.
Is it possible for WIFI to track incognito users?
No, when you utilize incognito mode, neither your device nor your browser keeps a record of the websites you view. However, the Wi-Fi router can still log such information, and the network administrator can always recover it later.
What are the drawbacks of incognito mode?
Unless you take additional precautions to encrypt your data and internet connection while browsing incognito, your IP address remains accessible and other people on your network can observe your online activity.
Is it possible for iPhones to track private browsing?
Yes, private iPhone browsing can be tracked. Safari private browsing mode, Chrome incognito mode, and Safari's Hide IP Address option are all alternatives for private browsing on your iPhone.