Genesis FS Credit Cards Login Process
Published On : August 2, 2022 by: Anjali Latwal/Category(s) : Master Card
Are you looking for the complete Genesis FS Credit Cards login process? We've got all the answers for you. In this article, we will tell you all that you need to know about Genesis FS Credit Cards, their advantages, and how to log in to your Genesis FS Cards account from the comfort of your own home. So, what are you waiting for? Let's begin.
About Genesis FS Credit Cards: Cards for all your needs
Genesis FS Card Services provides credit cards and services designed for customers with less-than-perfect credit. In addition to managing retailer credit cards, they provide Mastercard credit cards. Genesis Financial Solutions is one of the leading providers of consumer non-prime credit cards.
Credit cards issued by Genesis FS Card Services provide clear terms, affordable rates, and superior customer support. The majority of the people who have terrible credit can use these cards. There are several cards that provide pre-qualification, which is quick and does not affect credit ratings. Credit cards from Genesis Financial Solutions are useful for creating credit history since they are also reported to the main credit agencies. The most popular Genesis FS Credit Cards are:
Indigo Mastercard
Destiny Mastercard
Milestone Mastercard
Let's learn about them one by one in detail.
Indigo Mastercard:
Indigo Mastercard by Genesis FS is a decent, not-secure credit card with a credit limit of $300 or more and no security deposit required. If you have bad credit and want a credit card for emergency borrowing, the $0 to $99 annual cost for the Indigo Card is worthwhile. Whether you're interested but not quite ready to apply, you can check your credit score without affecting it by seeing if you've been pre-approved for an Indigo credit card. However, there are more affordable credit cards to develop credit with, some of them even offer rewards unless you need to borrow money for an urgent crisis.
Features:
Pre-qualify via a simple inquiry: Pre-qualification for the Indigo Card enables you to determine your eligibility for approval without ever completing an application, which would result in a hard credit inquiry and might temporarily lower your credit score. Just bear in mind that prequalifying does not guarantee clearance.
Assists you (re) building credit: The Indigo Mastercard is for people with weak credit and, like all other credit cards, sends monthly reports to the three main credit agencies. So, if you pay your bills on time and refrain from using all of your credit, it will help you raise your credit score.
Fees change according to creditworthiness: The Indigo Mastercard has an introductory annual cost of $0, $59, or $75, and a yearly price of $99 after that, depending on your creditworthiness. It makes sense if you want a card with more stable pricing since that's a wide range. A secured card is unquestionably the best option if you don't need an emergency loan.
Recommended: Login to Wayfair Mastercard
Destiny Mastercard:
The Destiny Mastercard includes a hefty annual fee and a 24.9 percent APR, making it an undesirable choice for most consumers. Although other cards may do the same task for less money, the Destiny Mastercard can assist individuals with weak credit to improve their credit scores and borrow small sums. You must first pre-qualify for the Destiny Mastercard before completing a formal application, which is another crucial point to remember. Both good and evil come from this. It adds a step before you can acquire your credit card, on the one hand. Pre-qualifying, however, has no negative impact on your credit score, and it's preferable to do so rather than take the chance of a hard inquiry in order to determine if approval would be difficult to get.
Features:
Annual fee of $59 – $99: The Destiny Credit Card's yearly cost ranges from $59 to $99. The actual amount of the charge depends on the overall creditworthiness of the applicant. This credit card for those with weak credit doesn't have the highest annual fee, but it also isn't the one with the lowest.
High APR: The interest rate for the Destiny Mastercard is 24.9 percent. That is much higher than the current average APR for new credit card offers.
Reports to the Major Credit Bureaus: Monthly account information is sent by the Destiny Mastercard to TransUnion, Equifax, and Experian. Thus, making timely payments and using less of your available credit can help you raise your credit score.
Milestone Mastercard:
Milestone Mastercard is for people with credit scores under 640 who don't want to put down a deposit. A $300 credit limit and no security deposit required, together with an annual charge of $35–$75 the first year, make the Milestone Card potentially valuable. The ability to carry debt from month to month will result in a very high APR, but that can make certain unexpected costs a little bit simpler to manage. You should not require the Milestone Card for an extended period of time since the yearly price might go to $99 starting in the second year.
Features:
The finest unsecured credit card for those with terrible credit: The Milestone Mastercard is one of the best choices if you really need an emergency loan rather than merely improved credit. One advantage is that you can check your eligibility for the Milestone Card before you even submit an application. If you have no chance of gaining acceptance, doing this will assist you to avoid making an unnecessary hard inquiry and the temporary harm it does to your credit score.
Low costs in comparison to other cards: The Milestone Credit Card stands out from many of its competitors. This is because it doesn't have any recurring or monthly fees. The Milestone Mastercard does have one significant cost. It is an annual fee that ranges from $35 to $75 the first year. And it increases up to $99 each year after that. This fee depends on your overall creditworthiness.
Has a little amount of purchasing power: Typically, cardholders have a $300 spending cap initially. And the first-year annual fee levied upon account setup effectively lowers to between $225 and $265. Is it sufficient to meet your needs? If not, you may wish to apply for a secured credit card to lower the expense of raising your credit score. You can make it high enough to get approved for a card with a greater spending limit.
Now that you know all about the various credit cards offered by Genesis FS, it's time to get down to our main topic.
Also Read: Navyist Rewards Card Activation Guide
How to log in to your Genesis FS Credit Cards account?
Follow the steps below to log in to your Genesis FS Credit Cards: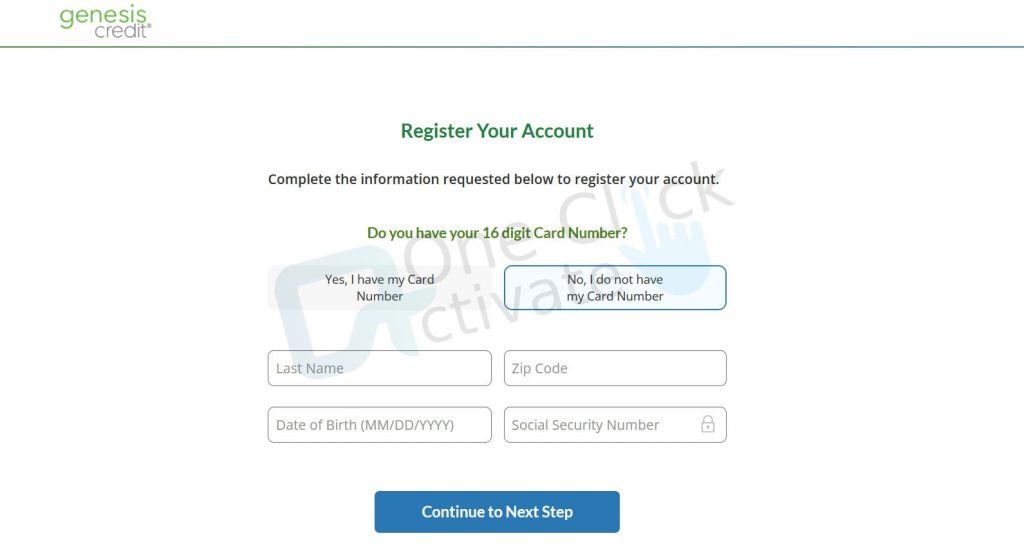 Click on 'Yes, I have my card number'.
Enter the required information such as your last name, Zip Code, Date of Birth, etc.
Click on 'Continue to Next Step'.
Complete all the steps as per the directions on the screen.
And wuhu, you are not logged into your Genesis FS Credit Cards account.
Genesis FS Credit Card Payment Procedure:
You can make a payment on your Genesis credit card via mail, phone, MoneyGram, or online.
How to make a payment on your Genesis Credit Card?
Online: When you log in to your account, look for the Bill Pay area at the top of the page. Do this to begin paying your Genesis credit card bill online. Along with the payment amount and date, you must give a bank account to use for the transaction.
By phone: By dialing (866) 502-6439, you can pay your Genesis card over the phone. To make a payment, enter your complete credit card information and follow the on-screen instructions.
By way of MoneyGram: Log into your online account or search for the closest MoneyGram store to make a payment with MoneyGram. Use Genesis FS Card Services as the firm name from that point on. The Receive Code, which is 4911, is also required.
By mail: To make a payment on a Genesis credit card by mail, submit your check or money order. You can send them to Genesis FS Card Services, PO Box 4477, Beaverton, OR 97076-4477. Along with them, send your statement payment coupon and your account number.
Genesis FS will credit your account with the amount of an online payment made by 5:00 p.m. Pacific Time if it is received by that time. Make sure you pay the minimum amount owing each month by the due date to avoid incurring late penalties. Please give at least 7 business days for postal delivery if you want to pay by mail. To make sure your payments are paid on schedule each month, you can also set up AutoPay from your online account.
Our latest guide on New York Child Support Debit Card
Conclusion: All in all, Genesis FS Credit Cards are a great option for someone with a low credit score. So, this was all about Genesis FS Credit Cards, their login, and the payment process. We hope you will find our information on Genesis FS Credit Cards beneficial. And if you do so, please do not forget to leave your valuable insights in the empty comment space below.
Frequently Asked Questions (FAQs):
What does available credit mean?
Your credit limit less your outstanding debt and the amount available for utilization is your available credit. Please be aware that it can take up to 14 days for a payment to appear in your account's available credit while Genesis FS confirms the funds.
How can my Genesis FS credit limit be raised?
Currently, there is no program in place to raise credit limits.
How latest is the data on the current balance?
The balance is updated every night, but it may not include all of the transactions (payments, purchases, and other changes) that have been made to your account.
How can I prevent being charged late fees for my Genesis FS Credit Cards?
Check the payment deadline and minimum payment due each month as soon as you get your monthly billing statement. Make sure to make your monthly minimum payment on the due date each month. Please allow a minimum of seven (7) business days for postal delivery if you want to send your money. You can also use the official website to make a payment online, or you can contact their professionals to do so.