GAP Credit Card Payment Process Online
Published On : August 4, 2022 by: Anjali Latwal/Category(s) : Banking & Finance
Getting a Gap credit card might be advantageous for customers who often shop at Gap or any of its sibling businesses. By utilizing the Gap credit cards or Gap Visa credit card offered by Synchrony Bank, you not only have more time to pay for purchases but also have the opportunity to earn benefits. To maintain your account in good standing after making your purchases, you must make the necessary payments before the due date. A Gap credit card payment can be made online, via phone, or by mail. Find out more about your GAP credit card payment process here in this article.
Your Gap credit card is accepted in the branded outlet shops as well as at Gap, Banana Republic, Old Navy, and Athleta. Any retailer that accepts Visa payments will take Gap Visa cards. Unfortunately, Gap credit cards are not currently accepted at retail establishments.
About GAP Credit Card and its benefits:
The Gap credit card is a co-branded card, created in conjunction with the credit card company and the apparel store. With the Gap Visa card, you may get 5 points for every $1 spent at Gap-branded establishments, whether you shop there in person or online, and 1 point for every $1 spent elsewhere. Although there isn't an annual fee, the APR for purchases is substantial, and there are international transaction fees.
GAP Credit Card benefits:
High bonuses in Gap-branded establishments: You can get 5 points for every $1 spent at Gap-branded establishments, such as Banana Republic, Old Navy, Athleta, and of course the Gap itself if you have a Gap credit card. Additionally, for every dollar spent on any other purchases, you will get 1 point.
20 percent off your first purchase: When you open and use your new credit card for the first time after activating your card online, you'll get a 20 percent discount. The discount is only valid at Gap and Gap Factory, may only be used once, and is only valid for 30 days after the account is created.
Extra shopping benefits: If you've made one purchase at Gap in the last 12 months, you're eligible for additional benefits including bonus point shopping days and a birthday present as a cardmember.
Status for Gap ICON Eligibility: You may become a Gap Silver member if you accumulate 5,000 points in a calendar year, which entails spending $1,000 or more in Gap-branded locations, $5,000 elsewhere, or a combination of the two. At this level, you will also enjoy additional perks including free online delivery, basic changes on Banana Republic purchases, and a 20 percent quarterly bonus award. Additionally, a separate customer support hotline will be available to you.
Now that you know all about the GAP Credit Card, it's time to come down to our main topic.
Recommended: Login to Wayfair Mastercard
GAP Credit Card Payment Process:
How to Pay with a Gap Credit Card Online?
You must create an online account in order to use your Gap credit card to make payments. As follows: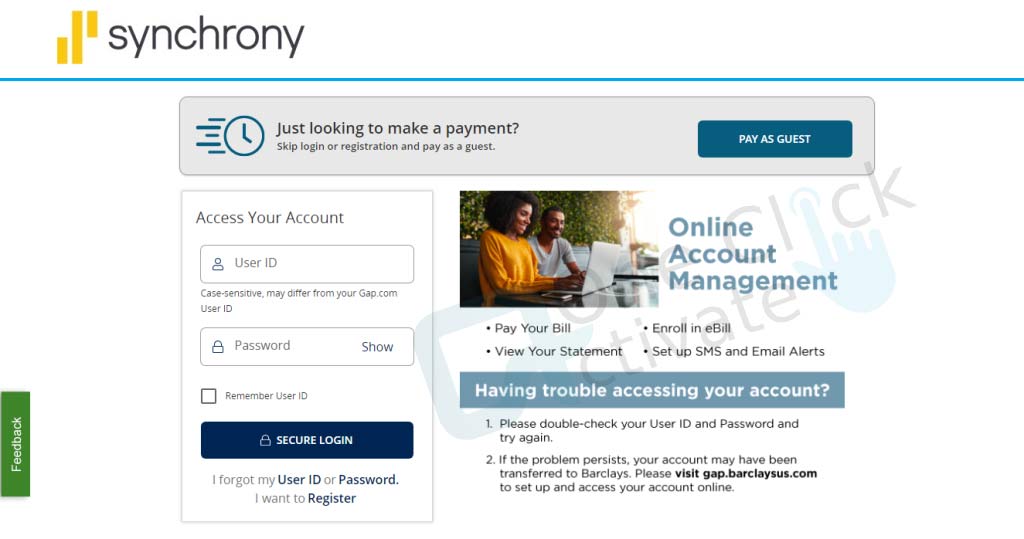 To sign up, click on the Sign Up option.
You must enter the ZIP code and the account number.
To register an account, adhere to the screen's instructions.
You may log in to finish the GAP credit card payment process after you've finished the registration procedure. You can do so by following these steps:
Enter your Gap credit card information on the login page.
Then, click "Pay your bill."
Type in the name of your bank, your checking account number, and your routing number.
Decide on your desired payment amount.
Make the required minimum payment, as well as any amount up to your current balance or the remaining balance from your prior statement.
Click on Submit to complete your GAP credit card payment process.
Use the "Pay as Guest" option on the Cardmember Account Services page if you don't want to log into your account.
Give your billing ZIP code, the last four digits of your Social Security number, and your card number. Then proceed as instructed to make the payment.
Also Read: Navyist Rewards Card Activation Guide
How to Send a Payment to a Gap Credit Card via mail?
Additionally, you have the option of mailing your Gap payment. Make a check or money order for the full amount owed, not just the minimum. You may either write the account number on the check or include the payment with the payment coupon from your billing statement. Send everything to the address shown on your card after that.
Use this payment address for Gap Visa cards:
Gap Visa/Synchrony Bank
P.O. Box 960013
Orlando, FL 32896-0013
Use this payment address for Gap store cards:
Gap/Synchrony Bank
P.O. Box 960061
Orlando, FL 32896-0061
What is the Gap Credit Card Payment Process via the Phone?
Additionally, Gap offers free telephone credit card payments. Keep handy your credit card information, bank account number, and bank routing number before making a phone payment.
Call 800-887-1198 to reach Gap credit card services.
Or to get Gap Visa credit cards, contact 866-450-4467.
To schedule your payment, just follow the automatic instructions.
While using the automated system is free, using a customer care agent to make expedited payments will incur fees.
What is the late fee for Gap credit cards?
You will have to give a late fee if you don't make your Gap credit card payment on time. $27 is the standard late charge. However, the charge will rise to $37 if you've had a late fee assessed against your account within the previous six billing cycles.
Our latest guide on New York Child Support Debit Card
Conclusion: If you shop at GAP often, the GAP credit card is a fantastic choice for you. If you utilize it appropriately, it rewards you with a variety of advantages and benefits. This card is a terrific option if you are a die-hard shopper since it also provides loyalty programs to its users. That's all there is to know about the GAP credit card, its many advantages, and the GAP credit card payment process. We hope you will benefit from and find the information in our guide valuable. If you think it's good, don't forget to share your thoughtful thoughts in the space below. You can also read some of our other articles, which could be helpful.