Firestick Remote Blinking Orange | Best Ways to Fix
Published On : July 14, 2022 by: Sakshi/Category(s) : Amazon
What happens when your ultimate source of entertainment, your Amazon Firestick suddenly starts blinking Orange? Wouldn't you be upset to encounter this issue? Well, with our post, keep your worries and tense mood aside. The 10 Best fixes here will solve the root cause of your Firestick Remote Blinking Orange problem. Generally, the Amazon Fire Stick offers you distinctive alternatives and functions, but it also has its share of drawbacks.
Did you Know? It is crucial to comprehend the root causes of the issue at hand before moving on to potential solutions. Suppose the orange glowing on your Fire Stick remote control. It indicates that a device is currently searching for a device to connect to and asking for permission to do so. It is known as the discovery mode in other words. The moment it locates and establishes the connection, the device would stop blinking orange, according to theory.
Why does your Firestick Remote Blink Orange?
One of the most frequently reported problems online is the orange blinking light on the Fire Stick controller. You may instantly fix this problem by power cycling your Fire Stick. Plug your Fire Stick back in after unplugging it and waiting a little while. Reset your TV gently. Plug it back in after unplugging it from the wall and waiting one minute. Additionally, you can manually pair your Fire Stick control with the TV and reset it. Is the issue still recurring? No problem! Let's start by identifying the reasons and fixes for this particular issue.
As we've already mentioned, there are a number of different factors that can prolong the Fire Stick remote's discovery mode and result in issues. The most frequent causes of the orange light on a Fire TV remote's blinking are listed below.
Is your FireStick remote blinking yellow? Know the quick fixes here!
The Range Between your Remote and the FireStick:
All wireless remote controls work wirelessly up to a set distance from the main device, which should go without saying. Make sure the Fire Stick gadget linked to your TV is no more than nine meters away from your remote controls.
You must also not operate the remote from a different direction as this may cause an error in the near future.
NOTE: Sometimes, even when you keep an appropriate distance Between your Remote and the Fire Stick, the issue occurs. Another possibility is that your remote's low batteries are having issues. Your remote's connectivity might not work correctly if your batteries are running low.
Weak internet connection:
For every streaming device or program, a dependable and quick internet connection is practically essential. Your Amazon Fire Stick's orange light can flash as a result of a poor internet connection.
Use a browser speed test or an application to measure the Wifi-speed. Simply run the speed test from the same distance as your Fire Stick configuration.
How Can I Quickly Check the WiFi Signal Strength on FireStick?
Go to Settings > Network and pick your WiFi network to verify the WiFi signal strength on your Firestick. Your signal strength will then appear on the right side of the screen.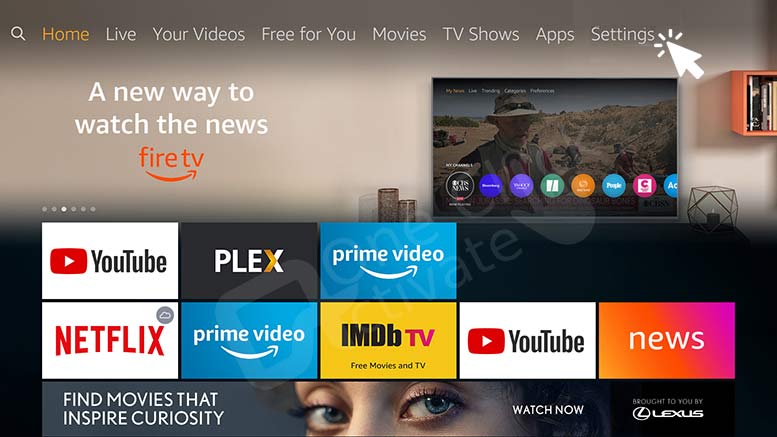 Launch your Firestick, then go to the top menu and choose Settings.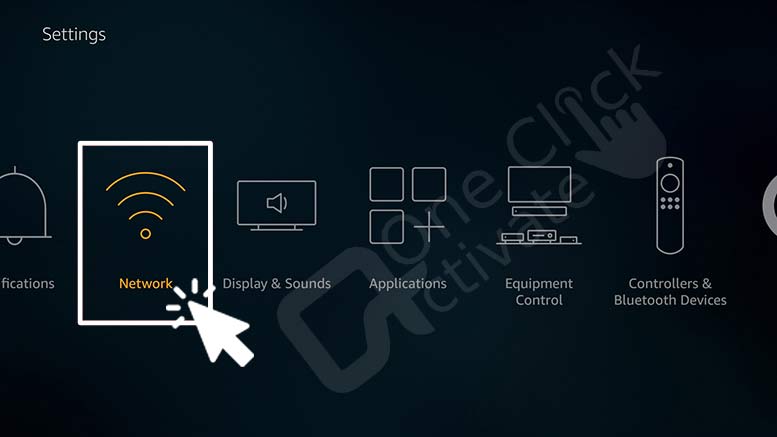 Next, choose Network.
Choose your WiFi network next.
Check your signal strength on the right to finish.
You might want to improve your internet plan with your internet service provider if your signal quality is Weak, Poor, or Fair (ISP). Also available is a WiFi extension.
Reset or restart your modem, or contact your internet service providers, if your Wi-Fi signal is weak. If your Wi-Fi is still giving you trouble, consider using ethernet.
Trending: How & Where to Enter Amazon FireStick Activation Code?
Unrelated third-party applications:
Let's say your Fire Stick is running a program that isn't compatible with the Fire OS. The remote will then continue to operate in discovery mode while blinking orange.
NOTE: If the remote control for your Fire Stick blinks three times, a third-party program isn't compatible with your Fire Stick. The Fire Stick remote typically blinks to let the user know when something is wrong or in the middle of a task.
Check out the information under the headline "Why Is My Firestick Remote Blinking Orange?" above to find out more about why your Fire Stick remote can blink.
How to Fix Firestick Remote Blinking Orange Error?
The problem of the orange light on your Fire Stick remote blinking can be resolved in a number of ways. Let's quickly go over each one of them.
Synchronize your remote by Pairing it Manually-
This is the typical quick fix for your Fire Stick remote, which should address the majority of problems. It's conceivable that your Fire Stick remote lost connection with your TV in some way. To solve that, adhere to the methods below.
Simply proceed by switching off your Amazon FireStick.
Wait until the Fire Stick has fully started up before plugging it in.
The home button must be pressed and held for at least 10 seconds.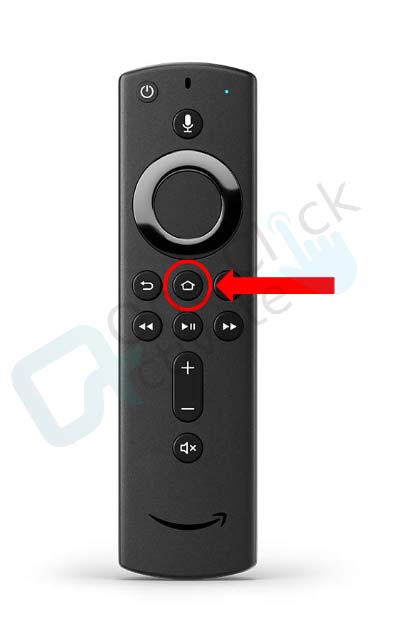 Hold the button down until your remote's top light begins to rapidly blink.
You should see a prompt on your remote with a message or a blue light blinking three times after a short while.
In any case, it indicates that the pairing of your device was successful, and you can now proceed.
Remember that it still takes approximately 20 seconds for the remote to link after doing this.
Check out our guide to Rename Firestick in minutes
Attempt to Reset the remote of the Amazon FireStick-
Next, we advise you to reset the Fire Stick control. To reset your Fire Stick remote to factory defaults, follow the procedures listed below.
Turn off your TV and Fire Stick.
For one minute, unplug your Fire Stick from the outlet.
Your remote's left, menu, and back buttons should be pressed and held for approximately 15 seconds.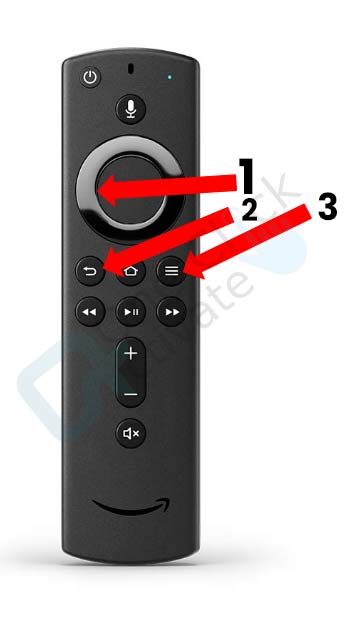 Permit five seconds to pass.
Your remote's batteries should be removed.
Reconnect your Fire Stick to the power source, then wait a minute.
Recharge the batteries in your remote.
Finally, use your remote to push the home button.
How can you power cycle your device?
A quick and efficient solution to many Fire Stick concerns, including this one, is to power cycle your device. Just unplug your Fire Stick, wait a few minutes, and then plug it back in.
Advice: Try unplugging your Fire Stick from the wall in addition to doing so. Then, reconnect the power adapter and USB cord, making sure to plug everything in firmly.
Try to Reset your FireStick:
This is something else you can attempt if you've already tried to reset your remote and it wasn't successful.
Activate your Fire Stick and TV.
For at least 10 seconds, keep pressing and holding both the Back and Right directional buttons.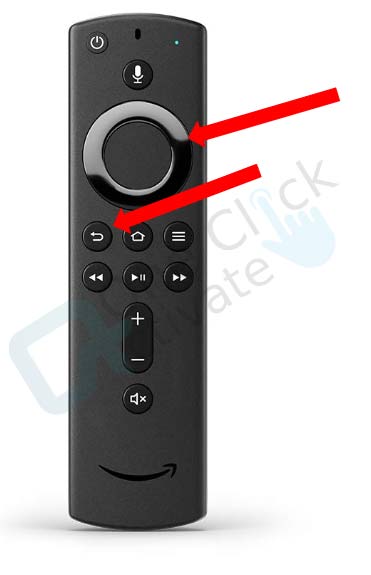 Once you get the pop-up notification, click Reset.
Wait for it to finish for a few minutes.
By checking that your Fire Stick and remote functioned properly using the techniques above, it's time to determine if your TV is the issue. Let's attempt a soft reset on your TV to see if that changes anything.
Remove the TV's plug from the outlet.
60 seconds should pass.
Replug your television.
Check compatibility and network connection-
Start by examining your Fire Stick's internet connection. Check to see if your Wi-Fi is functioning properly. By pushing the reset button or removing it from the power source for roughly a minute, you can restart your router.
Check to see if any third-party apps are running on your Fire Stick and if your Wi-Fi and internet are working properly. If it does, remove them from the Fire device by deleting them or by uninstalling them.
Keep your remote in its optimum condition-
Verify that your remote is free of any dust or grime. Don't forget to check the battery compartment as well; if there is any dust inside, the batteries won't be able to turn the remote on.
Make sure your Fire Stick is placed a little bit away from your TV or other electrical devices, and keep your remote three meters away from the Fire TV device to prevent any interference. Check to see if the remote isn't already associated with a Fire TV device.
If you have connected additional devices to your Fire TV, consider momentarily unplugging them before re-pairing your Fire TV remote.
Download ES File Explorer on Firestick Now!
Check the batteries and range on your FireStick remote-
In the future, be cautious to avoid operating your remote control from a far corner of your living room. To see if the blinking stops, try using the remote up close.
Check the remote's battery life if the range between the remote and FireStick is perfect before proceeding. In order to check, restart your remote control and Fire Stick and change the batteries or charge them appropriately.
You must have restored your Fire Stick remote to factory settings after completing all of these steps. So, we finally hope that you were able to resolve your Firestick Remote Blinking Orange.