How to Delete Chegg Account Permanently?
Published On : May 11, 2022 by: Sakshi/Category(s) : Trending
If you are looking for ways to delete your Chegg account, then you are in the right place. Here, we will discuss some of the steps that will help you to delete your Chegg account.
First, some background on Chegg. Chegg is an American education technology company that allows users to rent or buy digital and physical books, participate in online tutoring sessions, and utilize a variety of other student services 24 hours a day, 7 days a week. Chegg was founded by a group of Iowa University students in 2005. It currently has over 2.9 million users and is a rapidly expanding company.
Despite the fact that Chegg provides a wide range of services, many customers are looking for ways to deactivate their Chegg accounts.
Most people wish to delete their account because they find that they don't need it anymore or it's cluttering up their inboxes with emails from them that no longer interest them. However, there are some who actually want to delete their account because they think it's spamming them with emails every day asking them if they want to buy books or rent e-textbooks from them.
In this article we have discussed three different methods that will help you to delete your Chegg account easily:
Check out our list of 7 Best Free Crossword Puzzles Online
Guide to Delete your Chegg Account step-by-step-
As avid users of Chegg, we can tell you that there are many reasons why people might want to delete their Chegg accounts. Some people just don't need the service anymore, some people have been using it for so long that they feel like they've outgrown it, and some people are just sick and tired of being bombarded by emails every time they click on something. Whatever the reason is, it's good to know that it's not impossible to delete your Chegg account.
Here's how:
As previously stated, removing your Chegg account is not simple, but you should not be concerned. We have you covered!
To begin, determine whether you want to cancel your subscription or close your Chegg account. Remember that canceling or deleting your Chegg Account also deletes your customer profile, and you will no longer be able to utilize Chegg services.
Before you delete your Chegg account, make sure that all of your ongoing subscriptions have already been canceled. Your Chegg account cannot be deleted if any of your subscriptions are still active. Follow the instructions outlined at the bottom of the post under "How do I cancel my Chegg subscription?" to check and cancel active subscriptions.
You can remove your Chegg account using one of the few options listed below.
How do I remove my Chegg account on the Chegg website?
Access the steps outlined below to remove your Chegg account via the Chegg website.
Enter your username and password to access the official Chegg website.
Follow the steps outlined above to close any pending purchases or ongoing subscriptions.
Go to Chegg -> My Account and sign in.
As indicated in the figure below, go to the right-hand corner of the page and select the 'Chat Icon' / 'Contact Us' button.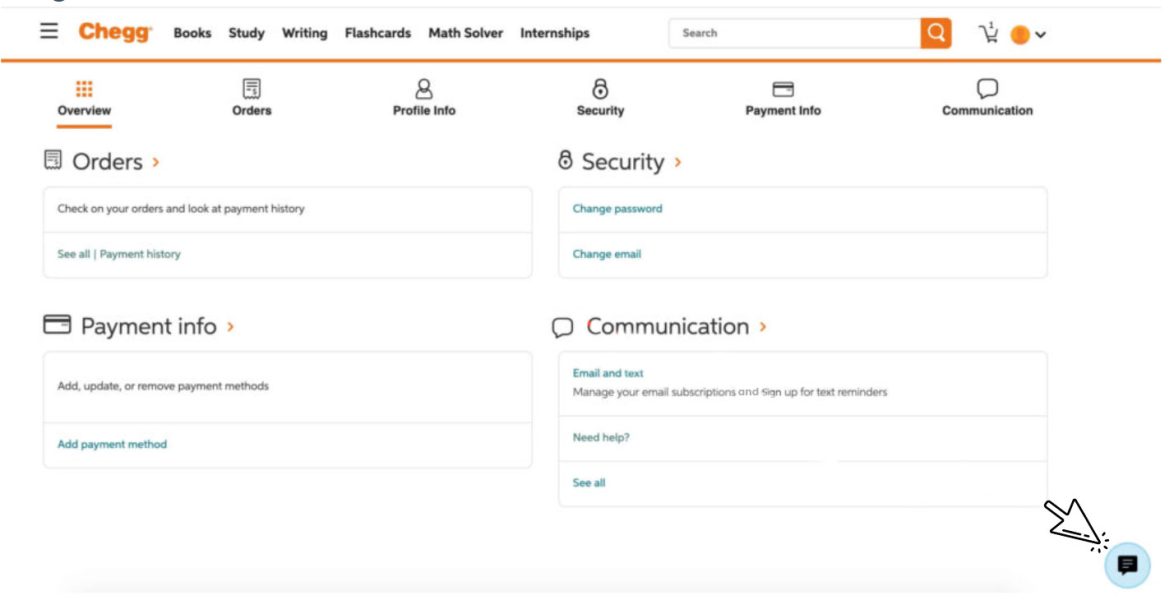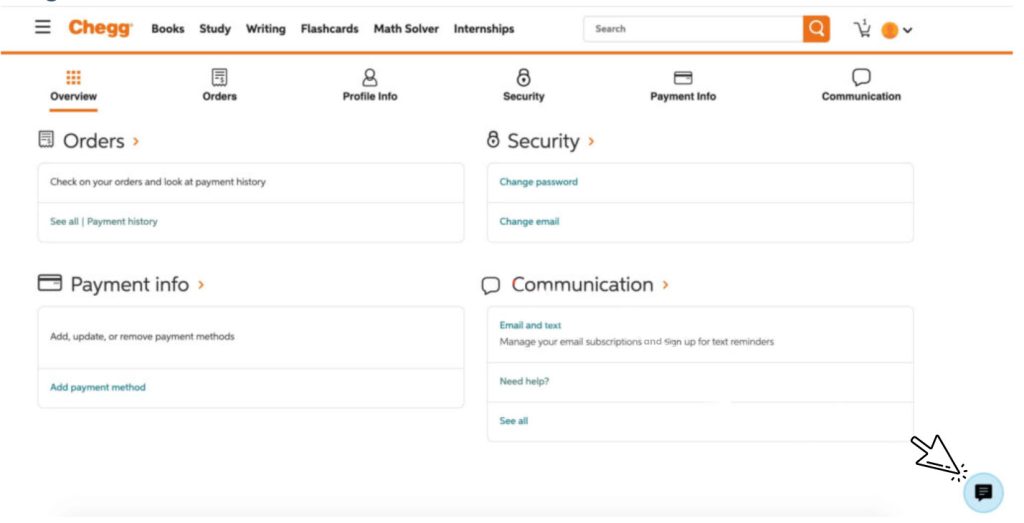 'I want to close my Account,' click.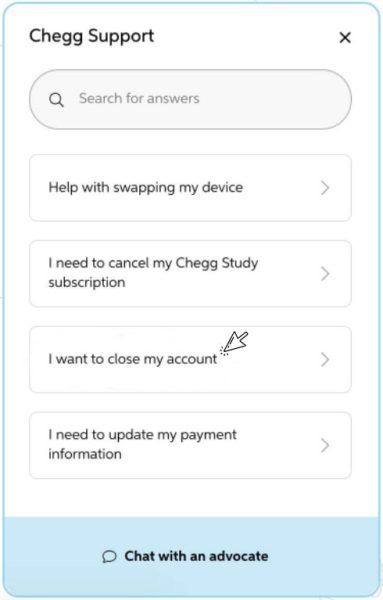 If you have any pending subscriptions, cancel them by selecting 'CANCEL MY SUBSCRIPTION,' otherwise, select 'Chat with an advocate.'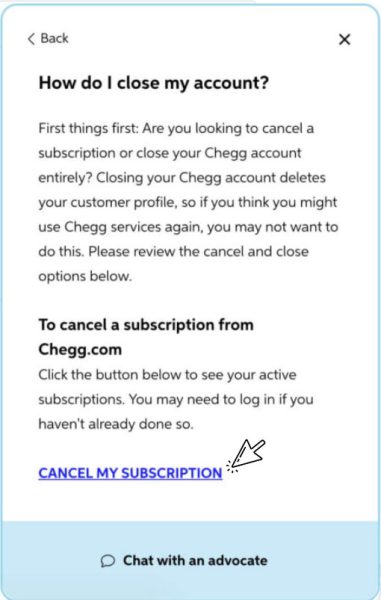 Answer the pertinent question and indicate that you wish to delete your Chegg account.
How to Delete Your Chegg Account Via Email?
Log in to the email address you used to register with Chegg. Remember that you can send an email from any of your accounts. Ensure you mention your Chegg account information in that email.
You must compose an email and address it to [email protected]
"REQUEST FOR CHEGG ACCOUNT DELETION" is a good subject to use.
Explain why you wish to remove your account and request deletion in the email's body area. A sample template is shown below.
I am a Chegg registered user with the name (Your name here) and the email address [email protected]. Due to personal reasons, I no longer require this account and would like to be removed from your database as well as cease getting communication/advertisement emails.
Sincerely,
(Insert your name here)
Trending: Top 6 stores like Costco for the best shopping deals
How do I discontinue my Chegg membership?
Go to the Chegg Orders and Payment History page, or go to My Account -> Orders after logging in to your Chegg account.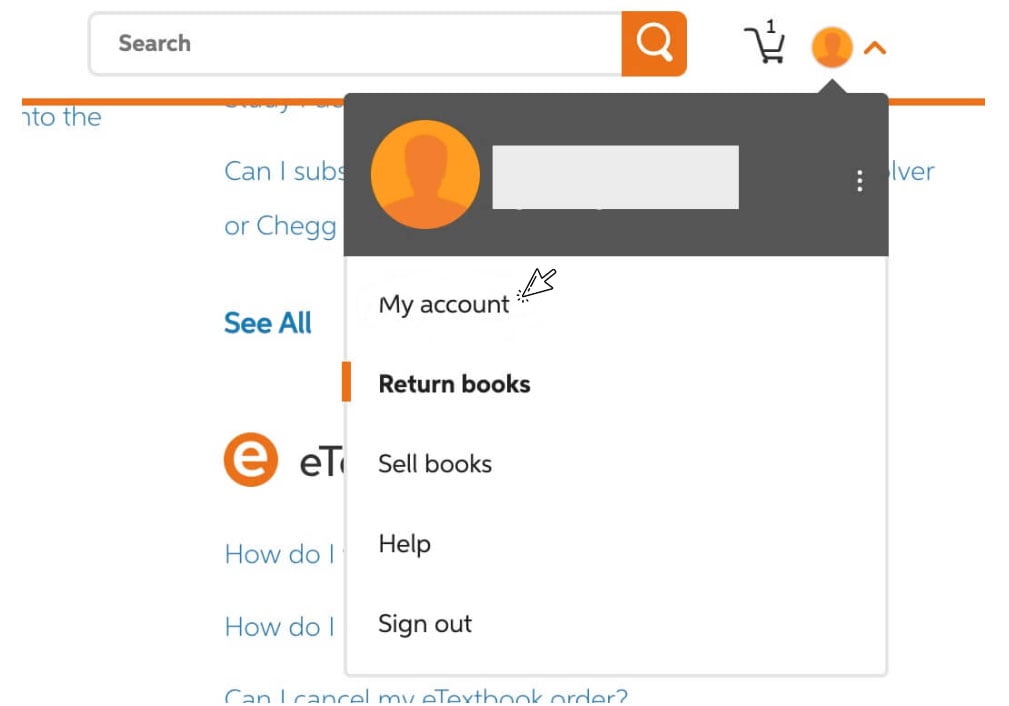 A 'Subscriptions' sub-section can be found under the 'All Orders' header.
Choose which subscription you'd want to cancel. Then select 'Cancel Subscription'.
You will be asked to verify your selection. To confirm, click 'Cancel Subscription' once again.
Before you delete your Chegg account, make sure you repeat step 2 for all ongoing subscriptions.
Check your account to see whether there are any open transactions once you've canceled all active subscriptions. Navigate to your Chegg account details page to check for open transactions.
Ensure that all transactions have been closed while you're on the Chegg Account information page. If not, then all open transactions should be closed.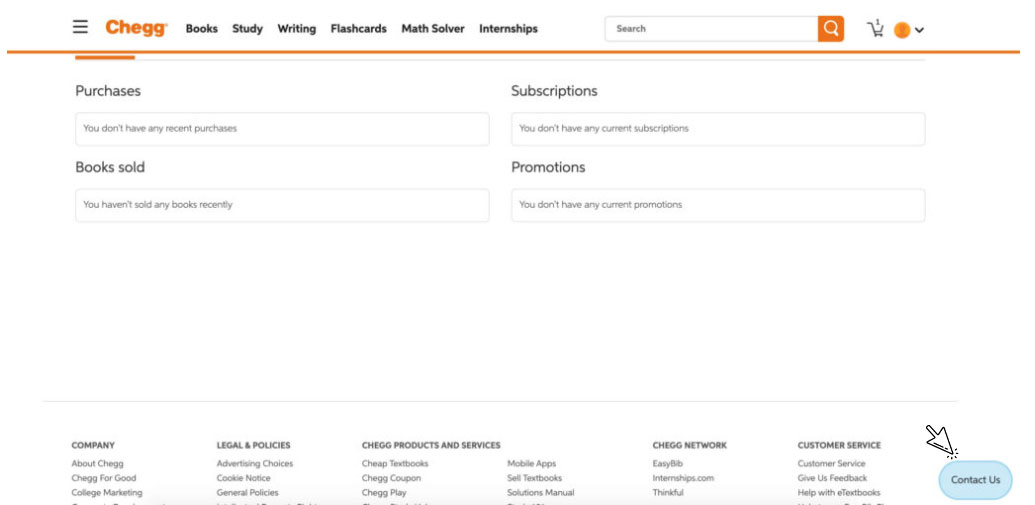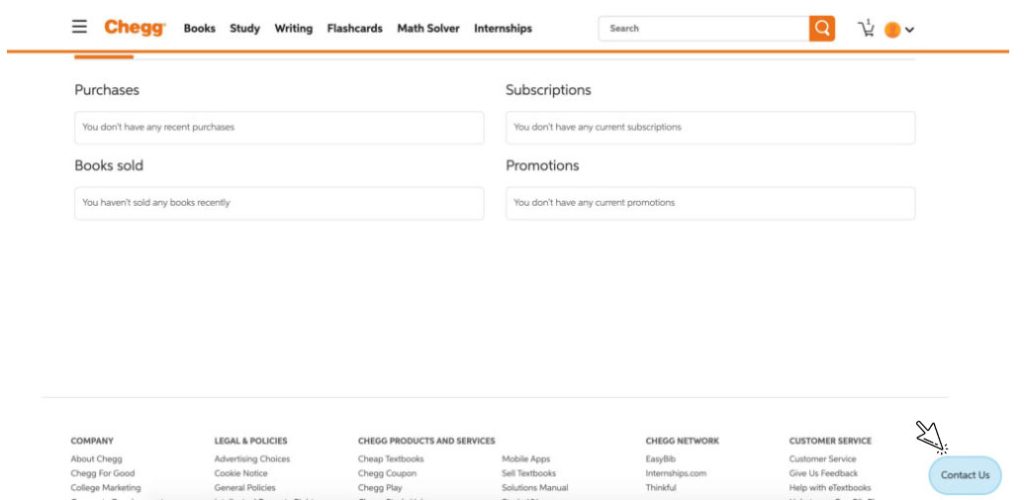 Also Read: Delete your IMVU account link
Alternative steps to Delete your Chegg Account:
You have two options for canceling your Chegg account: email or online. To cancel by email, go to-
Log in to the email account you used to register for the Chegg website or app.
Close your account by sending an email to [email protected]
"Request to delete my account" should be the topic of the email.
Write an email requesting that your account be removed from the company's database.
To deactivate your account through the website-
Go to the Chegg official website.
At the top right of the home page, select "sign-in" and enter your email address and password in the appropriate fields. Instead, you may use your Apple, Facebook, or Google account to log in. Select the "sign-in" option.
Check your account for any pending transactions, such as textbook rentals.
Return any leased textbooks and cancel any active subscriptions. To close your account for eTextbooks, you must wait for the rental time to end.
The next step is to contact corporate representatives to complete the account cancellation procedure.
There are several ways to communicate with the customer care team, some of which are:
Contact information-
Customers can contact Chegg's customer service representatives by phone. Account cancellations, for example, are handled quickly by the personnel. You must have your online account information on hand to help the agents find your account and assist you.
Live conversation-
Another way to contact the customer support department is through live chat. This strategy can be used by clients who prefer not to communicate in person. It comprises conversing with an agent via an internet platform, and the process is live, so you'll get immediate help.
Email-
You can also contact the customer service department by email. The agents will respond the next working day and make every effort to assist you with your problem.
Online assistance-
You can interact with Chegg's customer service representatives via the online help desk by selecting a help topic from the platform's options. A representative will contact you to assist with the account termination.
Twitter-
Chegg uses Twitter as a social media platform. Because it is a public platform, you can take advantage of the attention and submit your problem to receive prompt assistance.
That's all in our post, hope you like it!