Entire Application Process At CrossCountry Mortgage
Published On : November 12, 2021 by: Miti Sharma/Category(s) : Banking & Finance
Do you know about CrossCountry Mortgage? Or you wanna apply there? You are all packed up. This article will let you know everything about this. However, before getting on to the application process first let's talk about the significant occurrence of CrossCountry Mortgage. In 2003, CrossCountry Mortgage started off as a mortgage broker in Cleveland, Ohio. Ronald J. Leonhardt, Jr., the President of CrossCountry Mortgage, and CEO had the goal of building a countrywide comprehensive lender that could do more for customers: connect them with the right mortgage for their circumstances, give information and assistance along the route, and make their housing aspirations a reality.
The goal is specific: to offer customers the greatest possible financial guidance and benefit while supporting a smooth, transparent mortgage procedure for buyers, sellers, and realtors.
About The CrossCountry Mortgage Home Loans
''Select the Best Home Loan for Your Scenario''
CrossCountry Mortgage has to offer significant offering for its customers that makes it stand out among others along with the fact of encompassing multiple options of home financing. CrossCountry Mortgage will ensure success with everything from 1st homebuyer loans to refinancing options that allow you to tap into the value in your house.
What Should You Do First?
First and foremost, determine what your home finance aim is. Are you one of the following:
Purchasing a home: Depending on your circumstances, you have a variety of possibilities. View their purchasing programs below or go to their "Buy A Home website".
Refinancing: If you already have a mortgage and want to cut your payments, get better terms, or consolidate your debt, head to their "Refinance page".
Making use of your home's equity: Your house is a valuable asset. Making mortgage payments increases your home equity, which you may use to finance home upgrades, college tuition, and retirement.
Application For CrossCountry Loan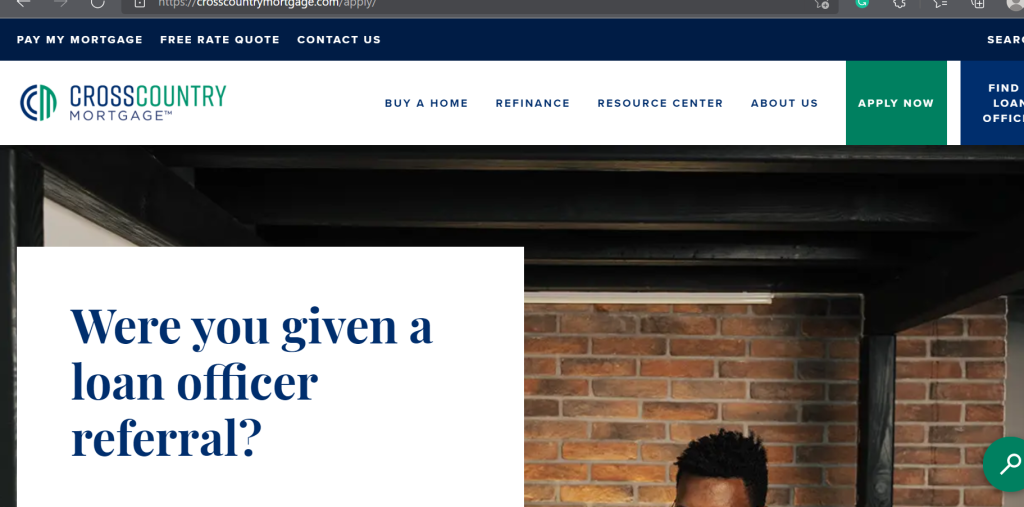 Get your paperwork prepared
The checklist below will assist you in gathering the paperwork required to apply for a house loan.
Form 1003, a residential loan application that comprises a Fair Lending notice, loan information sheet, and credit permission.
W-2s from the previous two years
Returns from the previous two years
The most previous rental contract (if you own rental units)
Bank statements over the last three months
Most previous mutual funds, IRA/401(k), or stock account statements
Divorce decree and settlement agreement (if applicable)
A bankruptcy petition has been filed (if applicable; schedule of creditors, discharge notice, and filing)
A statement outlining how you plan to use the loan funds (for cash-out refinances)
Your H-1B or L-1 visa, or your Green Card (for non-U.S. citizens)
For second mortgages, the first mortgage note is used.
Pre-approval for a mortgage
When looking into mortgages, you may come across terminology like pre-qualification and pre-approval. They may sound similar, yet they are vastly different. One is significantly superior to the other when it comes to purchasing property quickly.
Based on the asset and income information you submit, pre-qualification assesses your capacity to repay a loan. Pre-qualification takes only a few minutes to complete online or over the phone. While it can offer you an estimate of how much money you might be able to borrow, it does not include a thorough examination of your credit and financial situation.
Pre-approval is a more thorough procedure in which an underwriter examines and verifies your details. This entails a review of your financial situation as well as your credit history. You'll be capable of setting your budget, bargain effectively, and closing faster if you have a pre-approval.
Look around for mortgages and interest rates
There are several sorts of loans accessible, each with its own set of restrictions and perks. Your knowledgeable, certified CrossCountry Mortgage loan officer can assist you in determining the right loan program for your requirements based on your current financial condition and future objectives.
An adjustable rate, for example, can be a good choice if you expect to sell your house in a few years. A fixed-rate mortgage is a good option if you anticipate staying in your home for a long time and desire steady monthly payments.
Make an application for a loan
You may begin the procedure right now by:
Call 877-245-8383 for more information.
Using crosscountrymortgage.com/get-pre-qualified/ to fill out a pre-qualification form.
Requesting a no-obligation mortgage rate quotation at crosscountrymortgage.com/mortgage-rate-quote/
Obtain a loan approval
The loan evaluation and approval procedure begins when you apply for a mortgage. They will check your credit, job history, assets, and property valuation, among other things. Consider the Home Buying Guide and follow the steps mentioned below to guarantee that your loan is processed and underwritten quickly.
Fill out your application completely.
Respond to inquiries as soon as possible.
All other loans and credit should be disclosed.
When setting a closure date, be available.
Don't make any significant purchases.
Don't juggle your accounts' balances.
Your loan will be closed
You are almost done! They will contact you to set up a closing date after your loan has been authorized. You should then go over the final paperwork and double-check that the rates and quantities are correct. Closing charges and your down payment will also be paid using a certified or cashier's check from your bank. This meeting requires a picture ID and your Social Security card. You'll get the keys to your new house after your loan is authorized!
Basic Questions About CrossCountry Mortgage
What's the difference between pre-qualified and pre-approved?
Pre-qualification is a calculation of how much money you'll be able to borrow. It does not imply that you will be approved. Pre-qualification is normally obtained through an interview with a qualified loan officer, who calculates the pre-qualification amount. This information will be sent to you in the form of a letter that you may provide when making an offer on a home. It's crucial to note that pre-qualification does not indicate that the lender will approve you.
Pre-approval is a much more comprehensive process than pre-qualification. You must fill out an application and have your credit and financial history verified before you can be pre-approved. You'll be in a better position to close sooner and negotiate a better price after you have your pre-approval certificate. If you're looking for a home, it's strongly advised that you be pre-approved.
What exactly are the points?
Points are charges that may be paid in advance. On both fixed-rate and home mortgages, you can pay points to receive a cheaper rate, but the number of points paid varies based on the loan type. One point is one percent of the total loan amount.
Should I make a point payment?
It is dependent on your specific circumstances. When considering whether or not to pay points, three primary aspects should be considered:
What is the maximum amount you may pay upfront?
How long do you anticipate making mortgage payments?
What is the term of your mortgage, and how long do you intend to stay in the house?
Many people who are seeking a long-term loan choose to pay points in order to lower their monthly payments. People who want a shorter-term mortgage or who plan to stay in their house for a shorter amount of time generally choose a greater down payment overpaying points.
Also Read: Apply For Guild Mortgage Loan Online
What exactly is a rate lock?
A mortgage rate lock is a pledge from the lender to keep a given combination of interest rate and points for a set period of time (usually 10, 15, 30, 45, or 60 days) once you can close on your property. Locking in a rate prevents you from unanticipated interest rate increases in the days or weeks times today to closing, but you may not be able to benefit from lower rates if rates decrease.
The duration of a rate lock is determined by the type of loan program, current interest rates, points, and the type of lock. You normally have to agree to pay greater points or interest rates to keep a rate for a longer length of time.
Your every query has been answered!