How do I Activate my CareCredit Credit Card?
Published On : November 18, 2022 by: Sakshi/Category(s) : Healthcare
Americans are increasingly demanding when it comes to their health and wellness. And CareCredit is a healthcare credit card that can help make those demands a reality. When it comes to taking care of your health and wellness, having a healthcare credit card like CareCredit can make things a lot easier. With CareCredit, you can pay for a variety of treatments and procedures, and then spread the cost out over time with convenient monthly payments.
CareCredit is accepted by over 250,000 providers nationwide, so you can use it for everything from LASIK and vision care to cosmetic and dermatology procedures, dentistry, veterinary care, and more. To activate your CareCredit Card, follow the guide below!
Guide to Activate CareCredit Card-
To activate your CareCredit card successfully you will need the following things as given below. These things are also necessary for any Synchrony retail credit card or Synchrony program card:
Firstly, your Account number is required. It can be found on the front of your card, in the upper right corner of your monthly billing statement, and on the piece of paper, your card was mailed with.
The principal account holder's Social Security number (SSN). Only the last four digits of your SSN will be needed.
Lastly, your date of birth will also be required.
To activate your card easily just follow the below-given steps:
To start with the process, visit the site consumercenter.mysynchrony.com using your usual browser. Also, make sure your internet connection is strong and stable.
Here, you will be asked to enter your Account Number. It should be entered in the first column as shown on the screen.
Then, input the three-digit security code that is written on the card's back.
Now, you have to enter your SSN's last four digits. Make sure you are putting the right details.
You are almost done now. Just put your date of birth in the space provided.
The card will be activated after you click the Activate button.
How to Activate your card using a phone?
Calling the dedicated CareCredit activation phone line at 1-866-893-7864 will help you activate the CareCredit credit card using your phone. The process is fairly simple and quick. Just follow the instructions provided by the customer care personnel to get your activation done successfully.
Ways to Contact the CareCredit card Customer care-
You can contact customer care services at (866) 893-7864. The call service is available from 8 am to 12 midnight, eastern time zone (EST).
You can also send a mail referring your query to customer care at the following address:
Synchrony Bank
PO Box 960061
Orlando, FL 32896
How to Pay the Doctor or Healthcare provider Online?
To find out if your doctor or healthcare provider accepts CareCredit online, search the extensive network of enrolled healthcare providers on the site.
Type in your billing information and CareCredit card details. Starting with transactions of $200, special financing for online purchases is offered. For sums under $200, standard account conditions apply.
You and your service provider will both get a confirmation email once the payment has been made. Within two business days, transactions reflect on your CareCredit account.
How to Login for a CareCredit card?
Click here to log into CareCredit Credit Card.
Once you arrive on the page, provide your Username and Password then click login as shown in the image below.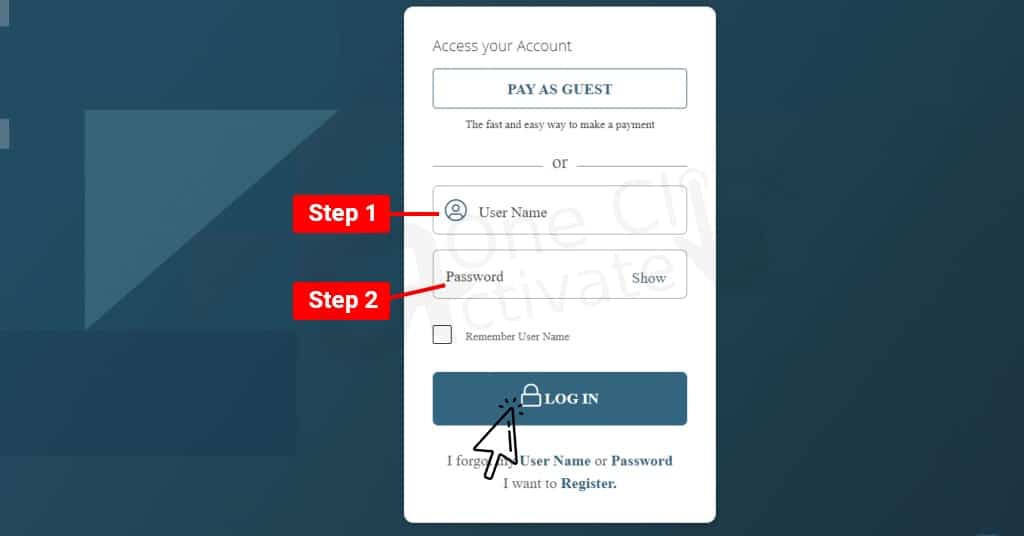 Right after that, you will be able to access your CareCredit Card account.
Instructions to Register for your CareCredit Card-
To sign up for CareCredit Card click here, and you have to go through 4 stages:
Account Lookup
Verification
Profile Setup
Confirmation
In the first tab, enter your Account Number.
Then, provide the Last Four Digits of the SSN.
Next, select your Date of Birth in MM/DD/YYYY format.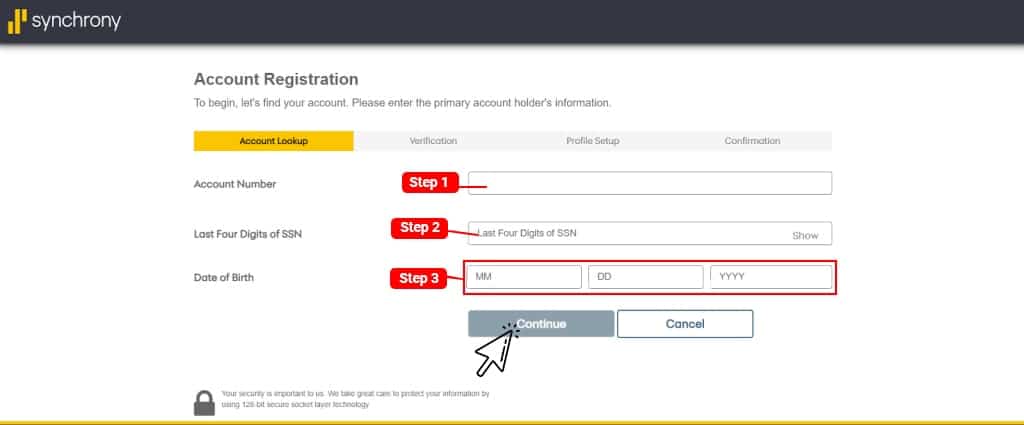 Now press the "Continue tab" and keep giving the data you have been asked to successfully register!
How to Skip Login and Make payments?
Click here to make payments for your CareCredit Card without logging in for it.
All you have to do is, once you are on the page, provide the following details as shown in the image below and you'll be done just by selecting the "Find Account" option:
Card number
Last 4 digits of the SSN
Zip Code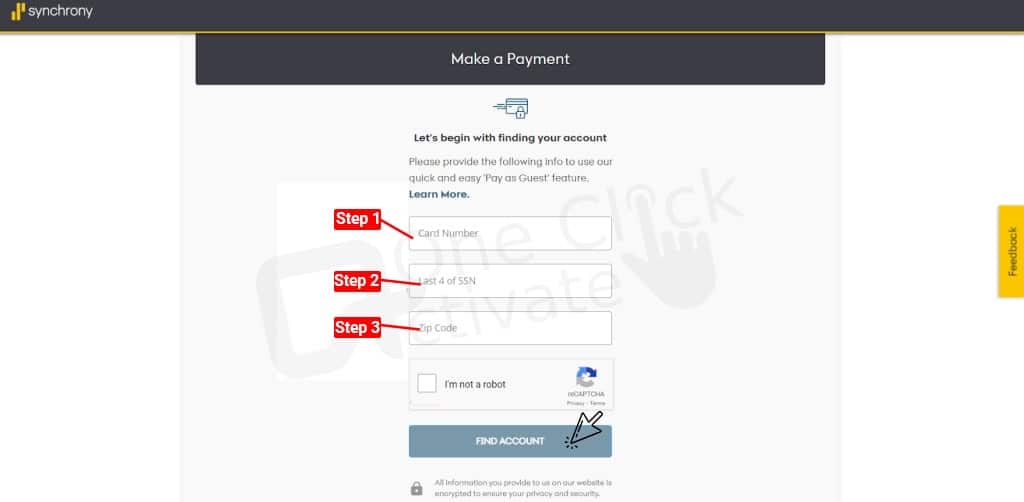 Editor's pick guide: Login To Therap Service to arrange medical records
Frequently Asked Questions (FAQs):-
How can I tell whether my CareCredit card is still valid?
Calling the customer service line of your card issuer and asking questions is one approach to determine if your card is active. You can usually find this number on the back of your card. This is the quickest and simplest way to verify the status of your card, with the possible exception of a brief hold period.
Can I use my CareCredit card as soon as it has been approved?
Regardless of the application method, you select, you will learn immediately if you are accepted and can begin using CareCredit right away, even before your card is mailed to you. Applying online with a co-applicant is another option.
What is the CareCredit required credit score?
For the CareCredit Credit Card, you must have a credit score of 640 or above. That implies that there is a chance for those with at least fair credit to be approved for this card.
Has CareCredit been assigned a PIN?
How can you get a PIN for a CareCredit credit card? Call 877-295-2080 to get the CareCredit Credit Card PIN.
How much can you get approved for through CareCredit?
The highest credit limit on a CareCredit card is $25,000 in total. CareCredit offers "no-interest" promotional periods of six, 12, 18, or 24 months, depending on the provider, for charges of $200 or more. No interest will be applied if you pay off your purchase within the offer period.
How to activate the Synchrony card phone number?
You can call them at 1-855-872-4311 to activate your Synchrony card.