Guide to cancel your Shipt Membership
Published On : September 28, 2022 by: Anjali Latwal/Category(s) : Trending
This article covers how to cancel an order that you made with Shipt, an online grocery delivery service that operates on a subscription model, as well as how to cancel Shipt membership completely.
How to Cancel an Order Through Shipt?
You are able to cancel any order with Shipt and get a full refund as long as you do so before your order has been shipped by the company. In most circumstances, you will not incur any additional fees if you cancel up to an hour before your delivery window. You don't need to get in touch with customer care in order to cancel your Shipt order since you can do it yourself using the website or the app.
Canceling an Order Placed with Shipt Via Their Website:
If you are using Shipt via the website on a full browser, the following instructions will show you how to cancel orders using Shipt's website:
Go to www.shipt.com, enter your credentials, and then select the Account tab.
Select the Order History tab.
Find the order you wish to cancel and then click the View Details button next to it.
To cancel the order, use the Cancel button at the bottom of the page.
Next, to confirm the cancellation, click the Yes button.
Canceling an Order Through the Shipt Mobile App:
You can also cancel Shipt orders using the user-friendly mobile app on your phone, even if you aren't at your computer.
Launch the Shipt app on your device, and then hit the Orders icon located in the app's lower right corner.
You will need to look for the order you wish to cancel and then touch on it.
Tap the Cancel Order button after you have reached the bottom of the order.
To confirm, choose the yes option.
Useful Topic: Cancel HelloFresh Subscription
Challenges Encountered When Canceling Shipt Orders:
Even if your delivery window is less than an hour away, or even if your shopper is already at the store, you are still able to cancel a Shipt order; however, you are unable to do it personally. If you find yourself in this predicament, you will need to get in touch with Shipt's customer care in order to cancel the purchase.
If at the bottom of the order you wish to cancel on the website or in the app you don't find a button that says "cancel the order," this almost often indicates that either your cancellation window has passed or that your purchase is already in the process of being processed. Should this occur, please contact Shipt's customer care in order to cancel.
How to cancel your Shipt membership and get a refund?
Shipt does not make it simple for you to cancel your subscription. In contrast to the majority of online membership services, there is no method to cancel your Shipt membership using either the website or the mobile app. If you would want to terminate your membership with Shipt, you will need to get in touch with customer care through the Shipt website or by giving them a call.
To terminate your Shipt free trial, you will need to follow the exact same steps. If you do not cancel your free trial before the trial period finishes, they will automatically charge the credit card that you supplied during the sign-up process. If you do cancel your trial before the trial period ends, you will not be charged.
To cancel your Shipt membership online, please follow these steps:
Visit www.help.shipt.com, then click the LIVE CHAT button that's located at the bottom right corner of the page.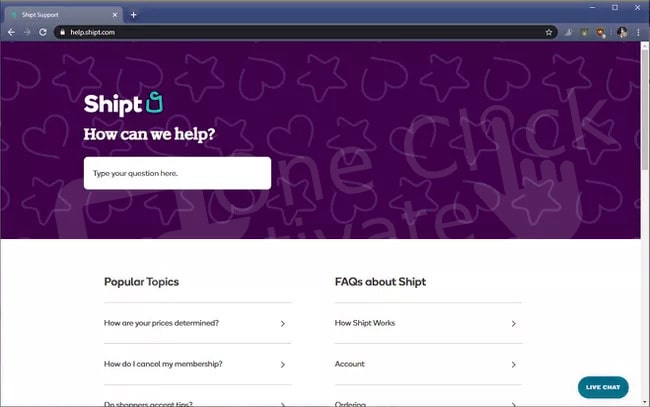 After you've entered your name and email address, click the Start Chatting button.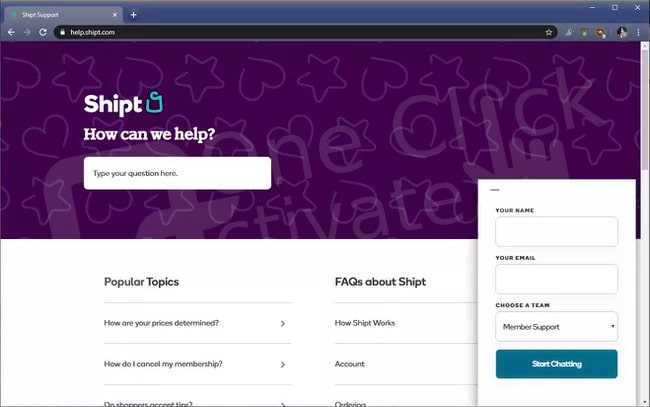 Make a cancellation request for your account, then wait for a response.
Please provide the customer support person with any and all information they want.
The representative ought to comply with your request and close down your account.
Must Read: Cancel GrubHub Order and Get a Complete Refund
Alternatives for Canceling Your Shipt Membership:
Canceling your subscription with Shipt may be done in a number of different ways, including using the website's live chat feature, over the phone, or by email. Because you don't have to wait for a support representative to become available, the email approach is the most convenient way to contact the company. However, giving them a call assures that they will cancel your subscription immediately, and you won't have to wait around for a confirmation email to arrive in your inbox.
In order to cancel your membership with Shipt, you will need to contact the following number: (205) 502-2500. There is no toll-free number, so depending on where you are and the phone service you use, you may be subject to charges. You may get in touch with Ship at [email protected] if you would rather cancel your subscription by email.
You will have to supply your name, phone number, and email address, as well as make it clear that you wish to cancel your account, regardless of the method that you choose to use.
It's possible that the customer care team at Shipt may provide you with a trial membership for free so that you can continue testing out the service. Bear in mind that after the allotted time for the free trial has passed, they will begin charging you, and you will have to go through the procedure for canceling the service all over again.
Conclusion: So, this is how you can cancel your Shipt membership easily. We hope that you will like our guide.