Simple guide to cancel your LA Fitness membership
Published On : September 14, 2022 by: Anjali Latwal/Category(s) : Healthcare
If you are a member of a LA Fitness gym, the membership fee will be deducted from your account on a monthly basis. You are free to cancel your LA Fitness membership at the fitness center if you no longer need the facility's services or equipment. It is necessary for you to fill out a cancellation form, after which you can either fax it, mail it, or bring it in person to the fitness center in order to cancel your membership. However, we regret to inform you that LA Fitness has not yet made an online cancellation option accessible for your membership.
Here's how to cancel your LA Fitness membership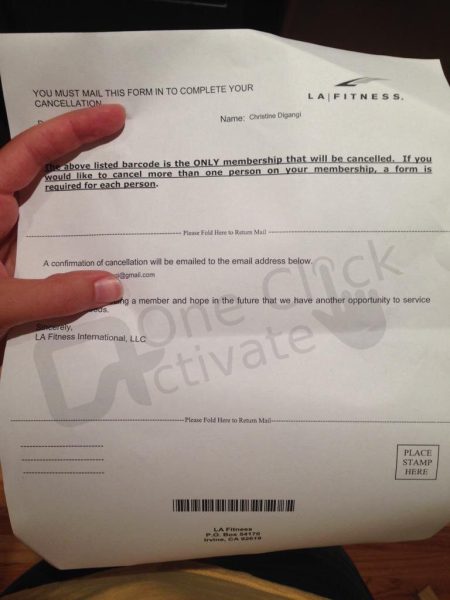 Method 1: Get a copy of the cancellation form
Please ensure that you are logged in to your LA Fitness online account.
Simply go to https://www.lafitness.com/ and hover your mouse pointer over "Member Tools" in the top toolbar to see the available options.
Simply go to the "My LA Fitness" page and input your information there. You can make an account even if you don't already have one by clicking the button that says "Create an online account" in the bottom right corner of the screen.
You'll need to enter your membership tag number in order to create a new account. This number can be located on the back of your membership card.
You can ask a member of staff at any LA Fitness location to supply you with your membership tag number if you are unable to locate it on your card.
Simply click the "Cancellation Form" link and fill out the form.
Once you have logged in and are seeing the information of your account, you will notice a link to a cancellation form on the right-hand side of the page.
This form has sections for all of the personal data that you have submitted to LA Fitness, such as your name, address, and phone number.
Get a copy of the form printed out, then fill it out completely.
Make sure that all of the information on your cancellation form is correct, as any inaccuracies might cause a delay in the process.
Note:
Instead of canceling your membership online, you should get a cancellation form from one of the LA Fitness gyms. If you are unable to print the form on your own or if you are already present at the gym, you can acquire a cancellation form from an employee working at the gym that you attend. Make sure you use your membership card to check in and then ask for a membership cancellation form.
You are welcome to inquire with the staff member about the cancellation if you have any more inquiries about it.
Recommended: Cancel Peloton Membership
Method 2: Terminating Your Membership in the Organization
Mail your cancellation form:
Send your cancellation form using a delivery method that requires a signature, such as certified mail. When the form is received by LA Fitness, if you send it through certified mail, you will be given a receipt for your submission.
Make sure that the form is folded in half, and then place it in an envelope that has a stamp on it. Using certified mail, deliver the letter to "LA Fitness, PO Box 54170, Irvine, California 92619-4170," and then send it.
You will not be responsible for any additional charges if you send a letter with a postmark that is at least five working days before the date of your next payment cycle.
There is a possibility that you may be charged an additional amount if the letter's postmark is located very near the billing date.
Fax your cancellation form:
Instead of mailing it, you can also fax your cancellation form. You can phone your gym and ask an employee there for the fax number, or you can ask one of the employees there in person if you are uncertain. You need to make sure that you save the fax receipt once you have faxed the completed cancellation form to the number that was supplied to you. It is the responsibility of the gym to initiate the membership termination.
Also Read: Activate LES MILLS On Demand
Talk personally to the operations manager to terminate your membership:
Go to the gym in person or give them a call, and ask to talk to the operations manager. Make arrangements to speak with them at a mutually convenient time. A time during which you will both explain the reasons for your decision to cancel. And hand them the appropriate paperwork. After that, the procedure of canceling will begin with the manager of operations.
In most cases, operations managers can be found in each facility from Monday through Friday. In between the hours of 9 am and 5 pm.
It is recommended that you get in touch with customer care to double-check that your account has been closed.
Please be patient and wait for your cancellation form to be completed, which may take up to 48 hours.
You should contact the corporate office at the following number: 888-601-5870. And Inquire with the individual working in the customer care department about the status of the cancellation of your account.
Explain your situation to them and provide them with the information. Such as receipt numbers and dates that correspond to when the form was filed.
Visit here. And then enter your zip code in order to obtain the local number that you can contact for tracking.
Note:
In the event that you are still being charged, you should contact either your bank or your card provider. You can contact your bank or credit card issuer to cease recurring charges on your accounts. Do this if LA Fitness continues to refuse to cancel your subscription. (even after you have attempted to get in touch with them several times). Make it clear to the financial institution that you attempted to cancel your LA Fitness membership. But that the cancellation request was denied. They will prevent any more charges from being made to your card in the future.
You can also make a complaint with the Better Business Bureau through their website, which can be found here.
Trending: Watch Daily Burn on Roku or Chromecast Daily Burn on your TV
Do You Know?
Instead of deactivating your account, you may want to consider freezing it. It can be worth it to freeze your account rather than cancel it. In the case that you aren't going to use your membership within the next 30 days. But still want to utilize the gym in the future. If you wish to use the gym again in the future but don't want to pay the start-up fees, you can save yourself some money by "freezing" your account. It costs $10 per month.
Conclusion: So, this is how you can cancel your LA Fitness membership easily. The only negative point here is that they don't offer online cancellations. So, you will have to get to them personally. We hope that you will like the content of our guide. Please leave your feedback in the empty comment area below.