Proven ways to cancel your ExpressVPN subscription and get a full refund
Published On : September 24, 2022 by: Anjali Latwal/Category(s) : Technology
Users are sometimes needed to go through a number of hoops before they are able to cancel their subscriptions to VPN services because the providers of such services make it difficult to take benefit of their "30-day money-back promises." You wouldn't expect ExpressVPN, which is widely considered to be one of the finest virtual private networks (VPNs) available, to have problems like these. However, how simple is it to cancel ExpressVPN subscription, and what steps should consumers take to do so successfully, let's find it all out.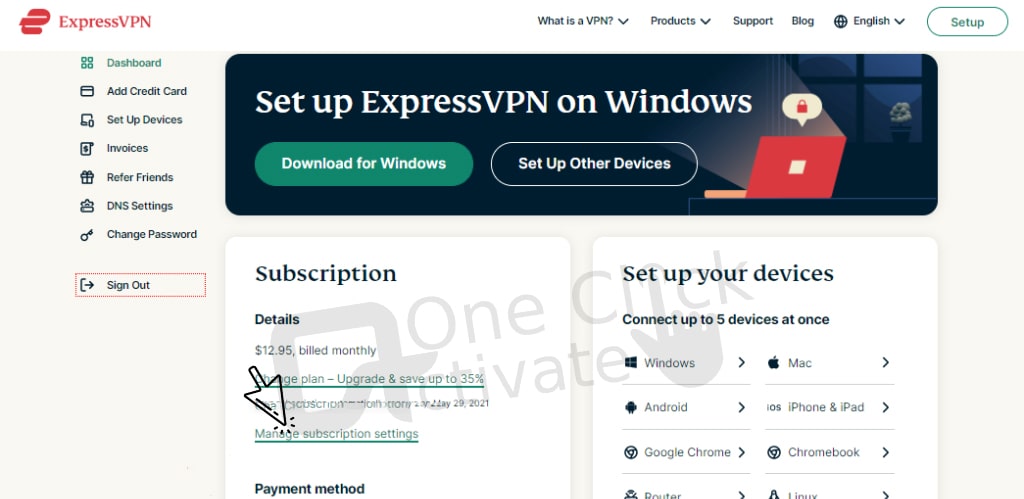 This concise guide will explain every step in detail, making the cancelation process straightforward and easy to understand. However, your online safety can be compromised if you go too long without connecting to a virtual private network (VPN). It would be in your best interest to have a look at our ranking of the best virtual private network providers to choose a more appropriate option.
How to cancel your ExpressVPN subscription and get a refund: A quick walkthrough
Listed below is a quick run-through of how to cancel your ExpressVPN subscription and get a refund back. However, for a more detailed version, you can keep reading further.
Visit the ExpressVPN website and choose the My Account option from the menu on the top right corner of the page.
Next, enter your username and password to sign in.
Click the Turn off Automatic Renewal option found under the Manage Subscription Settings heading.
Get in touch with the ExpressVPN support team and request a refund.
You should get your money returned to you within a few days.
Detailed instructions on how to cancel your ExpressVPN membership
You will need to deactivate the recurring payment feature of your membership before continuing with the process of getting your money back. By doing this, you can be certain that ExpressVPN will not get any of your money.
You can access your account by going to the website of firm at www.expressvpn.com and logging in there.
After selecting the My Account option, choose Manage subscription settings from the drop-down menu that appears.
On the next screen, choose the option that says "Turn off automatic renewal."
Confirm your selection on the next two pages, but disregard the warnings asking you to return to your dashboard or to think again about your decision.
After that has been completed, you will get a notification informing you that your membership has been terminated.
ExpressVPN will continue to function for you up to the end of your membership period, but after that, it will no longer be accessible to you. Your next move should be to get in touch with the customer service team to request a refund.
Our Trending Guide: Play Xbox Series X Or S Games On Your PC
Learn how to receive a refund for your ExpressVPN membership
When you have finished stopping the recurring payments, you are free to submit a request for a refund. Be warned that you are going to be questioned about the reason why you are requesting a refund in the first place. In the event that ExpressVPN was unable to complete a certain job, you could get some recommendations about how to resolve the problem. Make sure that you have tried all of the alternatives available to you and that you are certain that you do not need ExpressVPN anymore. Providing that this is the case. Cancel your subscription in the manner described before.
To access your account, go to the option labeled "My Account" on the ExpressVPN site.
Click the live chat icon in the lower right-hand corner of the screen.
In the newly created chat window, inquire about getting a refund from customer care.
As soon as the request has been made, a customer service representative should get in touch with you and begin processing your refund.
It is possible that it will take some time before the money is returned to your pocket, but that is all that will happen.
The ExpressVPN Refund policy
When a consumer subscribes to ExpressVPN, they have the ability to cancel their service and get a full refund within the first 30 days after starting their package. When it comes to requesting a refund, the VPN guarantees there will be "no bother, no worry." All that is required of you is a simple summary of the issues that you have run across.
The only possible problems are those connected to the upgrades. Be advised that if you add a license to your account or upgrade your account during the 30-day money-back guarantee period, you will be considered to have waived your right to a refund of the purchase price. It is also essential to take into consideration the fact that the guarantee is valid for a period of "30 days." Be careful not to confuse it with a month since it is not the same thing.
At this point, it is probably useful to review the fundamental ExpressVPN refund policy, to make it clear what consumers should anticipate, and to provide some assistance for those who are over the 30-day grace period for receiving a refund.
In some circumstances, customers have the ability to request refunds for more than 30 days. According to the terms of service, a subscriber is eligible for a refund "if they can demonstrate that the Service was not readily accessible or usable during the billing period and that reasonable attempts were made to contact ExpressVPN to resolve the issue." In other words, the subscriber must be able to prove that the service was unavailable during the subscription period.
Here are four potential reasons why your ExpressVPN refund might not get issued:
ExpressVPN customers should be aware that there is a remote possibility that their requests for refunds may get rejected or that they may not get them for one of the following reasons:
You have obtained ExpressVPN by purchasing it from the Apple App Store: ExpressVPN does not provide a refund policy for in-app purchases made on Apple devices during the 30-day grace period. There is still the possibility of receiving a refund, but customers must submit their claims via the Apple Store.
Issues with PayPal prevent the automatic renewal from being canceled: When seeking a refund, it is recommended that you manually cease any IPNs, which stands for instant payment notifications. This is because there have been instances in which consumers have discovered that PayPal has prevented cancellations from being processed.
You do not satisfy ExpressVPN's requirements for a refund: There is a strong probability that ExpressVPN may deny your request if there is no proof of service difficulties and if you have not informed them about such problems.
The procedure for issuing refunds was not finished: Do you still remember all of those buttons that said "Turn off auto-renewal" that we discussed earlier? If your refund has not yet been issued, there is a possibility that you skipped out on the procedure too quickly because you forgot to click one of those bothersome buttons.
Smart Tricks to Access American Netflix in Canada
Now that you've decided to cancel your Express VPN subscription, it might as well be feasible to know about your alternatives.
Some alternatives to ExpressVPN:
After you cancel your ExpressVPN subscription, it is highly recommended that you sign up for another virtual private network (VPN). Here are some of the best virtual private network (VPN) service providers that we suggest.
NordVPN:
There is no alternative to NordVPN that comes close to matching its level of security and privacy protections for users. The fact that they are based in Panama and use diskless servers gives you further peace of mind about the authenticity of their no-logs guarantee. In addition to this, they are also renowned for offering ridiculously fast connection speeds and for being able to unblock popular streaming sites such as Netflix. All of that, plus a whole deal more, for just $3.29 each month.
Surfshark:
If you are considering opting out of ExpressVPN because of the insane price they charge, then Surfshark VPN is an excellent alternative to consider. You can connect an unlimited number of devices, protect them with encryption of military quality, enjoy fantastic speeds, and access all of Netflix's content without any restrictions for the low, low price of just $2.30 per month.
Atlas VPN:
Do not pass up the opportunity to take advantage of the limited-time Atlas VPN promotion in which you can get a subscription to the service for three years at a cost of just $1.83 per month. You will be able to connect an endless number of devices, make use of its remarkable capability to circumvent geo-restrictions, and make use of a variety of other wonderful capabilities to successfully protect oneself.
Conclusion:
Because of the importance of privacy, no one should have to deal with VPN services that are below par. Even while ExpressVPN does a good job of serving its clients, on the whole, there will always be a few issues here and there. Because of this, the business provides a 30-day money-back guarantee. As can be seen, the process of cashing in on the guarantee is not very complicated.
In any event, you shouldn't be satisfied with a bad performance. And in the event that ExpressVPN is not functioning properly for you at this time, log in and submit a refund request.
Frequently Asked Questions (FAQs):
Can you cancel ExpressVPN at any time?
Yes, you can cancel ExpressVPN at any moment. However, if you wait more than thirty days, you will not be eligible for a refund of your money.
Is there a monthly fee for using ExpressVPN?
ExpressVPN does not impose a monthly fee on its users. Instead, you will be charged immediately for the whole amount due for the subscription term.
Is it reliable to use ExpressVPN?
Indeed, you can put your faith in ExpressVPN. Their court proceedings take place in the British Virgin Islands, which are known for their respect for individual privacy. In addition to this, they have a no-logs policy that has been validated by the courts and checked over by an impartial party.
When I cancel my ExpressVPN subscription, how quickly will I receive my money back?
In most cases, a few days are required. On the other hand, this completely relies on your bank and how quickly it can process the transaction.