Guide to Register at Caliber Home Loans and apply for a secured loan
Published On : November 8, 2021 by: Miti Sharma/Category(s) : Banking & Finance
Purchasing a house may appear hard and even intimidating, but with the correct knowledge and guidance from a professional, it can be a simple process. You don't need to know everything before you begin; your Caliber Home Loans, Inc. ("Caliber") Loan Consultant will walk you through the process, explaining your alternatives and making recommendations. This guide will assist you to acknowledge all the crucial steps for the same via Caliber Home Loans.
Finally, purchasing your own house is a fantastic way to begin the next chapter of your life.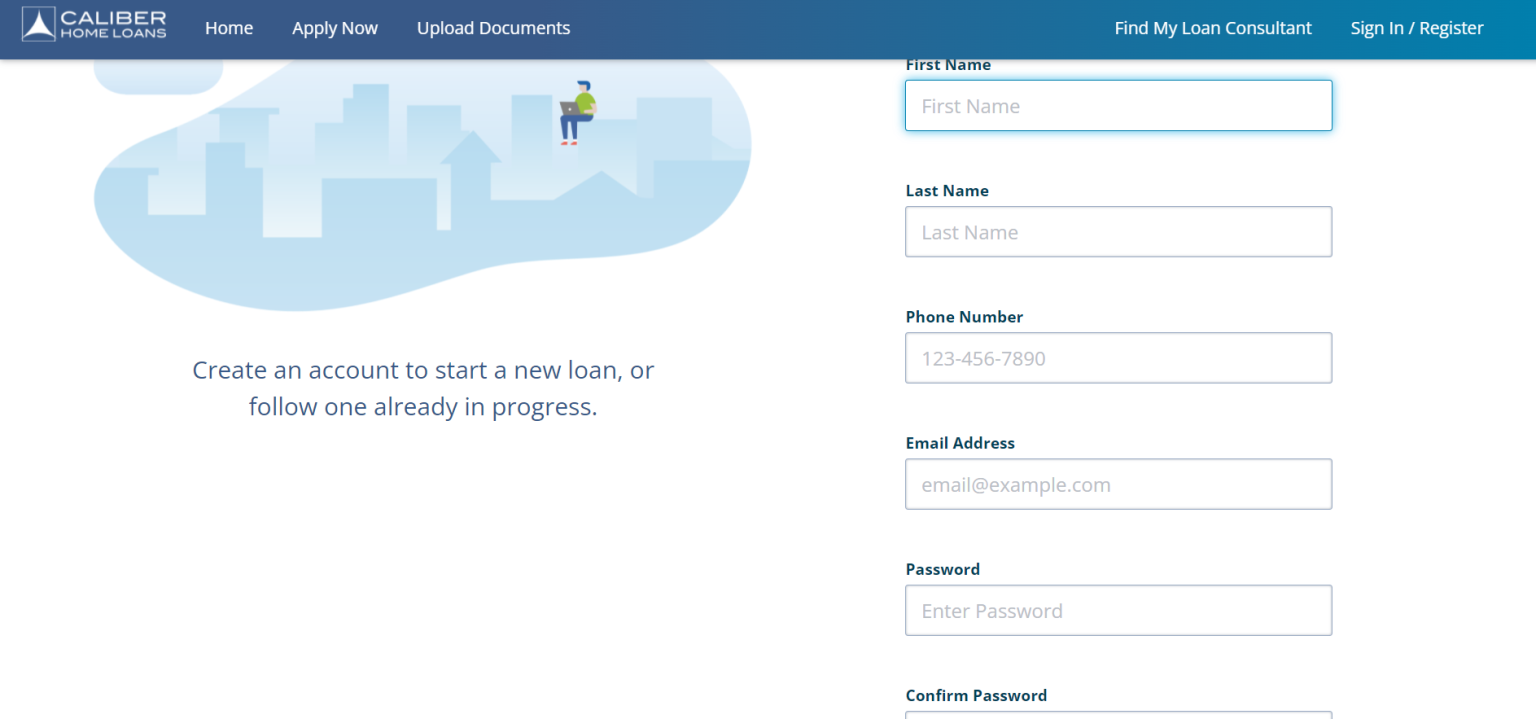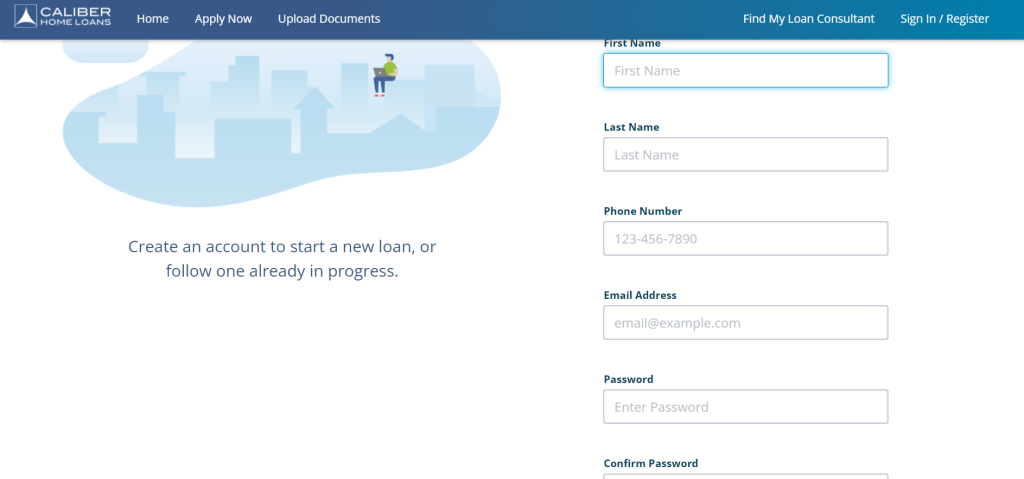 Register at Caliber Home Loans
Visit the official website of Caliber Home Loans- Caliber Home Loans | Sign In.
The first field will be for your First name and then your Last name.
Enter your phone number.
Enter your email address.
Create your password.
Type in the password again to confirm.
Tick the check box for 'Terms & conditions.
Tap on the option ''Create Account''.
Why should you create an account?
After you've finished your My Account registration, you'll be able to do the following:
Make payments over the internet.
Free of charge, set up automatic, recurring loan installments.
Examine your loan statements as well as your payment history.
Your monthly statements are available in PDF format, which you may see and download.
Switch to eStatements instead of receiving paper statements.
Email Account Alerts can be scheduled.
What are the options for first-time homebuyers?
Purchasing your first house is a major step. It's likely the largest single purchase you've ever made, and coming up with the necessary finances might be difficult. So, if they are wondering whether there's anything you can do to make things a bit simpler, the answer is yes.
Caliber Home Loans offers solutions to assist homebuyers who are in less-than-ideal financial situations in realizing their dream of homeownership.
First-time homebuyers may be eligible for the following assistance:
Grants that can be used to help with down payments or closing fees.
Requirements for a low or no down payment
Interest payments are paid or subsidized.
Specially reduced financing rates are available.
After a certain amount of time has passed, a portion of your debt will be forgiven.
Payments are postponed.
Closing charges might be capped or waived to reduce closing costs.
Although not all of these programs are accessible in your region, it is well worth your time to see whether you are eligible for financial aid.
What are the expenses of closing? And who foots the bill?
Closing fees may catch you off guard if you're a first-time purchaser. These are out-of-pocket costs that encompass a variety of fees associated with the mortgage financing procedure. Closing expenses typically range between 2% and 7% of the purchase price of the house. These costs are in addition to the sale price you agreed to with the seller.
Closing expenses may include the following:
Fees for lawyers
To see if there are any liens on the property, conduct a title search
If there are any lien claims, title insurance can protect you and the lender
Taxes on transfers
Appraisal to ensure that the home's current market worth and loan amount are compatible
As part of the loan approval process, a home inspection is necessary
Interest that has been paid in advance
In exchange for a lower interest rate, you pay a discount or mortgage points cost
For down payments of less than 20%, prepaid private mortgage insurance (PMI) is available
The price of underwriting
Get a copy of your credit report
Fees for the application and origination of the loan to cover the time and paperwork involved in the loan's processing
Some of these charges are paid in advance before the property is formally sold, while others are paid when the sale and loan are completed. You'll almost certainly need to open an escrow account to keep track of your tax and insurance payments. At closing, you will often be required to prepay the first year's property taxes and home insurance costs.
Some closing fees are also covered by the seller, including:
Taxes on purchases
Fees for transferring title
Fees for lawyers
There are certain closing costs.
Commissions paid to real estate agents
How to figure out how much your closing fees will be?
When it comes to predicting your closing expenses, there is no one-size-fits-all method. Because the expenses are established by the state, county, and municipal governments, this is the case. These legal criteria might be rather diverse. You can't assume that closing expenses in one neighborhood will be the same as those in another. Fortunately, by utilizing an online closing cost calculator, you can get a fair sense of what yours will be. Better still, seek the advice of a local real estate agent or lender. Their knowledge of the area might be quite valuable.
How to cut your closing fees in half?
Although the majority of closing expenses are inevitable, there are things you may do to minimize them.
If at all feasible, look for title services. Title-related fees, such as title searches and title insurance, may make up over 70% of your overall closing costs. You may look for the best title firm in the same way you shopped for the greatest lender. Compare numerous title businesses after doing some research. You might be able to save hundreds of dollars.
Request that the seller reimburses a portion of your closing fees. You might ask the seller to pay part of your closing fees on closing day in exchange for including those charges in the overall purchase price in your negotiations with the seller. In other words, you will pay a lower initial payment but a somewhat higher monthly cost.
Request that the lender covers the closing fees. In exchange for a higher interest rate on your mortgage, the lender may agree to cover some of your closing fees. You'll have to pay more interest in the long run, but you won't have to spend as much money upfront. Don't really try to save money by cutting shortcuts. For example, don't save money by cutting back on the owner's title insurance. This insurance covers you in the event that the property has a hidden debt or if the previous owners failed to pay the property taxes.
Your Caliber Loan Consultant is another resource to help you arrange for closing. Our objective is to make purchasing a house as simple and easy as possible. By delivering upfront, honest, and direct service, we are devoted to assisting you in navigating the process. Find your local consultant using our branch locator.
What should I put aside for a down payment?
While the majority of house loans demand a down payment, the amount varies depending on the lender, loan type, and credit score. If you're a first-time purchaser, a reasonable rule of thumb is to put down at least 6%. Other loan forms, on the other hand, may just demand a 3% down payment. On traditional loans, down payments of less than 20% will necessitate private mortgage insurance (PMI).
Essential factors while dealing with Caliber Home Loans
Here are some significant factors that will guide you if you are planning to get a service from Caliber Home Loans.
Check your credit score by getting your finances in order.
Examine the money for the down payment.
Choose the features that are most significant to you in a house.
Examine your financing choices.
Locate a reputable real estate agent.
Make a proposal.
If necessary, engage in some form of negotiation.
Obtain a property inspection.
It's time for the evaluation.
Closing.
So, how long will this all take?
As per the National Association of Realtors, most purchasers see 10 houses over the course of ten weeks before making an offer on one. And this is only the beginning of the process of purchasing a property. Many lenders require at least 45 days to close, from the moment they submit a loan application to the time they actually close. Caliber Home Loans takes pride in having some of the fastest closing speeds in the business. Caliber has used cutting-edge technologies to make the home loan process go faster and smoother. We've moved to qualify borrowers from application to closing in record speed, sometimes as little as 10 business days*, because of this high-tech strategy.