Best Disney Plus Alternatives for Binge Watchers
Published On : January 13, 2023 by: Anjali Latwal/Category(s) : Streaming Services
Streaming TV providers take up a considerable portion of most people's monthly spending. They provide the finest alternative for those who do not have cable and want to view movies, television series, or live sporting events. However, even when free trials are available, the possibility of having to pay a monthly membership price can discourage you from trying out new services. For this reason, we investigated all of the Best Disney Plus Alternatives for Binge Watchers, such as Netflix, Hulu, and HBO Max, in order to choose the most reliable streaming platform for the year 2023. This helpful advice should assist you in making a decision about which ones to subscribe to.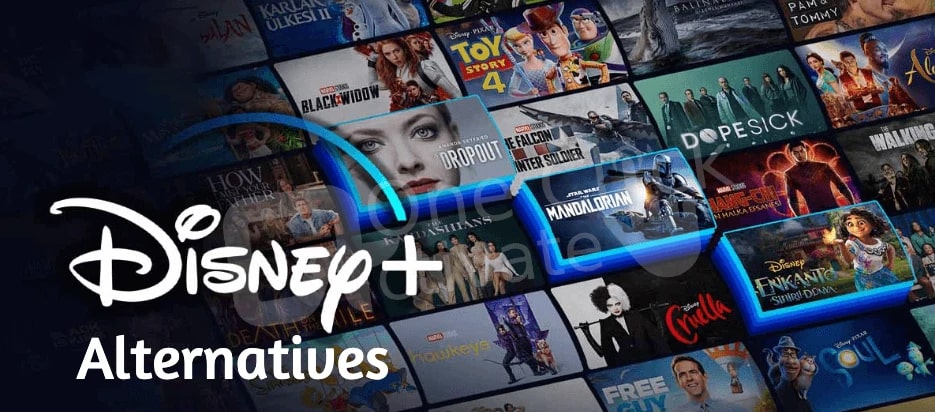 Best Disney Plus Alternatives for Binge Watchers:
Your budget for streaming undoubtedly changes from time to time depending on whether providers are worth your time and money. Whether you need to consider children, roommates, or sports fans, as well as your budget, will likely determine which original series and movies you want to watch, how vital it is to you to have access to a back library of older TV episodes, and which original shows and movies you want to watch. In addition to the introduction of four new Disney Bundles, Disney Plus has begun offering a subscription option that is funded by advertisements and has increased the cost of its option which does not include advertisements.
In the meanwhile, the monthly cost of using Netflix with advertisements was increased to $7. There are some providers that provide cheaper choices (such as Peacock's free tier), while others come virtually free as part of a package deal (like ESPN Plus in the Disney Bundle).
Each of these streaming services has been evaluated on its own and then given a number rating that takes into account the content, app design and features, and overall value of the service. There is no question that our choices are influenced by the personal tastes of our staff members with respect to the variety of material that we provide. Keeping this in mind, if you have a certain program or kind of show that you really like, you could have a different preferred option.
Keeping all of these things in mind, the following is our list:
1: Netflix
Overall, the best video streaming service
There is a good reason why people often refer to streaming services in general by the name Netflix. The service for renting movies has grown into the premier streaming service that is an absolute need in the year 2023. When major originals are released, such as Stranger Things, they get the attention of millions of viewers along with critical acclaim and accolades, providing us with the experience that is most analogous to having a chat around a water cooler in this day and age.
Despite the fact that Netflix has lost a couple of major back-catalog titles to other platforms — specifically, fan favorites from the television series The Office to Peacock and Friends to HBO Max — the streaming service still provides a vast selection of well-known network shows as well as more original series, films, documentaries, and specials than any of its rivals. Every week, there are brand new movies and television series, and in the year 2022 alone, more than 80 first-run films have been released. Additionally, the corporation does not mind catering to varied preferences by providing gaming alternatives as well as sections for children's media, anime, and titles written in other languages from all over the world.
Note:
Its pricing is in the center of the range for TV service packs, beginning at $7 per month for a basic account that supports advertisements and up to $10 per month for a basic account that does not support advertisements. The company's regular plan raises the price to $15.50 per month and includes HD content as well as two streams running at the same time. One stream is included in the new $7 membership that is financed by advertisements and is available to members who choose to pay less. The fact that it offers such a wide selection, though, makes it an excellent choice.
Check out our guide to the best free alternatives to Netflix with reviews
2: HBO Max
Large collection of high-quality entertainment, such as House of the Dragon, Cartoon Network, and DC
The HBO Max app(Best Disney Plus Alternatives) is a well-designed program that contains many popular movies and television series. It includes all of HBO's collection, as well as titles from DC Universe, as well as fan favorites including Friends, Rick and Morty, the Lord of the Rings movies, and almost all of Studio Ghibli's films. In addition, it is the premier venue for new feature films that are owned by Warner Brothers. Even though it's not Disney Plus, HBO Max also offers a good streaming library for children, and it gives parents more control over the content ratings of their children's accounts than most other services do.
It is comparable in price to Netflix, coming in at $10 per month, but if you would rather have an ad-free experience, you will need to pay an additional $5 per month, bringing the total cost to $15 per month. In general, HBO Max is increasing the number of its new originals, and we anticipate that this trend will continue to intensify over time. HBO Max has a big back library, a constant stream of new releases, and features that are easy to use; despite the fact that its a rating of 8.0 is identical to that of Prime Video, the two services are in direct competition with one another.
Author's top pick: Stream HBO Max On Roku
3: Hulu
A pick that is both inexpensive and offers a wide range
Hulu is the ideal complement and contrast to Netflix, and it only costs $8 per month (with advertisements). Its channel lineup features a huge variety of well-known shows from networks such as ABC, Fox, and CBS that are available to watch soon after they air (unlike on Netflix), in addition to a growing catalog of its own critically acclaimed original series such as The Handmaid's Tale and Only Murders in the Building. Hulu is a no-brainer if you have an extra $8 to spend each month, don't mind watching a few commercials in exchange for a plethora of television programming choices, and don't mind paying for the service. You also have the option to upgrade to a plan with no advertisements for an additional fee of $15 per month, or you can add on live TV streaming for an additional fee of $70 per month to replace your cable completely.
4: Prime Video (Best Disney Plus Alternatives)
The Amazon Prime subscription offers the best value overall
The National Football League is broadcast on Thursday evenings exclusively on Amazon Prime Video, in addition to a large selection of ad-free, high-quality original series and films, an incredible back library of older favorites, and B movies you've never heard of.
It does not have the archives that Netflix and Hulu have, nor does it have the star power that Disney's streaming site has. Additionally, I found its menus to be more confusing since there is premium material mixed in with the free stuff. The redesigned Prime Video interface, which has updated menus and labels that are more easily understood, is intended to appeal to Prime Video's worldwide audience. The Prime Video channel is already included and does not need any further payment from the millions of Prime customers. If you are interested in checking out any of its originals like The Rings of Power or its large movie selection, it may even be worth paying the stand-alone $ 9-a-month TV service fee (if you don't have Amazon Prime). If you are interested in checking out any of its originals like The Rings of Power or its large movie selection.
5: Starz
Movies that break box office records and early access to exclusive television series
Starz (Best Disney Plus Alternatives) offers a distinct and always-growing collection of films and original series at a price that is lower than that of Netflix at $9 per month. The streaming service has included films from every genre in its collection, which totals more than 800 and includes everything from classics from the 1980s to Westerns to the most recent and popular blockbusters from Sony, such as Spider-Man: No Way Home. However, Starz has been steadily climbing the ranks of the prestige television market because of the high caliber of its original programming slate.
It is most known for the Power universe, Outlander, and The White Queen, and the network distinguishes itself by emphasizing diversity and representation in its originals, elevating the voices of women and people of color. The network's most famous production is the Power universe. Starz, which is owned by Lionsgate, broadcasts movies and television series produced by the studio, such as "John Wick" and "Saw." Even though streaming full-length movies as day-and-date releases are not currently possible, Starz has just signed a contract with Universal to show the studio's slate for 2022 and beyond.
This includes movies such as Oppenheimer, Halloween Ends, Minions: The Rise of Gru, and Jurassic World Dominion. With the Starz app, you can watch four different shows at the same time, download an unlimited amount of content, and get early access to new episodes of popular TV shows—all for just $9 per month. Additionally, the app does not include any advertisements that could interfere with your viewing experience. Starz is well worth the investment if you want to watch recent blockbuster movies, documentaries, original series, or programming geared toward children.
Check out our guide to Activate TiVo on Streaming Devices
6: ESPN Plus
For extreme sports lovers
ESPN Plus is an excellent streaming service for devoted sports fans, particularly those who follow the National Hockey League (NHL), Major League Soccer (MLS), and Ultimate Fighting Championship (UFC). This is due to the fact that ESPN Plus has just become the new home for all out-of-market National Hockey League games. Additionally, ESPN Plus now provides out-of-market Major League Soccer matches, in addition to those from other leagues across the globe. It is the site of championship fights and other pay-per-view events that are unique to the UFC, such as UFC Fight Night (for additional fees).
Fans of professional sports leagues like the NHL and MLS who are located in areas where their favorite teams do not compete are required to subscribe to ESPN's streaming service in order to follow their teams' games. However, supporters of the home teams won't find this service to be of any value at all. Because ESPN Plus does not broadcast local games, if you want to watch them you will need to subscribe to your local cable sports network or a live streaming service that allows you to watch television online. But there is some good news for golf fans: beginning in 2022, the PGA Tour will be available to watch live on ESPN Plus, along with more than 4,000 hours of unique content. Beginning in January and continuing through the autumn, PGA Tour Live will broadcast more than 30 different tournaments.
Note:
However, ESPN Plus does not broadcast live sports from the National Football League or the National Basketball Association. Additionally, the platform's extensive collection of original content is outstanding but difficult to explore. Even if the annual service is best suited for die-hard followers of the sports it covers in-depth, even more, casual sports fans may find themselves with an ESPN Plus membership anyway via the Disney Bundle, which also includes Hulu and Disney Plus and costs a total of $14.
Note:
The price of a solitary subscription to ESPN Plus rose to $10 per month on August 23, but the price of a subscription to the Disney Bundle will continue to be the same until December. At that time, the version of the Disney Bundle with ESPN Plus that is the least costly will consist of Disney Plus, Hulu, and ESPN Plus with advertisements and will cost $13 per month.
7: Peacock (Best Disney Plus Alternatives)
The top recommendation for free streaming
Peacock, the streaming service offered by NBCUniversal, has one significant edge over its competitors: it offers a free, ad-supported tier that contains around 10,000 hours of television series, movies, live sports, and news broadcasts. You have the option of upgrading to premium for $5 per month (with advertisements) or upgrading to premium plus for $10 per month (with no advertisements) in order to unlock additional content. This additional content includes every season of fan favorites such as the television series The Office and Parks and Recreation, as well as live Premier League soccer matches and WWE events.
Peacock is the only place where new episodes of NBC series are available to stream, and users of Premium Plus may watch live local NBC channels whenever they want. Other enhancements are planned for the year 2022, such as a specialized Hallmark channel that would broadcast new movie premieres and simulcasts 45 days after their initial release in theatres.
Peacock falls farther down the rankings as a result of the fact that it does not provide mobile downloads for its non-premium plus tiers and 4K HDR streaming, two features that the majority of Peacock's rivals do provide. However, there is no harm in putting forth an effort.
8: Paramount Plus (Best Disney Plus Alternatives)
Star Trek, Nickelodeon, live sports, and CBS for you
The parent company, Paramount, which owns CBS, MTV, BET, Comedy Central, Nickelodeon, and Paramount Network, as well as the Paramount Pictures film studio, provides the content for Paramount Plus, which combines live news and sports coverage with on-demand television shows and films, including original productions.
You may have access to 30,000 episodes of television and 2,500 movies, in addition to dozens of original programs that will be released this year, for a monthly fee of either $5 (with advertisements) or $10 (without advertisements) (ad-free). In the days when it was known as CBS All Access, two of the service's most popular offerings were the Star Trek back catalog as well as new originals such as Star Trek: Discovery and Picard, and the series The Good Fight. Originals that are generating a lot of buzzes include two spinoffs of the popular television show Yellowstone (even though Yellowstone itself airs on the competing network Peacock), an animated Star Trek show, a series based on the video game Halo, and new versions of movies like Mission: Impossible 7 that come out 45 days after they are released in theatres.
But for the time being, its primary benefit is that it satisfies our need for the past. For example, you can stream almost every old Nickelodeon episode, stand-up specials from Comedy Central, and iconic television shows ranging from Frasier and Cheers to SpongeBob SquarePants and Young Sheldon. In addition, Paramount Plus has introduced a feature called Live Channels, which lets customers view material that has been handpicked and organized into certain categories. Either membership level provides access to a variety of channels, some of which include Star Trek, CBS Sports HQ, and Paw Patrol.
Conclusion:
At this time, new customers can take advantage of a free trial that lasts for seven days. There is a good chance that the majority of the names on this list of Best Disney Plus Alternatives for Binge Watchers are already quite recognizable to you, but this list is by no means exhaustive. There are a plethora of additional methods to stream content, as well as hundreds of other options available. But if you still have any issues or feedback, please leave them in the empty comment area below.