Apply At Fastest-Growing Mortgage Bankers-American Financial Network
Published On : November 28, 2021 by: Miti Sharma/Category(s) : Banking & Finance
If you are seeking the fastest-growing mortgage bankers then here it is, American Financial Network Inc. It is one of the nation's fastest-growing mortgage bankers, and it is among the top 50 nationwide. But they're not content with that, and they feel they have what it takes to crack the top ten at some point. Of course, at the very top of the heap, the rivalry is severe. They are not just a fast-growing firm, but also a highly regarded one, ranking among the top three lenders on LendingTree based on client feedback. Given the fact that there are over 800 mortgage lenders listed, this is rather outstanding.
Purpose Of American Financial Network
Since 2001, American Financial Network, Inc. It has lent money to real estate agents, builders, and individual customers all around the United States. Their mission is to be the greatest, most trusted, and admired mortgage lender in the industry by providing creative, inexpensive, and easy products while keeping a tight, family-oriented culture.
Checklist Of American Financial Network
During the loan application process, the following information is usually required-
Social security number
Tax returns for the last two years
Bank statements for the last two months
Investments account statements for the last two months
Life insurance policy
Last two months' retirement account statements
Make and model of vehicles owned and the value of resale
Auto loan account information
Personal loan account information
Divorce decree (if applicable)
Prior bankruptcy documents (if applicable)
If You Already Have Real Estate-
Mortgage statement of your most recent home
Information of home insurance policy
Home equity account note ( in case of refinancing)
Current note copy ( in case of refinancing)
How To Apply For The American Financial Network
You may apply directly from their website without needing to speak with a person.
They employ SNAP, a computerized mortgage financing procedure.
You may scan and upload papers, eSign documents, and request a credit report on your own.
You may check the status of your loan at any moment and contact your loan officer through text or phone.''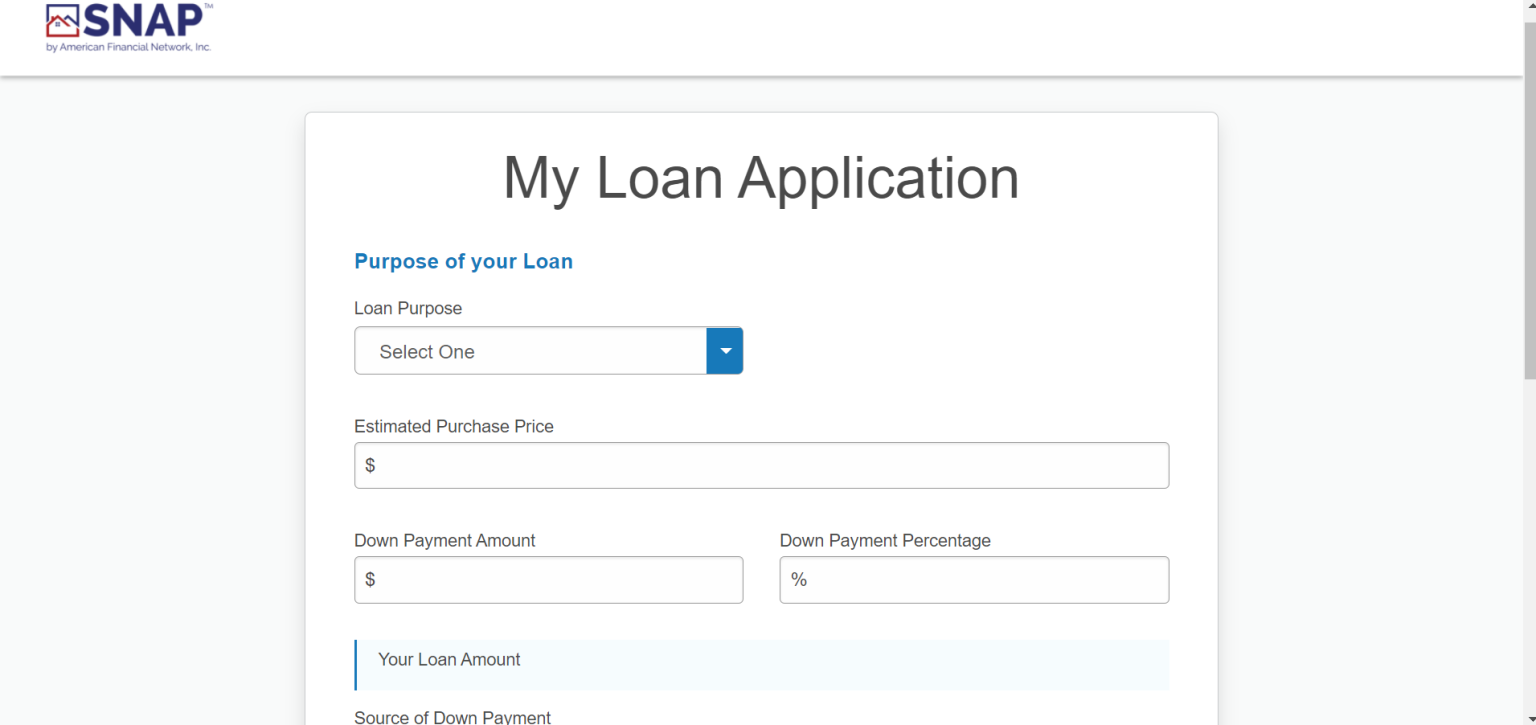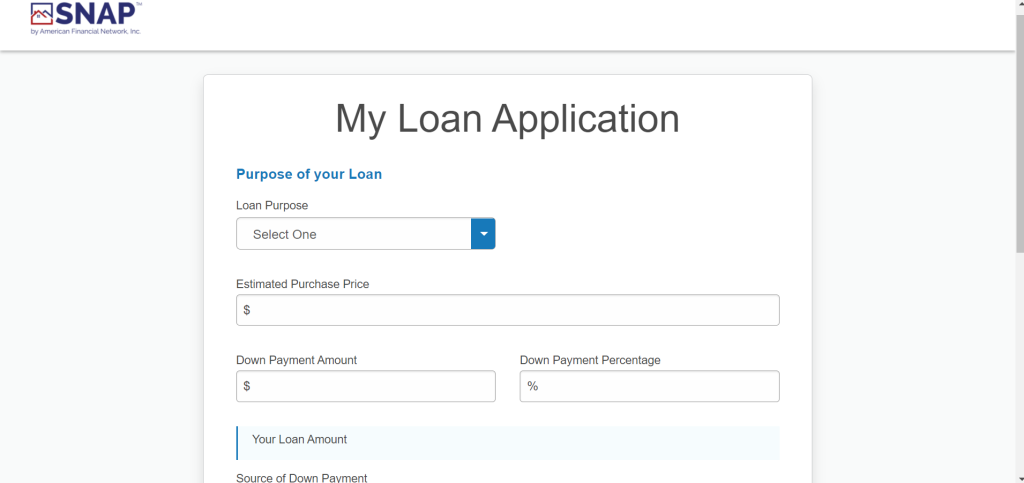 They also provide completely underwritten mortgage pre-approval, so you may feel confident about moving forward as a house buyer. If you'd want to apply for a house loan, you may do so online or using their free smartphone app. Apparently believe they have an Ellie Mae-powered digital mortgage application that allows you to do most chores electronically and It is called SNAP.
You'll get a to-do list with the option to scan and submit conditions, eSign papers, and follow loan progress 24/7 after your loan is accepted.
American Financial Network Offers A Variety Of Loans
Loans for buying a house
Loan refinancing (rate and term, cash out, streamline)
Loans for home renovations
Fannie Mae and Freddie Mac-backed conventional loans
Loan amounts of up to $2 million are considered jumbo house loans.
FHA, USDA, and VA are examples of government-backed housing loans.
Programs that help with down payments
Home loan options include fixed-rate and adjustable-rate mortgages.
American Financial Network is a mortgage banker, which means they have correspondent agreements with a variety of investors to guarantee they have access to any loan product a borrower would require. This enables them to market credit products from other firms, giving them a greater range of options than other lenders.
Additionally, if you have a unique lending circumstance that cannot be put in-house, their loan professionals may be able to broker out loans. They provide a wide range of financing alternatives, including property purchase, refinance, and remodeling loans. It's unclear whether they've taken out any building loans. Condos and townhouses are eligible for financing as a primary dwelling, second home, or investment property. A conventional house loan backed by Fannie Mae or Freddie Mac, a government loan backed by the FHA/USDA/VA, or a jumbo home loan that exceeds the conforming loan limit is all options.
Pros and Cons of the American Financial Network
The Positive
You may apply for a mortgage on their website without having to speak to anyone.
There are several lending schemes to select from.
Thousands of positive customer testimonials
Loan officers and support workers may also speak Spanish, and there are brick-and-mortar facilities if you want to work in person.
Manage your debt with a free smartphone app.
On their website, they include mortgage calculators and a mortgage glossary.
They also provide a number of down payment assistance options for people who may want some financial aid.
The Possibly Not Good
Do not make their mortgage rates public.
Fees charged by lenders should not be listed on their website.
Mortgage Rates On The American Financial Network
American Financial Network, like many others, does not publish its mortgage rates on its website. This occurrence leads its potential customers out of the sight wherein they could not possibly acknowledge the mortgage rates. Although credit lenders credit for being transparent by displaying their rates on a daily basis, customers also recognize the limitations in advertising rates, which frequently only match one perfect loan situation.
You may acquire a quick, free mortgage rate quotation by filling out a brief form on their website or phoning them individually. Although you will need to give contact information, the form is relatively brief. AFN might charge a loan origination fee or other usual expenses like underwriting, processing, or application fees because they don't publish them anywhere.
Make sure to speak with a loan officer to obtain a mortgage rate quotation, as well as the relevant lender fees and mortgage APR, so you can compare your rate to those offered by other lenders.
AFN Loan Programs

Here are the loans programs mentioned which are offered by the AFN- American Financial Network.
Conventional
For most applicants, industry-standard lending programs with buy and refinancing choices are available. These programs adhere to Fannie Mae and Freddie Mac lending guidelines and have a reputation for being the most cost-effective and time-efficient in the mortgage market.
FHA
These loans, which are regulated by the Federal Housing Administration, are an excellent alternative for first-time homebuyers, homeowners searching for straightforward refinancing options, and borrowers with less-than-perfect credit.
VA
This event is just for soldiers and their surviving spouses! You may finance up to 100% of the value of your new house with no money down and no private mortgage insurance, or you can refinance your existing home fast and conveniently with minimum paperwork.
USDA
Acquire or refinance property located in a remote region (as recognized by the U.S. Department of Agriculture) (as designated by the U.S. Department of Agriculture). Most borrowers are eligible for these loans, which provide up to 100% of a property's worth.
Renovation
Programs that cover not just the value of the house as well as the price of any changes you would like to undertake. Renovation loans help in gaining value in the house while completing the project!
Jumbo
They can handle a large loan amount if that's what you're searching for. Jumbo loans are offered for sums ranging from $500,000 to $2,000,000, and occasionally much more.
Specialty products
Do you work for yourself and need to certify using your bank statements rather than your tax returns? Do you require a loan for an investment property but do not wish to submit proof of income? Do you have a unique situation that other lenders won't consider? Most likely, they have a specialized product that can assist you.
Down payment assistance program
Do you have enough money to make monthly mortgage payments but are having trouble saving for a down payment and closing costs? You might be able to take advantage of low-interest rates to be a homeowner and lock in your monthly housing payment for the next 30 years. AFN provides a variety of Down Payment Assistance Programs to assist first-time homebuyers with the initial costs of purchasing a house.
The information is enough about AFN- American Financial Network if you are planning to apply for it. It's just a matter of some factors that really make a difference which you need to give a good look. Everything is mentioned in the article above which is necessary for you to know.
Also Read: Apply For Freedom Mortgage