How to Activate your ReleasePay Card Online?
Published On : June 8, 2022 by: Anjali Latwal/Category(s) : Banking & Finance
Looking for an easy solution to activate your ReleasePay card online, without much hustle and bustle? Worry not, we've got you. In today's guide, we will tell you all about this multi-purpose card, its features, benefits, and how to activate your ReleasePay card online in the easiest way possible. So, what are you waiting for? Hop on for the ride.
About ReleasePay: All that you need to know
'Release Pay Debit Cards – Pre-Loaded Debit Cards Provided Upon Release to the Jail Inmate'
The IDOC introduced a new initiative that will help those who are being released from detention as part of an overall approach to making life simpler for prisoners and their friends and family who support them. These release debit cards are provided and supported by Access Corrections via its subcontractor Rapid Financial Services. Instead of checks, these pre-loaded debit cards, dubbed Release Pay Cards, are distributed upon release from detention.
How do ReleasePay Cards work?
If the check holder does not have a bank account, most banks will impose a check-cashing fee. This potential expense is removed with their new solution. The leftover cash from residents' jail accounts is pre-loaded on the Release Pay Cards, which are activated completely for free. The Release Pay Cards are valid for five years. If a card expires, customers can contact customer care for a free replacement. Your money will not be charged any maintenance or inactivity fees after it is loaded into the debit card.
Benefits of a ReleasePay Card:
The Release Pay Card program provides freshly released people with real-time access to their cash at ATMs, banks, and retail venues that accept Mastercard point-of-sale (POS) transactions.
A direct transfer into your bank or PayPal account is another option, as is phoning customer care and asking to shut your card account and get a printed check.
The Release Pay Card program is intended to provide you with a variety of easy-to-use choices for getting your money. It's your money, therefore you get to decide how you want to use it.
All of the aforementioned alternatives are completely free.
Because the Release Pay card is part of the MoneyPass network of surcharge-free ATMs, it's advisable to use a MoneyPass ATM if you need to access your money.
What are the costs of using the ReleasePay card?
Every cardholder is entitled to the following sorts of transactions or services at no cost:
Support and help call customer service.
Requests to modify or reset the PIN.
Purchases are made at a point of sale (POS).
The decline of the point-of-sale system.
Purchases are made at a POS with cash back.
Funds transfers from a credit card to a bank account or via PayPal.
Use any Principle MasterCard member institution to cash out (in whole or in part).
The costs listed below are related to the debit release cards being issued herein, and they are the sole fees that may be imposed on any cardholder or against any available balance on the card.
CHARGE** FOR TRANSACTION / USAGE TYPE:
Fee for Account Inquiry……………………………………………………………………………………………………………………………………..$1.50
ATMs in the Domestic Area……………………………………………………………………………………………………………………………….$2.75
ATMs in the Domestic Area Decline Fee (NSF)………………………………………………………………………………………………………………………………………………………………………..$2.75
ATMs from across the world Fees……………………………………………………………………………………………………………………..$3.75
ATMs from across the world NSF (Decline Fee) …………………………………………………………………………………………….$3.75
In the event that your item is misplaced or stolen, for a replacement Card……………………………………………$0.00
Account Termination Fee for cashing out a card's balance and receiving a check ……………………………….$0.00
*The local ATM provider and banks may impose additional costs; if so, they are in addition to the above-mentioned fees and are neither levied nor paid to RFS. * Any amount charged will be withdrawn automatically from the available balance on the card at the time of the transaction or attempted transaction.
Now that you know all about the ReleasePay card, it's time to come down to our main question of how to activate your ReleasePay Card online. The answer to this question lies below.
Also Read: Activate Today Mastercard and get your customized controls
How to activate your ReleasePay Card online?
In order to activate your ReleasePay Card online, just follow the simple steps below: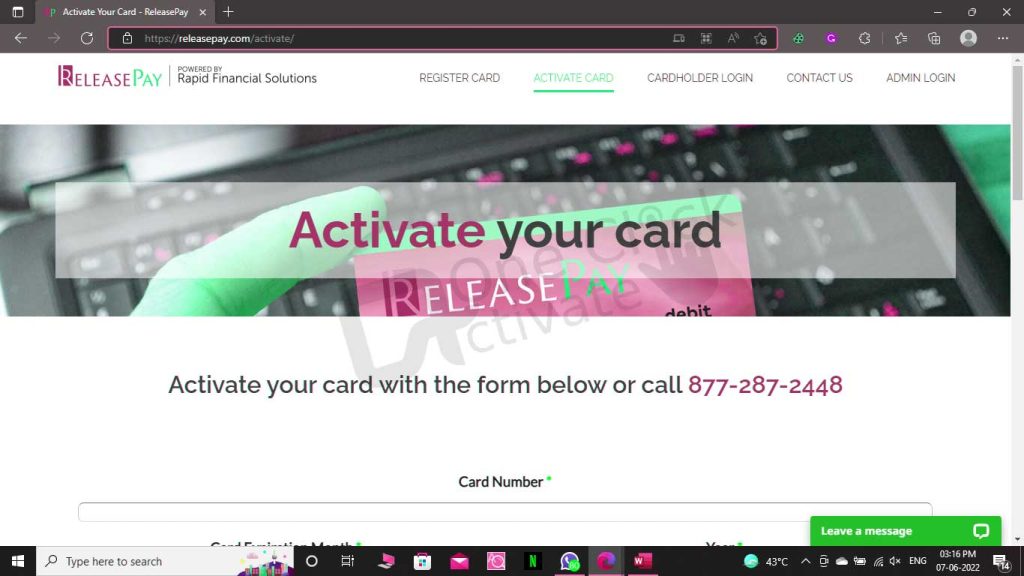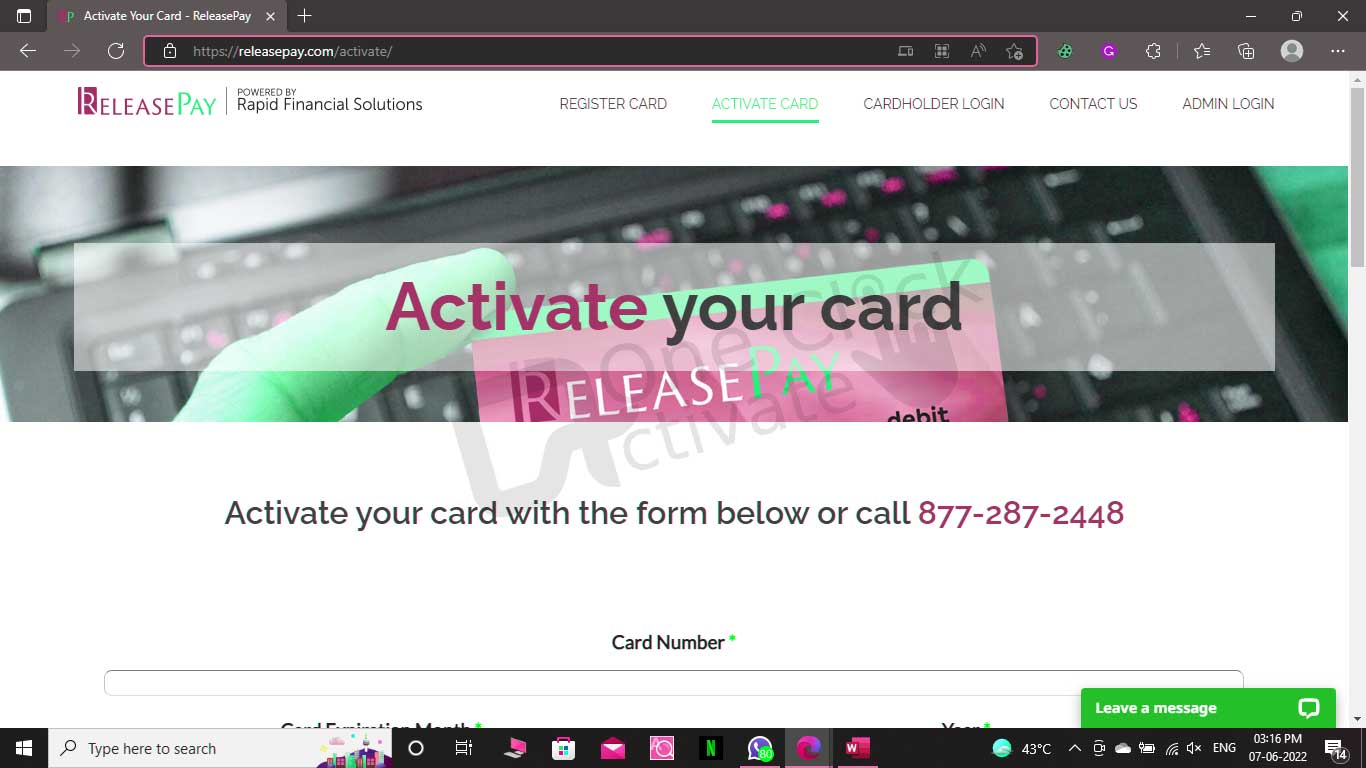 Go to the 'Activate Card' tab on the top right area of the screen.
Fill in all the required details in the form available on the screen such as your card number, pin, year, expiration date, etc.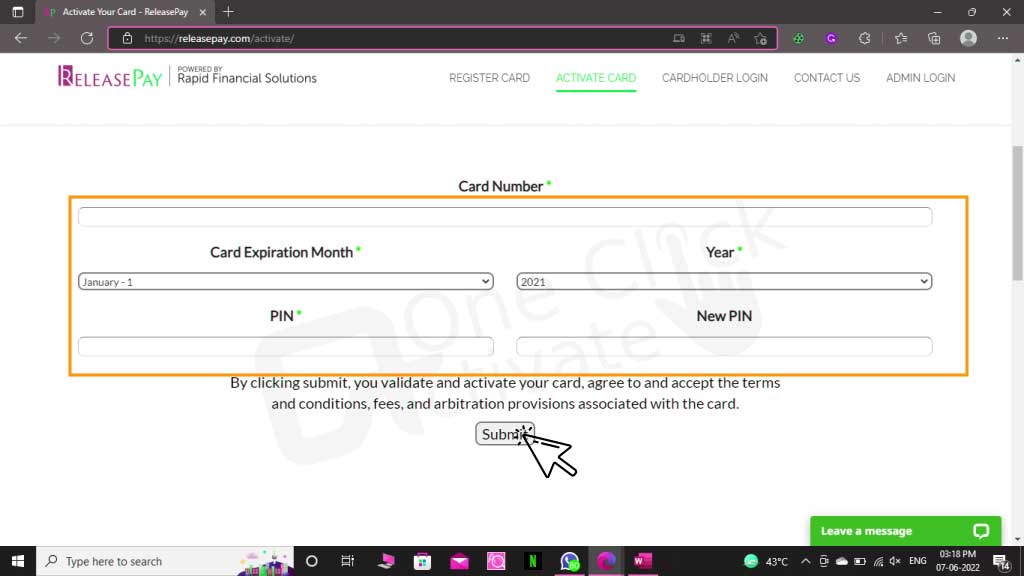 Conclusion: So, this is how you can activate your ReleasePay card online in just a few simple steps. We hope you find the content of our article useful. Do leave your valuable comments in the section below if you have any doubt.
Frequently Asked Questions (FAQs):
Is there a cost associated with activating cards?
No. Debit release cards are completely free to load and activate. When loading release money onto a debit release card for a person who is being released, no charge is applied to or deducted from the available sum.
Is the money secure?
Yes. Through an FDIC-insured bank, all release monies are guaranteed and completely insured.
Does the release card have an expiration date?
Yes. The Release Pay card is valid for five years. If your card expires, contact customer support to get a replacement. There is no charge.
Are there any monthly fees or inactivity costs applied to the money on the card?
No. No monthly service charges or inactivity fees are applied to the cardholder or deducted from the card's balance at any time.
What's the best way for me to retrieve my money without paying a fee?
By visiting any MasterCard-affiliated financial institution, you may get a cash advance to pay off your full card amount for free. When making a purchase, you may also use your card as a debit and request cash back.
Is it possible to reload my new card?
No, you won't be able to reload your new card. If you'd like to get a general-purpose reloadable card, go to the website listed on the back of your card and follow the steps.
Where can I put my new card to use?
Your card may be used everywhere MasterCard Debit is accepted. To make transactions online, over the phone, or by mail, you must first register your card online. The security of your cash will be ensured by registering online. For extra protection and advantages, such as Mobile Alerts, 24/7 Transaction Monitoring, and Fraud Protection, please visit the URL on the back of your card.
What is the procedure for creating a PIN for my new card?
You may reset your PIN at any time by calling the number on the back of your card. At the time of issue, you will be given a temporary PIN. Your PIN is the code that gives you access to all of your pinned point-of-sale purchases.
Is my card credit or a debit card?
You may use your new card to make purchases with either credit or debit. To validate the transaction, credit utilizes your signature on the receipt, while debit uses your Personal Identification Number (PIN). If you use your card as credit, you'll be covered by MasterCard's zero-liability guarantee.
What if my purchase exceeds the credit card limit?
Before making a purchase, double-check your balance. The transaction will be denied if the purchase amount exceeds your balance. You may tell the merchant that you'd want to pay using several methods, indicate how much you'd like to put on your card, and then pay the difference with a different card, cash, or check.
Who should I contact if I need help with my card or have questions?
Rapid Financial Services may be reached by calling 1-877-287-2448 or visiting www.releasepay.com.