Activate Life Wireless SIM Card and Get Lifeline Discount on Services
Published On : June 7, 2022 by: Miti Sharma/Category(s) : Total Wireless
The Lifeline Assistance Program was established in 1985 to ensure that all Americans have access to telephone services. Life Wireless is funded by the federal Lifeline program and offers eligible consumers free cellular service every month. Life Wireless also has plans available for folks who do not qualify for Lifeline. In this article, we will be getting into the section where you will learn how you can activate your Life Wireless Sim Card.
One of the Lifeline service providers is Life Wireless. Qualifying customers in twenty-nine states, as well as Puerto Rico and the US Virgin Islands, can take advantage of the Lifeline Assistance program. Life Wireless delivers its wireless service using AT&T's dependable network. Customers that are eligible for Life Wireless will receive free phones and free cell phone service, which varies by state.
Activate Life wireless sim card
Go to the Life Wireless official page and fill out the form.
Fill in the following information about your SIM card: (It's the 19 or 20 digits on your SIM card.)
Now type in your surname.
Kindly type the last 4 digits of your social security number
Optionally, enter an alternate mobile phone number.
Type the Verification Code in the box provided.
Finally, select Next to activate the SIM card.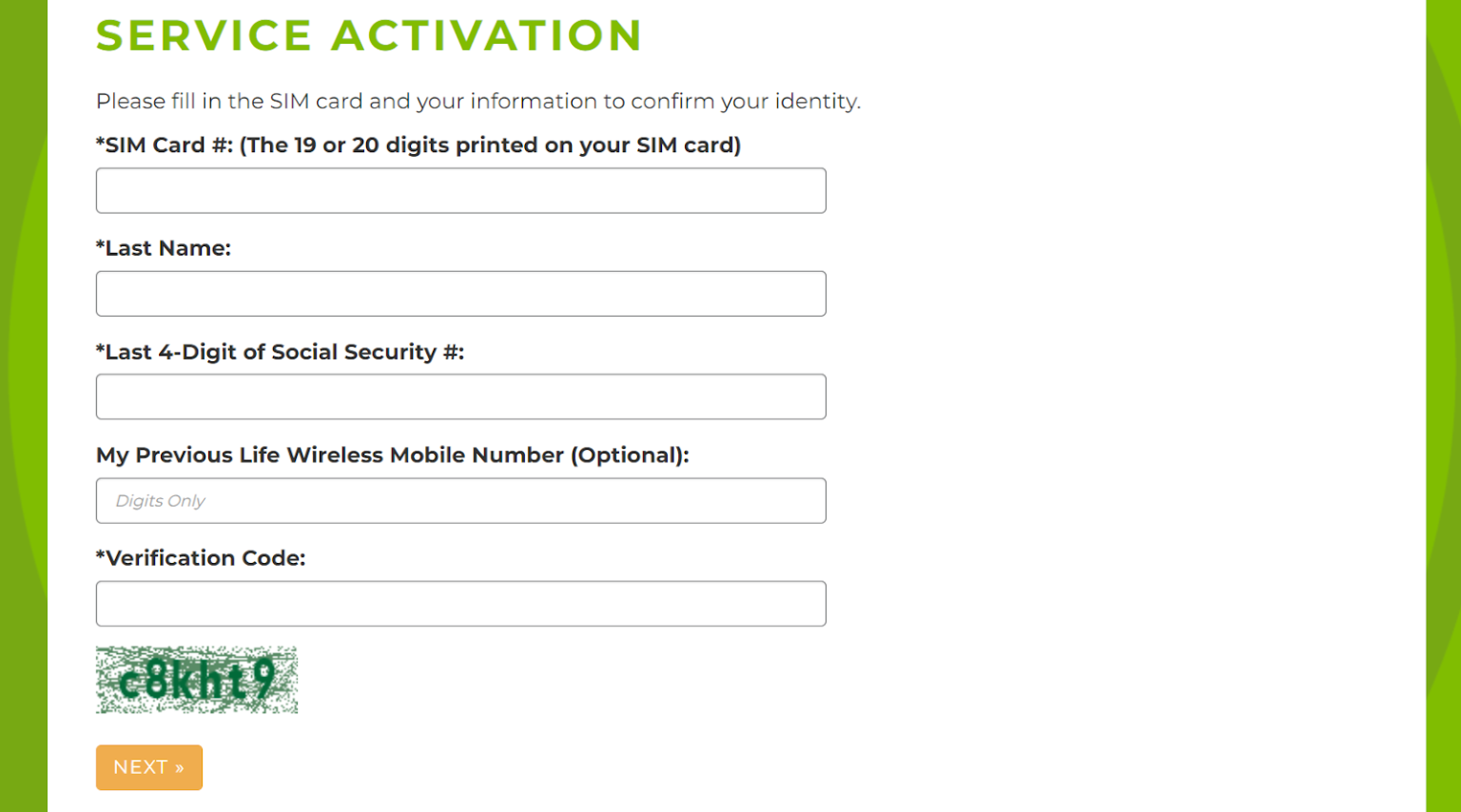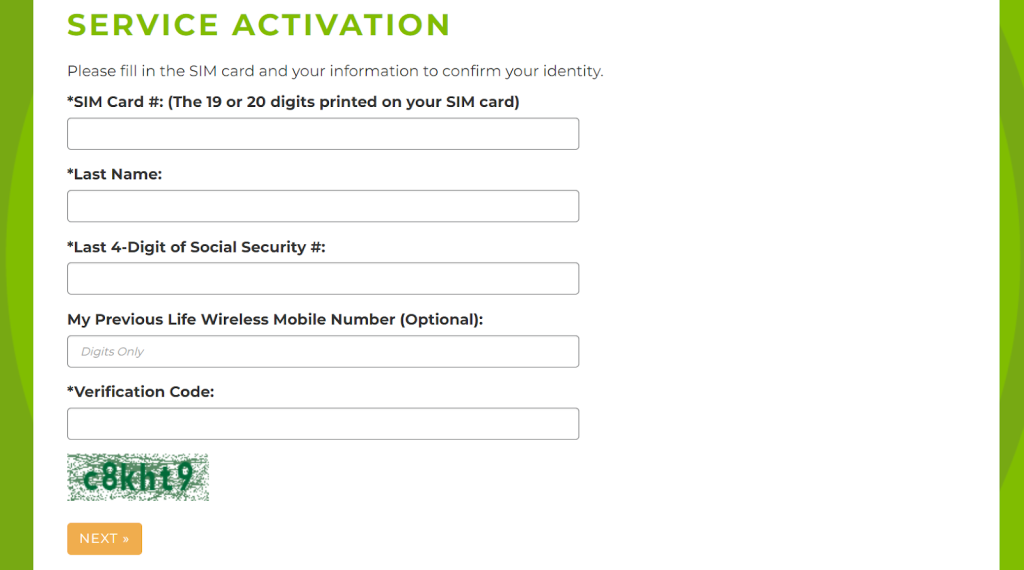 What do you need to do to be eligible for lifeline assistance?
Life Wireless offers a Lifeline discount on wireless services to low-income families and individuals. Potential subscribers must meet specific eligibility conditions to get Life Wireless services, such as receiving government assistance or having a household income of 135 percent or less than the federal poverty threshold for their state. Each state has its own rules for determining whether or not a potential subscriber is eligible. Life Wireless is only available to one home per year and cannot be paired with any other Lifeline service.
What's Hot: Sprint SIM Card with 3G speed VPN services
The Lifeline program is a government-sponsored aid program. Only eligible consumers are allowed to participate in the program, and evidence is required. Lifeline is a non-transferable service.
A single line of service is allowed per household for Lifeline benefits. It's possible that you won't be eligible for several Lifeline discounts. You can use your Lifeline discount on either a landline or a wireless number, but not both at the same time.
Telrite Corporation d/b/a Life Wireless is an Authorized Telecommunications Carrier (ETC). A subscriber is eligible for low-income telephone assistance if they engage in any of the following programs.
Food Stamps or Supplemental Nutrition Assistance Program (SNAP)
Medicaid (not Medicare)
Supplemental Security Income (SSI)*
Section 8 Federal Public Housing Assistance (FPHA)
Veteran's Pension or Survivor's Pension Benefit
What is included in the Wireless service?
Call Waiting Three-way Calling Voicemail Caller ID Service Nationwide Calling Unlimited Text Messaging*
There are no roaming fees.
Within the United States, long-distance calls are free of charge.
A free 911 service is available.
Recharge Plans at a Reasonable Price
MMS photo messaging is not included with unlimited text messaging. The amount of photo messaging available varies depending on the plan.
Trending: Check out the incomparable Data inclusions with Boost SIM Card
What is the ACP(AFFORDABLE CONNECTIVITY PROGRAM) of the Federal Government?
The Emergency Broadband Benefit Program has been replaced by the Affordable Connectivity Program (ACP) (EBB). ACP is a Federal Communications Commission (FCC) benefits program that assists low-income households with the cost of broadband connection and internet-connected devices.
Both programs can be enrolled at the same time. If you merely enroll in the Lifeline program, you will receive LESS data than if you engage in ACP. Some states provide both an ACP and a Lifeline benefit, while others simply provide an ACP. Please refer to the table above to see what Life Wireless benefits are available in your state. Per household, only one monthly service discount and one device discount are permitted. Consumers must enroll in the ACP with a participating provider that offers linked devices, such as Life Wireless, to earn the connected device discount.
The FCC's Affordable Connectivity Program (ACP) is supporting this promotional service offer. Enrollment is limited to those who are eligible. The National Verifier determines eligibility based on income less than or equal to 200 percent of the Federal Poverty Guidelines or participation in Lifeline, Medicaid, SNAP, WIC, free or reduced-price school lunch/breakfast, or Pell Grant (documentation may be required). The ACP benefit is non-transferable, and each household is only eligible for one monthly service reduction and benefit transfer.
Also Read: The quickest way to Activate GiffGaff SIM Card
Visit www.lifewireless.com/ACP/tac for ACP specifics and relevant terms and conditions, or call 1-888-543-3620.
Frequently Asked Question:–
Is It Possible To Use Lifeline For the Internet?
At Lifeline, you may also get broadband Internet services and broadband voice bundles. According to FCC guidelines, a client cannot acquire more than one Lifeline service each month. A state, commonwealth, or territory may join any other state, commonwealth, or territory that offers Lifeline, as well as any tribe that offers Lifeline.
What Is Lifeline Phone Service and How Does It Work?
The FCC's Lifeline program provides low-income residents with low-cost access to communications services. Subscribers who purchase select monthly telephone service, broadband Internet access or voice-broadband packages from participating wireline and wireless operators receive a 20% discount.
Is Life Wireless Free?
Life Wireless provides government-issued wireless services to low-income and disabled homes in California. Customers must do well at work to be eligible for a free phone plan. When you join California LifeLine, you are only eligible for one FREE benefit (no other sorts of offers are available).
Which Lifeline Provider Offers Free Phones?
Assurance Wireless offers free wireless phone service in cooperation with Lifeline Assistance. The government benefits from assistance programs like Lifeline. Customers who are eligible for Assurance Wireless' free monthly data, texting, and calling service can take advantage of the offer. Get the phone for free, as well as the ability to download it.
Is it possible to use your Life Wireless SIM card on a different phone?
The organization is unable to provide you with an alternative phone number for your current phone. If a Life Wireless SIM card is ordered, an existing GSM unlocked handset can also be used because the card is free and can be installed automatically.